---
Posted on Friday Aug 19, 2016 at 05:00PM in General
---
The final piece of the puzzle for the expansion sprue release is now available for download.
Simple visit the Unit Lists section of the Maelstrom's Edge website to see all updated unit cards.
If you just want to grab a high resolution copy of all cards, you can also download them directly in one big zip file. We plan to get these cards in to print before Adepticon next Spring, but there are a few more yet to come between now and then if our production stays on track!
You may note that a Subjugator bot is an option for the Epirian Contractor Suppression Team. The Subjagator is a scarecrow that is based around close range crowd control, and can be built from two scarecrow sprues as follows: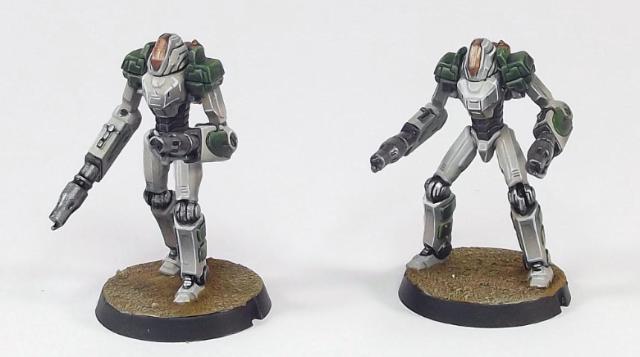 It uses one normal scarecrow sprue, and then the Clingfire from a second sprue, so building a Subjugator will still leave enough spare parts for a normal Scarecrow with Chemtek sprayer to be built.
Tags: epirian expansionsprue karist
---
Posted on Thursday Aug 18, 2016 at 04:00PM in General
---
Tuesday and Wednesday's free PDF army books are great for building a force and learning the rules, but when it comes to playing the game, nothing beats having a handy reference sheet nearby.
We've updated our reference sheets to include all the latest units, weapons and rules for both the Karists and Epirians. Now you can download them right here: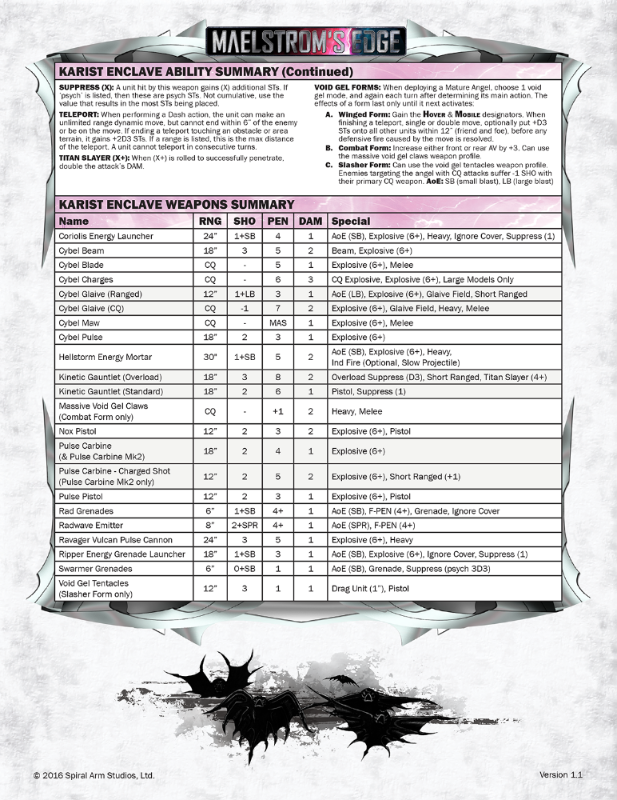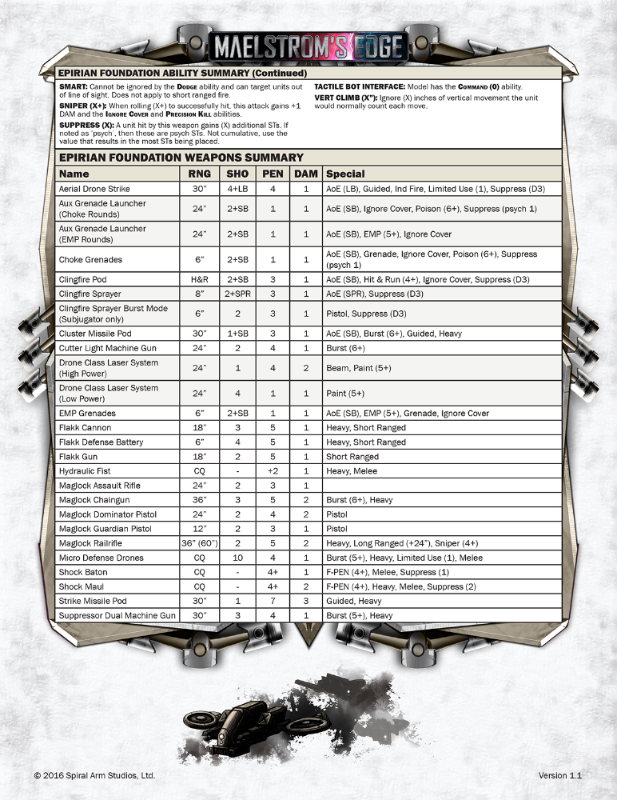 Epirian Quick Reference Sheets
We look forward to hearing how the Karist Praetorians fare in battle against a fully equipped Epirian Contractor Suppression Team!
Tags: epirian expansionsprue karist pdf rules
---
Posted on Monday Aug 15, 2016 at 12:10AM in General
---
As many of you may have noticed, we've been a little bit quiet in terms of public content since we attended Salute 2016. A good chunk of the core team at Spiral Arm Studios was commissioned to work on some very interesting things in a business to business deal with a third party. While we would normally have refused so that we could keep strong focus on building Maelstrom's Edge, the bribery was simply too convincing, with the compensation enough to fully fund Maelstrom's Edge development at a greater pace through to the end of 2020, so we've suddenly got even more stuff in the pipeline! Gearing up for that extra production took a bit of time, but things are well under way now, and we'll be sharing a bit more of our in development work as time goes on so that everyone can see what they have to look forward to.

In addition to the above, JP, the guy who was working hard to build our community channels, got poached by another games company, and since this happened while our focus was elsewhere on the b2b stuff we did not have the capacity to immediately drop someone else into his place. He was doing a great job and had a lot of smart initiatives in place, and from his work we've now got a wider communication infrastructure in place (centred around this blog) ensuring that we can keep feeding out news and content on a regular basis, bringing in a wide range of content writers to keep things fresh and interesting. As always, we are very happy to share community generated content as well, and we'll be releasing some tools and information to help people dip their toes even further into the Maelstrom's Edge universe over the coming months.

We are celebrating the launch of this blog with the release of our next set of models. This coming week sees the release of the Maelstrom's Edge expansion sprue, as detailed a couple of months ago. This sprue is packed with parts to allow you to build Epirian Contractor Suppression Teams, Karist Praetorians equipped with Cybel Glaives, Cybel Mine equipped Shadow Walkers, Karist Trooper Assault Squads, and loads of new detailing elements like new arm poses, grenades, and more. Here's a sneak preview of the contents of the sprue, broken down by faction (Pink=Karist, Blue=Epirian):




Over this week and next, we'll be releasing loads of new content to support the expansion sprue. Including but not limited to, new unit cards (in digital form), new faction summary sheets, free army books for the Karists and Epirians detailing the new units and weaponry available to each, and plenty of new model photos.

The expansion sprue will go sale tomorrow - Aug 15th in an unspecified timezone, on the Maelstrom's Edge web store. For one week, we'll be offering it at a discounted price as a thank you to all of our loyal supporters, so make sure you grab your discounted sprue before the 22nd Aug! We'll then be bringing out bundles of sprues to allow individual units to be purchased with all necessary parts (The Epirian Contractor Suppression Team for instance needs an Epirian Contractor Sprue, 2-3 expansion sprues and 1-2 Scarecrow sprues!)

Exciting times for sure, and we thank you for being a part of it :)
Tags: epirian expansionsprue karist models