---
Posted on Thursday May 31, 2018 at 12:01PM in The Broken
---
The Forsaken are commonly dismissed as simple, degenerate pirates, but the truth is that they usually attack only out of necessity. Piracy is many times the only way their community can survive a hostile galaxy: stealing food, fuel, ammunition and anything else of value they can get their hands on. The Forsaken rarely send out their forces en masse, knowing that a single crushing defeat could mean the end of their entire tribe's existence. Instead, they strike in small patrols, typically led by a Chieftain.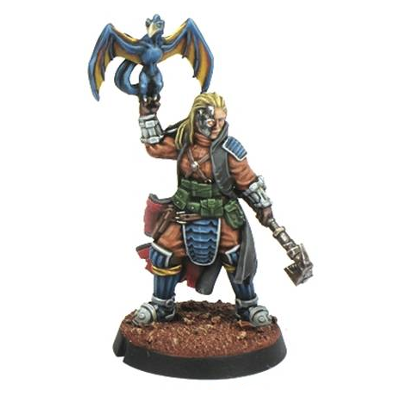 Though a Chieftain is granted his or her position of authority by The Assembly, they must first earn the respect of their fellow Forsaken to even be nominated. A Chieftain must be equal parts fighter, diplomat and cunning tactician. Knowing that their forces can never win a stand-up fight against a prepared opponent, a Chieftain leads his warriors to strike unseen from the shadows, quickly fading away before the enemy can root them out and respond in kind. Many an opposing force has underestimated the ingenuity of a Broken force led by a Chieftain, only realizing too late their folly, as improvised booby traps decimate their defensive positions and Broken secretly approach from their rear.
The appearance of a Chieftain can vary wildly both based upon the culture of their original homeworld, but also from that of the Broken Freeport they are now a part of. Chieftains tend to have slightly nicer clothing and equipment than standard Broken rabble, and many see it as almost their duty to show that even amongst the ranks of the Broken, an individual can still rise up and carry themselves with dignity and class. When the Broken do manage to defeat an enemy officer with particularly fancy clothing or an heirloom weapon, a Chieftain will confiscate these valuable items. A Chieftain wears these purloined treasures into battle, as both a reminder of their past victory, and to display their status as an iconic Broken leader.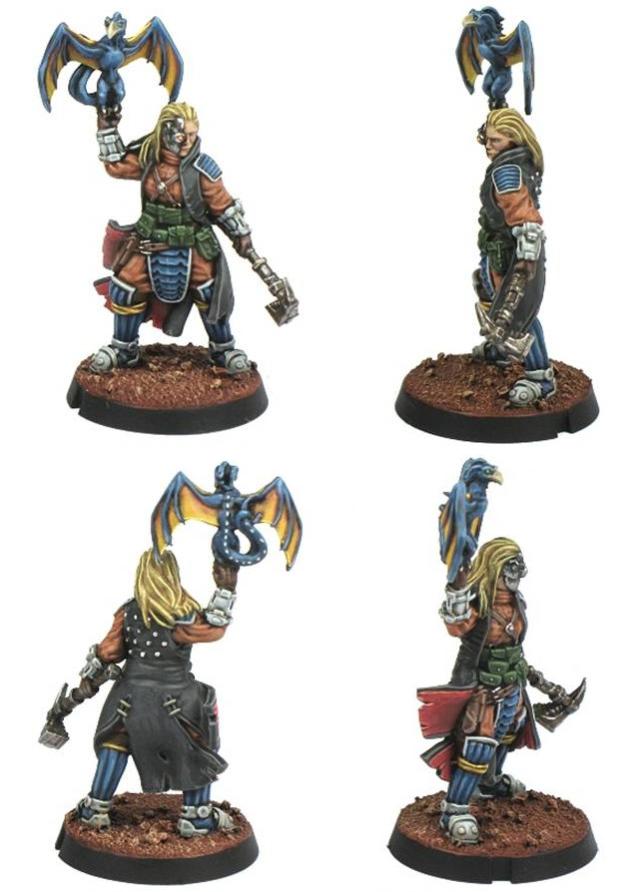 This high detail resin model contains two alternate weapons for the left hand and a xeno spotter in the right hand, and is available now from the webstore
here
! You can also find the rules for this model in the Force Builder section
here
.
---
Posted on Monday May 21, 2018 at 05:00PM in Tutorials
---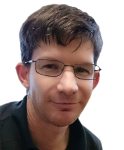 - by Iain Wilson

Last week, I ran through a conversion tutorial for a veteran Master Bot Handler who I'm calling Konstantin Moor, a nasty, multi-weaponed individual built, along with his faithful drone companions, from the new Epirian Master Bot Handler kit (If you missed last week's article, you can find it here).

Well, now it's time to get some paint on him!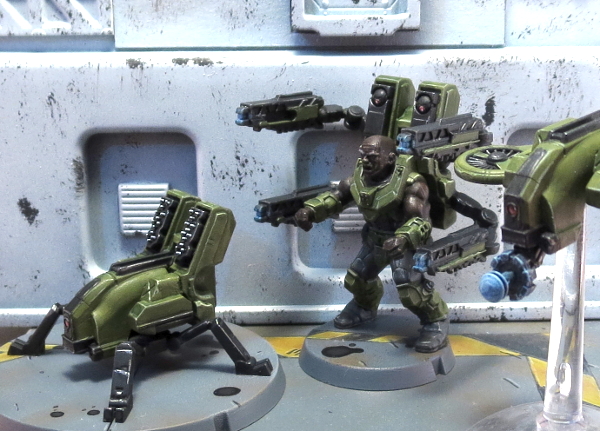 Before I start, a quick note on paints: I tend to use paints from a few different ranges, as I collect whichever paints I like rather than sticking to a single brand. If you're looking to match any of the paints I use, you might find this Paint Compatibility Chart somewhat handy!

I'm painting Konstantin for gaming rather than display, so this is a fairly quick and easy paintjob, with nothing too complicated or fancy going on. I started out by basecoating all three models with Army Painter Army Green spray.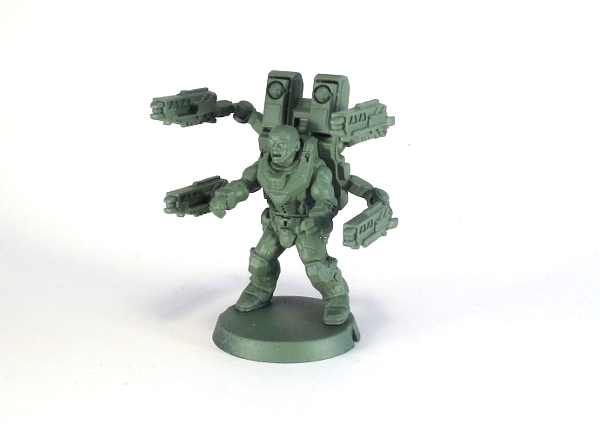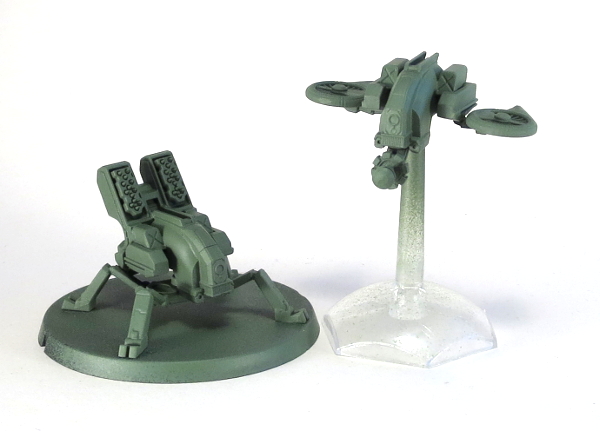 Next, I painted armour sections and the drone chassis with Vallejo Yellow Green, and metal sections with Vallejo Heavy Charcoal. I also gave Konstantin some Vallejo Neutral Grey pants, and a base layer of skin using Citadel Scorched Brown.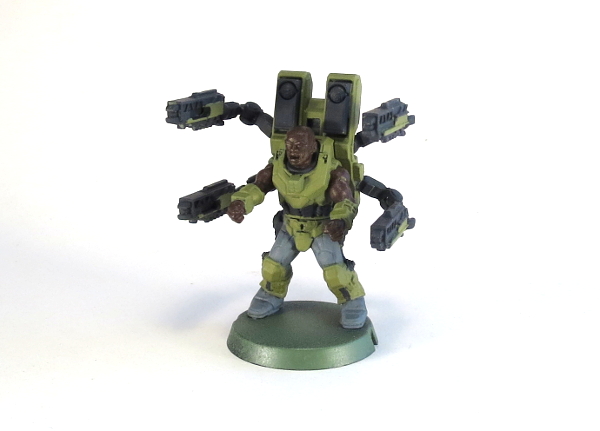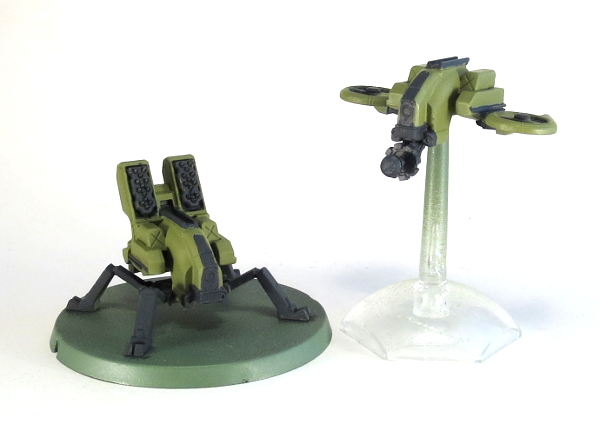 Once that was done, I went over the yellow green with a light wash of Army Painter Green Tone, and the metal, grey and skin with Army Painter Dark Tone.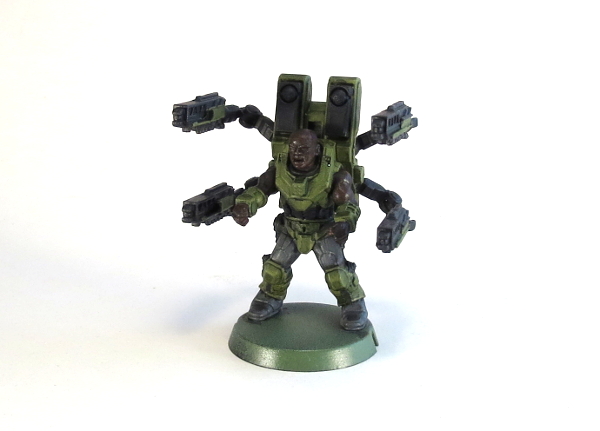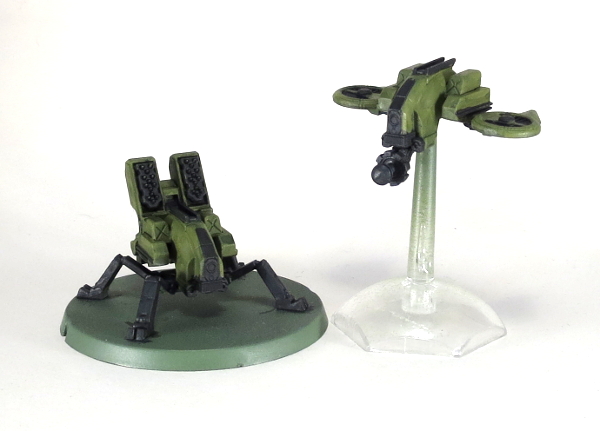 When the washes had dried, I went back over the green sections with a fine brush and a little more green wash, applying very thin layers onto downward-facing surfaces to give them a little more shading. Then I applied a light highlight to raised edges using Coat D'Arms Putrid Green. The metal areas were given a similar highlight with P3 Pig Iron, and I used Vallejo Light Grey on Konstantin's pants. For his skin, I highlighted by lightly drybrushing with Citadel Tallarn Flesh.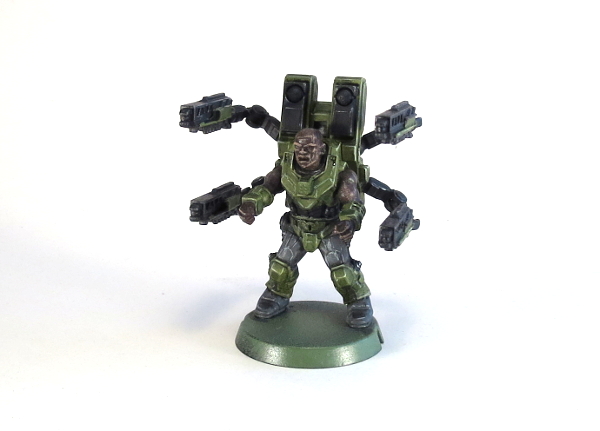 Finally, the models were all transplanted to fresh bases, painted up in my urban scheme. I added some light grey onto Konstantin's eyebrows, and painted the lenses on his Neural Nodes with Army Painter Pure Red before giving them a spot of white in the centre. For the laser tips and the shield generator on the firefly drone (Cassio), I painted on a layer of Citadel Ultramarine Blue before drybrushing with Citadel Ice Blue and finishing with white. A few other details, like the red eye lenses on the drones (Pure Red, shaded with the red mixed with a little black and then a highlight spot of white), the Epirian badge on Konstantin's chest (Pig Iron, with a spot of P3 Cygnus Yellow), and picking out the missile tips on the spider drone (Iago), and the trio were ready for the table!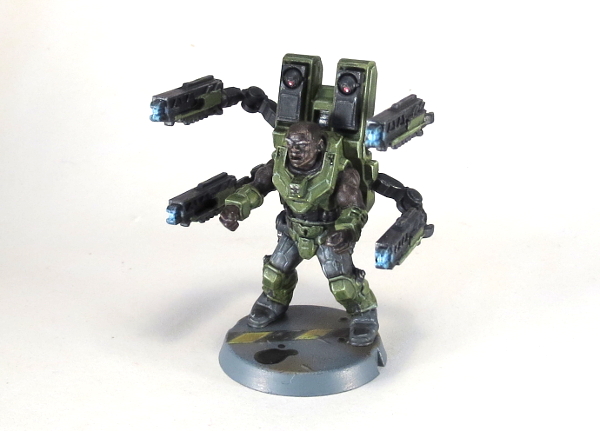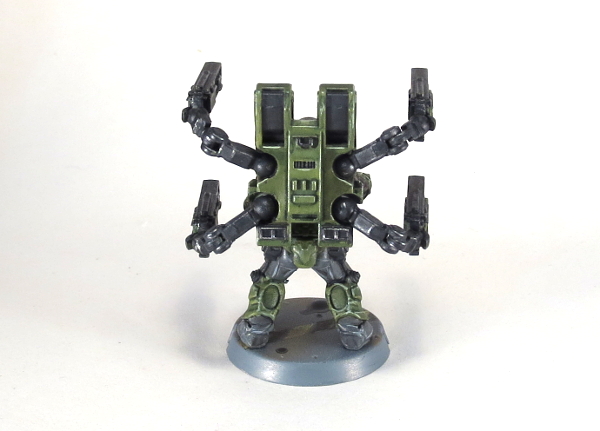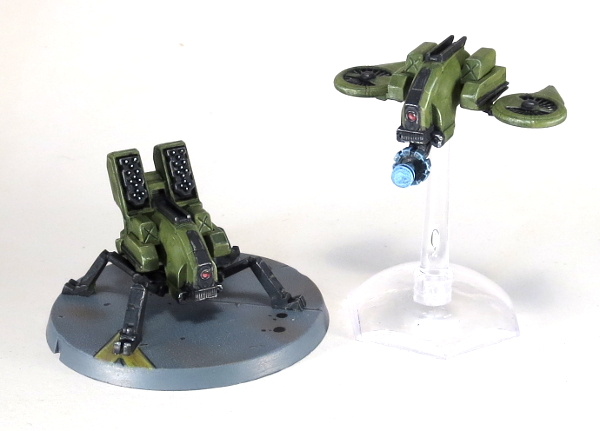 Group shot: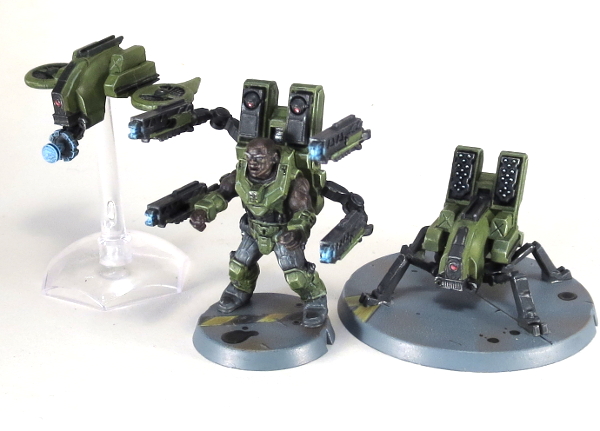 Stay tuned for an unofficial rules card to use Konstantin in your own games, coming later this week to the Force Listing section of the Maelstrom's Edge website!

What have you done with your Master Bot Handlers? We would love to see your creations on the Comm Guild Facebook page!

To pick up this or any of the rest of the Maelstrom's Edge model range, visit the webstore here.

For other Maelstrom's Edge modeling articles, including tutorials and walkthroughs of a wide range of different building and miniature projects, check out the article roundup here.
---
Posted on Monday May 07, 2018 at 05:00PM in Models
---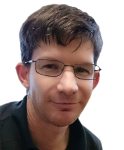 - by Iain Wilson

The Epirian Master Bot Handler is the latest plastic kit to be added to the Maelstrom's Edge range. Striding about the battlefield in his powered exoskeleton, he has the ability to lay down impressive amounts of firepower from a wide array of weapons, or finely co-ordinate his forces through networked neural nodes. Here, we'll have a look at some of the modeling options available with this fantastic model.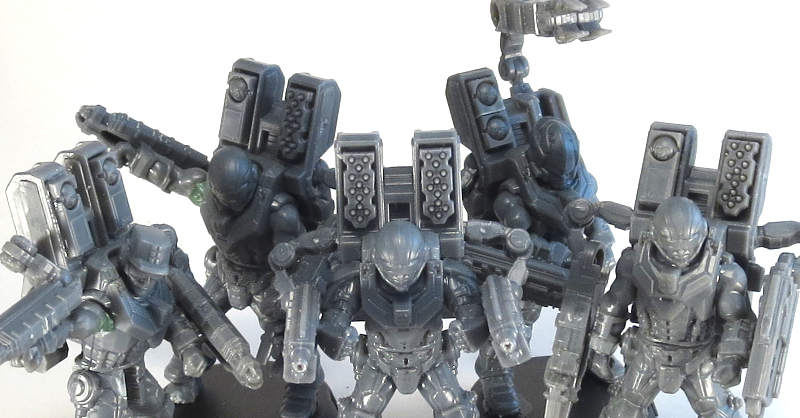 Built straight off the sprue, the Master Handler has multiple weapon options available - Repair Claws, Cutter Light Machine Guns, Drone Class Laser Systems and Flakk Guns can all be chosen for the arm mounted weapons in any combination, and the rectangular sockets on his backpack allow you to place Cluster Missile pods for even more punch, or Neural Nodes for throwing command points around with wild abandon.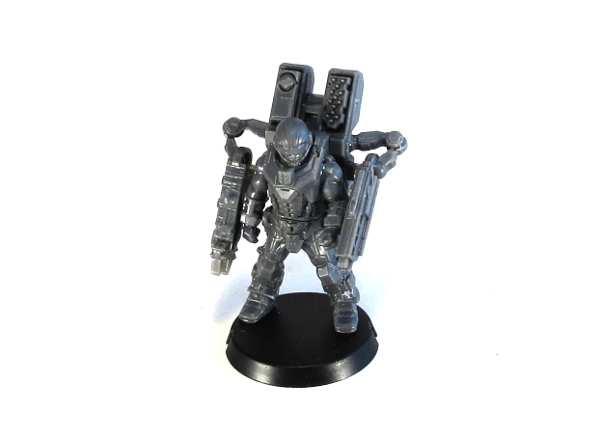 You can find the Assembly Guide for the Master Handler here.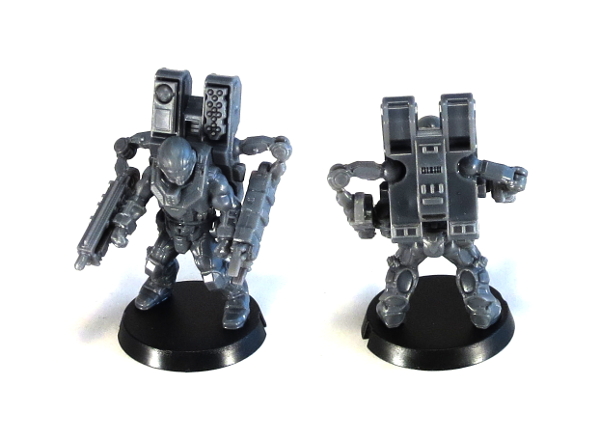 The Master Handler also brings some other impressive 'guns' to the table, with sleeveless and rather buff arms. If you prefer a more covered look on your models, the arms can be fairly easily replaced with the armoured arms from the regular Bot Handler kit. For the below model, on the sides of the torso I removed the protruding arc of plastic that sits just above the Master Handler's shoulders, and added a small locator pin made from a piece of plastic rod to the backs of the regular Handler's forearms. The arms were glued on to the torso with the tops of the shoulder pads sitting about where the original locator arc was, and the weapons slotted onto the locator pins on the arms as they do with the normal Master Handler arms.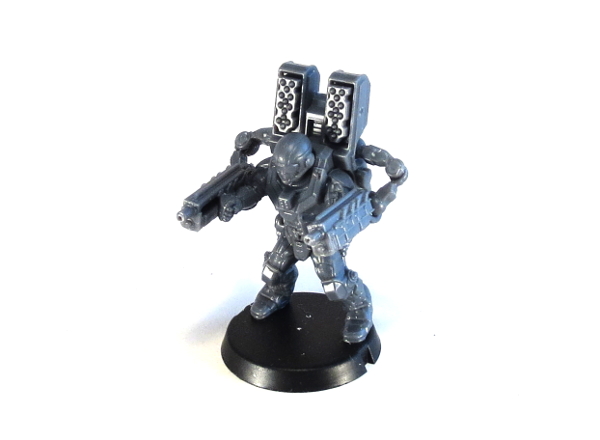 The sprue comes with two sets of legs, one in an upright stance and the other in a knees-bent, braced stance. To mix up the posing a little, you can cut through the groin with a razor saw or sharp hobby knife and switch legs between the two sets to create a stance with one straight leg and one slightly bent. You might need a little gap filling with putty if the cut leaves the waist with a gap. On the below model, I have also extended the right arm out by cutting the top of the shoulder off square, gluing it to the torso and filling in the armpit with some 'green stuff' putty. The left arm has also been slightly repositioned below the elbow, and I have used a head from the Epirian Contractor sprue in place of the Master Handler's helmet.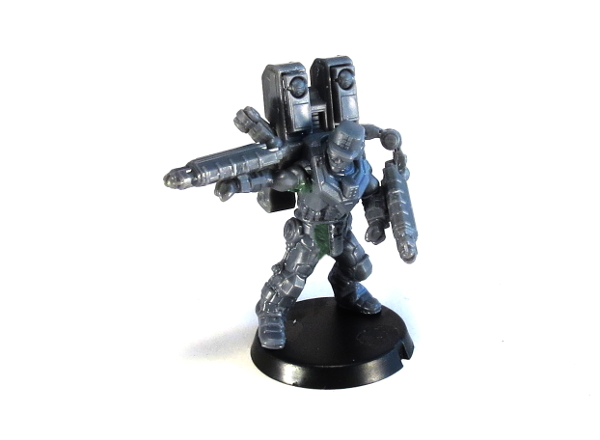 The leftover legs from the above model were used below, with a similar reposing of the right arm as well.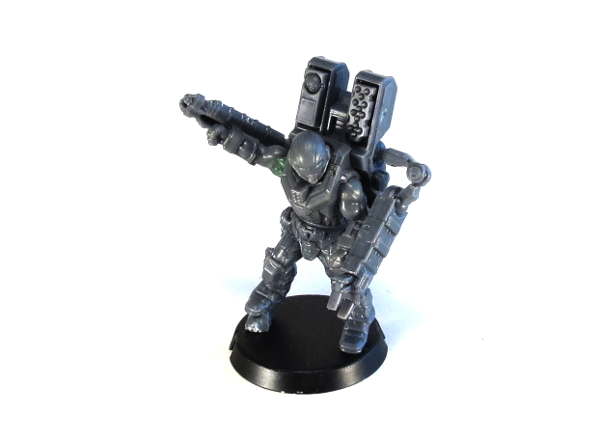 I thought it might be handy to have a repair claw that was independent of the Handler's arms, so cut down one side of a backpack and drilled out a socket to attach one of the weapon support arms. I used two repair claws clamped over the ball joint on the end of the support arm to create a beefier, four-fingered repair claw. I also took the two Neural Nodes and cut them in half so that they would both fit on the other side of the backpack, and used a helmet from the regular Bot Handler sprue.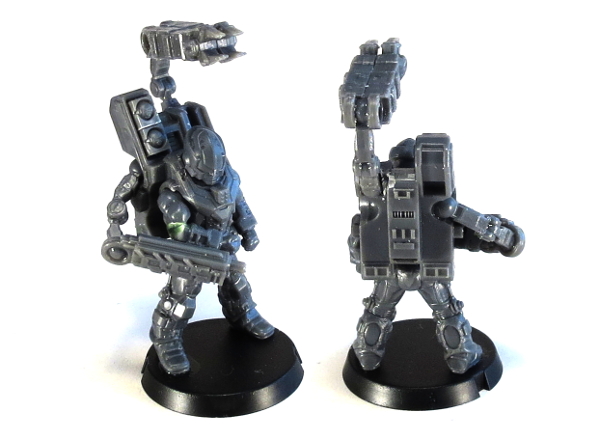 The neck joint on the Master Handler torso is compatible with any of the different plastic Epirian heads, and also works with most of the heads from the Broken Infantry pack, which is handy if you want to create an alien Handler for your force. For the below model, I aso left the weapon support arms off entirely, and built the Drone Class Laser System directly into the backpack by trimming off the backs of the weapons at an angle to match the backpack panels.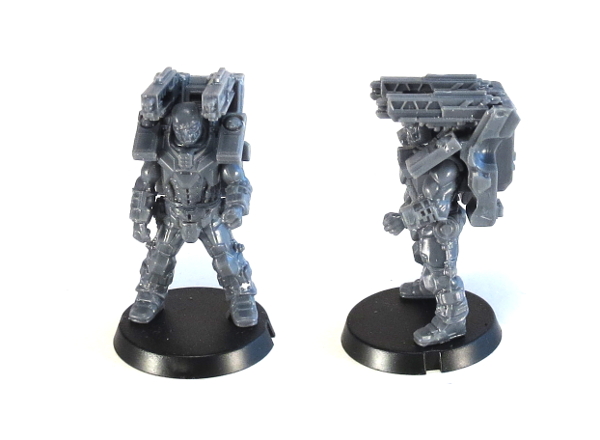 Because the Master Handler comes with two sets of legs and torsos, you're going to wind up with some spare parts. It seemed a shame to waste these, so I used a leftover helmet from the regular Handler sprue, and some Clingfire Sprayers and a command module from the Epirian Scarecrow kit to create a twin-flamethrower-equipped model that I'm calling an 'Eradicator'. The fuel hoses on the backs of the weapons are made from guitar string.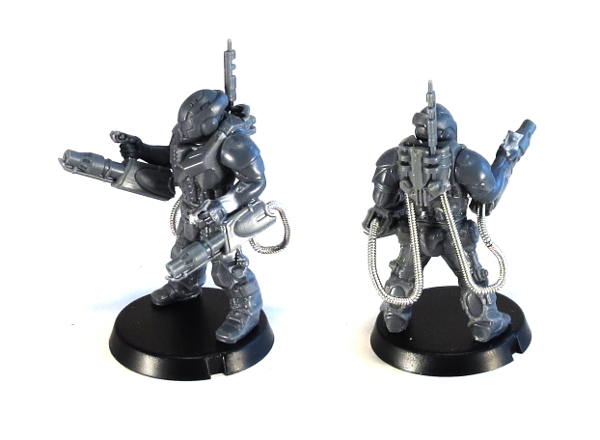 I thought it might also be fun to add some of that shiny, missile-pod goodness to a drone unit, and so I took a Master Handler backpack, trimmed off the bottom and stuck it onto the back end of a Spider Drone. I don't have a name for this friendly little fellow yet... I think I'll have to revisit that in a later article!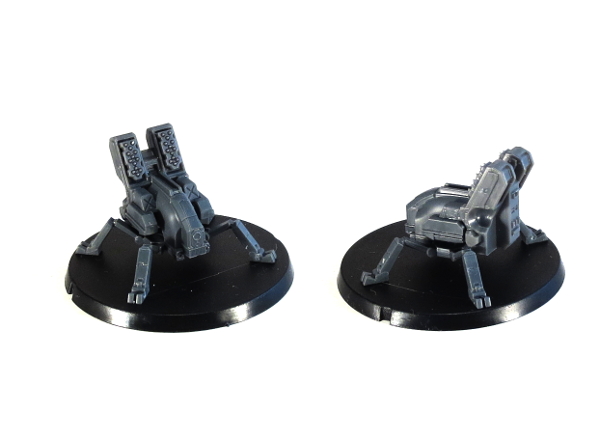 What have you done with your Master Bot Handlers? We would love to see your creations on the Comm Guild Facebook page!

To pick up this or any of the rest of the Maelstrom's Edge model range, visit the webstore here.

For other Maelstrom's Edge modeling articles, including tutorials and walkthroughs of a wide range of different building and miniature projects, check out the article roundup here.
Tags: conversion epirian handler model modeling
---
Posted on Monday Apr 23, 2018 at 05:00PM in Models
---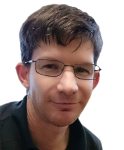 - by Iain Wilson

Bot Handlers serve as unit and force commanders amongst many Epirian forces, with their neural interfaces allowing them unparalleled access to tactical information and the ability to control bots at a distance. The Maelstrom's Edge Bot Handler sprue comes with parts to build two Bot Handlers, and this week we're having a bit of a look at just what you can do with them.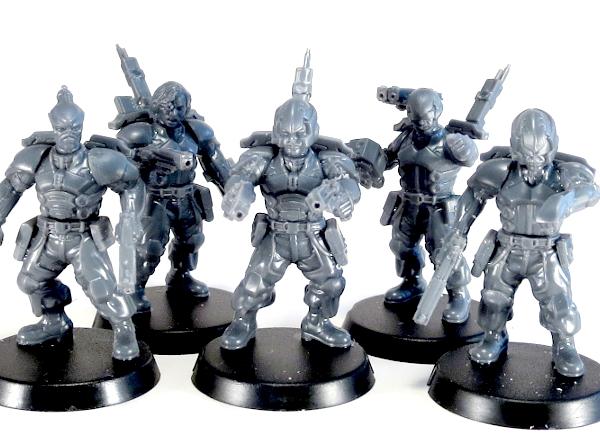 There are two different types of Bot Handlers in the game at the moment - The Apprentice Bot Handler, and the Journeyman Bot Handler. Apprentice Handlers lead units of Spider Drones in battle, while the more experienced Journeyman Handlers serve as low-level army commanders. These serve below the Master Handler, who will be added to the range soon with a new model and rules card.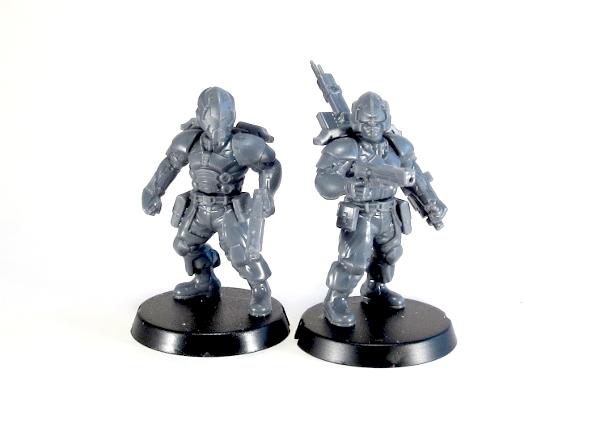 Apprentice Handler (left) and Journeyman Handler (right).


The Apprentice Handler is equipped with a Maglock Dominator Pistol (a more powerful version of the Maglock Guardian Pistol used by Epirian Contractors) and uses a Tactile Bot Interface on one arm to interface with the bots under his direct control.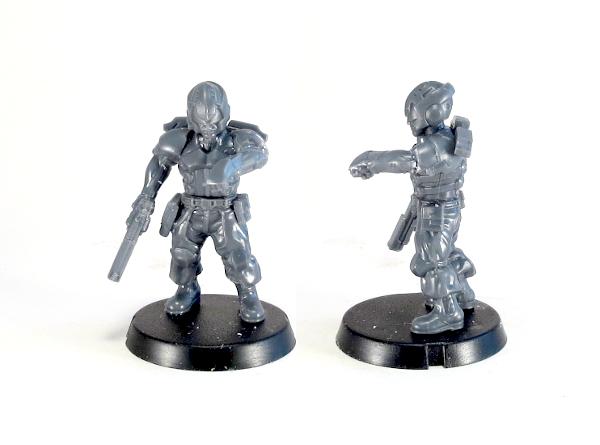 Apprentice Handler. The left arm has been slightly converted to look like he is motioning with the tactile interface gauntlet.


The Journeyman replaces the tactile interface with a more sofisticated Neural Interface, which frees up his hand to take a second pistol, or a forearm mounted grenade launcher.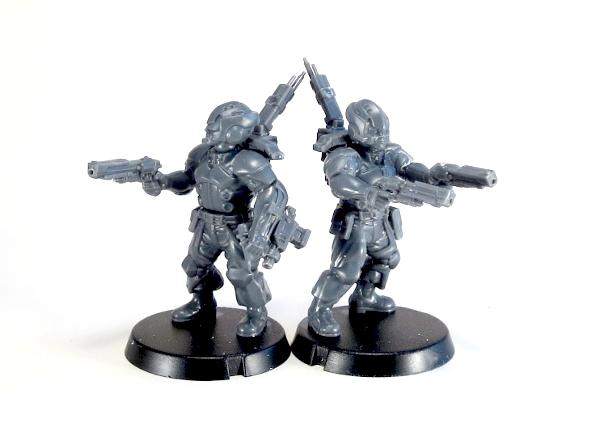 Journeyman Bot Handlers (right).


Thanks to the modular nature of the Maelstrom's Edge kits, making small modifications to your models to personalise them a little is extremely easy. The standard Handler helmets can be swapped out for heads from other Epirian kits, or even from other factions.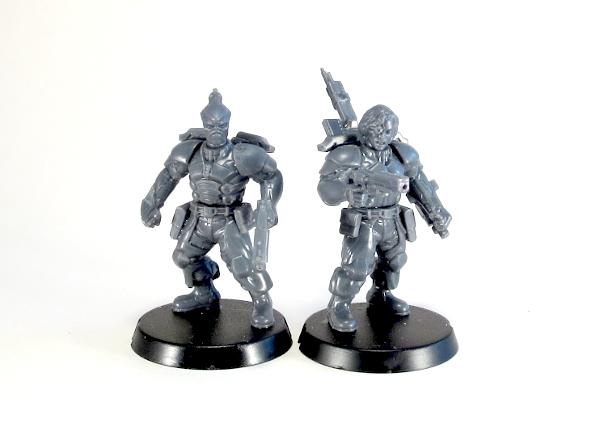 Bot Handlers with heads from the Broken Infantry Pack.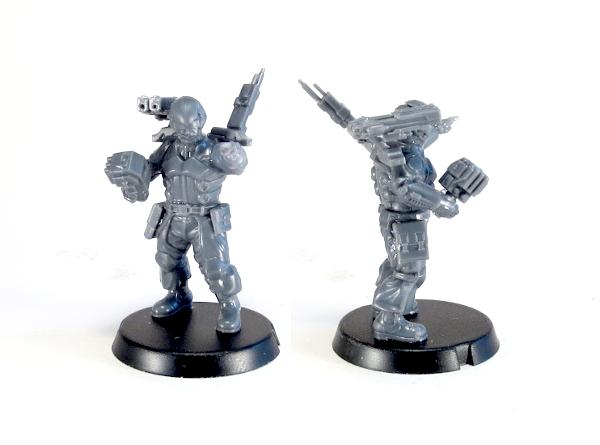 Journeyman Handler with arms taken from the Broken Infantry Pack and the more streamlined helmet from the Faction Expansion Sprue.


Getting slightly more advanced, the below model was given a new pose by cutting two sets of legs apart at the groin and swapping halves to create a wide-legged, braced stance. A visor was added over a regular Contractor head with 'green stuff' putty, and the dual pistols were built onto a mini-drone made from a Firefly Drone turbine.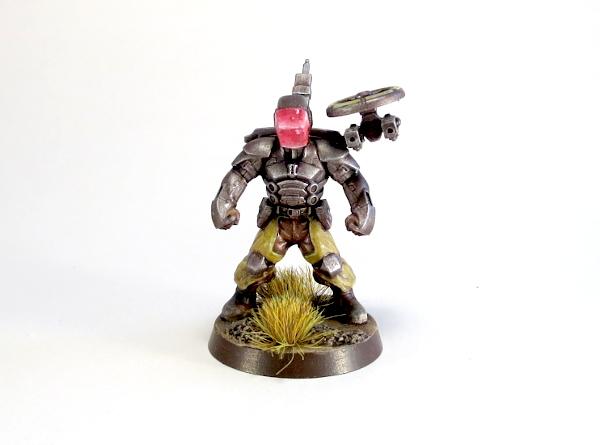 Converted Journeyman Bot Handler.


Or for something more outside the box, this Handler was reposed slightly by bending the legs outwards and replacing the right hand with an open Karist hand from the Faction Expansion Sprue, and was given a Drone Bike made from an Epirian Drone chassis and a Games Workshop bike.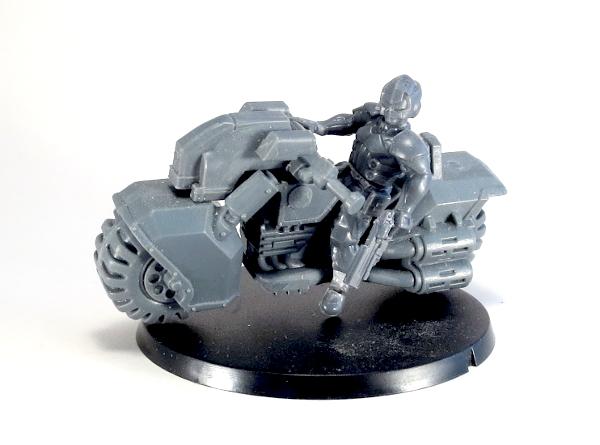 Born to ride.


To pick up the Epirian Bot Handler kit, or any of the rest of the Maelstrom's Edge model range, visit the webstore here. As always, we would love to see your creations on the Comm Guild Facebook page!

For other Maelstrom's Edge modeling articles, including tutorials and walkthroughs of a wide range of different building and miniature projects, check out the article roundup here.
---
Posted on Monday Apr 02, 2018 at 05:00PM in Tutorials
---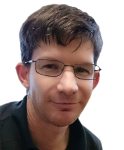 - by Iain Wilson

This month sees the release of a new type of unit to Maelstrom's Edge, with the addition of the Marsayan Hypnotist to the Broken faction. Rather than a unit in his own right, the Hypnotist is fielded as an upgrade to other units - an idea that will be carried across to other factions later to help mix things up a little. While he doesn't have any weapons or ability to directly hurt enemy units, the Hypnotist uses his inate abilities to interfere with enemy attacks directed towards his unit. Here, we have a look at some modeling options for this great resin model.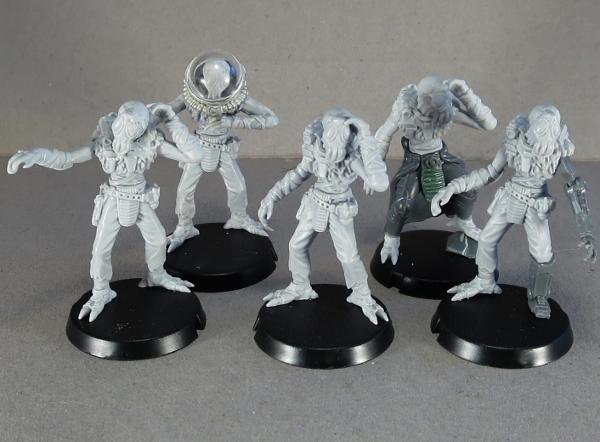 The Marsayan Hypnotist is a two-piece resin model, and comes with a 25mm base. If you haven't worked with resin models before, you might want to check out the handy guide here.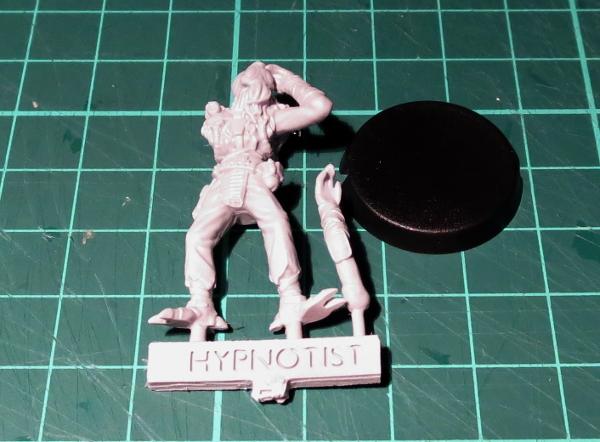 Assembly is simple - cut the model from the frame, glue his feet to the base with superglue or a fast-setting epoxy (I use superglue with an all-plastic primer, for some extra grip without messing about with plastic.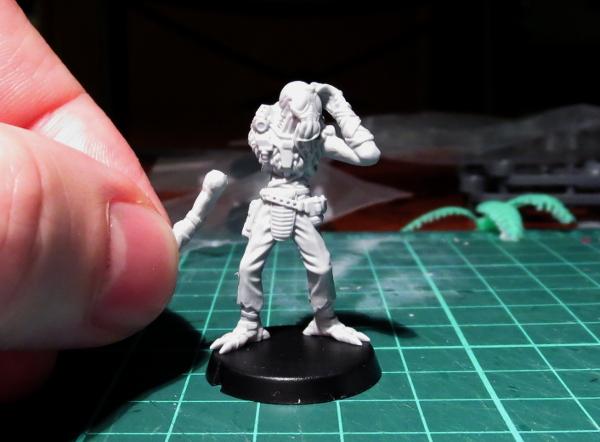 The assembled model is a little taller than a human, but slightly more slender.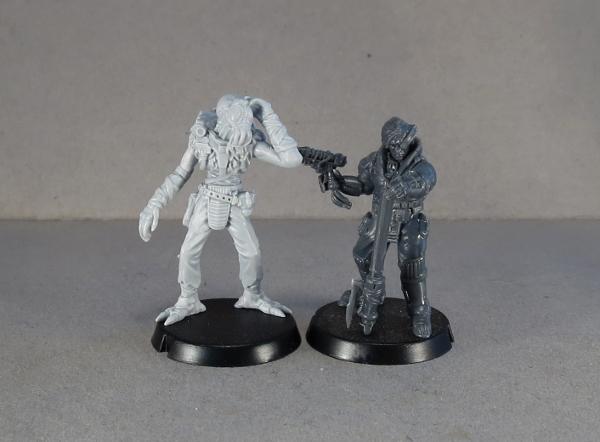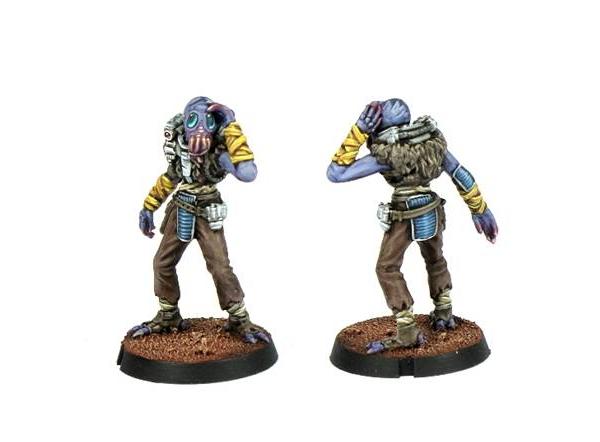 Due to the nature of the Broken as scavengers and refugees, it can be fun to mix up the models a bit by using components from other kits. Here, I replaced the Hypnotist's legs with the legs from a Karist Kaddar Nova.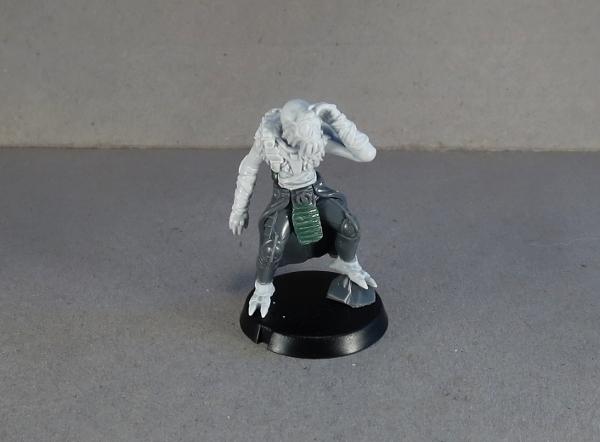 For something slightly more ambitious, on this one I carefully cut through the resin where the fingertips touch the model's head, and then cut through the neck. The neck was trimmed away and replaced with a new one sculpted from 'Green Stuff' sculpting putty, and the head reattached facing to the right instead of the left. I also cut the left hand off at the wrist and reattached it at a slightly different angle, so that the fingertips still touch the head.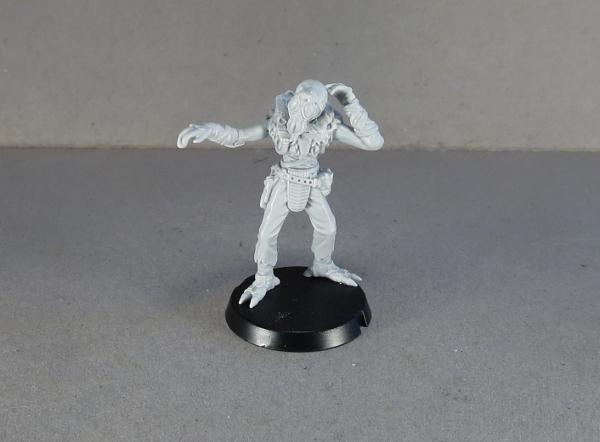 Some worlds are less comfortable for some species than others. On this model, I cut through teh left arm at the shoulder and rotated it downwards to cross the model's chest. I also removed the head and repositioned it slightly, flattened off the top of the shoulders, and added a domed helmet from Bombshell Miniatures.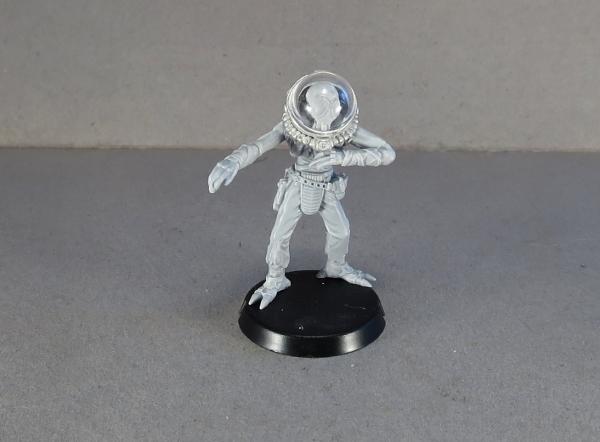 Finally, bionic limbs are a common feature amongst the Broken. While these have no specific in-game effect, they're a great way to add some character to your models. Here, I have replaced the Hypnotist's lower leg and left arm with parts taken from an Epirian Scarecrow bot.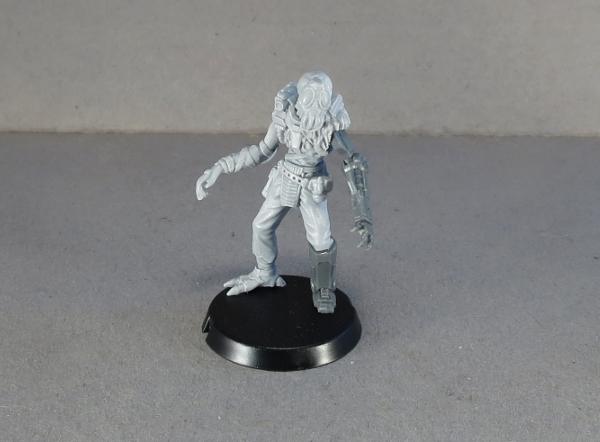 What have you done with your Hypnotists? We would love to see your creations on the Comm Guild Facebook page!

To pick up the Marsayan Hypnotist, or any of the rest of the Maelstrom's Edge model range, visit the webstore here.

For other Maelstrom's Edge modeling articles, including tutorials and walkthroughs of a wide range of different building and miniature projects, check out the article roundup here.
---
Posted on Tuesday Jan 30, 2018 at 07:06AM in Tutorials
---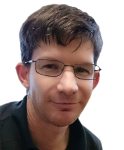 - by Iain Wilson

This week saw the arrival of the biggest model yet for Maelstrom's Edge: The Gnolti!

A gigantic chunk of brawn and armoured hide, the Gnolti is slow to anger, but unstoppable when roused. So as impressive as the model is, I decided I wanted to build one that showed a Gnolti really letting it all out. This was the end result: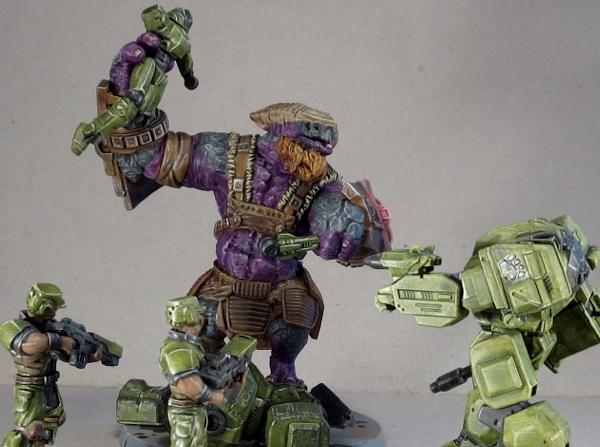 The Gnolti is a multi-part resin kit, with a little posability in the forearms due to the circular connections. One of his hands is open, and this seemed like it was just asking to be holding something breakable. So, I sliced off the forefinger so that I could close in his grip a little, and reattached it with some green stuff, and gave him a little friend to play with, courtesy of the Epirian Scarecrow kit.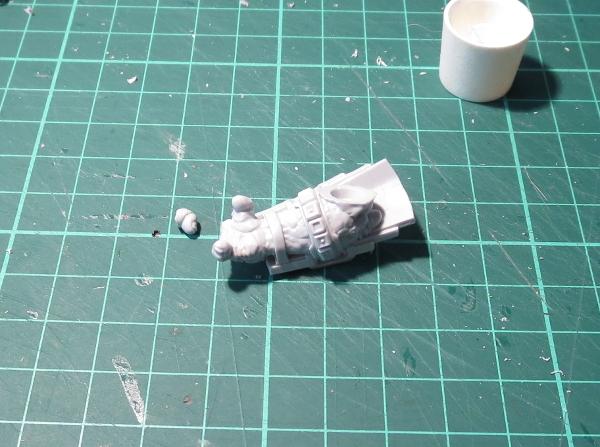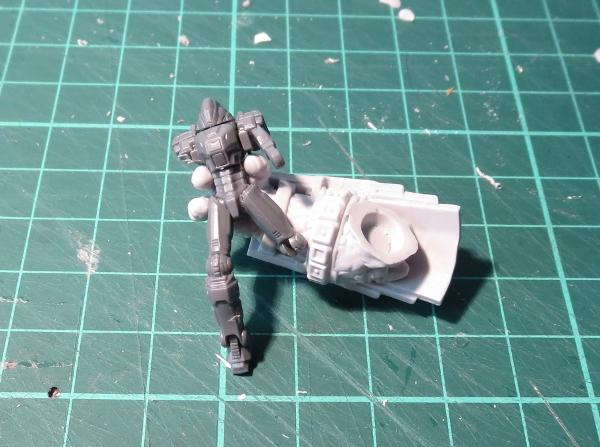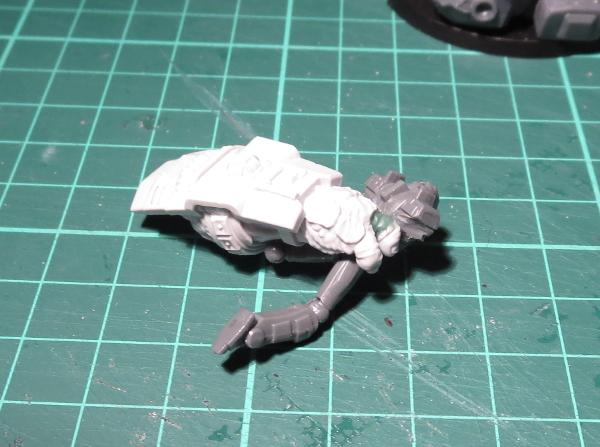 The left hand is in a closed fist, and is designed to sit knuckles-down on the base. I reshaped the flattened bottom surface of the fingers to make them more rounded, and then pinned the scarecrow's left forearm into the Gnolti's grip.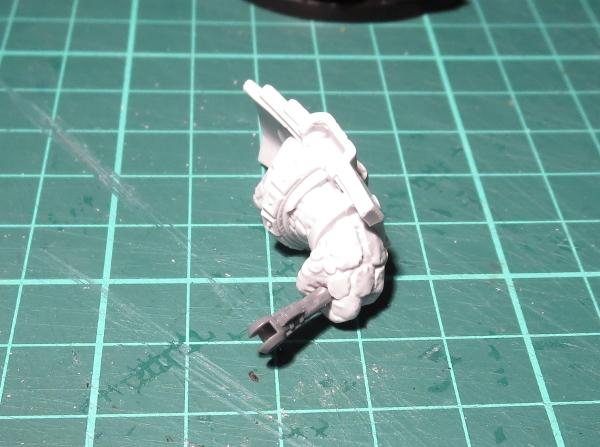 To create a more upright stance, I ran the legs under some hot water and carefully bent the lower right leg out and back. Apparently, I wasn't careful enough, as I managed to snap it off through the shin, but with a little drilling and pinning, I wound up with legs positioned how I wanted them.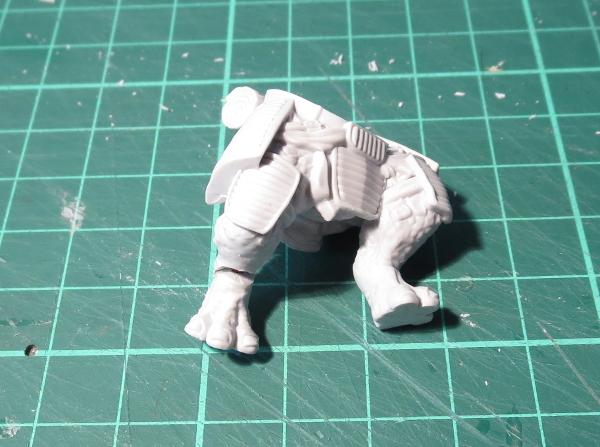 Adding a Hunter mech's leg for the Gnolti to stand on, I glued the legs in place on the base, and added a piece of sprue to fill in the slot for the torso's locator peg.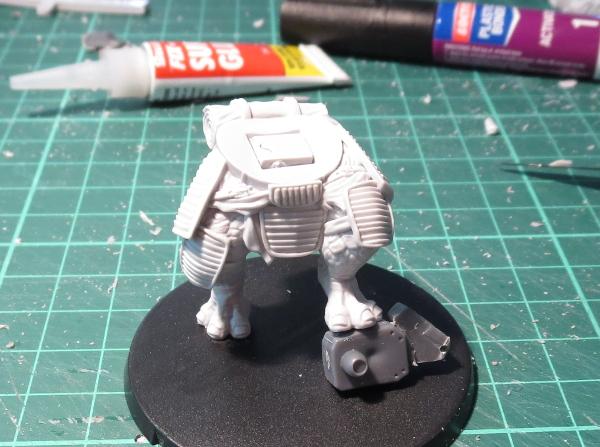 Taking the torso piece, I used a razor saw to slice off the right arm at the shoulder, cutting out a wedge on the top so that it could be reattached in a more raised position. I also cut a thin wedge out from his chin at the top of his beard, and then added a cut between his lips so that I could bend his lower lip down into a mouth-open position.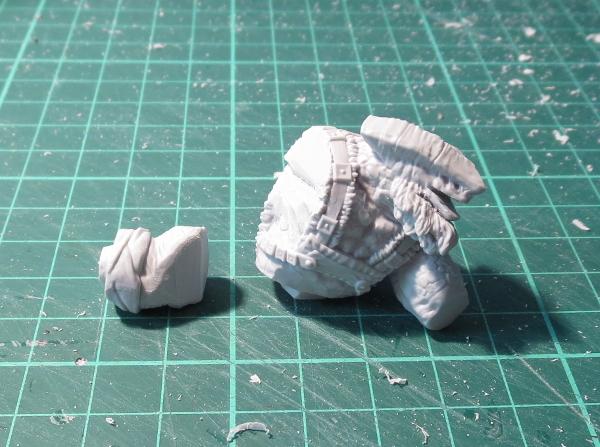 The torso was then glued in place, with the sprue in the waist-hole allowing the torso to sit upright.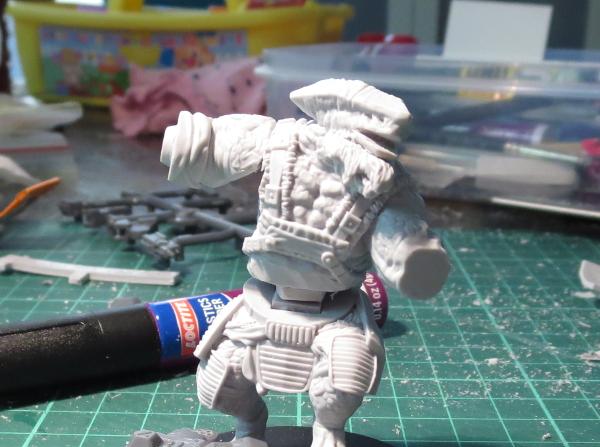 The lower lip was padded out with some green stuff to repair the minor damage from sawing it open. I also filled in the cavity in his waist, and started added detail back in under the right arm.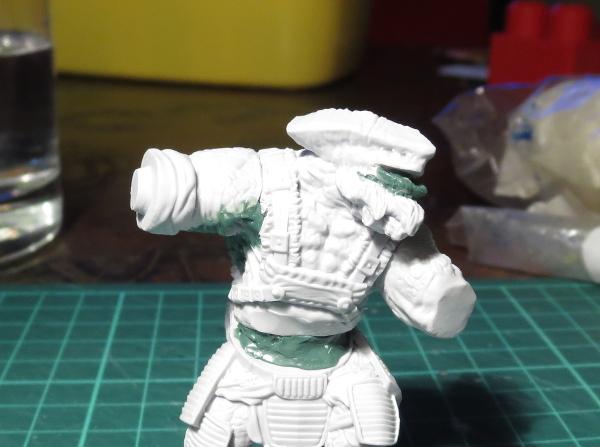 Another layer of green stuff gave him some abdominal muscles, a tongue, and a single flat tusk in his lower jaw.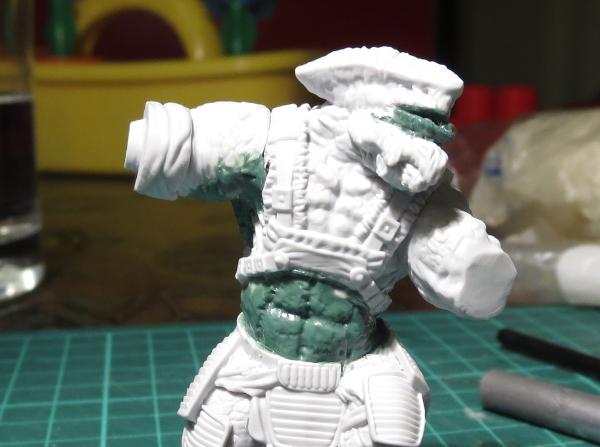 Finally, the forearms were glued on, and a last run of green stuff added to replace the fur trim on his right shoulder strap.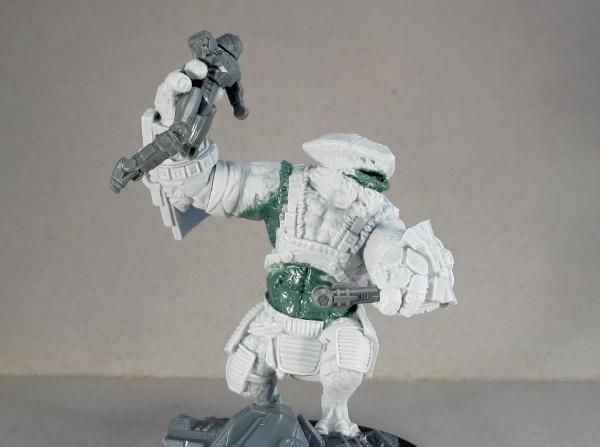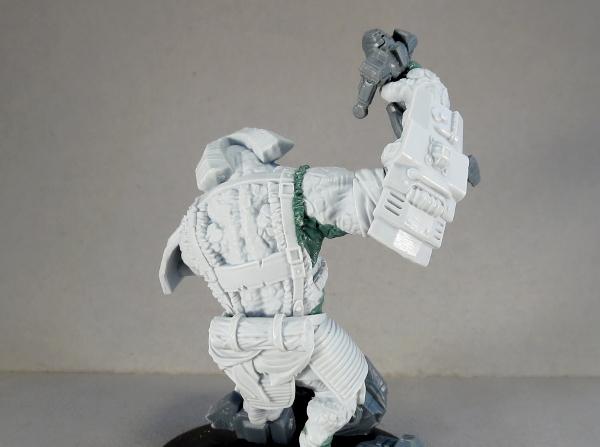 With that, it was time to paint!

I went with a colour scheme that was reminiscent of that used on the studio model shown here, but with slightly more muted colours to fit in with my quick, wash-painted Broken colour scheme.

Ready for action!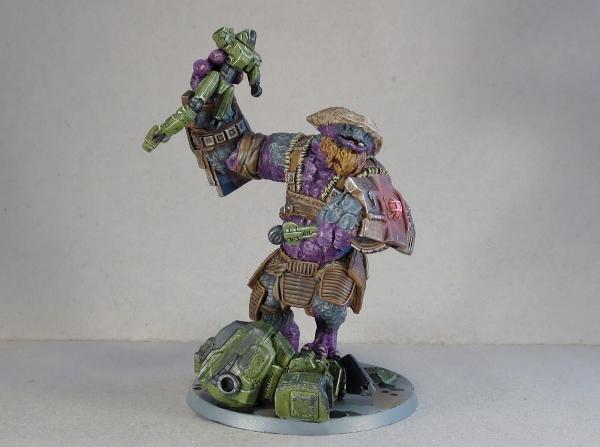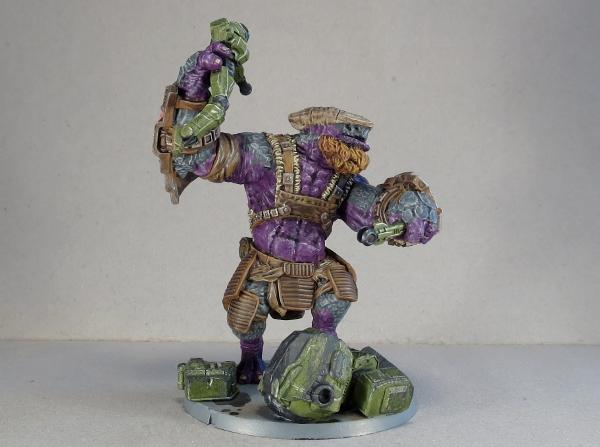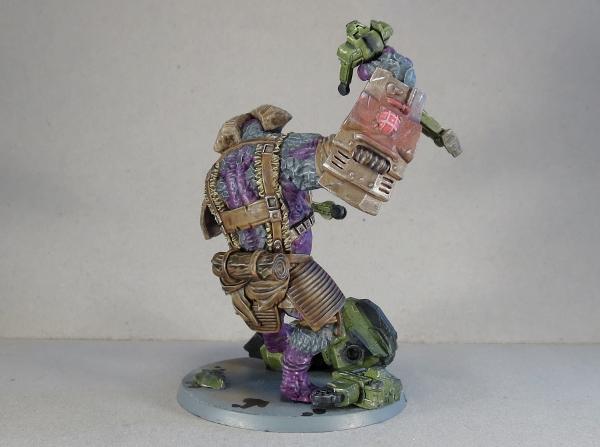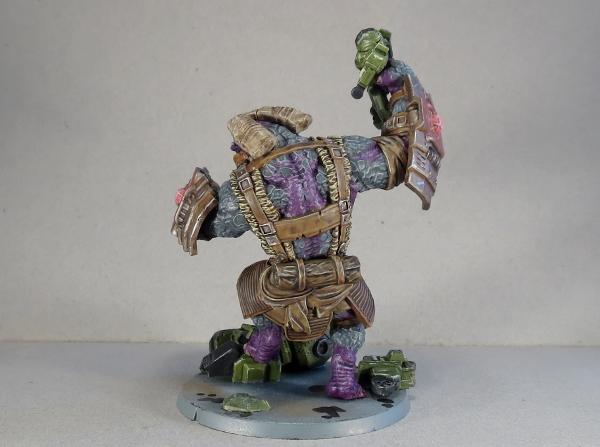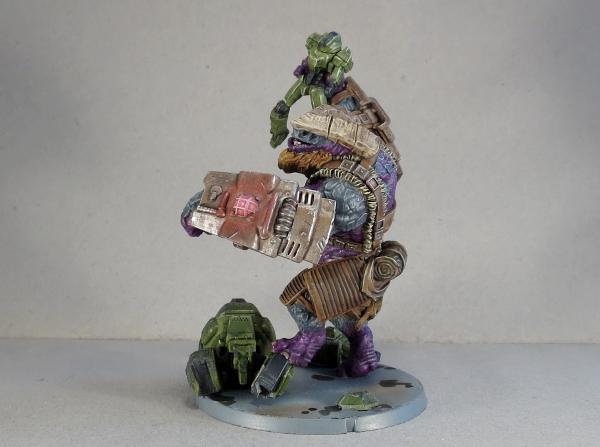 To pick up your own wee beasty of broken doom, or any of the rest of the Maelstrom's Edge model range, visit the webstore here. As always, be sure to show off your work on the Comm Guild Facebook page!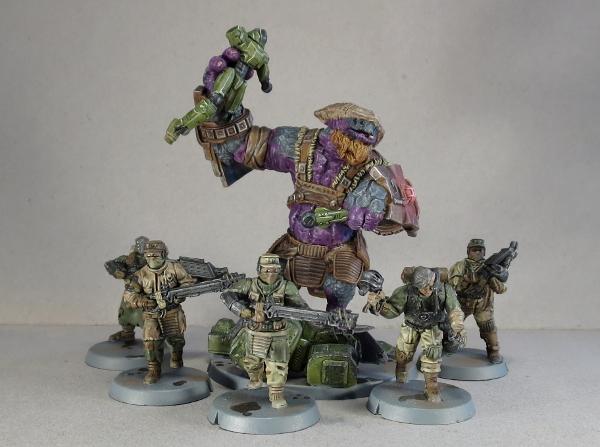 For other Maelstrom's Edge modeling articles, including tutorials and walkthroughs of a wide range of different building and miniature projects, check out the article roundup here.
Tags: broken conversion gnolti model modeling spotlight tutorial walkthrough
---
Posted on Friday Jan 26, 2018 at 10:30AM in Models
---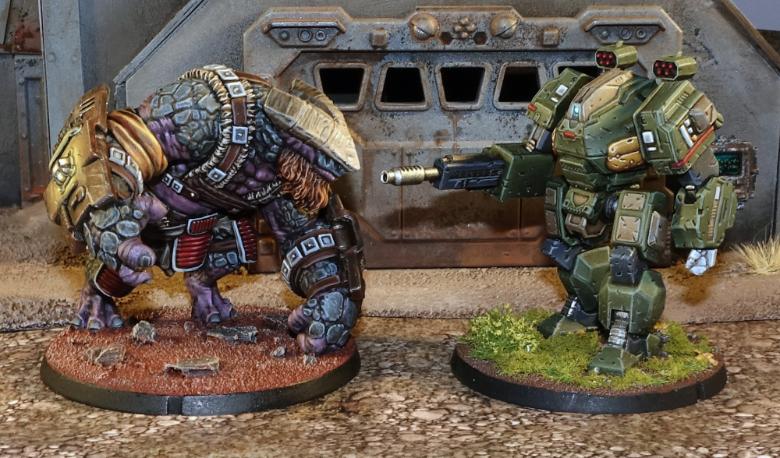 Spiral Arm Studios are proud to present their latest release - the Gnolti - a large, brutish alien which fights alongside the Broken. This four part resin model is the biggest we've ever made and is available now on the Maelstrom's Edge webstore.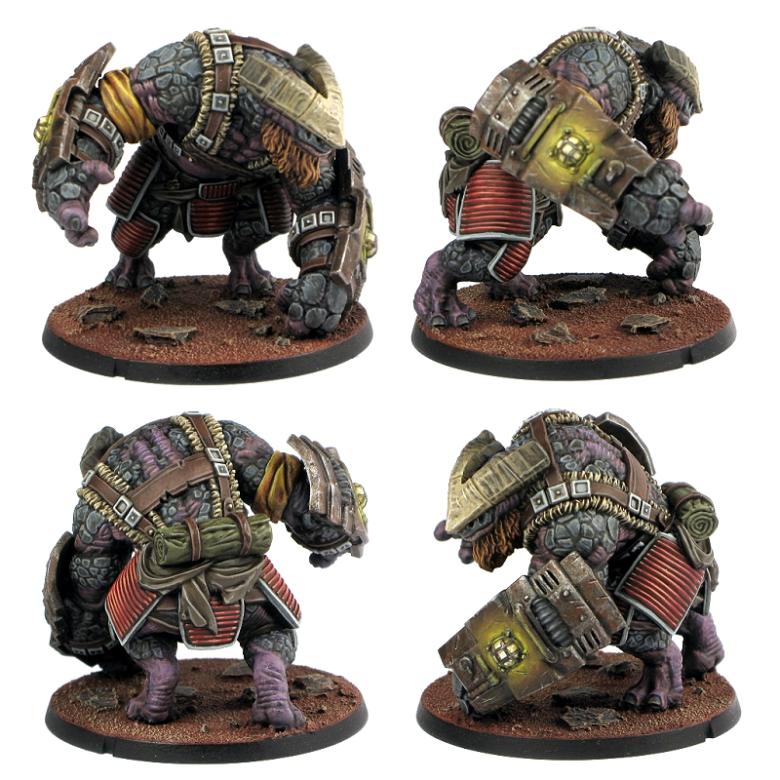 The Gnolti are large, slow moving creatures with strength many times that of a human. Gnolti evolved on the high gravity moon orbiting the gas giant Encelasa, and were amongst the first alien species met by humanity. Many Gnolti remain on their homeworld, but some take up a nomadic life across the Spiral Arm, earning money with their bulky frames to send back home. Originally hired and transported to systems requiring extreme manual labour or exposure to elements lethal to humans, their normally calm, thoughtful temperament made Gnolti easy to integrate into human society. Gnolti are extremely loyal to those who treat them well, gladly risking themselves to protect their friends. Despite being incredibly useful, Gnolti are often denied berths on planetary evacuation ships due to their extreme size. Gnoltis have few opportunities to escape the Maelstrom, and stranded Gnolti are a common recruit into the ragtag warbands of the Broken, where their physical power can be a huge asset.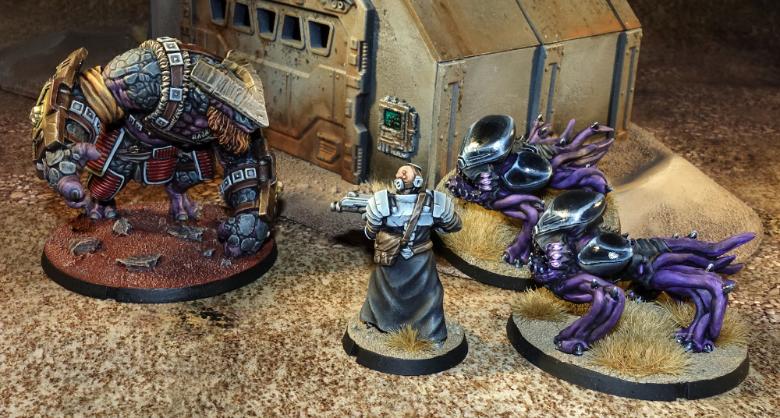 It takes an incredible amount of punishment to bring down a Gnolti in battle. Besides their massive strength and incredible toughness, Gnolti are blessed with an extreme regenerative trait that allows them to heal in just minutes massive wounds that would easily fell other species. Gnolti may be slow to anger, but once roused, their rage is hard to quench. A rampaging Gnolti is an image impossible to forget for those lucky enough to survive their attack. Frequently a Broken ringleader won't even arm their Gnolti comrades, as the spectacle of an enraged charging Gnolti can disrupt all but the most disciplined defensive lines. This near legendary reputation means that on the battlefield, Gnolti become a primary target of the enemy, regardless of whether they should be or not. The Broken gladly leverage this notion and use Gnolti as a screen for their more vulnerable units. The ferocity and size of a Gnolti is even used as a distraction tactic, drawing the fire of enemy troops so that other Broken can manoeuvre unhindered, to devastating effect. The Broken do not take the sacrifice of Gnolti lightly. At the end of each battle, Gnolti are given first pick of any loot that was captured, and every member of the warband stops by to wish thanks to the Gnolti they served with, or to pay homage to those Gnolti that didn't survive.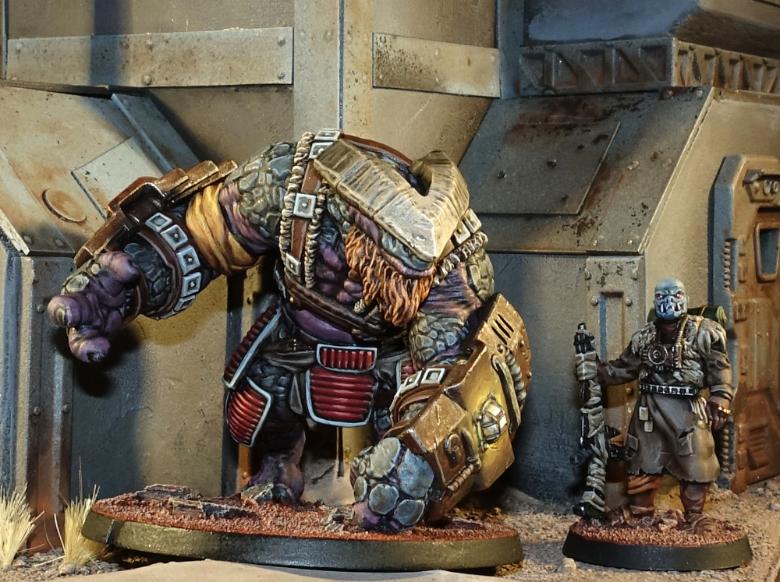 The Gnolti rules are available as always at the Maelstrom's Edge website, in the Force Listings section. Equipped with the ability to regenerate, and with massive fists to plow through enemy lines, this powerful model is a solid centrepiece for Broken detachments.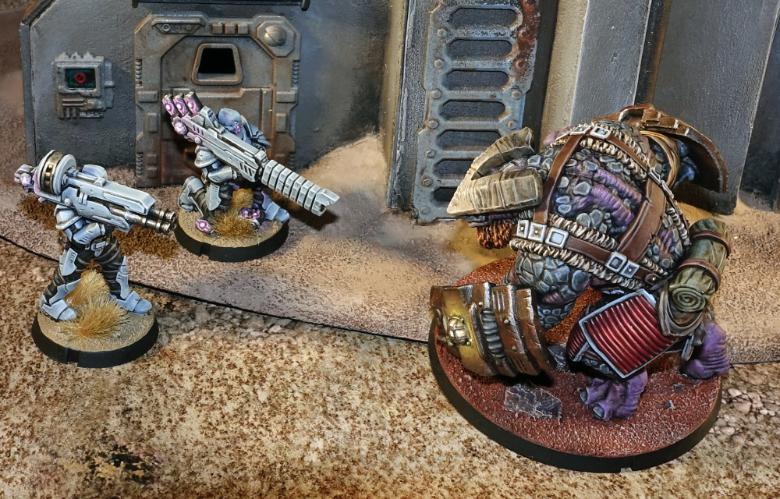 This is a four part resin model which has some posing flexibility at the forearms. Overall, the Gnolti has a mostly fixed pose designed to show the lumbering power of the model.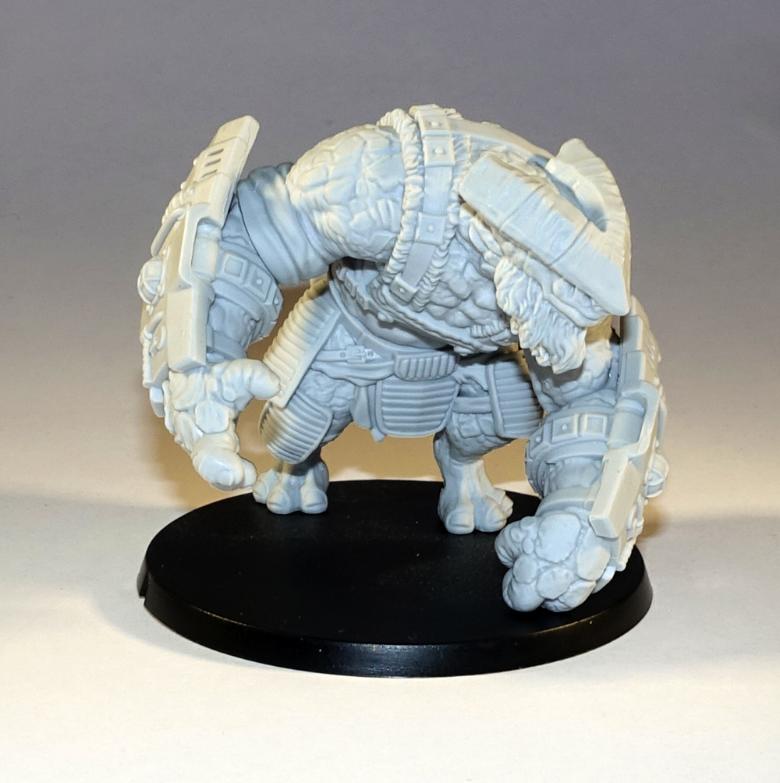 The Gnolti is available for purchase right now in the Maelstrom's Edge webstore.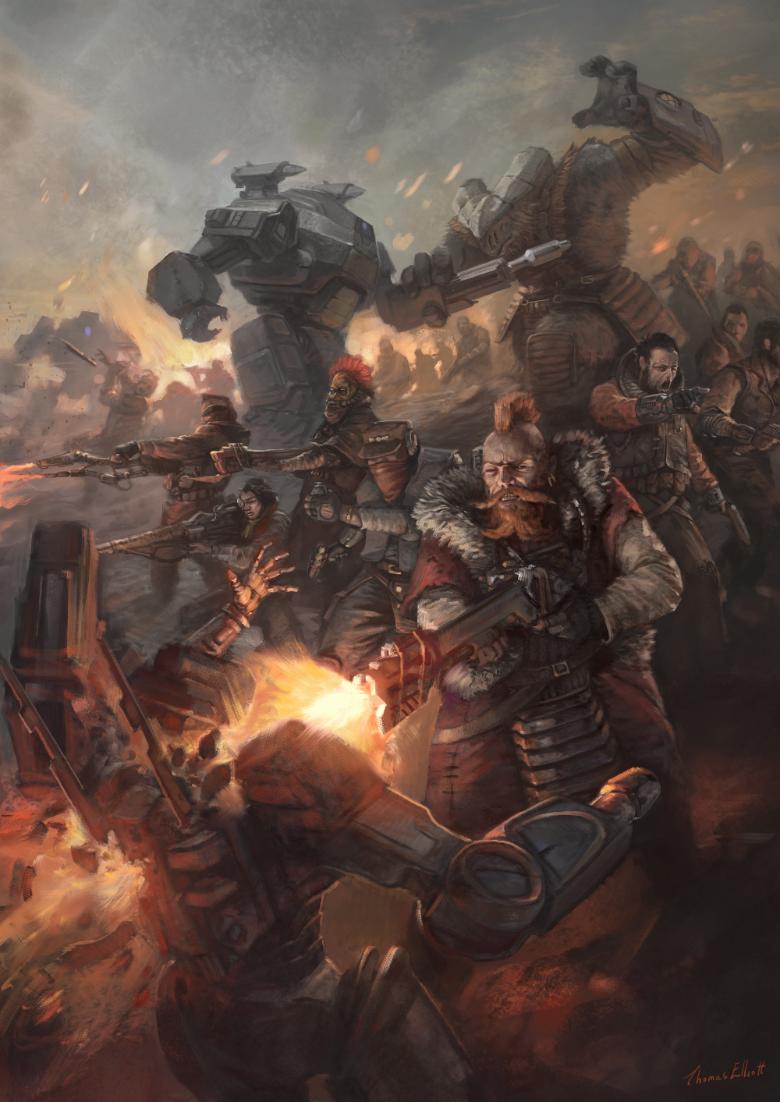 ---
Posted on Tuesday Oct 31, 2017 at 03:00PM in Models
---
We at Spiral Arm Studios are proud to announce the immediate release of the Karist Angel Hellblaster unit. A valuable addition to any Karist force and our first ever resin model! It seems fitting to release a monstrous creature on Halloween!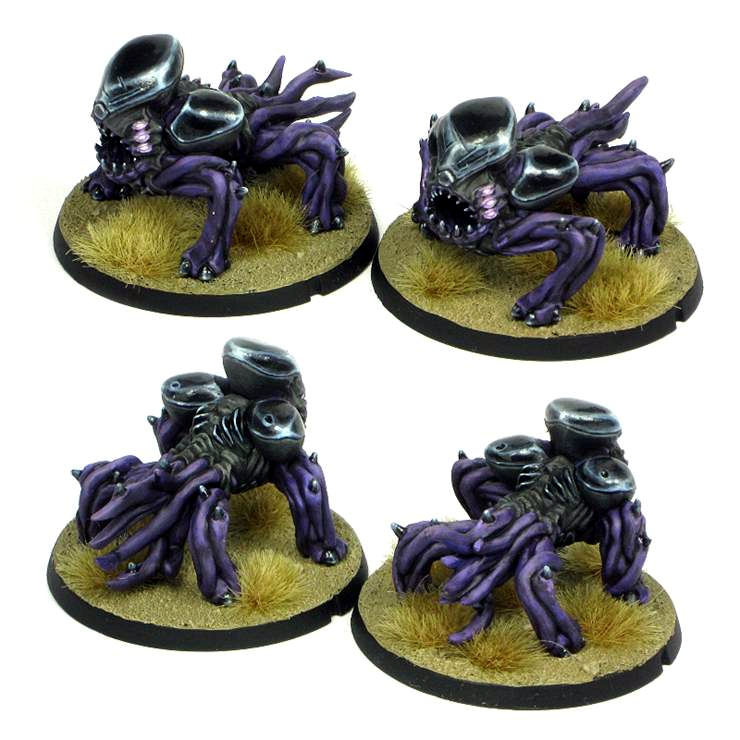 The Angel Hellblaster is a juvenile form of an Angel. Larger than a minnow but smaller than a mature Angel, juvenile angels can take many forms, but Karist Keepers try to goad certain Minnows into a Hellblaster form for the many tactical advantages the Hellblaster type offers.
First and foremost, the Cybel Blast ability sets these guys apart from the rest of the Karist forces. Using a powerful template blast, they can really hold their own.

Cybel Blast: Range 24", SHO 2+SB, PEN 4, DAM 1, Special: AoE (SB), Explosive (6+).

The full Angel Hellblaster profile and force builder elements can be found on the Force Lists section of the Maelstrom's Edge website.
Two distinct models are available in a single pack: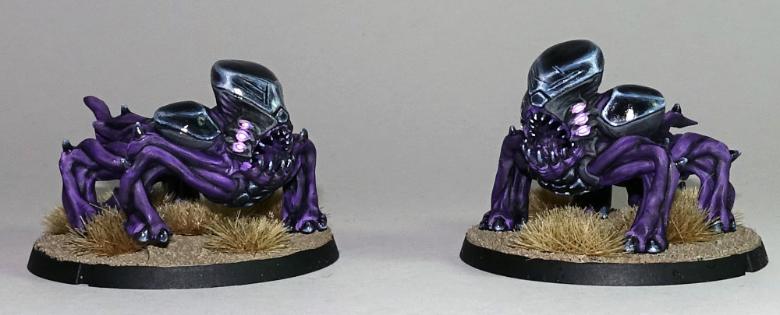 The Hellblaster sits on a 44mm base, the same as the Epirian Spider Drones and Hunter Warmechs. Here's what the Angel range looks like now: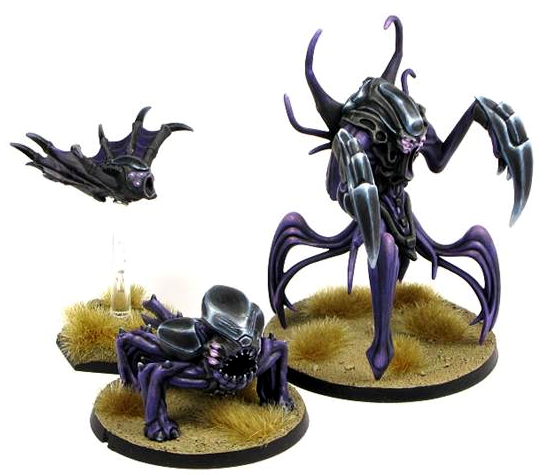 If you have wanted to build an all-Angel army, we are just one model away from it being completely viable, and the Angel Hellblaster will be the Hammer of your force.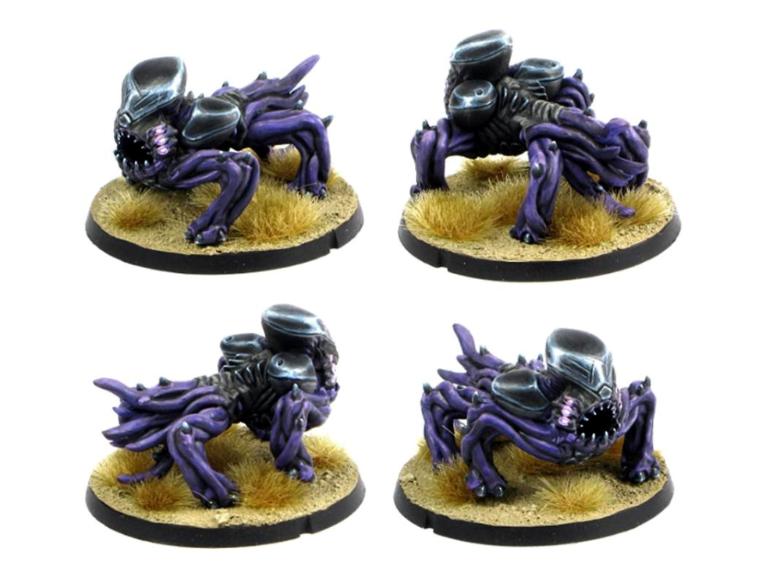 The Angel Hellblaster is available now in the Maelstrom's Edge webstore.
Tags: angel hellblaster karist model resin
---
Posted on Monday Oct 23, 2017 at 05:00PM in Tutorials
---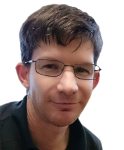 - by Iain Wilson

The new, plastic Broken Infantry kit has been out for a few weeks now, and I've been having a ball exploring the modeling options available from these sprues. With build articles now up showing how to put together your Chieftains, Rabble squads (which also serves for the Fire Support unit) and Assault units, it seemed like a good time to look at some easy ways to customise your Broken models a little.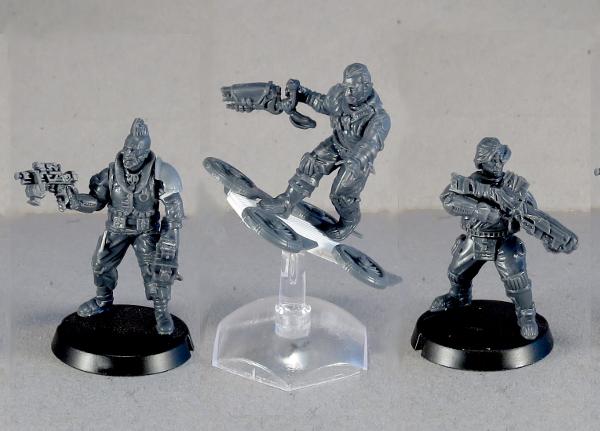 Let's kick things off with guns. Broken have a lot of different weapons, and they're all cobbled together from whatever parts they can scrounge. You can accentuate this a little by swapping grips between the different weapons. Below I have swapped the Chem Pistol grip out in favour or the firing grip from a Beam Blastgun, given a Slug Pistol the pistol grip from a Beam Pistol, and replaced the curved handle on the Chem Launcher with the back half of a Slug Rifle.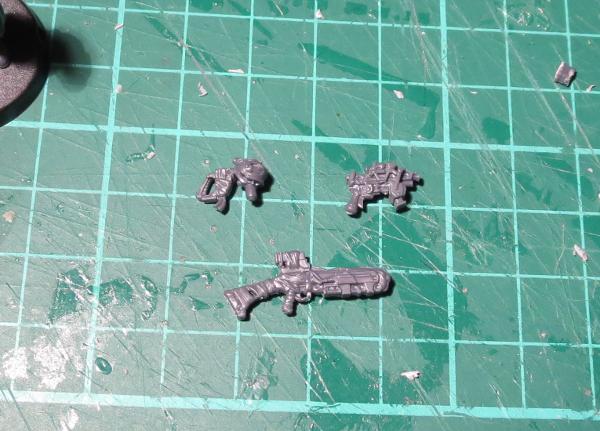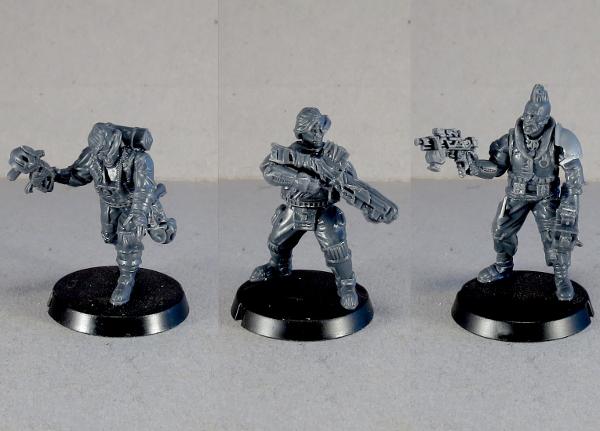 With Broken forces being made up of refugees from all walks of life, and equipped with whatever gear they can beg, borrow or steal, the other Maelstrom's Edge plastic kits are a great resource for personalising your forces. A trimmed down Karist Trooper shoulder pad is a great way to single out your unit Bosses from their otherwise equally-scruffy charges.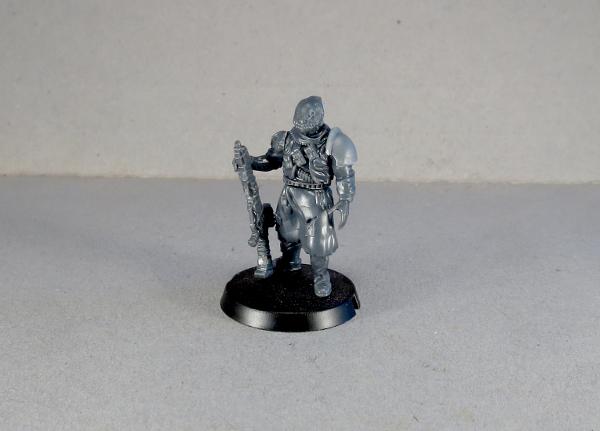 Karist Trooper and Epirian Contractor arms and heads can also be used to add some extra variety when scattered through with the Broken parts. The necks may be a little tight on some of the Broken torsos, but you can shave them down with a sharp hobby knife or a modeling file to make them fit.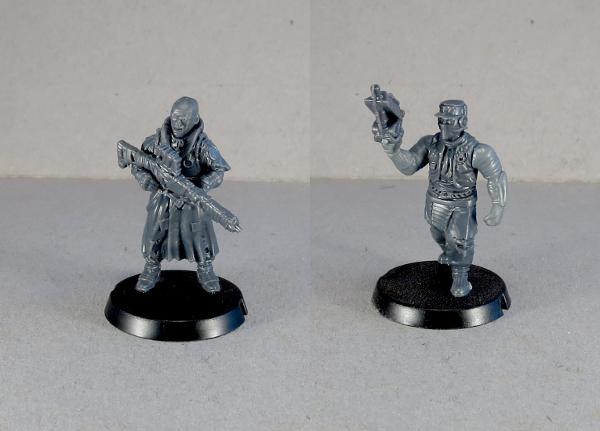 The model on the left below also has Contractor legs. The Broken torsos and legs have multiple belts and straps, but the thicker belt on the Contractor leg pieces can make this look a little strange and results in the model being very tall, so in this case I have removed the belt from the bottom of the torso with a sharp knife before attaching to the legs.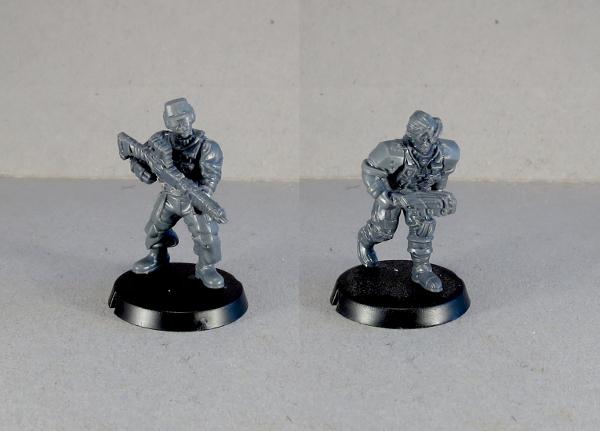 To venture a little out of the box, the below Chieftain model has been given a melee weapon (just for show) made from a cut-down EMP Harpoon with a blade from a knife taken from the Faction Expansion Sprue.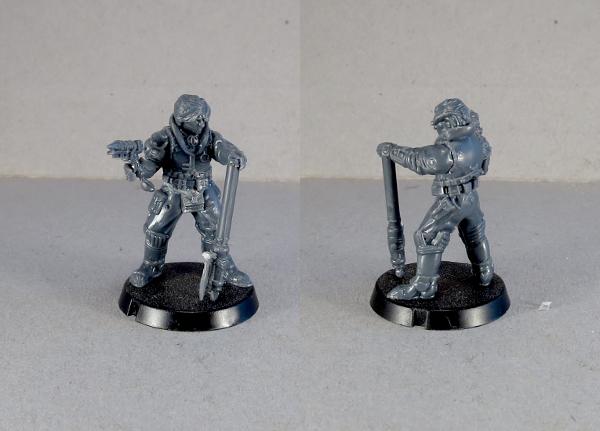 A gunslinger Chieftain can be made using the pistol arms from the Epirian Bot Handler sprue. You can cut the pistols off just above the tops of the hands and attach Broken weapons instead, but in this case I liked the look of the Epirian pistols so left them there, where they will probably sub as Slug Pistols for now. I also added a long coat and lifted the collar with 'green stuff' putty.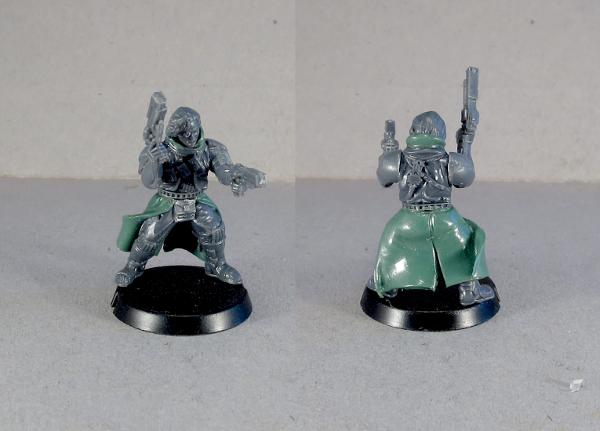 Last, but not least, the more speed-happy Broken may want a better way across the battlefield than walking like everyone else, and what better way to travel than a custom-made skyboard?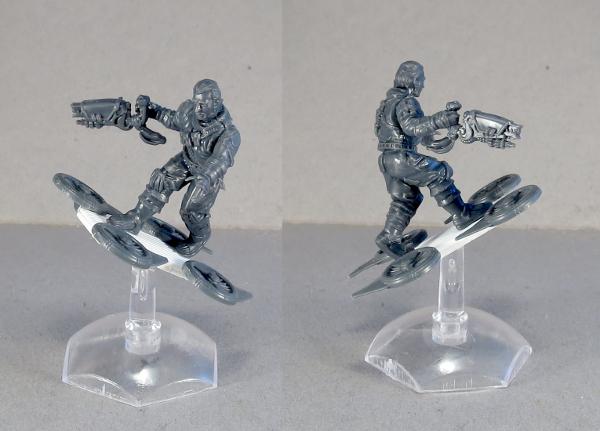 The board was made from a strip of plasticard, with some leftover turbines from Epirian Firefly Drones added onto the sides. Obviously, there are no rules for these, but the idea was too much fun to not put it together, so I'm planning to put together a unit of these guys and work up some homebrew rules for them. Watch this space!

To get to work on your own Rabble horde, you can find the Broken Infanty kit in single, double or triple packs in the Maelstrom's Edge webstore here, along with the rest of the Maelstrom's Edge plastic model range. As always, feel free to share your creations on the Comm Guild Facebook page!

For other Maelstrom's Edge modeling articles, including tutorials and walkthroughs of a wide range of different building and miniature projects, check out the article roundup here.
---
Posted on Monday Aug 28, 2017 at 12:00AM in Models
---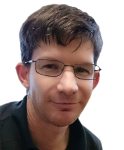 - by Iain Wilson

A little while ago I shared an Epirian bot army that I had been assembling, which you can find here if you missed it the first time. It didn't seem like the done thing to let all of those blasphemous machines hog the limelight, and so this week it's time for the pure and wholesome forces of the Karist Enclave to shine.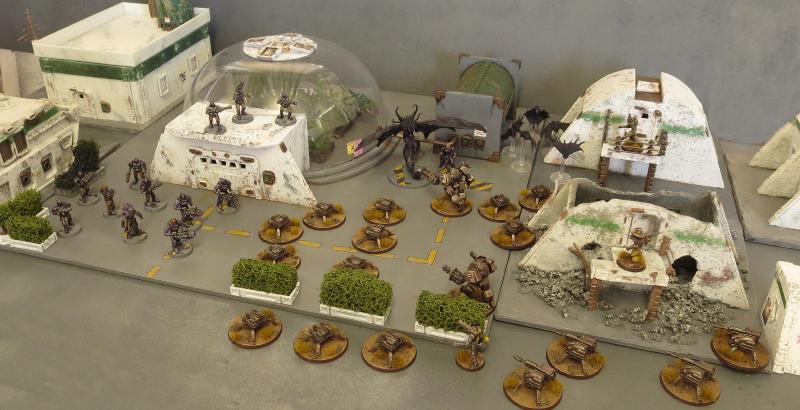 I wanted a Karist leader with a bit of presence - the sort of no-nonsense character who would stride about the battlefield secure in the rightness of his cause and confidence in his inevitable victory. So I took the Kaddar Nova kit and modified the legs slightly to give him a walking pose.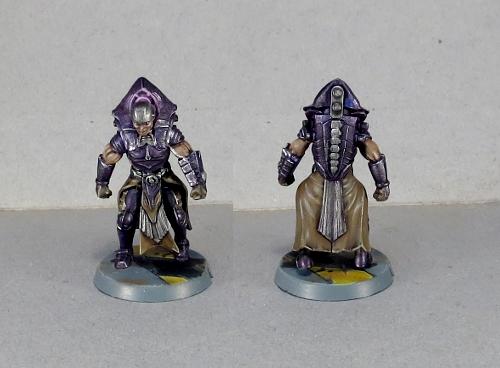 The conversion involved cutting some plastic away from the groin where the two leg pieces join, to bring the legs in for a more upright pose. One leg was angled slightly back by rotating at the waist joint, and the ankles were carefully twisted to straighten them out. The end result is a walking but slightly bow-legged pose, which helps to show the weight that the Nova is carrying around with that backpack!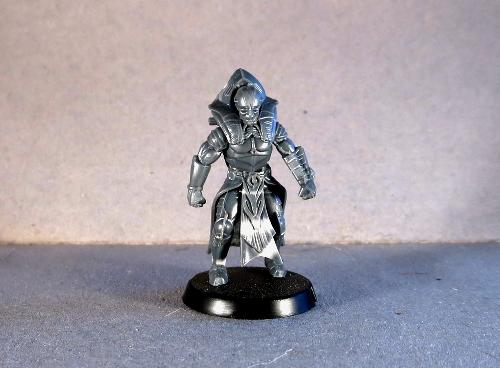 The painting on this force is quite simple, as I wanted something quick and easy that I could expand on later as I add more models to the roster. The purple is an old Citadel metallic purple washed with Army Painter Dark Tone. The brown cloth sections painted with Vallejo Heavy Brown and washed with Army Painter Strong Tone form a nice contrast to the purple, and the weapons are painted in a no-nonsense metal scheme using P3 Pig Iron washed with Dark Tone.

While I was aiming for a fairly small, elite force this time around, I still needed a unit of Troopers to fill in the required Core slot. I decided to go for a 5-man unit, to help them stand out from the more compact specialist units I was going to include and to give help them last a little longer once they get in range of all those Epirian guns.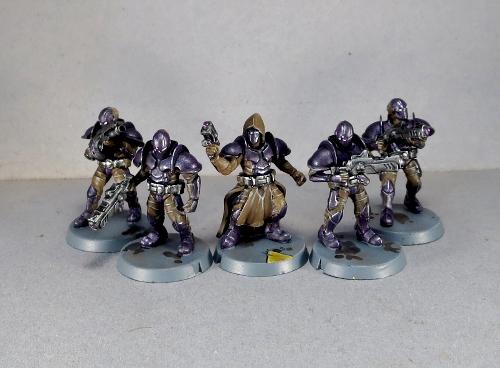 The Quintarch for this unit was based loosely on an early piece of Maelstrom's Edge artwork, with robes made from a leftover Kaddar Nova robe and some green stuff putty.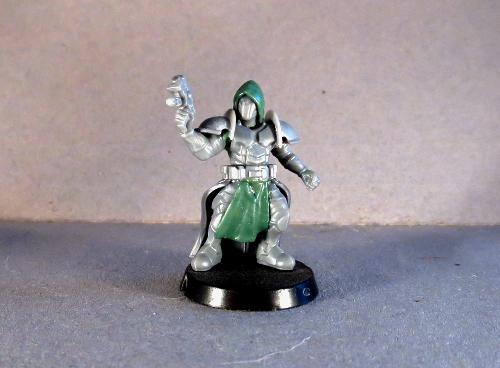 A unit of Tempest Elites provide some fire support, with their fearsome Hellstorm Energy Mortars.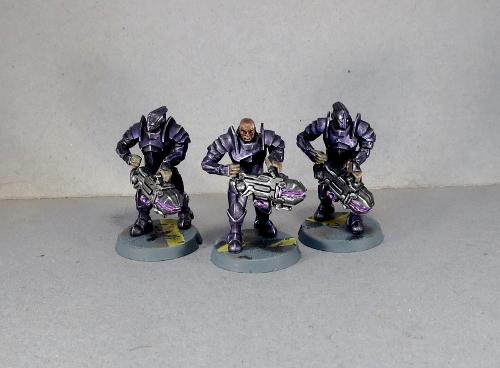 For some extra firepower where it counts, I included a Reaper Cadre. This is a homebrew unit that I put together for an article a while back. They're basically elite troopers armed with a long rifle version of the Pulse Carbine. You can find the conversion article and a rules card here.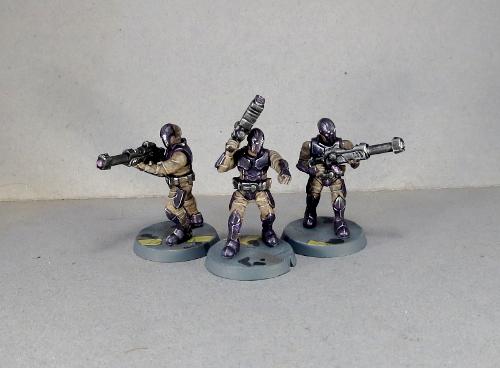 I obviously needed to include some angel units, and to keep them in line I also took along an Angel Keeper. He forms the HQ option for a second detachment.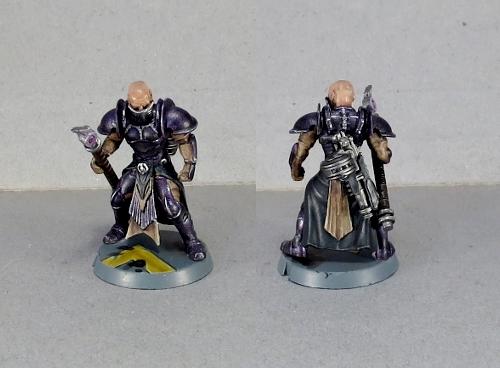 The Keeper is a playtest unit offered up some time ago for those who wanted some extra angel-related shenanigans in their forces. The model is a conversion using parts from a few different kits, as there is no official model (yet!) for it - you can find the conversion tutorial and rules card here.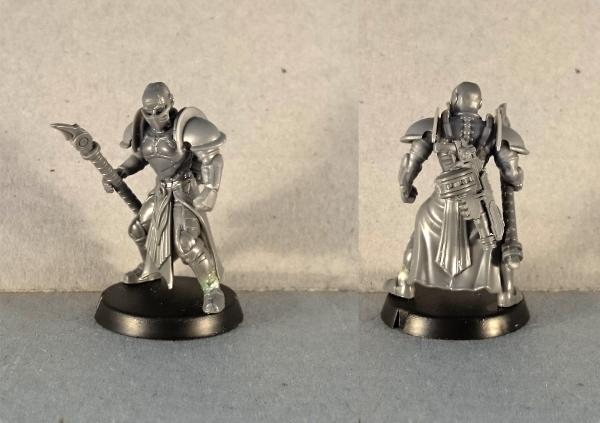 In the Keeper's charge are a unit of Minnows. These were converted to add some extra motion to their poses, by mixing up the pairing of the wing parts and filling in any resultant gaps with a little green stuff.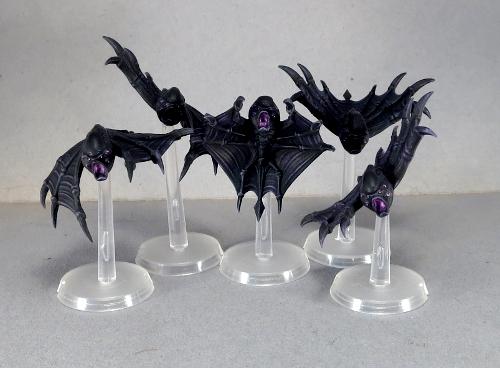 The Minnows' big brother rounds out the second detachment for now. I put together a model of a Mature Angel in its flight form a while ago, and so he had to go into this force. This model was built using the body from the Mature Angel kit, a tail made from green stuff and some wings from a demon model from the Reaper Bones range. You can find a walkthrough of the conversion here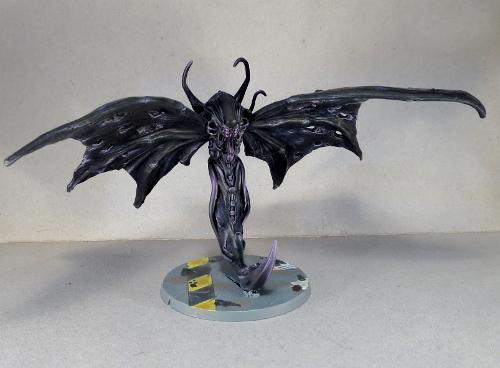 The force all together: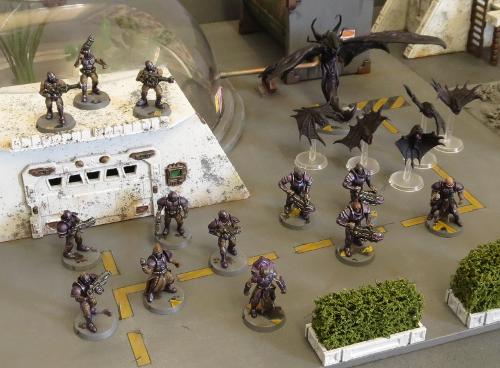 This leaves me with a roster that looks something like this:

Detachment 1

Command: Kaddar Nova - 15 points

Core: Karist Troopers
- Ripper Grenade Launcher - 18 points

Hammer: Tempest Elites
- Hellstorm Energy Mortars - 25 points

Vanguard: Reaper Cadre
- 2 Pulse Lances - 15 points


Detachment 2

Command: Angel Keeper
- Ripper Grenades - 10 points

Core: Angel Minnow Pack - 10 points

Core: Mature Angel - 23 points

Total - 116 points.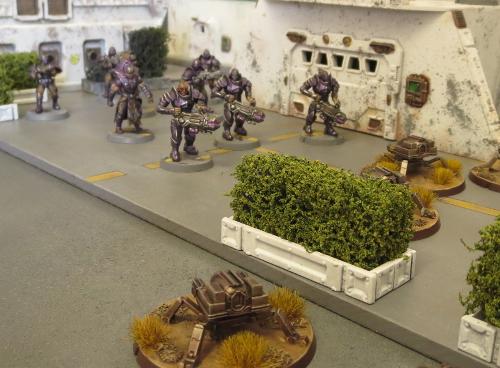 If you would like to put together your own Karist strike force, you can pick up the various Maelstrom's Edge kits from the webstore here. As always, feel free to share your creations on the Comm Guild Facebook page!

For other Maelstrom's Edge modeling articles, including tutorials and walkthroughs of a wide range of different building and miniature projects, check out the article roundup here.
---
Posted on Monday May 29, 2017 at 05:00PM in Models
---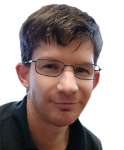 - by Iain Wilson

'Nobody knows what the hell they're even made of, never mind what they're thinking.'
- - Gladius Belaru, survivor of the Angel attack on Morningstar Station, Thusia system

The fully mature Angel is a truly terrifying creature to encounter in the flesh, and their otherworldly scream is a harbinger of nightmares across the Spiral Arm. Dwarfing even the tallest of humans, the Angel is a tapering mass of writhing tentacles, gelatinous membranes, and bristled claws, smelling of sulphur and ozone.

The plastic Mature Angel kit allows players to build angels in their combat form, which is one of the three common forms favoured by these bizarre creatures. While there is no particular need to model the angel's other forms, where would we be if we just went around assembling kits to spec? So this week, I'm building a Mature Angel in its flying form.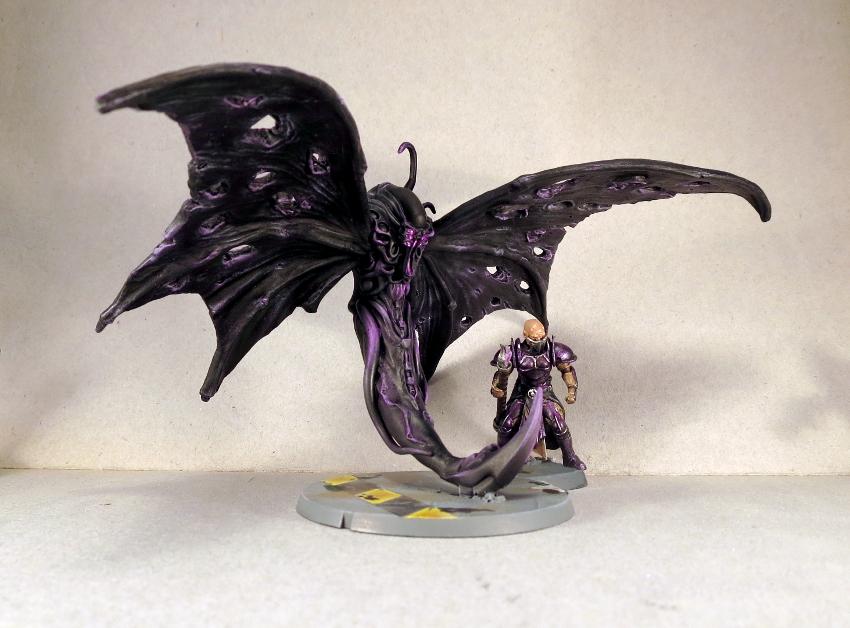 I started out with a length of wire glued into a hole drilled up into the bottom of the angel's torso. This was curved around to the front, with a spike cut from one of the angel's claws glued onto the other end.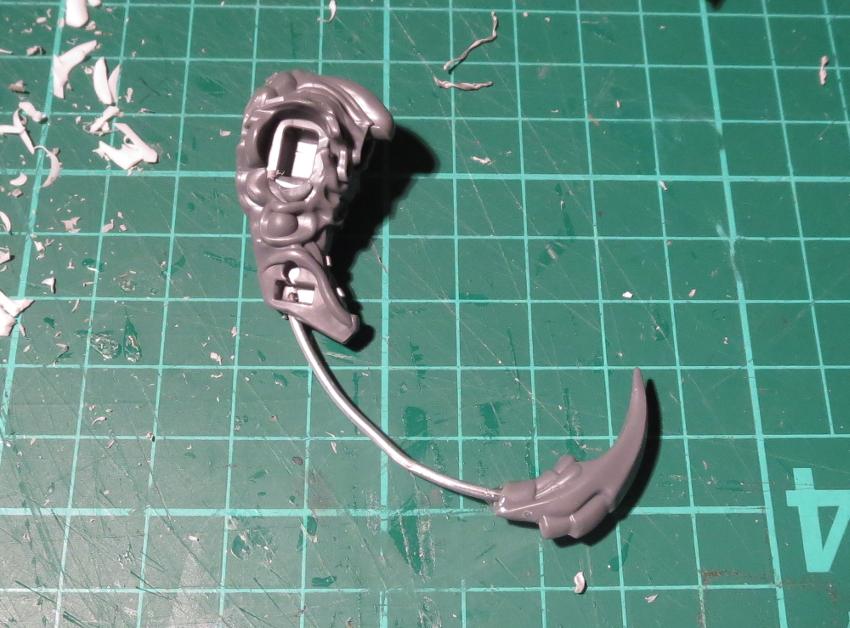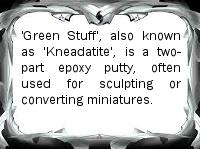 Over the wire, I sculpted a tail from 'green stuff' putty, and added some tentacles down the side to make it a little more visually striking and to help represent the angel's fluid nature.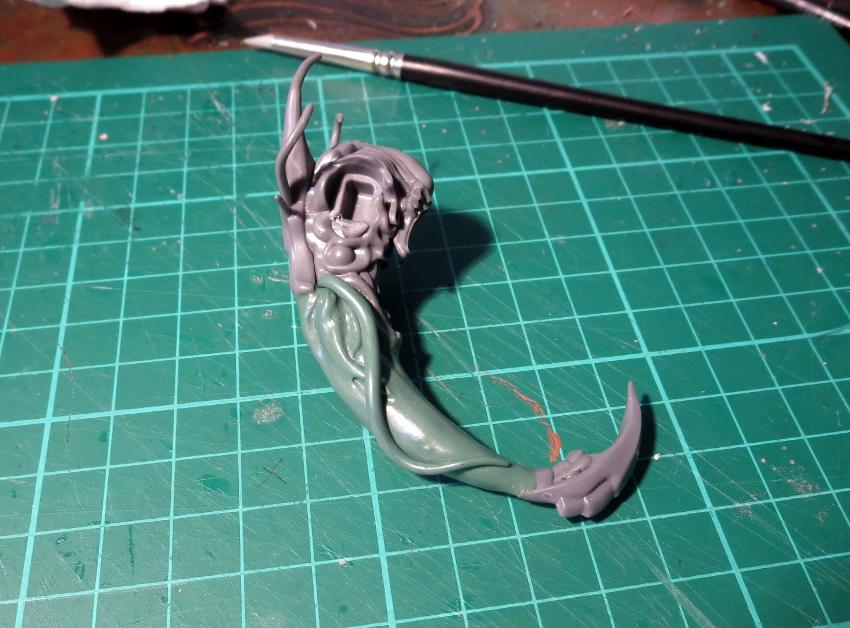 Wings can be sculpted over a similar wire armature, but to save a little time and effort here, I decided to purloin some from another model instead. The donor was a fire demon from Reaper's Bones range.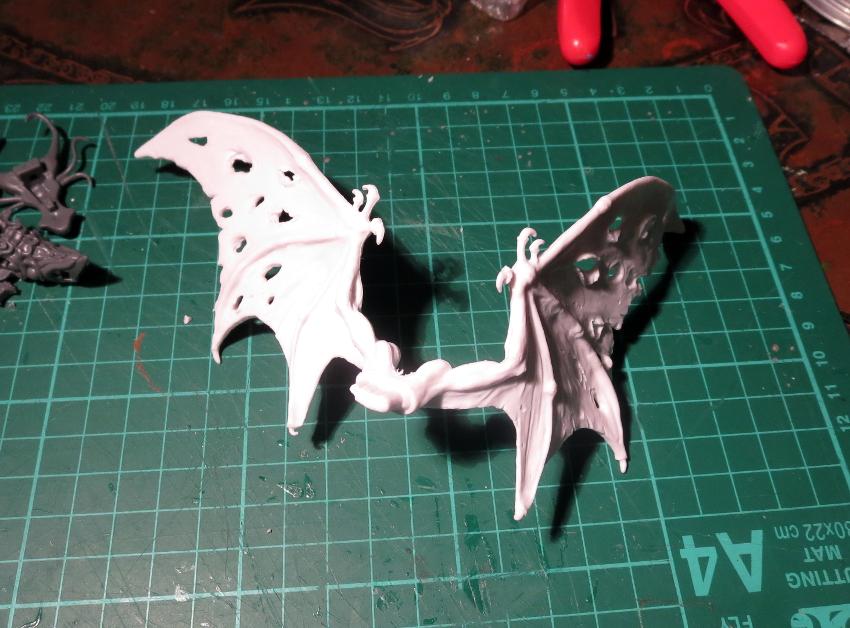 I cut the wings at the elbows, trimmed off the 'fingers' and glued the wings in place in the angel's arm sockets. A little more green stuff filled in the gaps.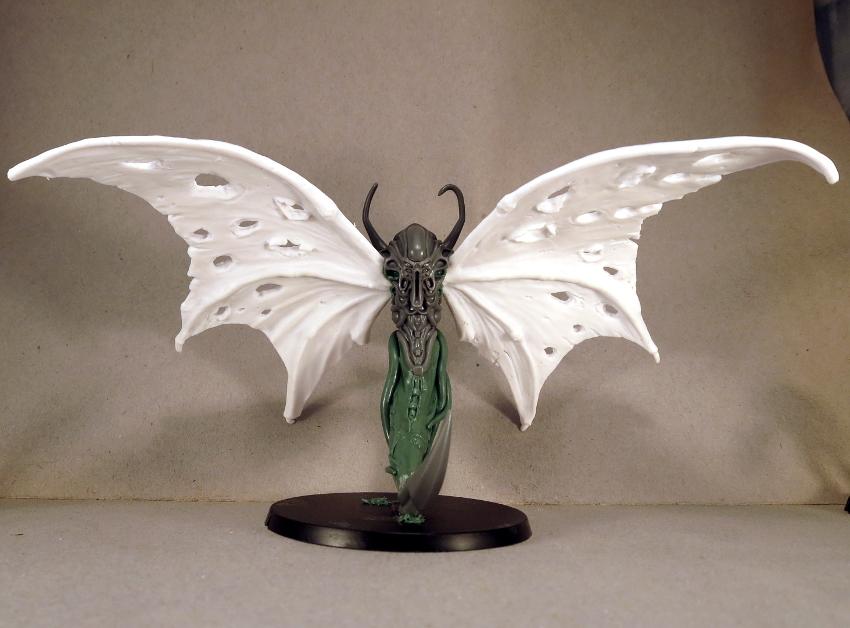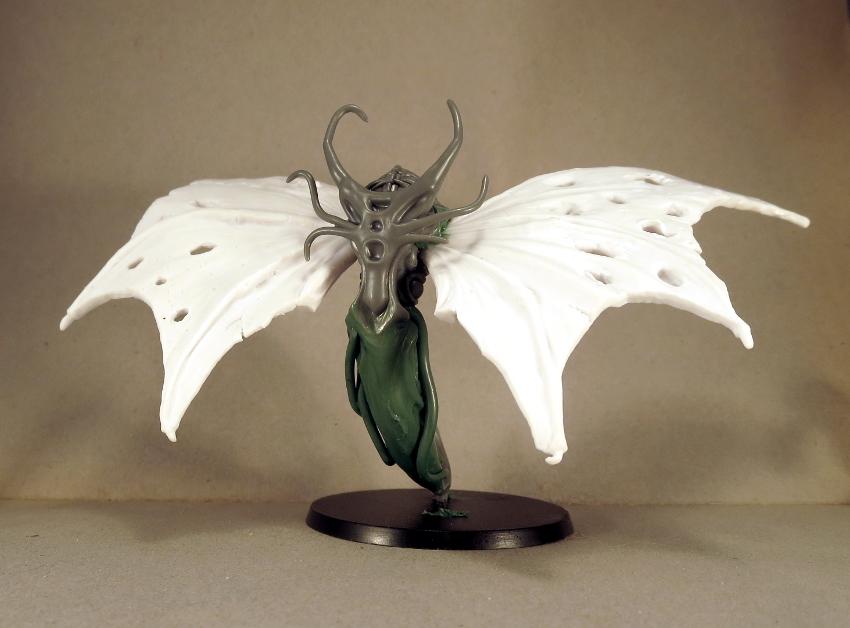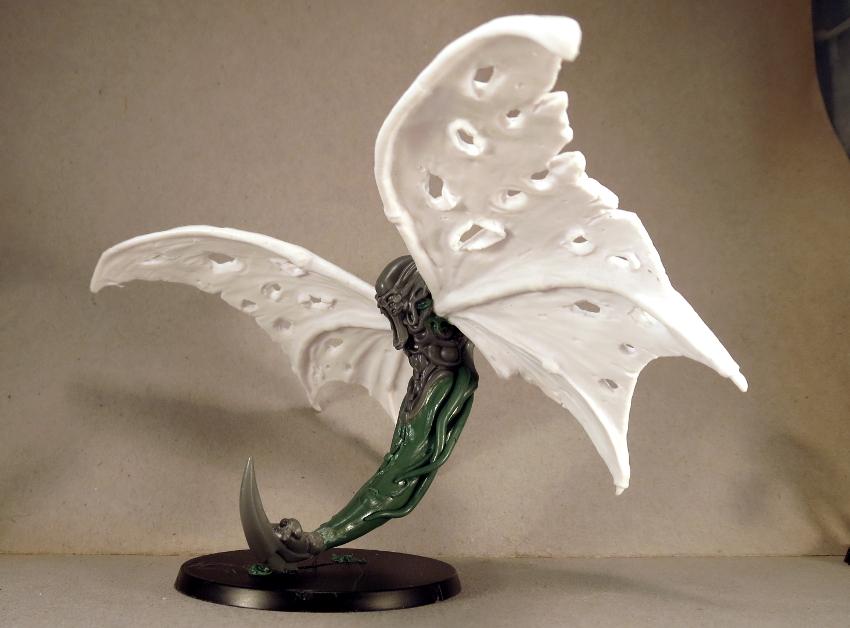 Painting - I kept the colour-scheme fairly simple, as angels are basically just black. Visually, just going with plain black isn't very interesting, though, so I tried to represent the angel's internal cybel energy by adding some purple highlights wherever seemed appropriate. The eyes and mouth were similarly painted purple, but highlighted up closer to white, to help them to stand out.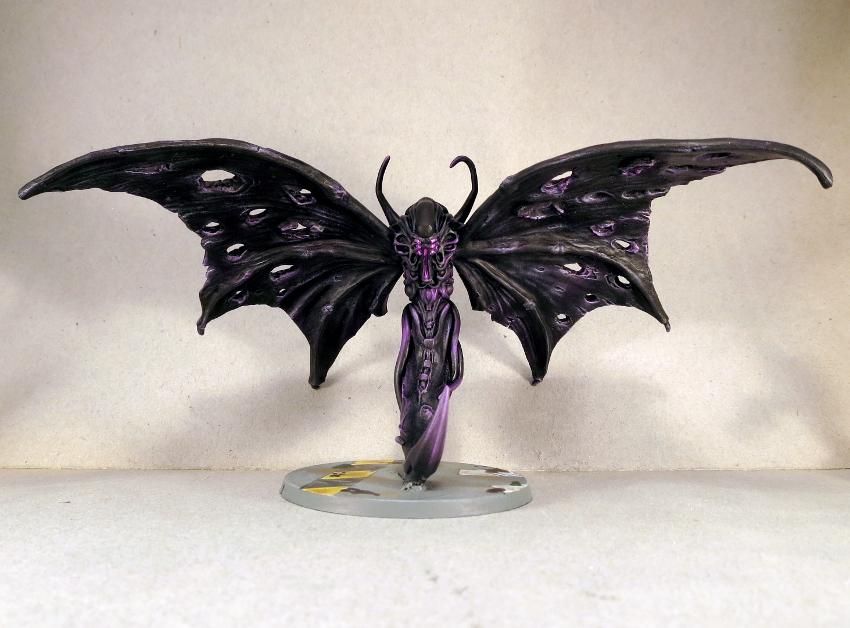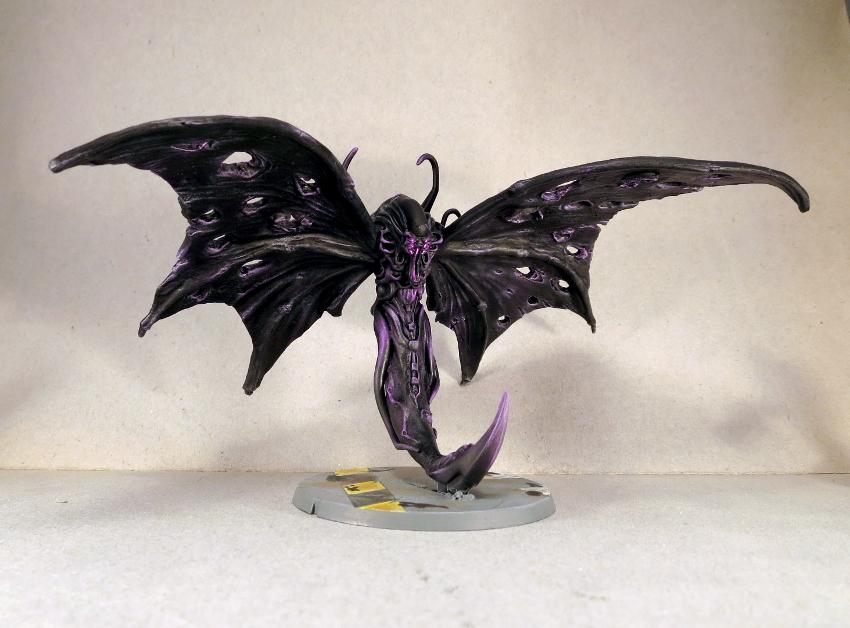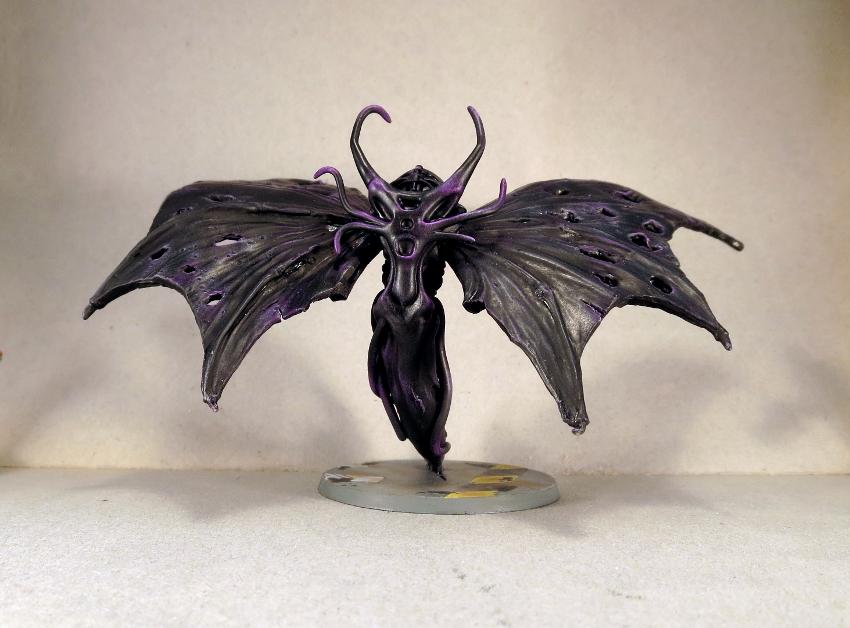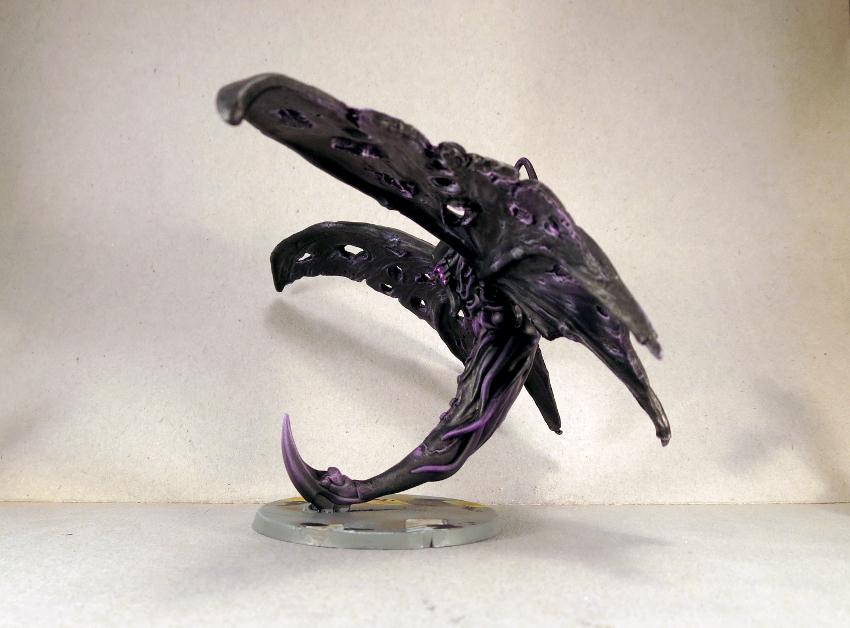 'Family' shot, with some minnows for company: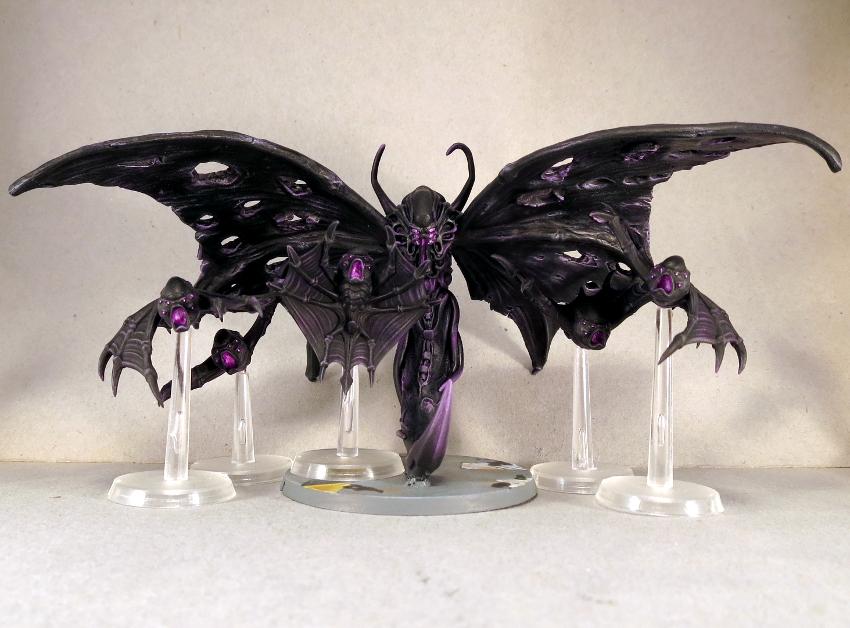 If you would like to build your own hideous flying spectre of doom, you can pick up the Mature Angel kit from the Maelstrom's Edge webstore here. As always, feel free to share your creations on the Comm Guild Facebook page!

For other Maelstrom's Edge modeling articles, including tutorials and walkthroughs of a wide range of different building and miniature projects, check out the article roundup here.
---
Posted on Monday Oct 31, 2016 at 05:00PM in The Epirian Foundation
---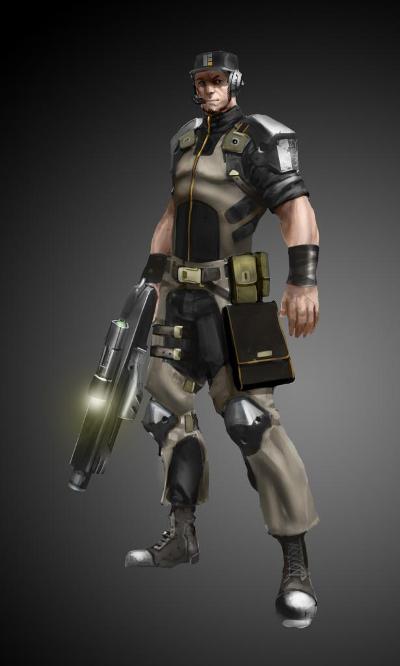 It feels like an eternity since we first released images of the Epirian Contractors. Our first sculpt with a new sculptor and manufacturer, getting the scale right took a number of back-and-forth attempts but after a few revisions we were able to create a model that was in scale with our Karist range and served as the starting point for the full Epirian range.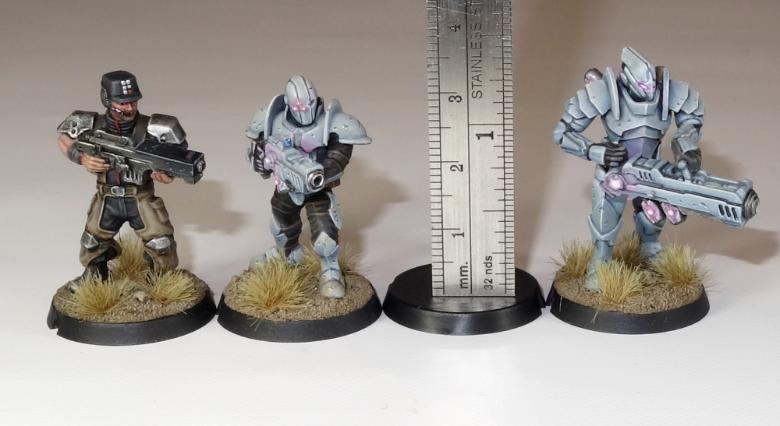 The Epirian sprue has a nice crisp level of detail and managed to cram a lot more on than we thought possible, which is why there are two pistols on each sprue. 5 heads and 5 pairs of arms opens up a lot of nice options for posing. Our Epirian models have a slight lean to them which makes them very difficult to photograph effectively but this is something we think we have continued to improve at. The lean does mean that the models look very nice when they are posed with a slightly raised leg, standing on a rock or similar.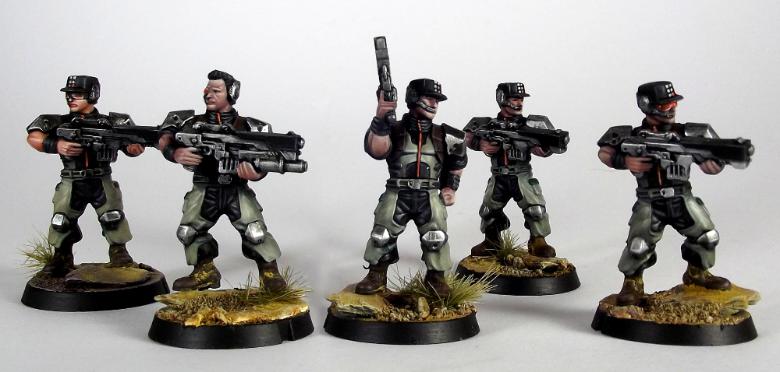 The Epirian hats proved to be a dividing aesthetic. Some people love them, some people hate them. Fortunately, we were able to provide helmets as an alternative option for those who prefer to avoid the more casual hat look. A marmite feature!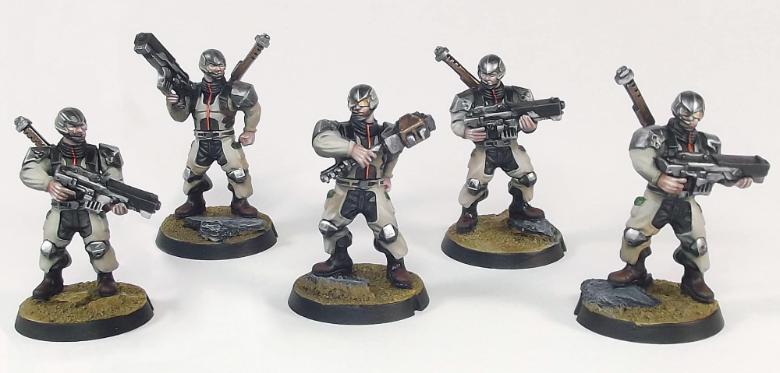 The Epirian Contractors are our second best selling models, and are available in sets of 6 from the Maelstrom's Edge website.
Tags: contractor epirian model spotlight
---
Posted on Monday Oct 24, 2016 at 05:00PM in The Karist Enclave
---
The Karist Angel was the final sculpt which we completed from the Battle for Zycanthus set. While the core of the model was completed quite early on, one of our first sculpts in fact, the limbs and details were quite a challenge to create. Here are some early pieces of concept art for the mature angel...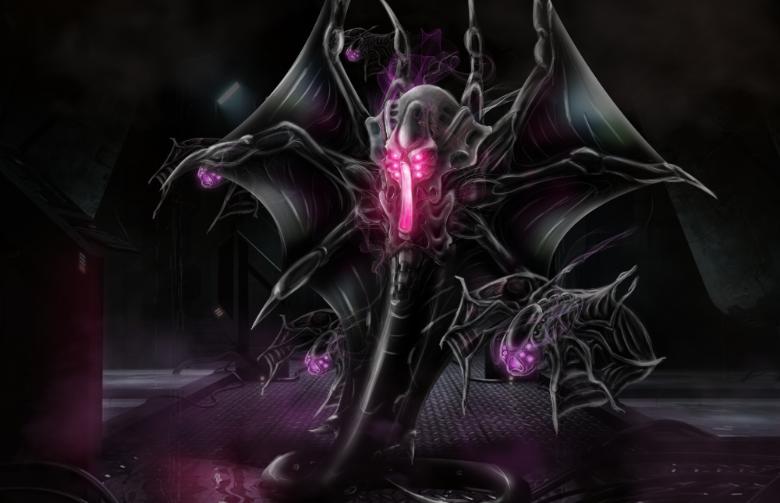 We wanted the Karist centrepiece model to be visually striking and much taller than anything else in the box set, which meant we had quite a lot of limitations with regards to sprue size and cost restrictions which stopped us from doing plastic wings. Each angel has three different morphing modes of which wings is just one option, so not getting wings in to the set was not a big issue for us. Trying to come up with some limbs that did not look comical and still showed the model capable of flowing and reforming took a lot of design iterations though.
Ultimately the mature Angel ended up as a fairly static pose for such a dynamic creature, with two alternate sets of claws that had little major difference between them, but with the benefit that the model is very easy to convert. Between the shapes being the easiest thing to sculpt (sausages of putty!), and the existing model being very easy to repose, we've seen a great range of conversions, and the model being so forgiving allows all manner of experimentation. Even boiling the plastic allows it to soften and be reposed in any shape without the obvious distortion you'd see from a model with sharp edges and lines.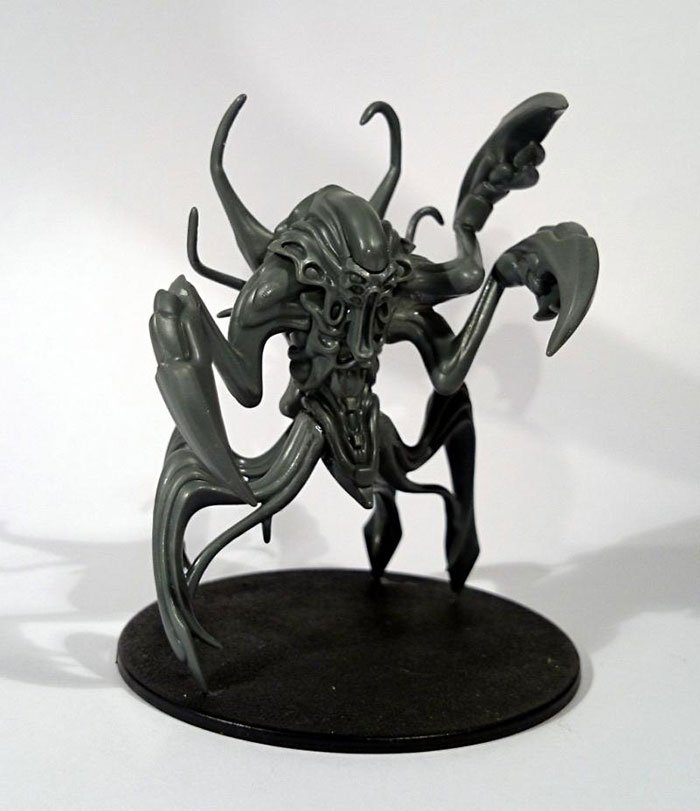 The sprue is a sliding core sprue which makes such a large model have practically no visible seams, despite being completely made of plastic.
The legspan of the model is huge as well, and led to the creation of our huge bases. This was possible thanks to success in our kickstarter project allowing us to fund the tooling.