---
Posted on Monday May 29, 2017 at 05:00PM in Models
---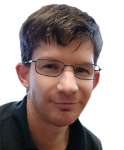 - by Iain Wilson

'Nobody knows what the hell they're even made of, never mind what they're thinking.'
- - Gladius Belaru, survivor of the Angel attack on Morningstar Station, Thusia system

The fully mature Angel is a truly terrifying creature to encounter in the flesh, and their otherworldly scream is a harbinger of nightmares across the Spiral Arm. Dwarfing even the tallest of humans, the Angel is a tapering mass of writhing tentacles, gelatinous membranes, and bristled claws, smelling of sulphur and ozone.

The plastic Mature Angel kit allows players to build angels in their combat form, which is one of the three common forms favoured by these bizarre creatures. While there is no particular need to model the angel's other forms, where would we be if we just went around assembling kits to spec? So this week, I'm building a Mature Angel in its flying form.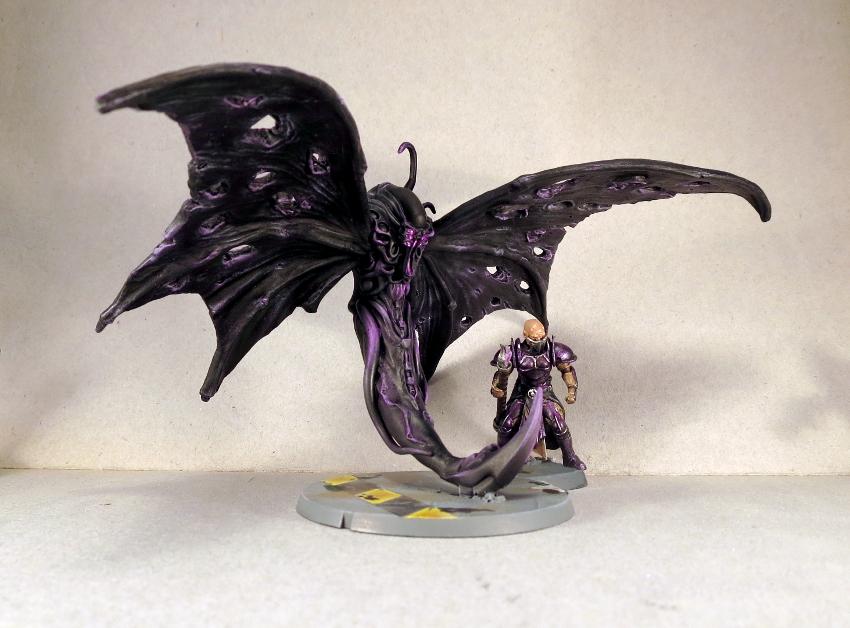 I started out with a length of wire glued into a hole drilled up into the bottom of the angel's torso. This was curved around to the front, with a spike cut from one of the angel's claws glued onto the other end.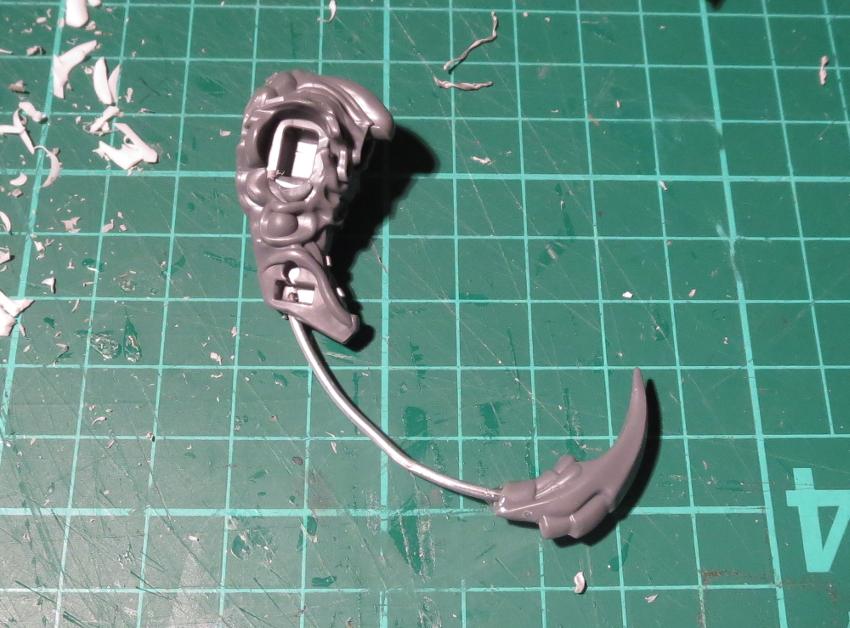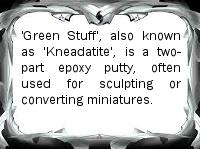 Over the wire, I sculpted a tail from 'green stuff' putty, and added some tentacles down the side to make it a little more visually striking and to help represent the angel's fluid nature.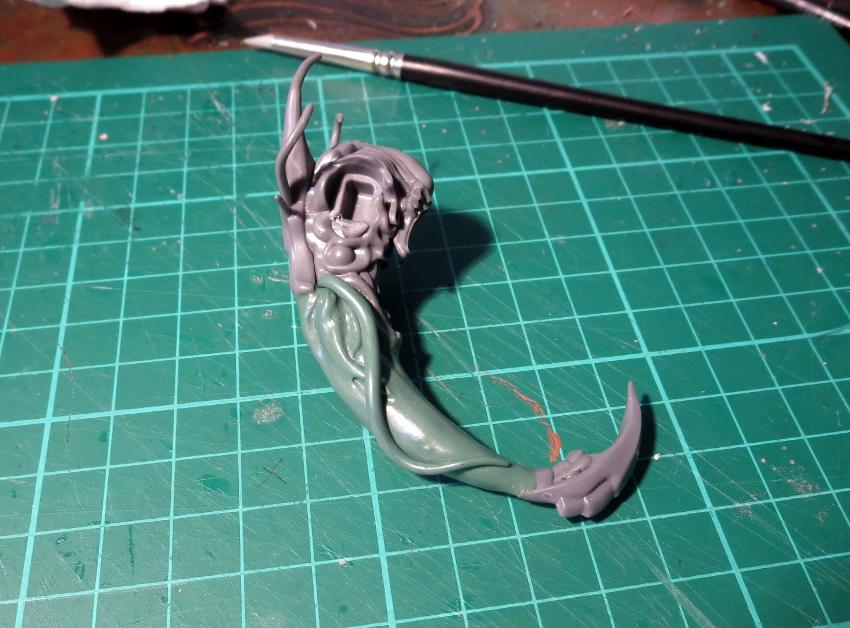 Wings can be sculpted over a similar wire armature, but to save a little time and effort here, I decided to purloin some from another model instead. The donor was a fire demon from Reaper's Bones range.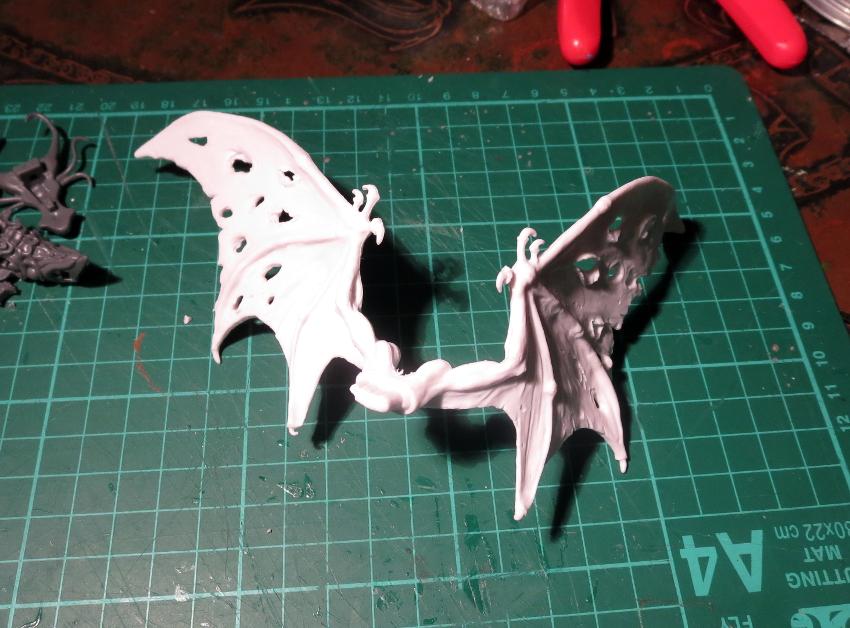 I cut the wings at the elbows, trimmed off the 'fingers' and glued the wings in place in the angel's arm sockets. A little more green stuff filled in the gaps.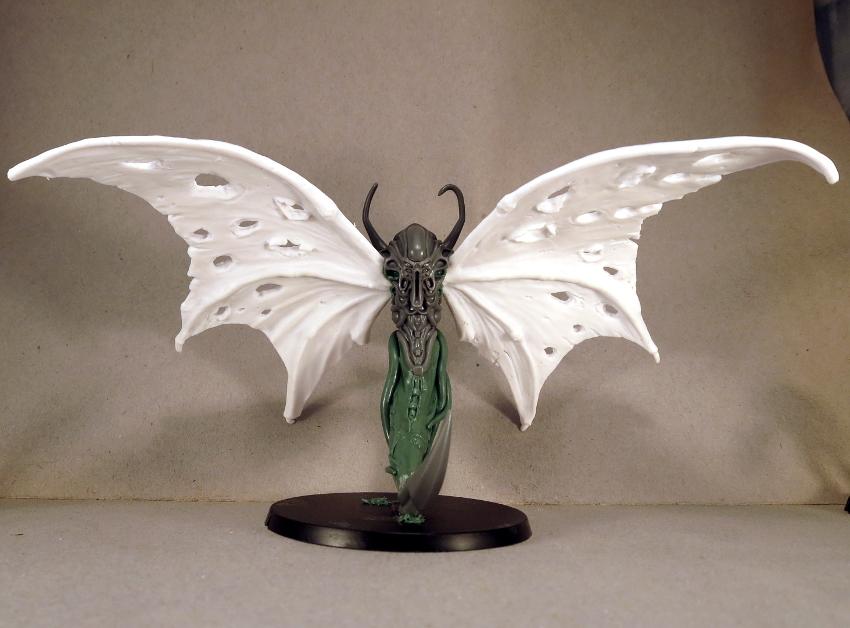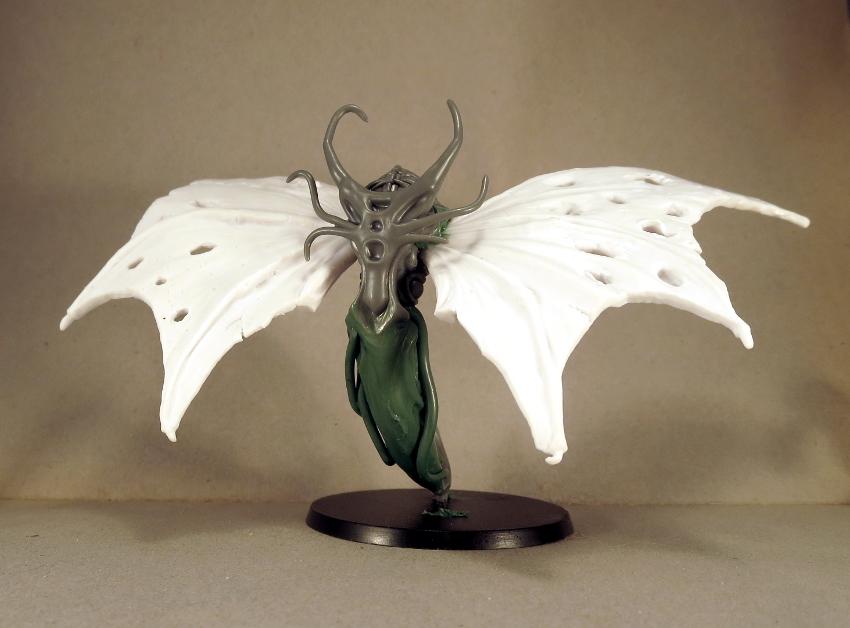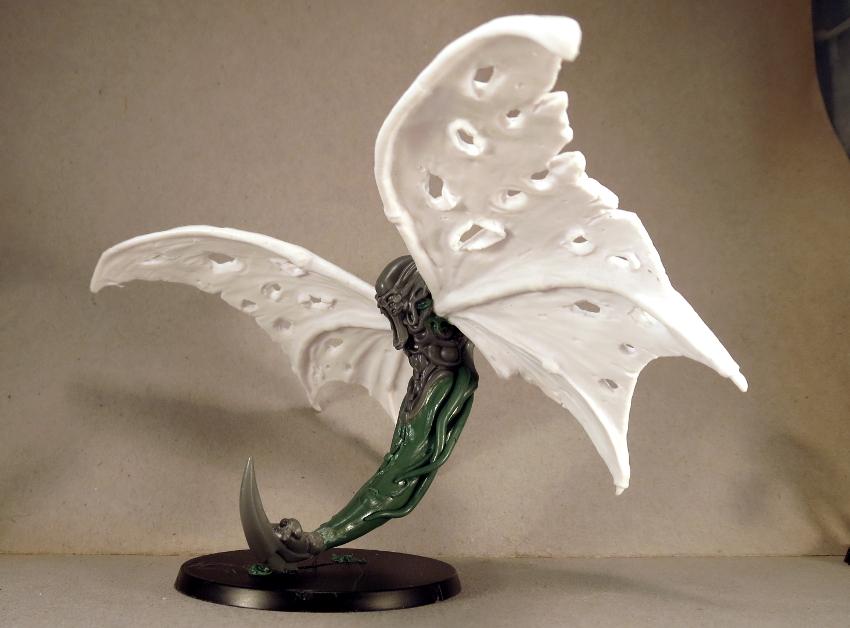 Painting - I kept the colour-scheme fairly simple, as angels are basically just black. Visually, just going with plain black isn't very interesting, though, so I tried to represent the angel's internal cybel energy by adding some purple highlights wherever seemed appropriate. The eyes and mouth were similarly painted purple, but highlighted up closer to white, to help them to stand out.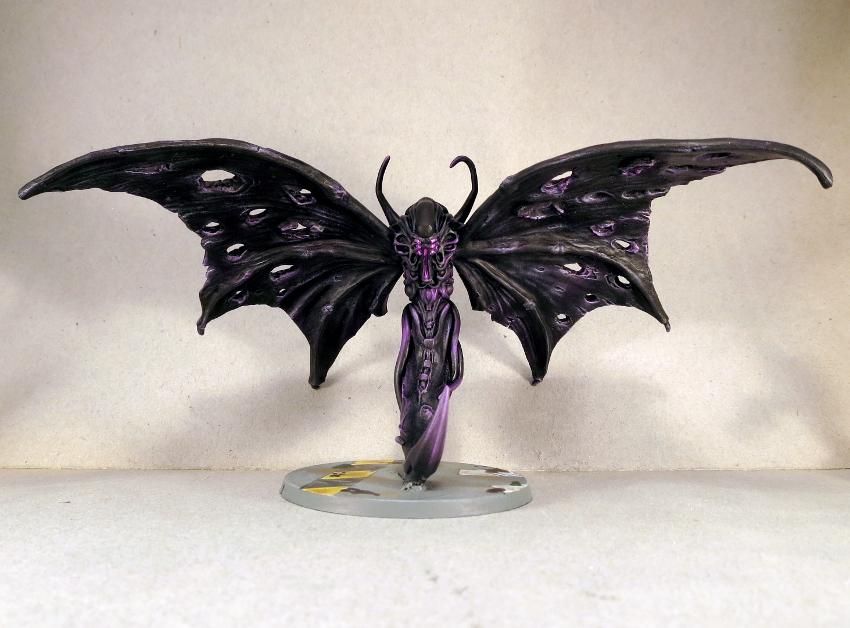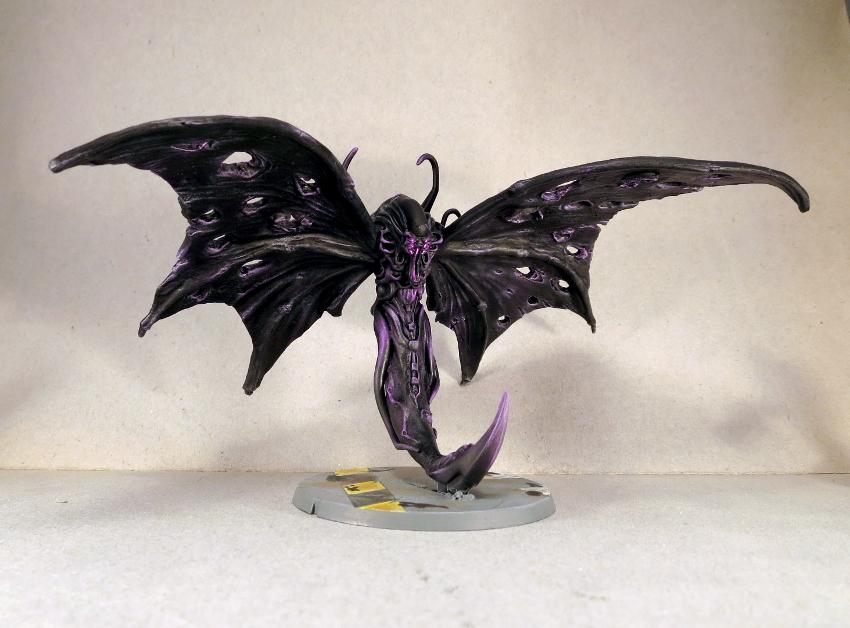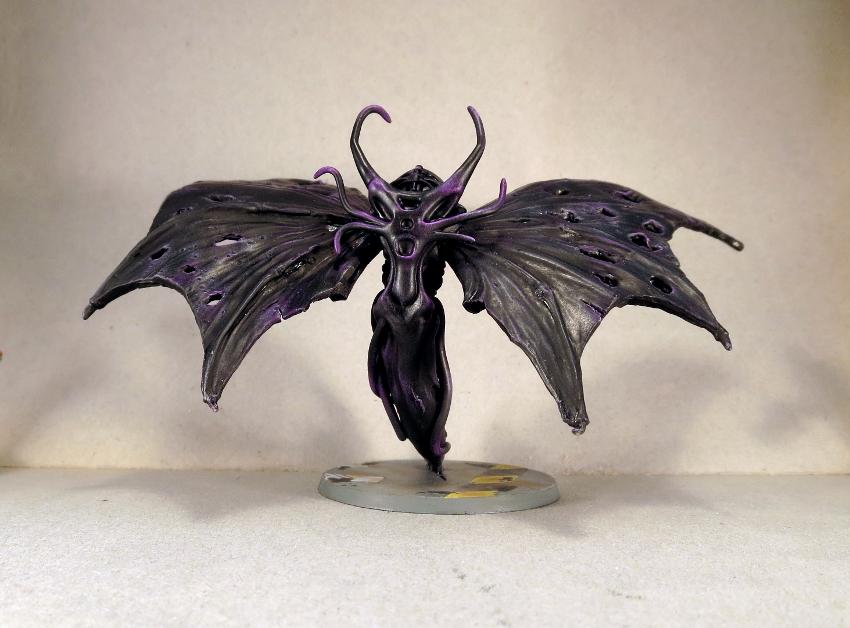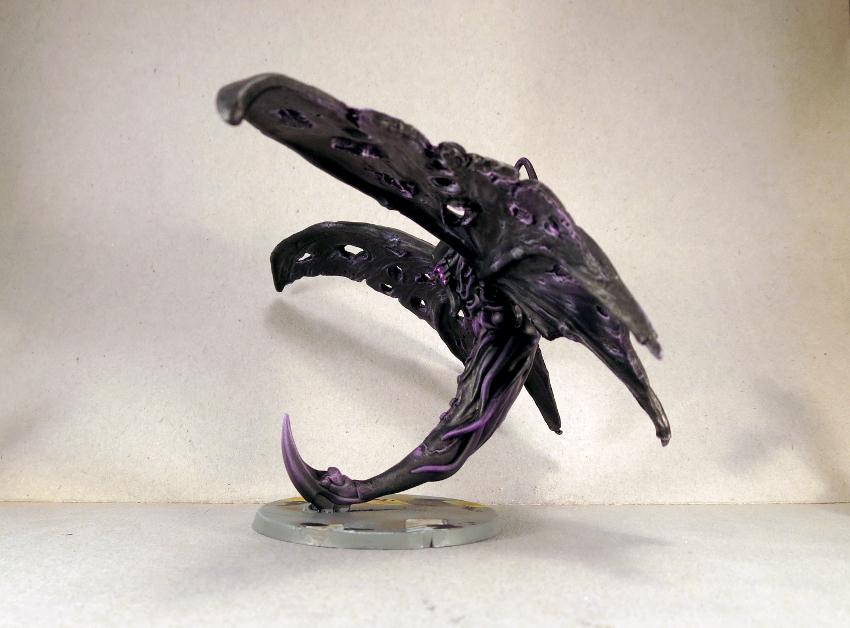 'Family' shot, with some minnows for company: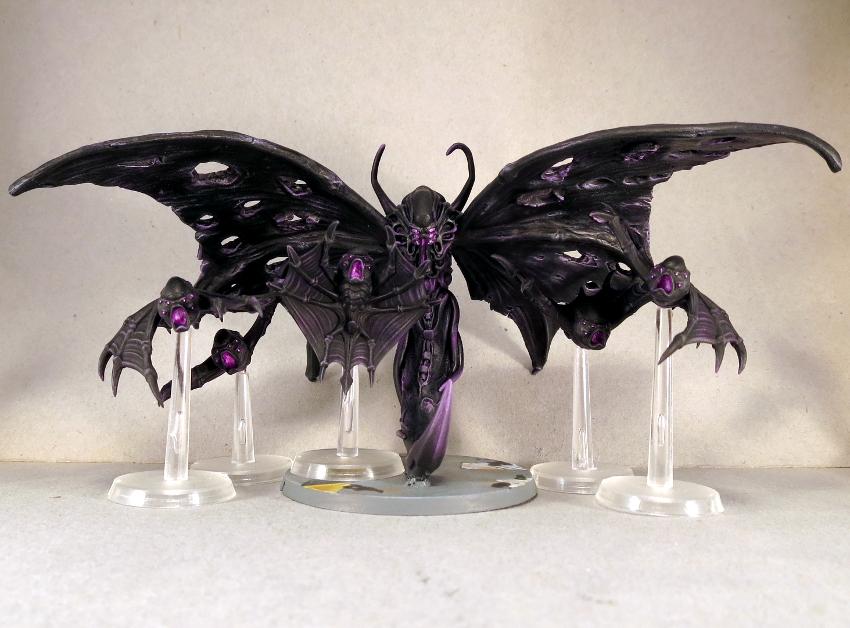 If you would like to build your own hideous flying spectre of doom, you can pick up the Mature Angel kit from the Maelstrom's Edge webstore here. As always, feel free to share your creations on the Comm Guild Facebook page!

For other Maelstrom's Edge modeling articles, including tutorials and walkthroughs of a wide range of different building and miniature projects, check out the article roundup here.
---
Posted on Monday Oct 31, 2016 at 05:00PM in The Epirian Foundation
---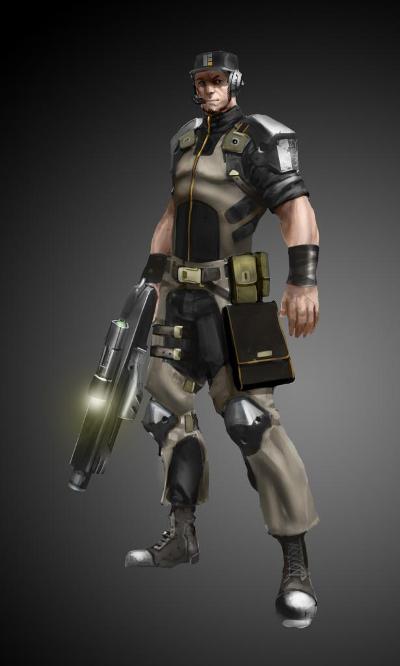 It feels like an eternity since we first released images of the Epirian Contractors. Our first sculpt with a new sculptor and manufacturer, getting the scale right took a number of back-and-forth attempts but after a few revisions we were able to create a model that was in scale with our Karist range and served as the starting point for the full Epirian range.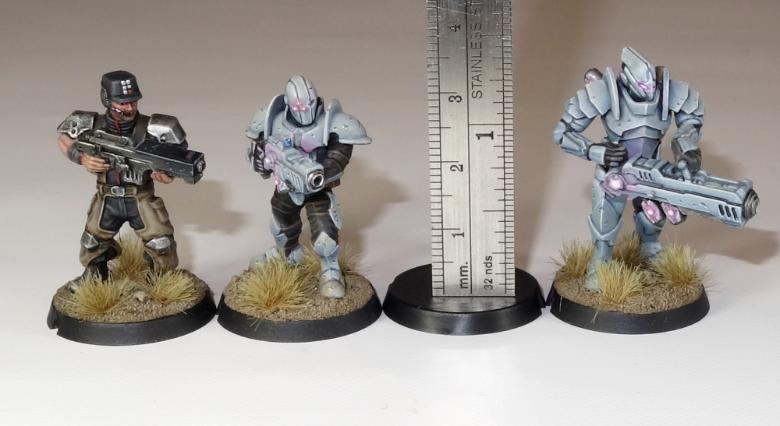 The Epirian sprue has a nice crisp level of detail and managed to cram a lot more on than we thought possible, which is why there are two pistols on each sprue. 5 heads and 5 pairs of arms opens up a lot of nice options for posing. Our Epirian models have a slight lean to them which makes them very difficult to photograph effectively but this is something we think we have continued to improve at. The lean does mean that the models look very nice when they are posed with a slightly raised leg, standing on a rock or similar.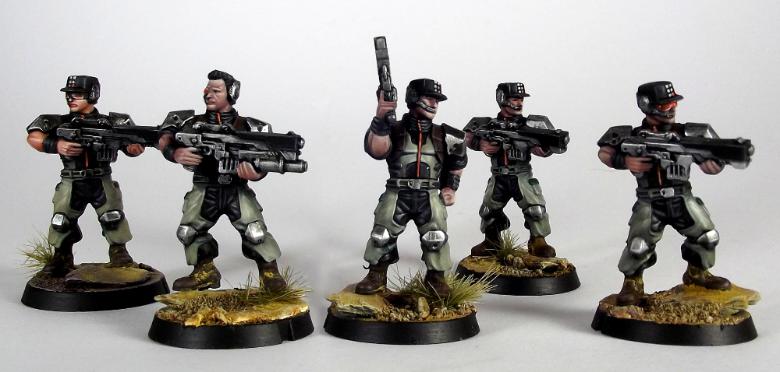 The Epirian hats proved to be a dividing aesthetic. Some people love them, some people hate them. Fortunately, we were able to provide helmets as an alternative option for those who prefer to avoid the more casual hat look. A marmite feature!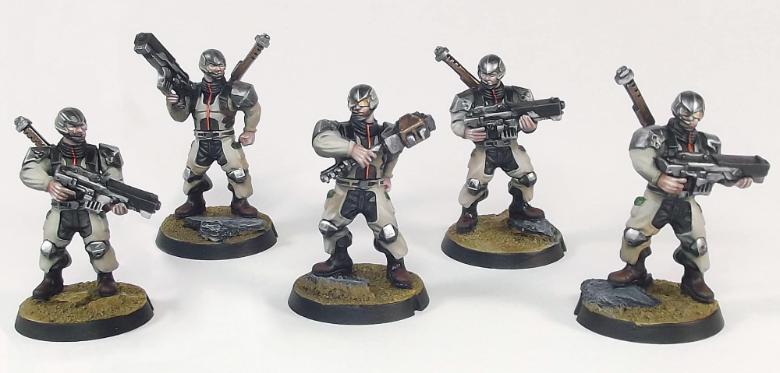 The Epirian Contractors are our second best selling models, and are available in sets of 6 from the Maelstrom's Edge website.
Tags: contractor epirian model spotlight
---
Posted on Monday Oct 24, 2016 at 05:00PM in The Karist Enclave
---
The Karist Angel was the final sculpt which we completed from the Battle for Zycanthus set. While the core of the model was completed quite early on, one of our first sculpts in fact, the limbs and details were quite a challenge to create. Here are some early pieces of concept art for the mature angel...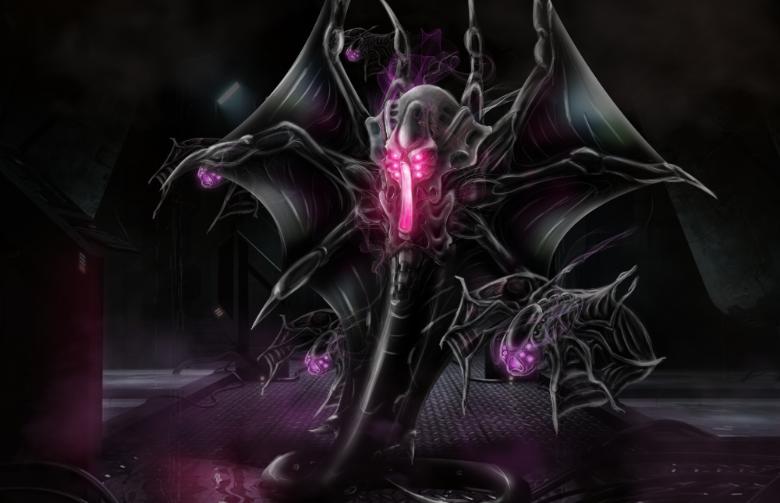 We wanted the Karist centrepiece model to be visually striking and much taller than anything else in the box set, which meant we had quite a lot of limitations with regards to sprue size and cost restrictions which stopped us from doing plastic wings. Each angel has three different morphing modes of which wings is just one option, so not getting wings in to the set was not a big issue for us. Trying to come up with some limbs that did not look comical and still showed the model capable of flowing and reforming took a lot of design iterations though.
Ultimately the mature Angel ended up as a fairly static pose for such a dynamic creature, with two alternate sets of claws that had little major difference between them, but with the benefit that the model is very easy to convert. Between the shapes being the easiest thing to sculpt (sausages of putty!), and the existing model being very easy to repose, we've seen a great range of conversions, and the model being so forgiving allows all manner of experimentation. Even boiling the plastic allows it to soften and be reposed in any shape without the obvious distortion you'd see from a model with sharp edges and lines.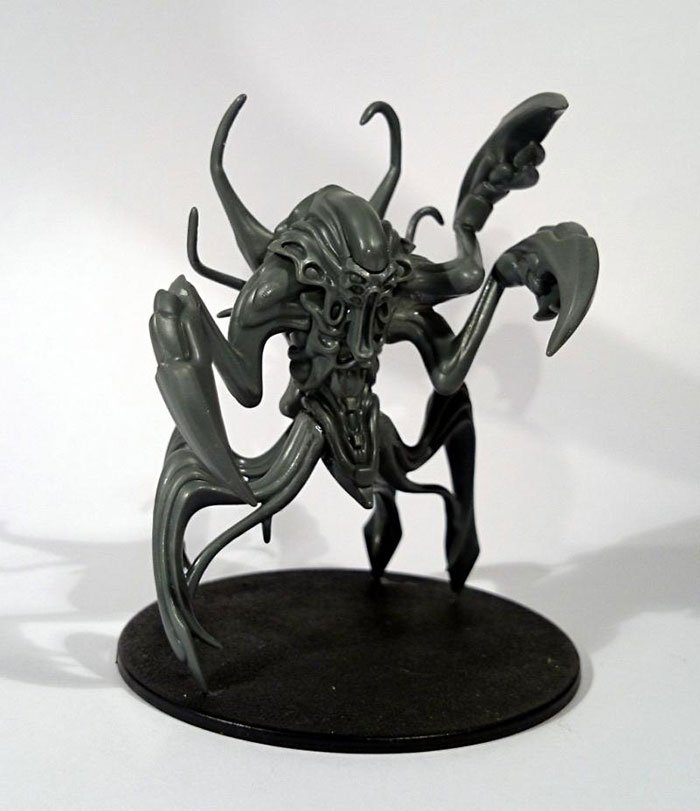 The sprue is a sliding core sprue which makes such a large model have practically no visible seams, despite being completely made of plastic.
The legspan of the model is huge as well, and led to the creation of our huge bases. This was possible thanks to success in our kickstarter project allowing us to fund the tooling.