---
Posted on Friday Mar 22, 2019 at 08:23pm in General
---
Salute 2019 is on Saturday, April 6, 2019 at Excel London, run by the South London Warlords - If you're going along, come down to booth TK16 and say hello, and check out our shiny new plastic!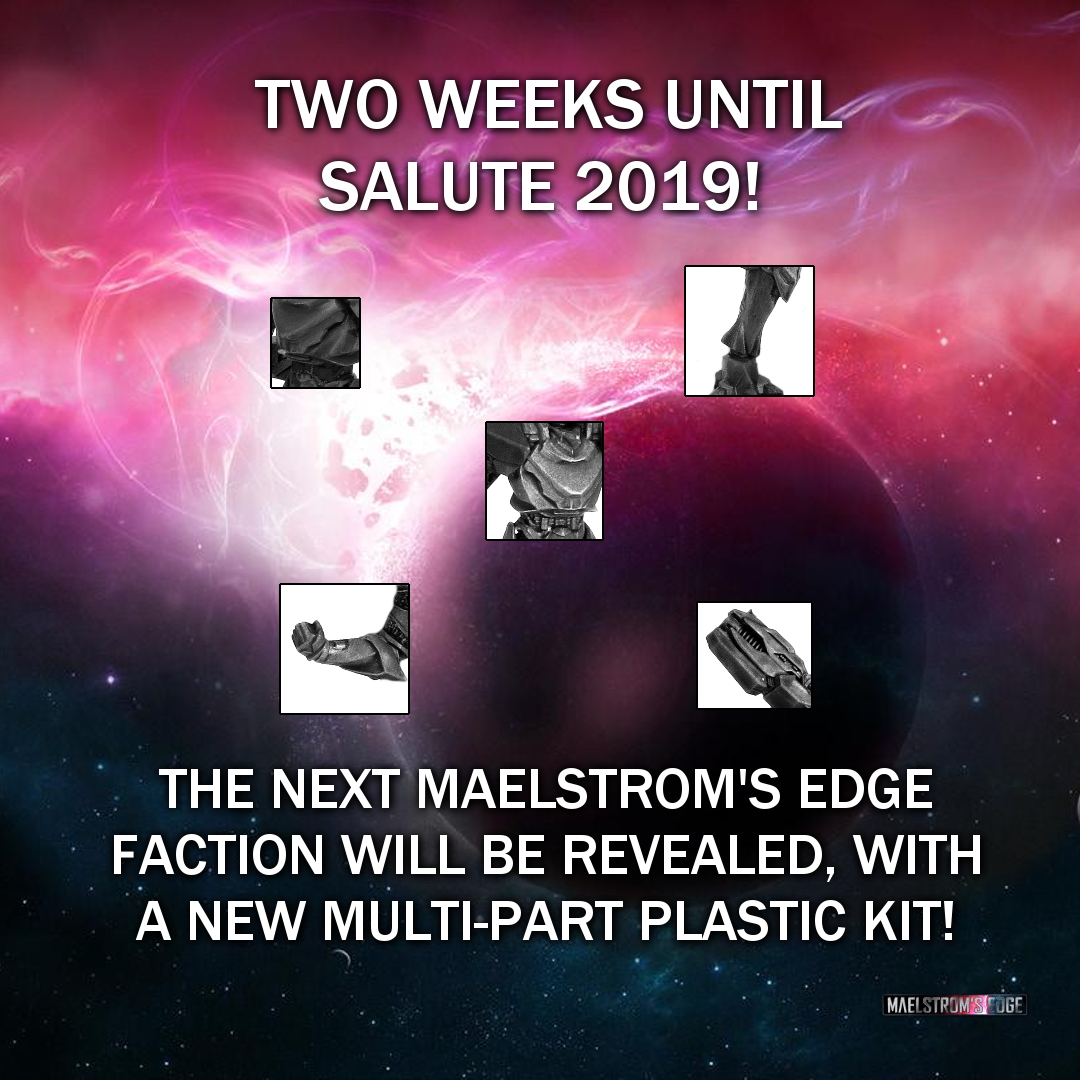 Tags: preview salute2019
---
Posted on Tuesday Sep 26, 2017 at 09:00am in Models
---
Only 4 days until the first models from our new faction - The Broken - are available for purchase!

We'll be sharing more information each day until release, starting with the most important of all - detailed pictures of the sprues!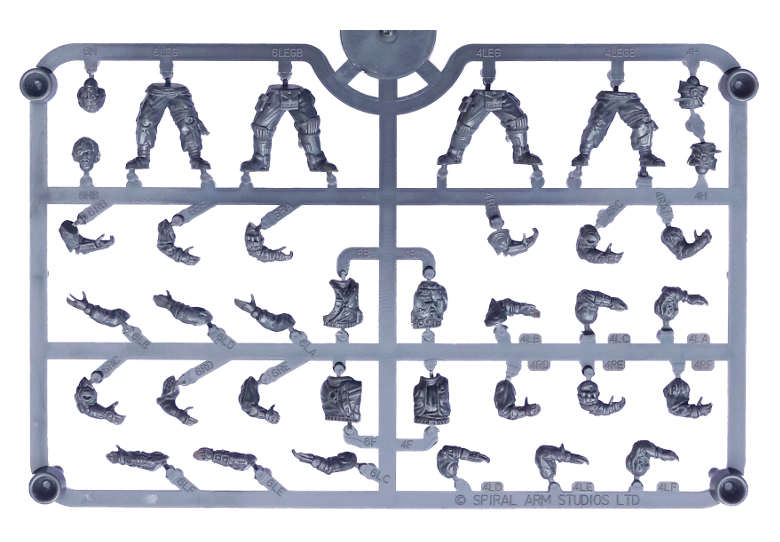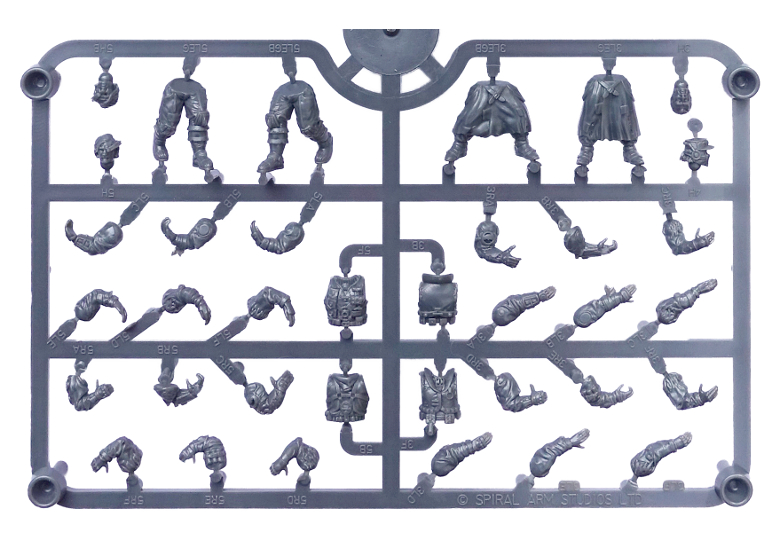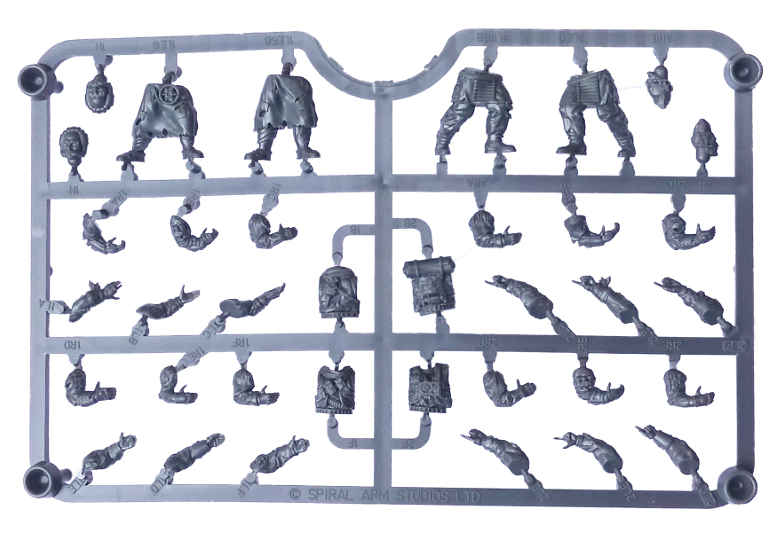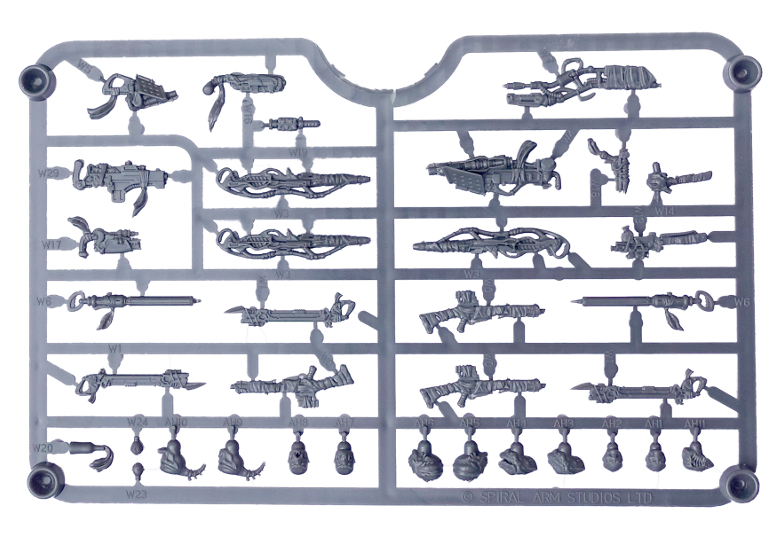 A common question we've had so far is just how many sprues are needed for each unit to be built? Additionally, how many sprues will be needed for a full force of Broken?
As you can see above, six models can be made with a huge array of options from each set of sprues. Units will be made up of 4-6 models each, with 1 HQ model as well, so a single set of sprues can make up a full squad of 6, with most options. Three sets of sprues will be enough to make full squads of all three unit types. Going with two 6 man squads and one 5 man squad will also allow an HQ model to be built, giving a full complement. The Broken are made up of inexperienced and easily available forces so have a very low points cost compared to some of our factions, so while 3 squads will cover all basic options, if you want to build a full force (100-150 points), you'll be doing some careful list building first!
---
Posted on Wednesday Aug 30, 2017 at 06:27pm in The Broken
---
As the release of The Broken gathers speed, it is time to share some more photos of the upcoming models with you. All of these can be built using our plastic kit. The kit will allow three different units or an HQ model to be assembled from it, so the 4 sprues that make up the kit will be a solid foundation of any Broken force.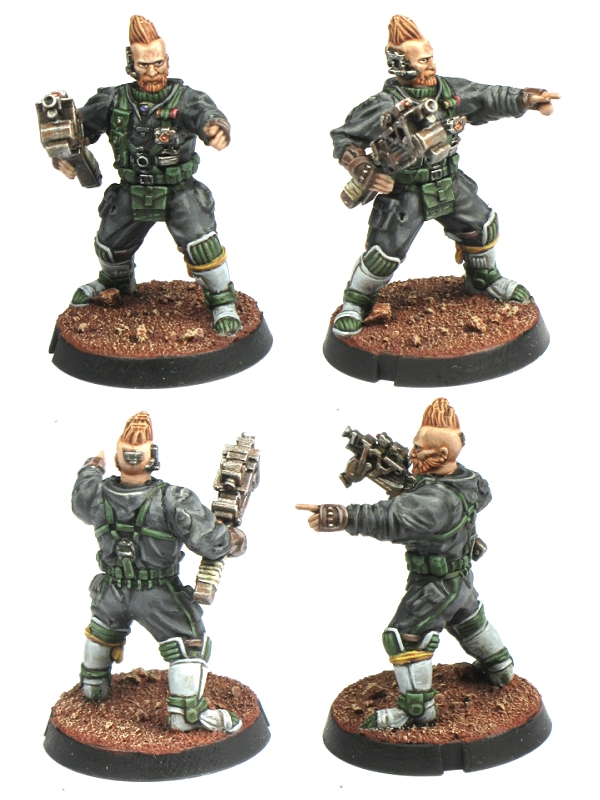 Keep your eyes on the comm guild blog, our facebook page, or make sure your email address is registered at http://www.maelstromsedge.com to be notified when the Broken go on sale in Sep 2017.
---
Posted on Sunday Oct 23, 2016 at 05:00pm in The Broken
---

Here we have the main weapon of the basic Broken infantry unit. A hastily assembled, durable shotgun-type weapon. Sculpting of this is already complete, and production of the Broken continues to march towards release at a good pace.
---
Posted on Sunday Oct 09, 2016 at 05:00pm in The Broken
---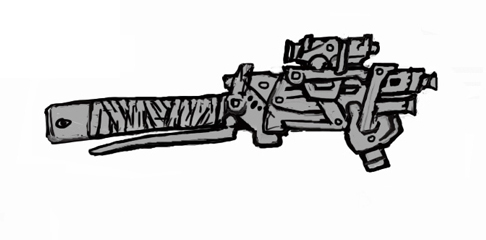 We continue our preview of the Broken with another weapon - a crudely retrofitted pistol. Fabric wrappings are a very common sight on Broken weaponry, and this long triggered weapon does a good job of showing the range of some of their designs. The long trigger allows the weapon to be fired away from the body, minimising risk to the firer when ammunition is unreliable or the weapon is overcharged.
---
Posted on Sunday Sep 18, 2016 at 05:00pm in General
---
Last week we showed the Epirian Master Handler for the first time. This week, we'll share a few more snippets of information about the model.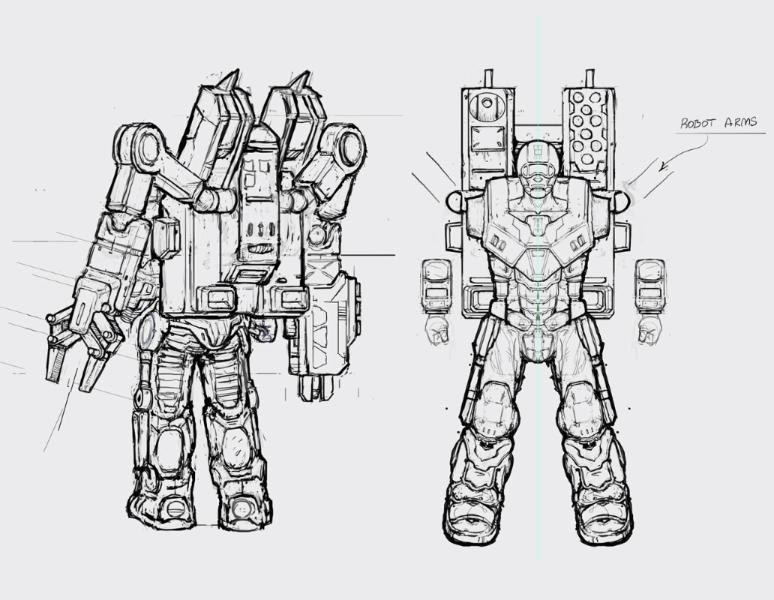 The master handler has been sculpted, but is still quite a while away from production as it will be in a plastic tool with some other models that are still in development. As such, everything is subject to change until the metal is cut and the rules cards printed.
The model can be equipped with a claw arm, or two drone-type weapons, along with sensor array and missile pod options. We are playtesting rules for it at the moment. The arms can be posed dynamically, with the robotic arm elements having two ball joints and one flat joint, allowing a huge range of motion in the arm/weapon direction, while maintaining the cool, heavy look of the model.
---
Posted on Sunday Sep 11, 2016 at 05:00pm in Artwork
---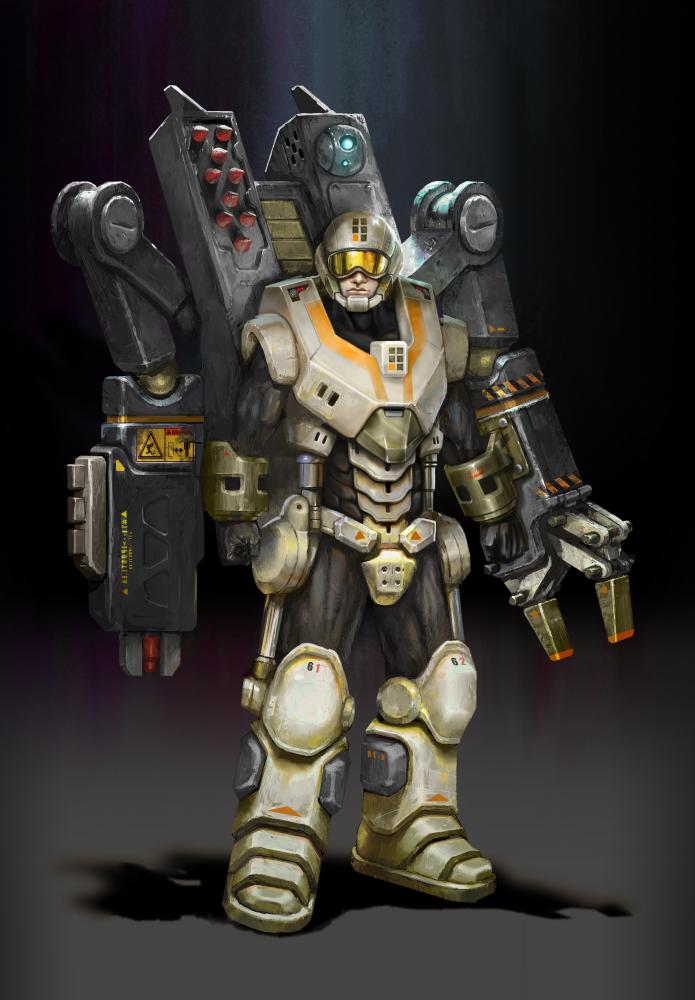 Today's forward guidance is a nice preview of an upcoming Epirian model. Next week we'll discuss some of the options and features of this model, but this week we just wanted to share the image!
The model will vary slightly from the artwork as it will be entirely plastic and as a result, some design restrictions (with angles of the guns, shaping of the feet/legs, etc) cause some modifications to be necessary, but the final sculpt is pretty close to the artwork as with most of our models!
---
Posted on Sunday Sep 04, 2016 at 05:00pm in Fiction
---
Tales From the Edge is the forthcoming short story collection series from Spiral Arm Studios. The first book is scheduled for release at the start of October, and the second in February. The first book contains short stories from three authors, covering a wide range of our factions and background fluff.
The second book will contain the short stories from the third party authors mentioned during our kickstarter.
Physical copies of the books will likely be printed towards the end of the year, for sale at conventions and likely online as well. Digital copies will be available through amazon as soon as it is ready.
Sorry for the short post this week - we are finalising the cover and just making a few final decisions on the contents over the first two books, so it is a little early for us to go into extreme detail just yet!
Tags: fiction preview talesfromtheedge
---
Posted on Sunday Aug 28, 2016 at 05:00pm in The Karist Enclave
---
Developing models in plastic is a very slow process with a lot of complicated factors involved. We start developing models about 24 months before they come out, and thought it might be interesting if we provide some early previews of stuff instead of sitting on it until the last minute! These previews are things we are actively working on, but you should assume a conservative time scale when we talk about them here!
One that is a pretty obvious model is the Karist Angel Keeper. It is no secret that we'd love to be able to field a force entirely made up of Angels, and the key to such a force would be a powerful HQ unit. A number of places in the fluff describe the Angel Keeper, including the audiobook "A Keeper's Duty" which is entirely about a trainee Keeper and their charges. This means that the model is fairly well defined, and currently undergoing artistic design.
Unusually, we've got the rules in a fairly good place even though it will still be quite a while until the model is out. This means you can try one out today by building your own, or proxying one with another model from your collection.
The awesome Insaniak on Dakka made his own Keeper conversion with a bunch of spare parts and bits box parts and it looks like this: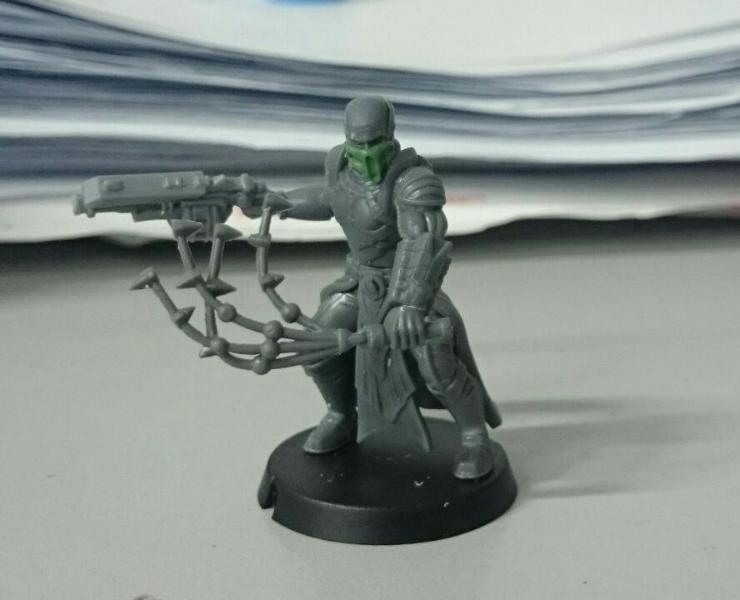 Here are the current target stats for the Angel Keeper from our master Rules overseer - yakface:


Command unit. His detachment can include 1-4 Angel core units, 0-2 Angel hammer units (none of these exist yet), 0-2 Angel vanguard units (none of these exist yet) & 0-2 Angel anvil units.

He would be somewhere in the realm of 8-9 points.

His stats would be: MV7, EVS3, SKL3, AV3, MAS2, FOR2, WP4. Model type: Infantry (human, character).

He'd be armed with some kind of CQ weapon (that you could imagine him using to punish the Angels when they're not behaving properly) and a Ripper Grenade Launcher that would fire Swarmer Grenade rounds. Might have to tone down the Swarmer Grenade rounds to only being 'psych 2D3' (instead of the normal 'psych 3D3')...although this could easily be justified by saying that the fired grenades are not quite as big and therefore don't carry as much na-cybel as the thrown version. He'd probably have the option to take traditional 'Ripper' rounds in the grenade launcher (to give him an actual gun that can deal damage if you want to pay the points for it).

He'd have the 'Angel Handler' & 'Command (1)' abilities. His big other ability would be to remove the 'Kill Mission' ability from Minnow units within a certain range of him (probably the normal command range of 18"), thereby allowing those units to capture mission objectives (while they're close enough to him).

Finally, if you have one or more Angel Keeper in your force, you'd be able to swap out your standard faction objective for the 'First Contact' faction objective.
This faction objective would give all Angel units (units with at least 50% angel models) the 'Fearsome (1)' ability, or +1 to their Fearsome ability if they already have one. Any time a non-fearless enemy unit fails its activation discipline check while affected by the Fearsome ability of an Angel unit, you gain +1 VP. You can gain a maximum of 3 VPs this way, and once you have, the 'fearsome' ability bonus immediately ends.
If you have a go at using an Angel Keeper in your force, please let us know how you get on with it!
Tags: conversion karist preview rules