---
Posted on Friday May 10, 2019 at 05:49AM in The Remnant
---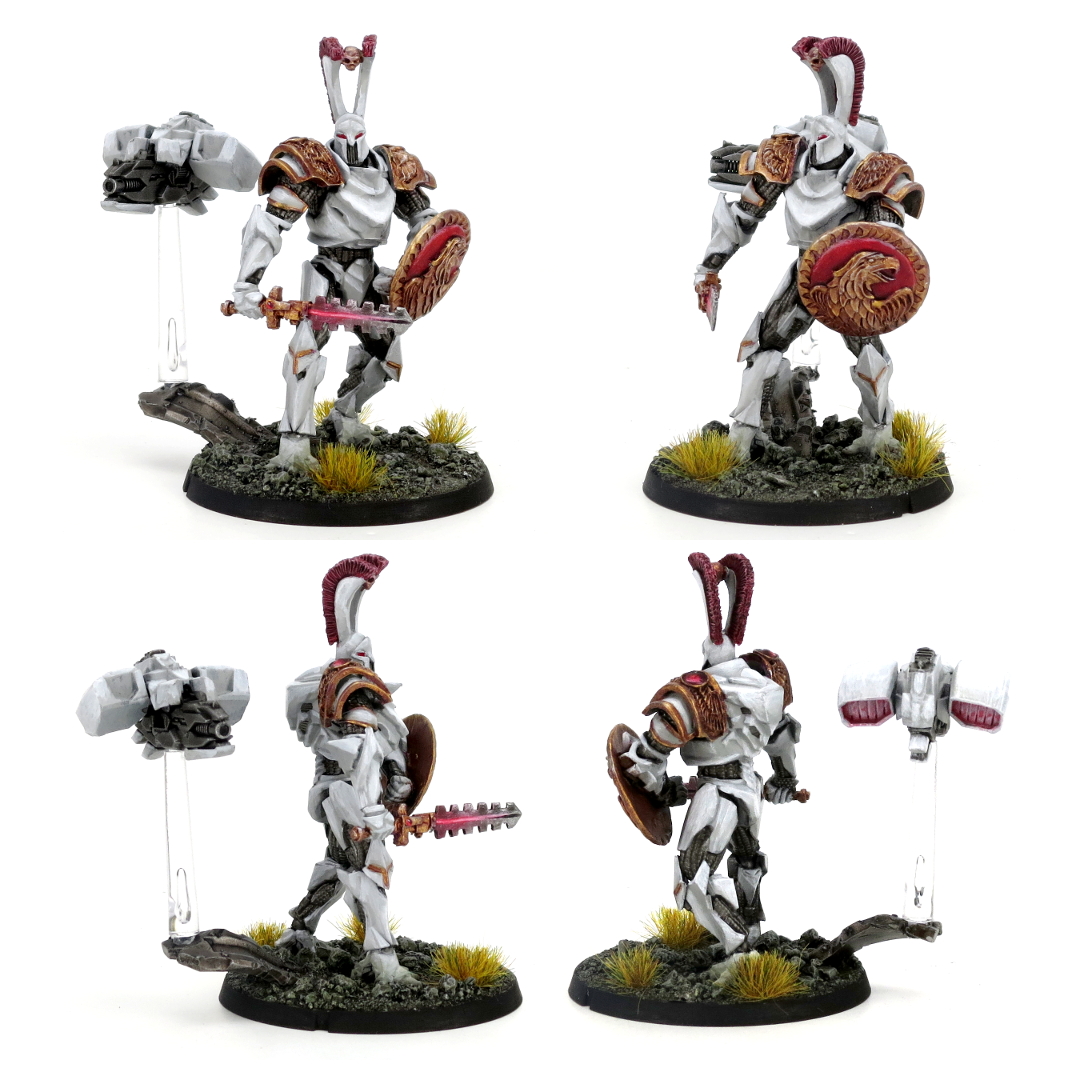 You can find the painting article
here
.
The Militus kit is available now from the Maelstrom's Edge
webstore
!
Tags: conversion militus modeling painting remnant
---
Posted on Monday May 06, 2019 at 05:00PM in Tutorials
---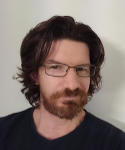 - by Iain Wilson
Last month saw the release of the fantastic new
Militus suit
for the Artarian Remnant, a brand new faction being introduced to Maelstrom's Edge. The Remnant wage war using elite Champions is advanced, armoured suits, and the Militus is the first of three suit variants to see the purplish-tainted light of day. From a modeling perspective, the Remnant are a joy. For starters, the Militus is a multi-part, articulated plastic kit with a huge range of posability (as shown in my recent
Militus Spotlight article
). To add to the fun, Remnant Champions are big fans of personal heraldry, with each suit being uniquely decorated with the Champion's Fire Team and House colours. So this week, I decided to write up a step-by-step painting guide for a colour scheme I chose for one of my converted Militus suits.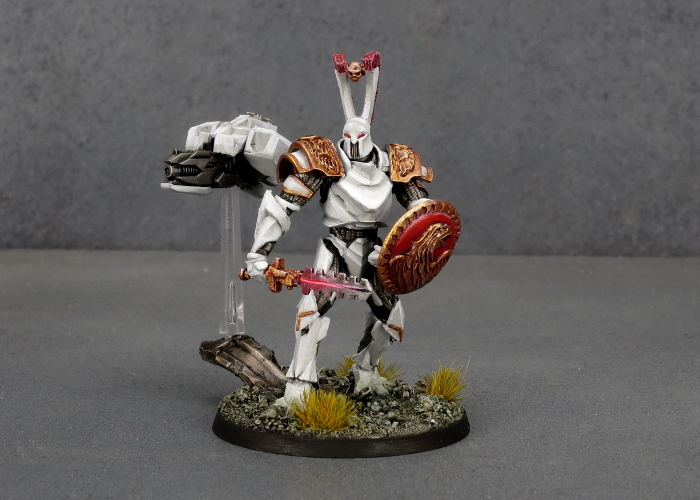 The model I chose to paint up was one of the conversions featured in the spotlight article mentioned above. I built this suit using a mix of plastic Militus parts and a bunch of resin components from
Max Mini
that I've had sitting around in the bits box for some time now. I didn't want to spoil his pretty, detailed shoulder pads by mounting a weapon up there, so I also built him a weapon drone using a modified jump pack.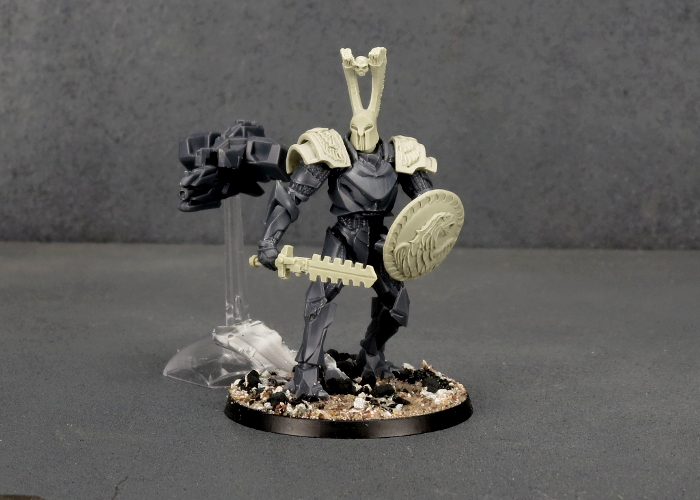 Rather unusually for me, this model was painted entirely with Army Painter paints - normall I use a mix of different brands depending on what suits the current project, but in this instance I happened to have all of the colours I needed in the one range!
To start things off, I base coated the model with a spray of Platemetal.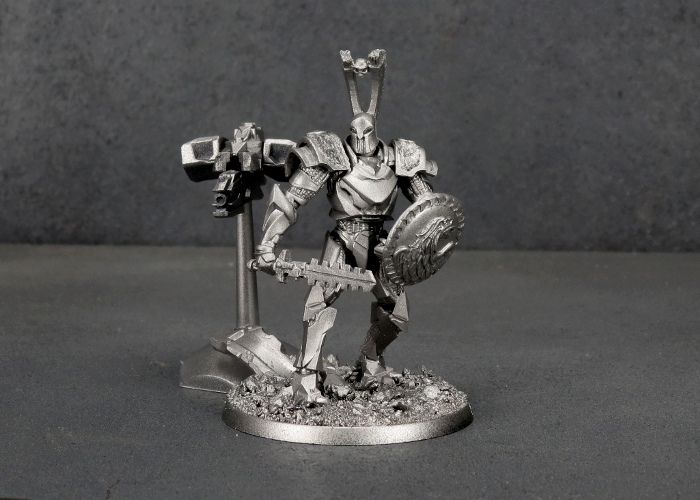 I then painted the armour with a couple of coats of Ash Grey, and the trim with Wasteland Soil. For the base, I used a generous coat of Army Green.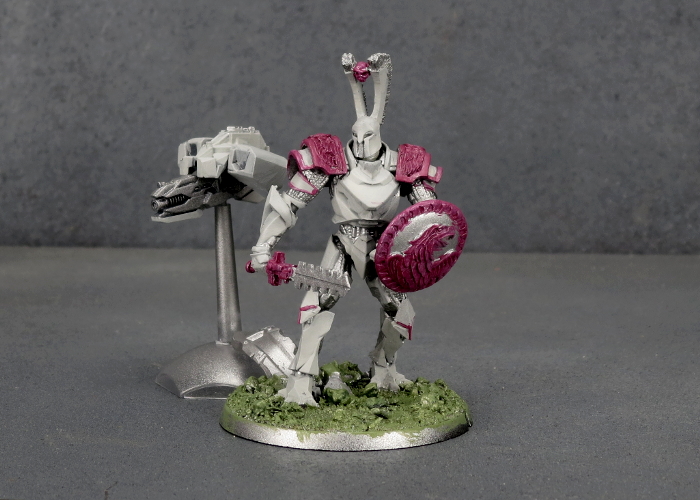 The trim then received two coats of Bright Gold, and the suit's mechanical underlayer, sword blade and the drone's Incursion Blaster were all given a heavy wash with Dark Tone.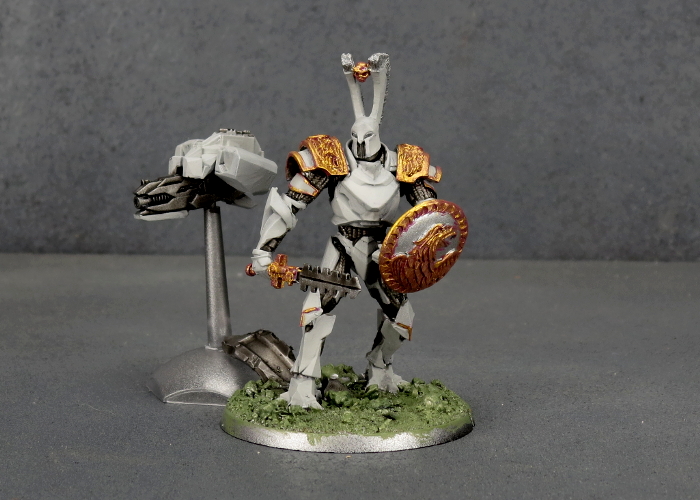 I painted the shield background and the helmet crest with Pure Red. Over the gold, I applied a coat of Flesh Wash, and also added a thick wash of Strong Tone over the base.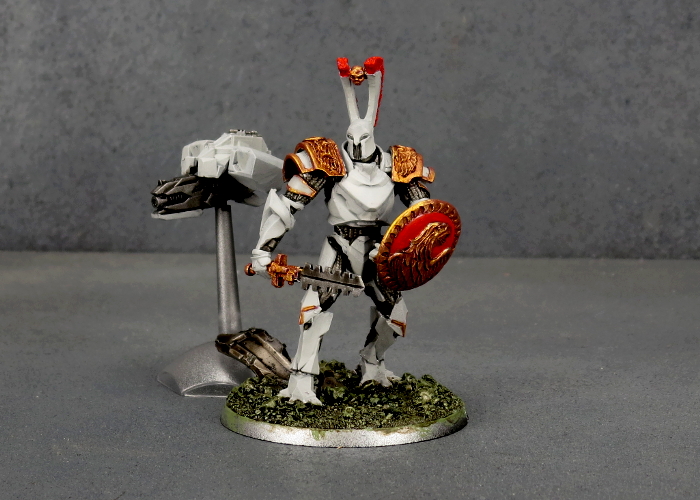 When the washes were completely dry, I drybrushed the base with Ash Grey, and added a light drybrushed highlight of Shining Silver to the gold. I then went over the grey armour with Matt White and Ash Grey, using pure white on upward facing plates, and blending down with Ash Grey on angled facings, leaving pure grey on downward-facing portions. I also added a wash of Red Tone over the red on the shield and helmet crest.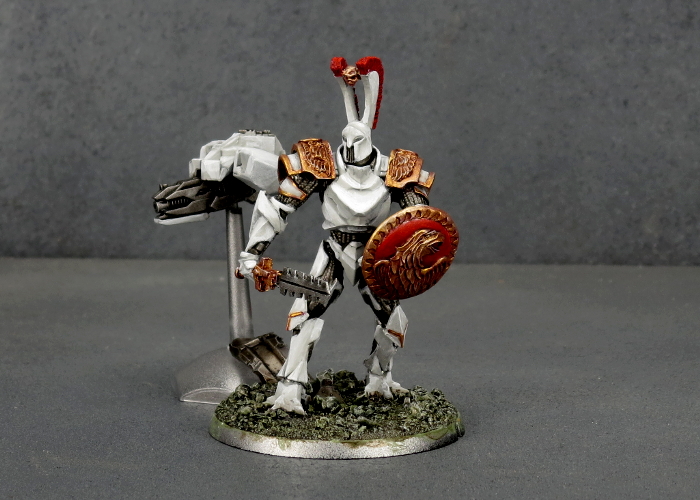 This just left some final detail work. A added a highlight to the shield and crest with a mix of Pure Red and Matt White, although I wasn't happy with the finishing tone on the crest - I fixed this with another wash of Red Tone. I also picked out the gems on his shoulders and sword with red, shading with Dark Tone and adding specular highlights with white. I also added a red glow to the sword blade and the drone's jets using a mix of red and white, and added some nice, bright red in the eye hollows. And finally, I painted around the base rim with black, and added a couple of tufts of grass for a little contrasting colour.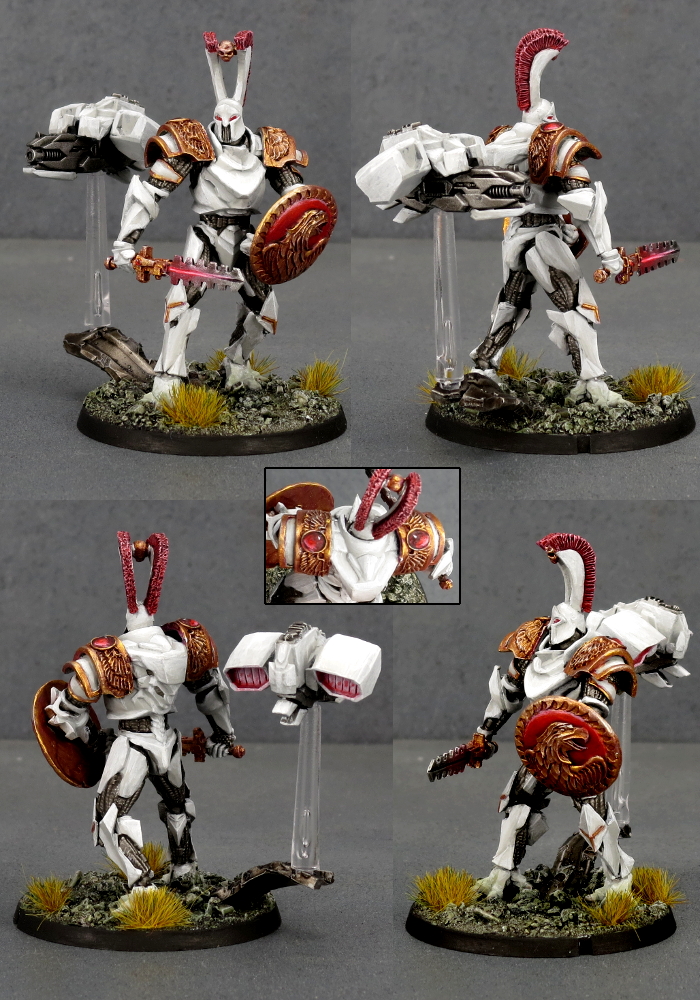 The finished suit in action, taking on some Karist troopers!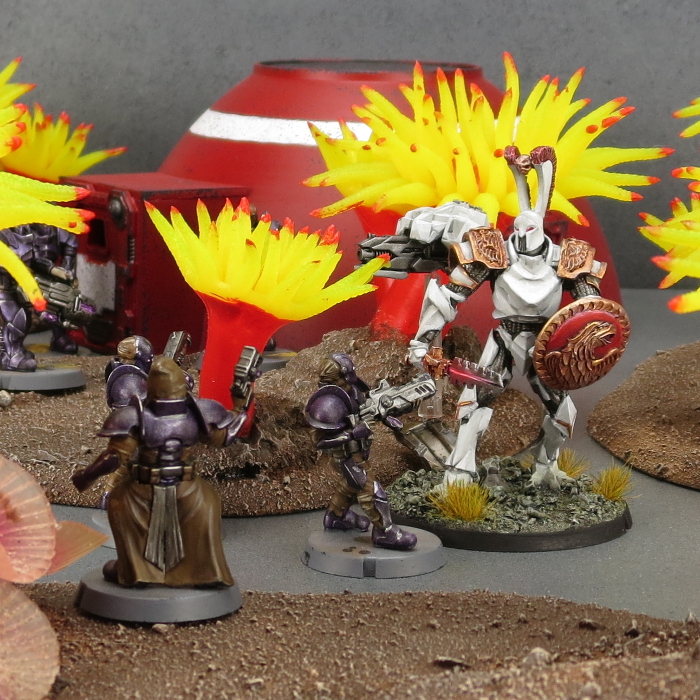 You can pick up the Militus kit, along with the rest of the Maelstrom's Edge model range in the webstore
here
.
As always, feel free to pop along and share your creations, or ask any Maelstrom's Edge- or hobby-related questions on the
Comm Guild Facebook page
!
For other Maelstrom's Edge modeling articles, including tutorials and walkthroughs of a wide range of different building and miniature projects, check out the Hobby section of the Maelstrom's Edge website
here
.
Tags: militus painting remnant spotlight tutorial walkthrough
---
Posted on Monday Apr 15, 2019 at 05:00PM in Tutorials
---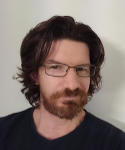 - by Iain Wilson

This month saw the release of a new faction, and a fantastic new multi-part, plastic kit for Maelstrom's Edge, in the form of the Artarian Remnant's Militus battlesuit. For this week's modeling article, I thought I would take a closer look at this kit and see what I could make with it.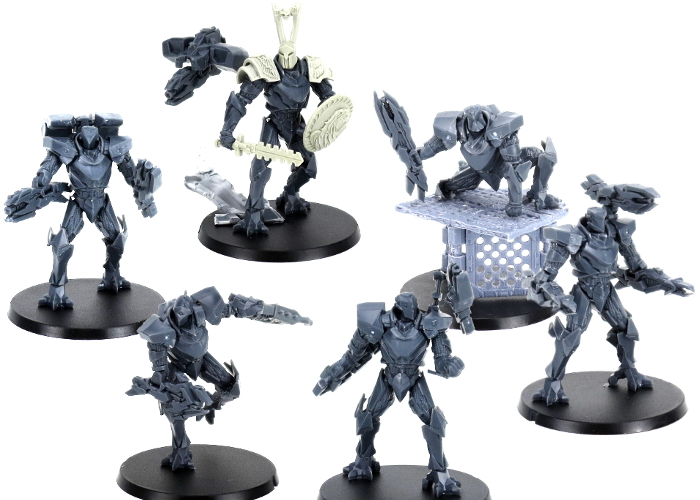 The Militus kit comes with a single plastic frame, which includes one battlesuit, two each of the different ranged weapon options, fist and reflex shield options, two different shoulder pad options, two different backpack options, and more heads than you can poke a shock baton at, to allow for some very easy customisation between your different suits.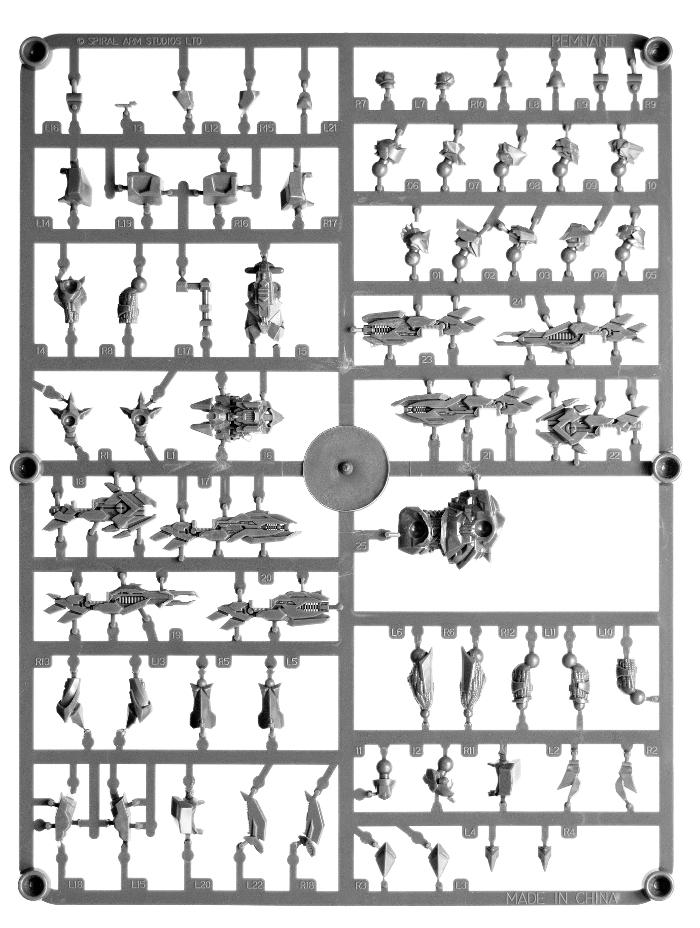 The Militus is fully articulated, with ball joints at ankles, knees, hips, elbows and shoulders, which allows for a wide range of posing options. The ranged weapons also have a multi-part gimble arrangement which allows both arm-mounted and shoulder-rig weapons to be positioned just how you want them.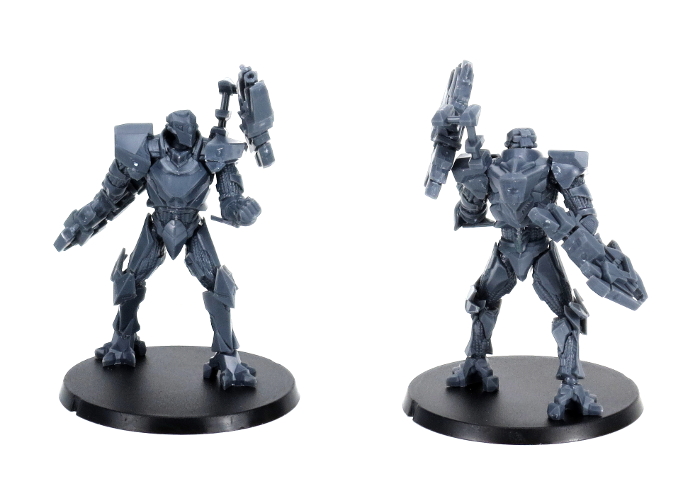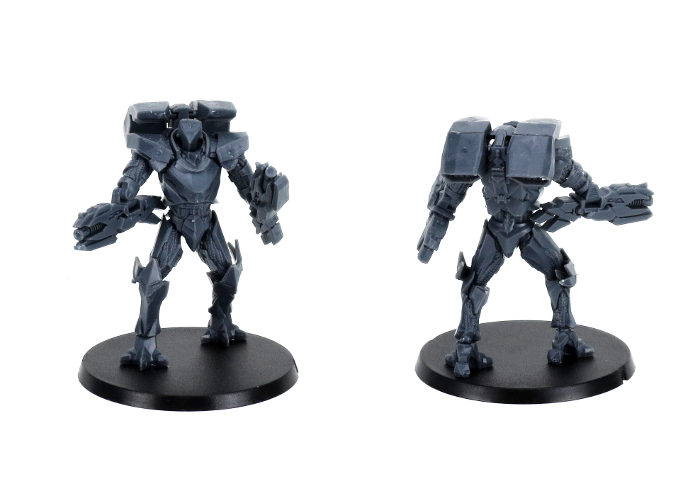 As an alternative to the standard shoulder rig, you can leave the vertical arm off and flip the weapon over, attaching the gimbal directly to the shoulder pad.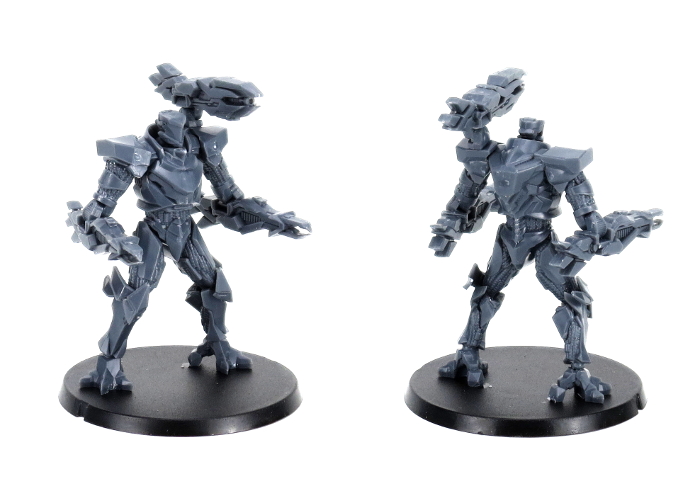 As a handy extra, the connection point for the weapons onto the gimbal is a very snug fit, which actually allows you to leave the weapon unglued and just push them into place, so that you can switch between weapons as desired between games. Likewise, while the forearm-and-hand option uses a different upper arm to the ranged weapons, the shoulder joint is a tightly fitting ball and socket joint, so if you glue the shoulder pad on to the torso without gluing the arm, you can carefully wiggle the arms in and out of the shoulder socket to swap them.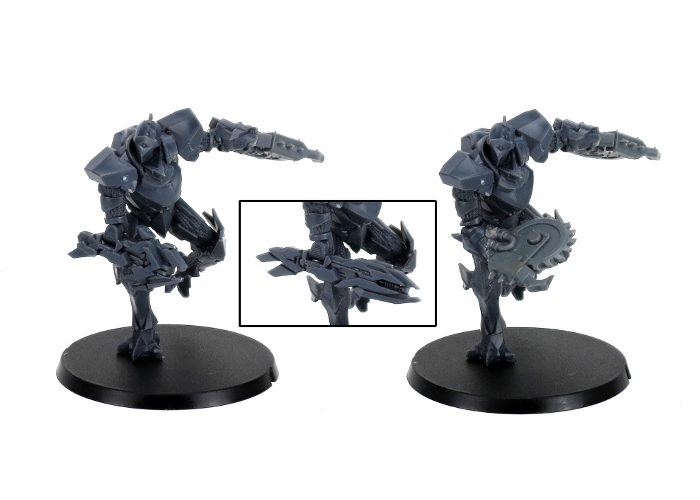 The saw blades on the above suit are not from this kit, but came from a Warhammer 40000 ork vehicle, used here just because I thought it looked awesome!
The backpack options (a field generator and a jump pack) also slot on, fitting neatly over the suit's back. These aren't quite as snug as the shoulders, but you could easily leave them unglued and attach them when you want them with a little blue-tac or similar poster adhesive.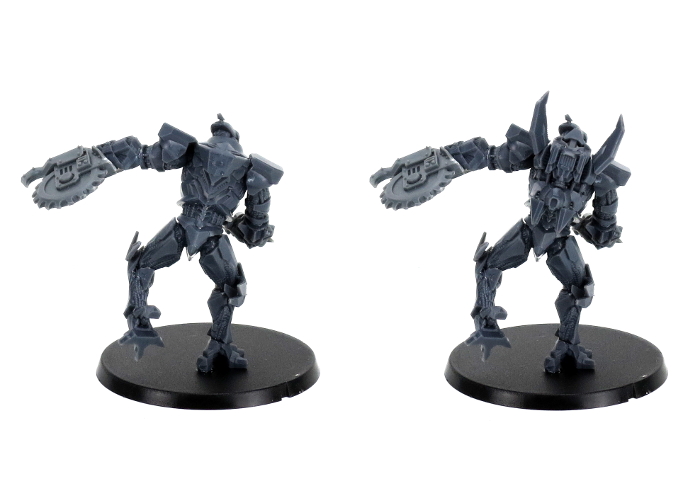 The fantastic thing about plastic, of course, is that it is simple to modify. So if the already wide range of posing available to the suit doesn't quite get it where you want it, it's an easy job to trim the joints a little to push them out even further. The below suit was posed by removing the top edges of the thigh armour plates, trimming the edges of the hip socket and leaving off the triangular piece that fits into the back of the shin.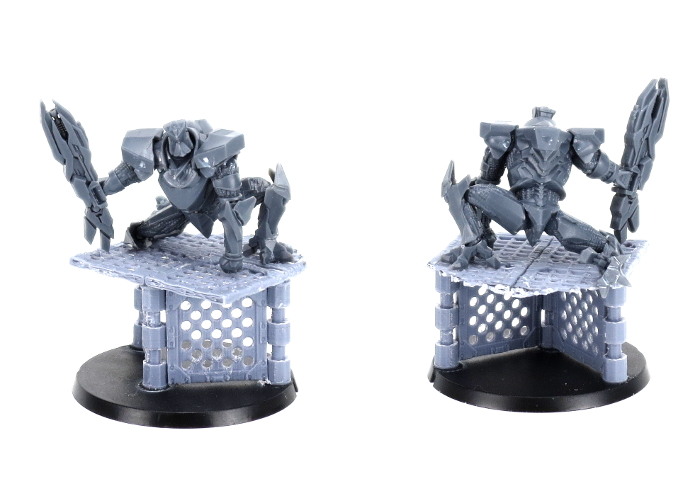 Lorican Champions are highly individual souls, and love to customise their suits. For this reason, the frame includes a bunch of different heads, and we will be releasing a resin upgrade pack to add some extra options in the near future. You can also look at other 28mm resin add-ons for more distinctive customisation - the heads on the suits are more or less human-sized, although you may need to fill the neck socket with some putty. The below suit was customised with an assortment of resin parts I had laying around from an old grab bag. His weapon drone (representing a shoulder mounted weapo, rules-wise) was made from a chopped up jump pack.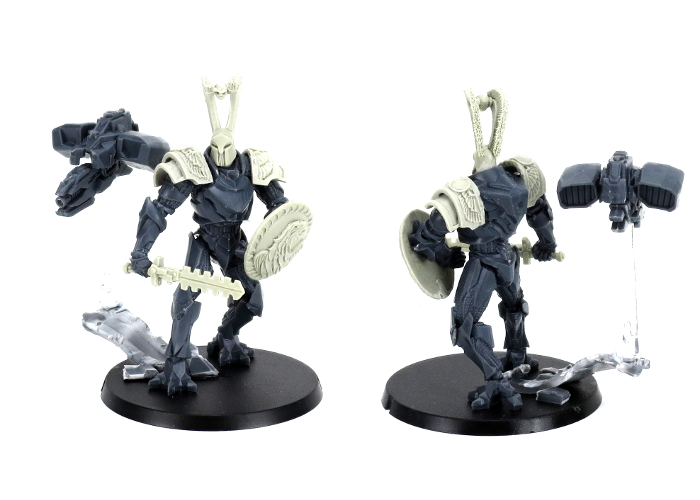 Finally, you're likely to wind up with a bunch of extra heads after you have finished building your suits. As mentioned above, these are human-sized, so that opens up all sorts of potential for customising your troops from other factions!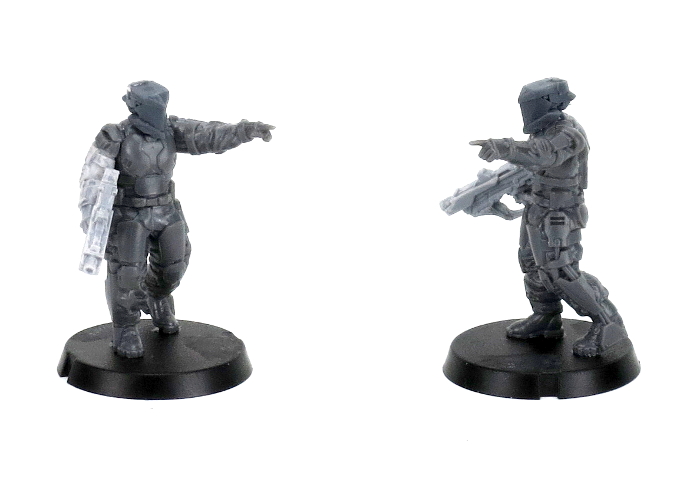 What do you have planned for your Militus suits? Feel free to pop along and share your work, or ask any Maelstrom's Edge- or hobby-related questions on the
Comm Guild Facebook page
!
You can pick up the Militus suit along with the rest of the Maelstrom's Edge model range from the webstore
here
.
For other Maelstrom's Edge modeling articles, including tutorials and walkthroughs of a wide range of different building and miniature projects, check out the Hobby section of the Maelstrom's Edge website
here
.
Tags: conversion militus model modeling remnant spotlight tutorial walkthrough
---
Posted on Sunday Apr 07, 2019 at 12:00AM in The Remnant
---
Spiral Arm Studios are thrilled to present our latest plastic kit: The Remnant Militus Battlesuit! This is the first kit for the Artarian Remnant, the newest faction to join the fray at the Maelstrom's Edge.

Lorican Combat Suits are the pinnacle of Artarian engineering, allowing a House Champion to have the utility and fighting prowess of many soldiers or workers. Each suit wearer is virtually a one man army, equipped with light but incredibly strong alloyed armour plating that is adapted from the same technology that is used in Remnant ship hull plating. It can absorb heat based weapons and even use it to recharge the suit's systems. The armour is quite capable of deflecting even heavy calibre ammunition, and is fully adapted to work in vacuum or underwater.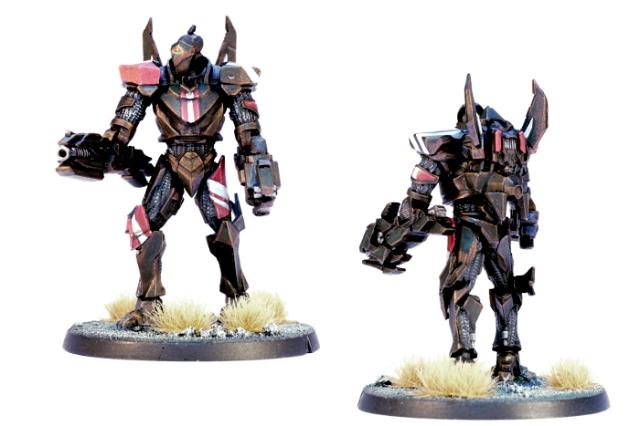 Each suit is assisted by sophisticated motion predicting micro-servo motors to give them unparalleled strength and mobility, moving with ease through dense terrain and being able to punch holes through conventional armour. Every suit also boasts a wealth of sensors including friend or foe recognition, communications frequencies, target acquisition and capability calculation, capable of identifying weak points on the target and providing suggestions as to what weapon to attack it with. All suits are slaved with targeting and intelligence information from the insertion ships in orbit, providing a strategic overview, co-ordination between strike teams and immunity to ambush.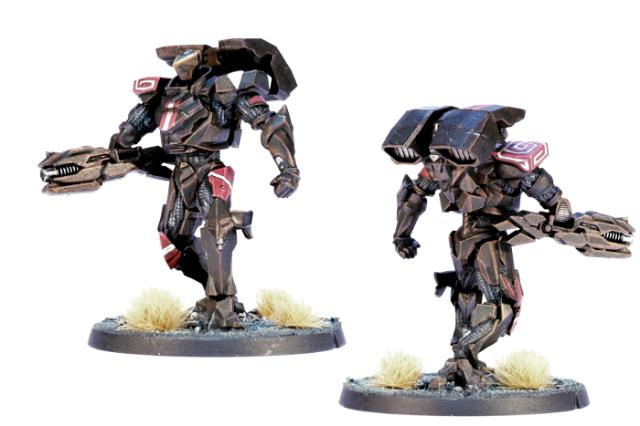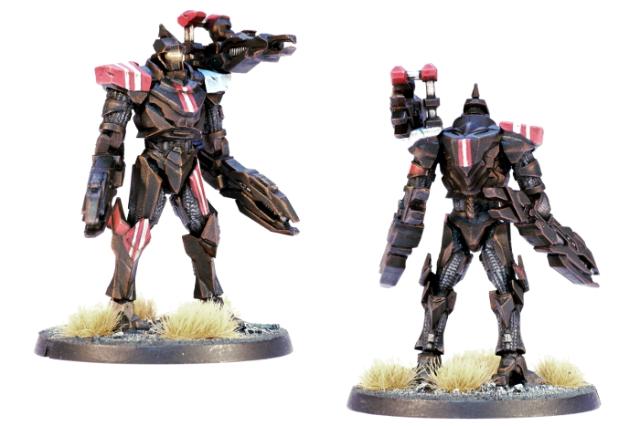 The suits are powered by a miniature tritium energy cell, and are good for several months without recharging. This powers all suit subsystems including medical diagnostic systems which will seal over wounds including resorting to removal of limbs if necessary, and supply painkillers, stimulants and medication as required. The armour will also recycle bodily waste and their occupants can survive for weeks without resupply, although the experience would not be particularly pleasant.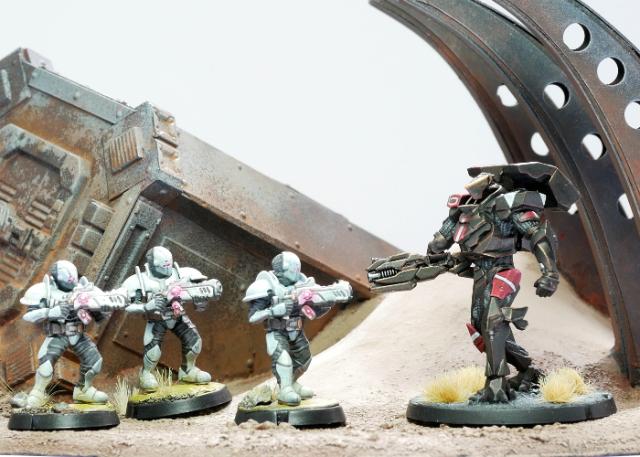 The standard 'Militus' class suit forms the core of most Artarian fire teams. They can be equipped with a range of different, high-powered weapon options and are also often fitted with protective field generators or jump packs for extra mobilty.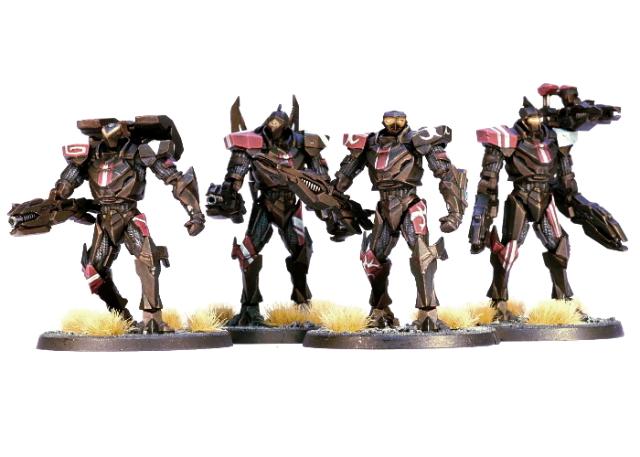 This kit contains a single, mulitpart Militus suit on one plastic sprue, along with a 45mm plastic base.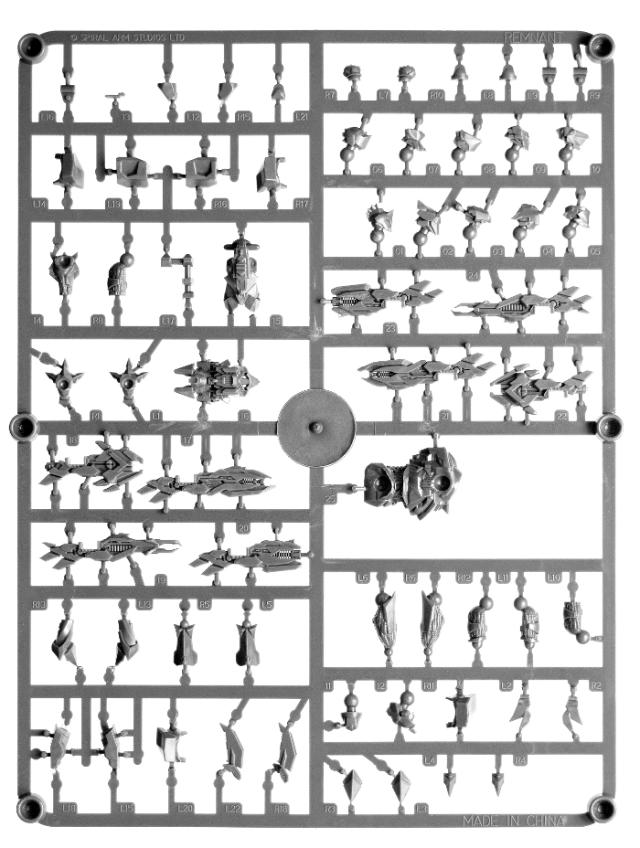 To get you building, you can find assembly instructions in PDF format
here
.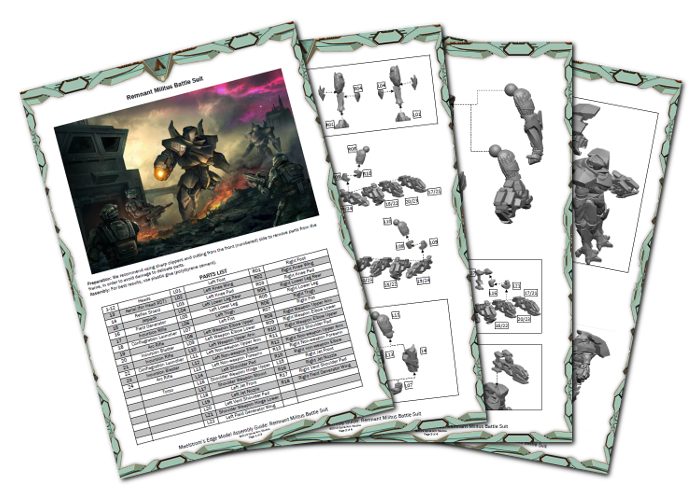 The Militus kit is available now from the
Maelstrom's Edge webstore
. Faction rules are still being finalised, as the other models for the Remnant are still being developed, but will be added to the website as soon as they are ready to go!