Painting Spotlight: White and Gold Militus Suit
---
Posted on Monday May 06, 2019 at 05:00pm in Tutorials
---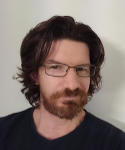 - by Iain Wilson
Last month saw the release of the fantastic new
Militus suit
for the Artarian Remnant, a brand new faction being introduced to Maelstrom's Edge. The Remnant wage war using elite Champions is advanced, armoured suits, and the Militus is the first of three suit variants to see the purplish-tainted light of day. From a modeling perspective, the Remnant are a joy. For starters, the Militus is a multi-part, articulated plastic kit with a huge range of posability (as shown in my recent
Militus Spotlight article
). To add to the fun, Remnant Champions are big fans of personal heraldry, with each suit being uniquely decorated with the Champion's Fire Team and House colours. So this week, I decided to write up a step-by-step painting guide for a colour scheme I chose for one of my converted Militus suits.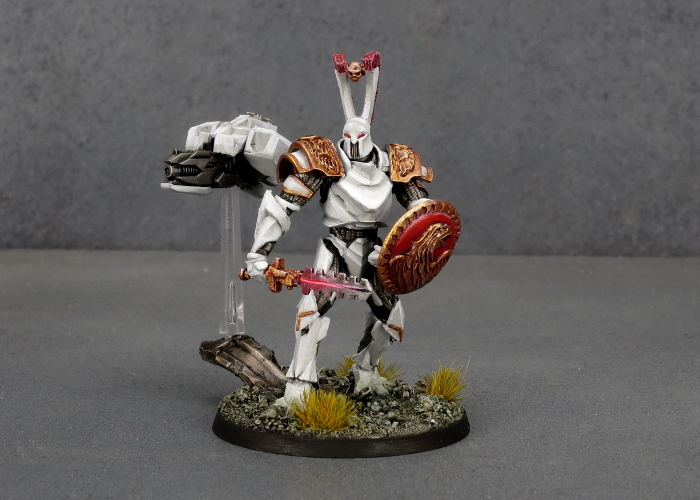 The model I chose to paint up was one of the conversions featured in the spotlight article mentioned above. I built this suit using a mix of plastic Militus parts and a bunch of resin components from
Max Mini
that I've had sitting around in the bits box for some time now. I didn't want to spoil his pretty, detailed shoulder pads by mounting a weapon up there, so I also built him a weapon drone using a modified jump pack.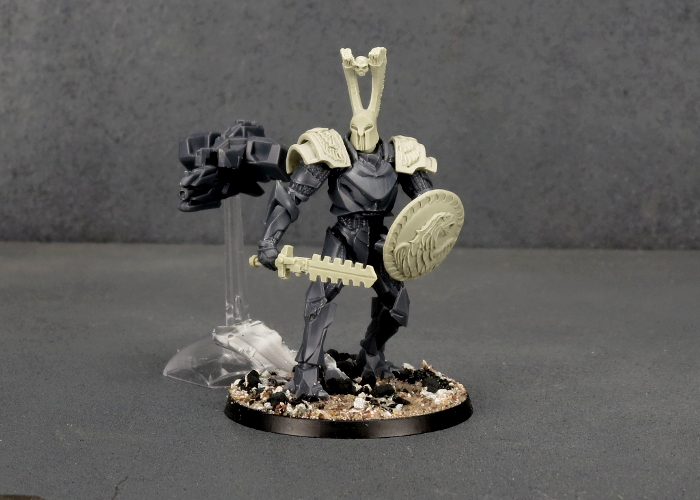 Rather unusually for me, this model was painted entirely with Army Painter paints - normall I use a mix of different brands depending on what suits the current project, but in this instance I happened to have all of the colours I needed in the one range!
To start things off, I base coated the model with a spray of Platemetal.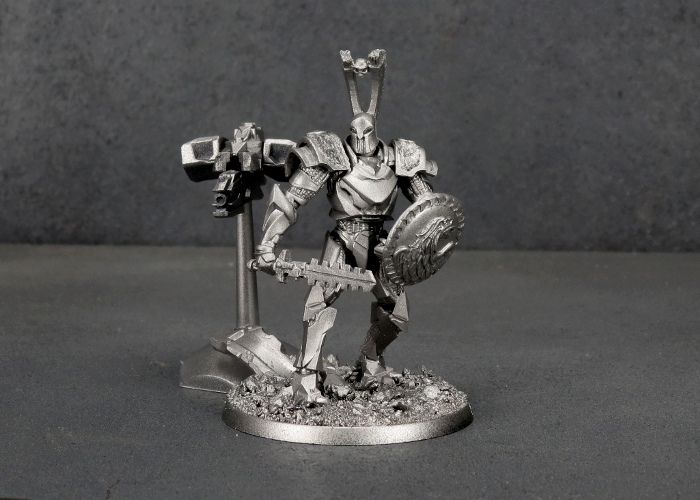 I then painted the armour with a couple of coats of Ash Grey, and the trim with Wasteland Soil. For the base, I used a generous coat of Army Green.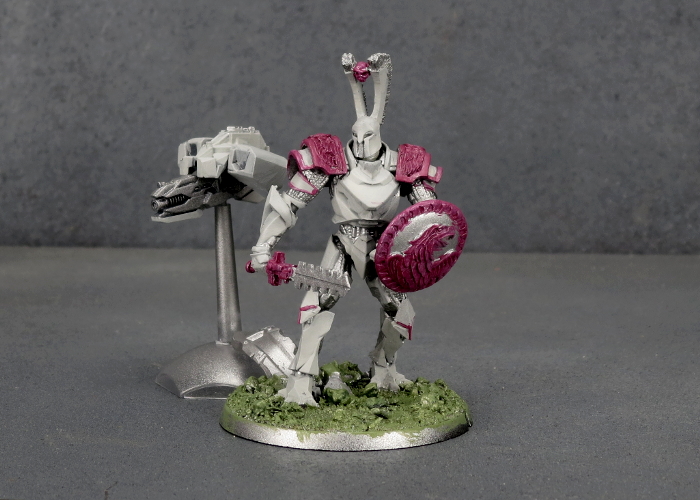 The trim then received two coats of Bright Gold, and the suit's mechanical underlayer, sword blade and the drone's Incursion Blaster were all given a heavy wash with Dark Tone.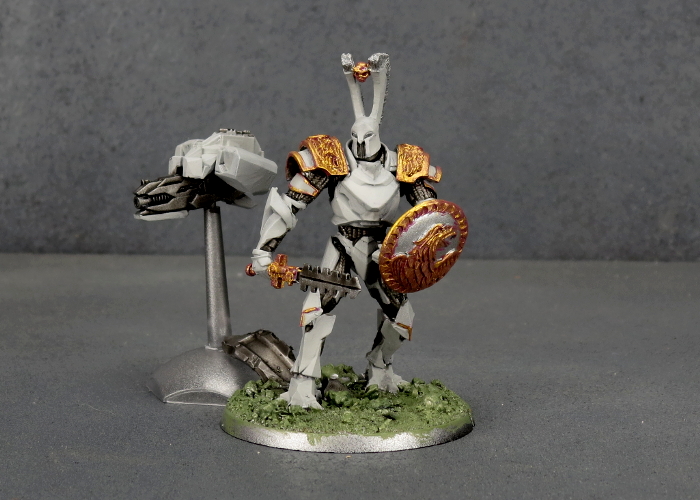 I painted the shield background and the helmet crest with Pure Red. Over the gold, I applied a coat of Flesh Wash, and also added a thick wash of Strong Tone over the base.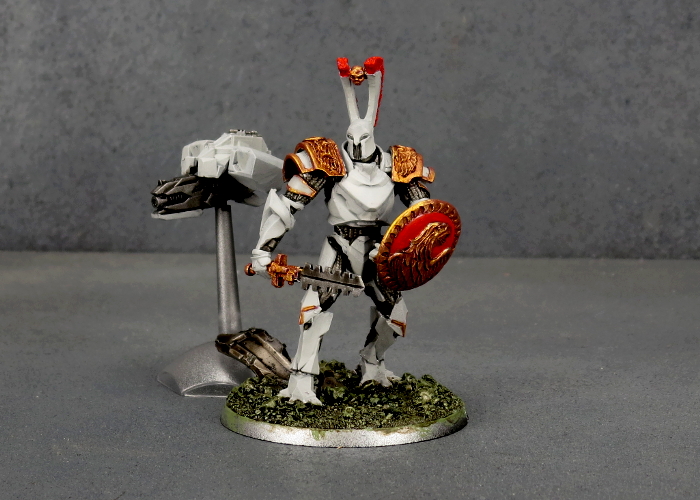 When the washes were completely dry, I drybrushed the base with Ash Grey, and added a light drybrushed highlight of Shining Silver to the gold. I then went over the grey armour with Matt White and Ash Grey, using pure white on upward facing plates, and blending down with Ash Grey on angled facings, leaving pure grey on downward-facing portions. I also added a wash of Red Tone over the red on the shield and helmet crest.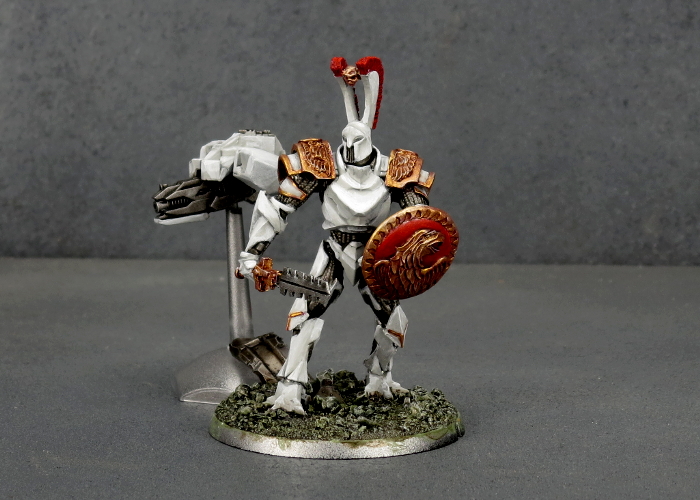 This just left some final detail work. A added a highlight to the shield and crest with a mix of Pure Red and Matt White, although I wasn't happy with the finishing tone on the crest - I fixed this with another wash of Red Tone. I also picked out the gems on his shoulders and sword with red, shading with Dark Tone and adding specular highlights with white. I also added a red glow to the sword blade and the drone's jets using a mix of red and white, and added some nice, bright red in the eye hollows. And finally, I painted around the base rim with black, and added a couple of tufts of grass for a little contrasting colour.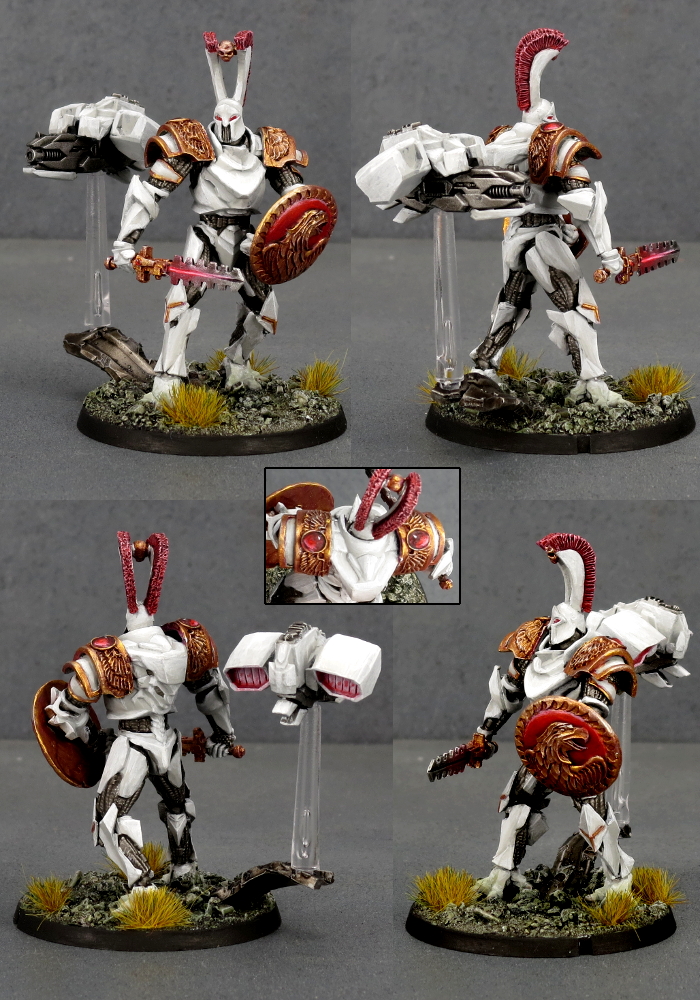 The finished suit in action, taking on some Karist troopers!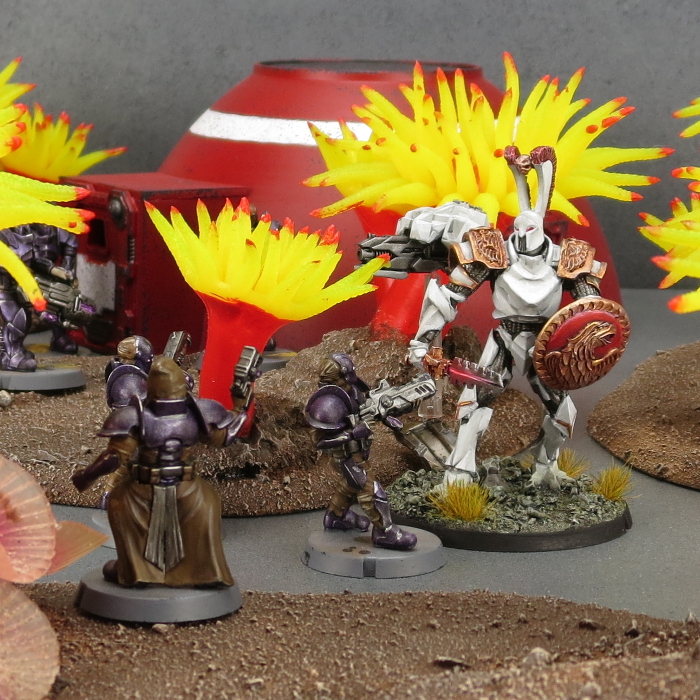 You can pick up the Militus kit, along with the rest of the Maelstrom's Edge model range in the webstore
here
.
As always, feel free to pop along and share your creations, or ask any Maelstrom's Edge- or hobby-related questions on the
Comm Guild Facebook page
!
For other Maelstrom's Edge modeling articles, including tutorials and walkthroughs of a wide range of different building and miniature projects, check out the Hobby section of the Maelstrom's Edge website
here
.
Tags: militus painting remnant spotlight tutorial walkthrough
Like this? Like us on facebook to see more...


Comments are closed for this entry.