Terrain Spotlight: Fruit Jar Air Purifier!
---
Posted on Wednesday Dec 08, 2021 at 01:03am in Tutorials
---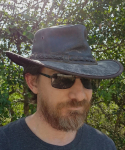 - by Iain Wilson
Time for a super-quick terrain build! In the grand tradition of painting things instead of throwing them into the recycling bin, this week I built an air purifier station out of a plastic fruit jar, with some help from the Maelstrom's Edge terrain sprue!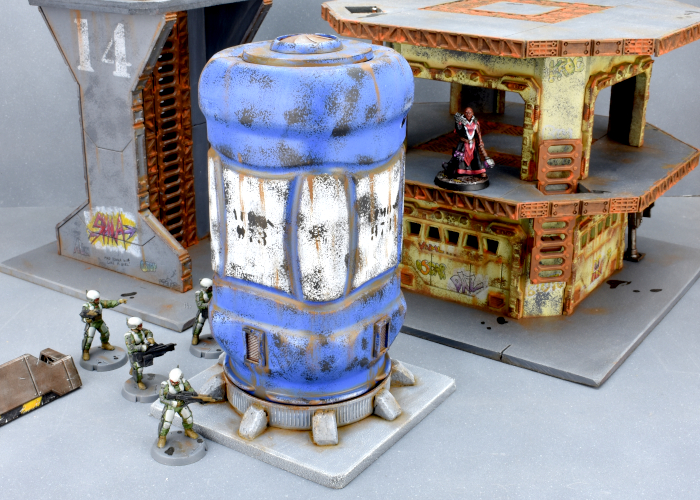 The bulk of this terrain piece uses the aforementioned plastic jar, which I think originally had plums in it. The plums weren't much good for modeling, but the jar itself was an interesting shape, so I figured it was worth hanging onto it.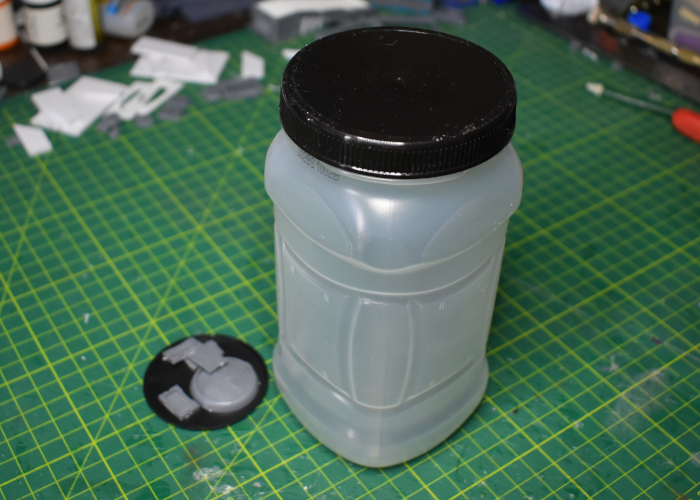 I started out by spraying the inside of the jar with some black paint. This helps to avoid things looking weird if the outer layer of paint gets scratched with use, and also blocks light from showing through if the outer paint layer is thin in places. I also gave the outside a light sand to help the glue and paint to stick better.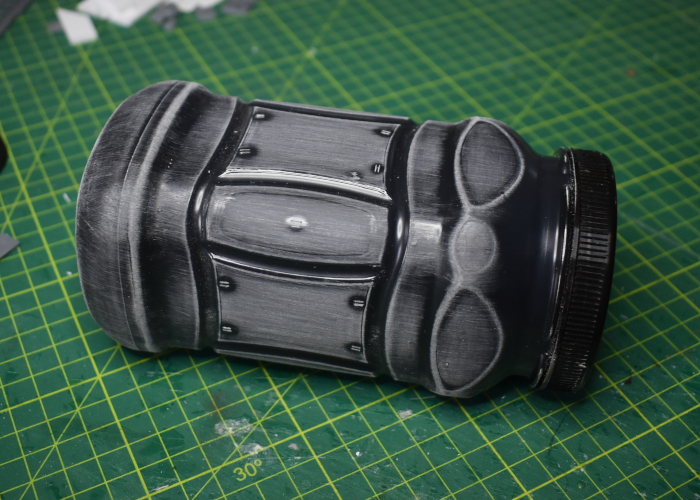 To cover over the embossed logos on the bottom of the jar, I took a large base and cut some indents into the bottom to sit over the mould line on the jar. I glued this in place using some all-plastic glue (a superglue with a primer pen that helps give a secure bond on different types of plastics). In the middle of the base I added an iris portal from the second Maelstrom's Edge terrain sprue.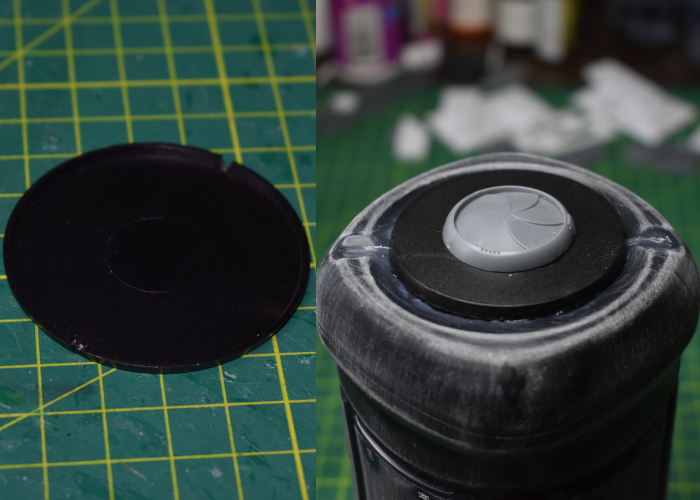 I went light on additional details as I thought the shape of the jar was interesting enough by itself, but I added a vent on each side - the iris on top would be opened to suck in contaminated or otherwise unsuitable air, and the cleaned/chemically altered/now fit for breathing air would be pumped out through the vents, with all of the 'working gubbins' sealed away inside the unit.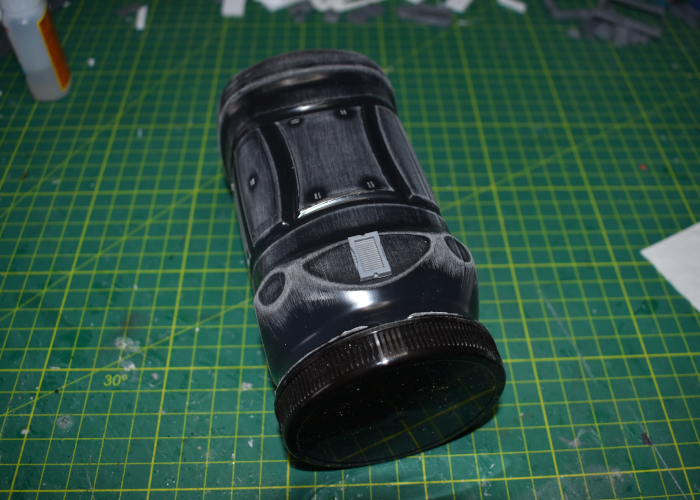 Finally (or so I thought) I added a small base cut from a piece of 5mm foamed PVC.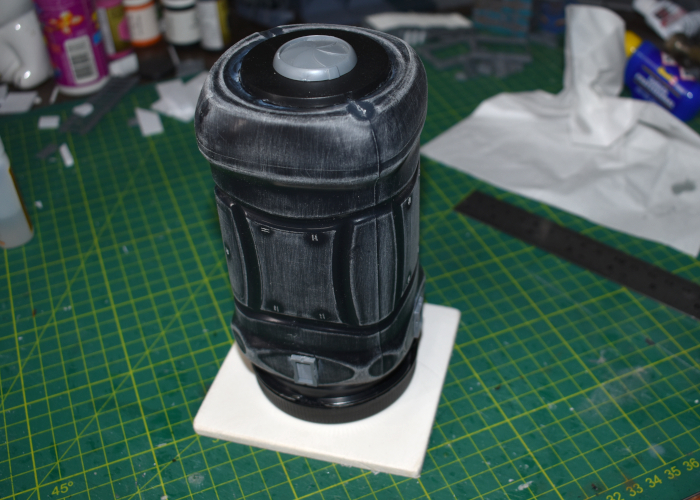 While I was painting the purifier unit, I decided that it still looked a little too much like a jar turned upside down, largely because the lid is such a recognisable shape. So I broke it up a bit by adding some buttresses around it cut from a piece of polystyrene foam.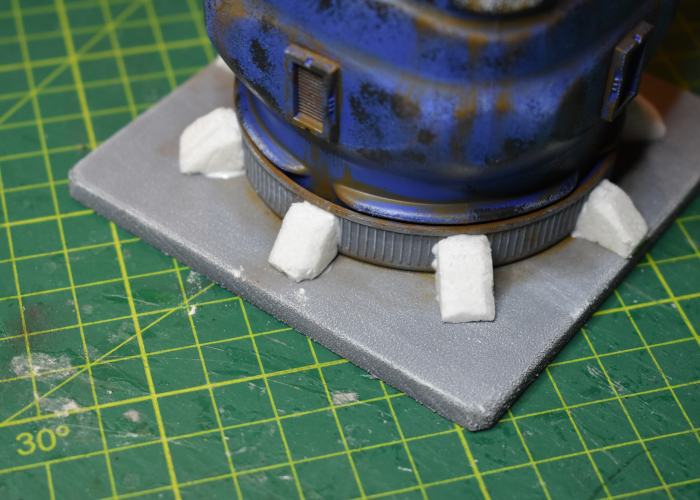 With some paint on, the air purifier wound up looking like this: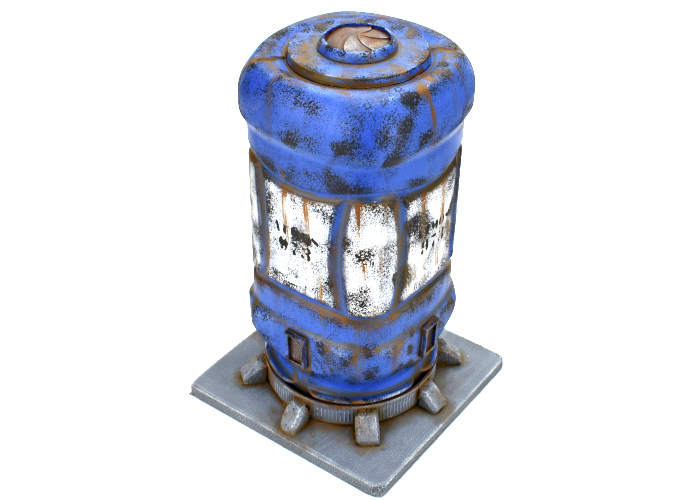 Build your own air purifier of respiratory doom by picking up the Maelstrom's Edge terrain sprues along with the rest of the Maelstrom's Edge range from the webstore
here
.
What are you working on? We would love to see your models and terrain in the
Comm Guild Facebook group
!
For other building ideas, modeling tutorials, army spotlights and conversion walkthroughs, check out the Hobby section of the Maelstrom's Edge website
here
.
Tags: spotlight terrain terrainsprue tutorial
Like this? Like us on facebook to see more...


Comments are closed for this entry.