---
Posted on Monday Apr 30, 2018 at 09:00pm in Models
---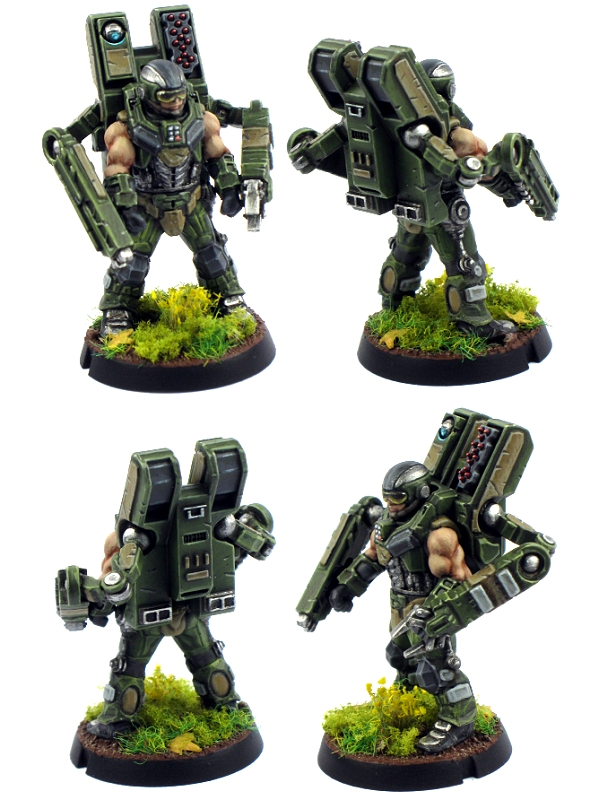 We at Spiral Arm Studios are proud to present our latest model - the Epirian Master Handler. This alternate command model allows you to lead your robotic force with the ultimate robotic Handler. We previewed this model at Salute 2018 where it sold out very quickly, and now it is available on general release for everyone!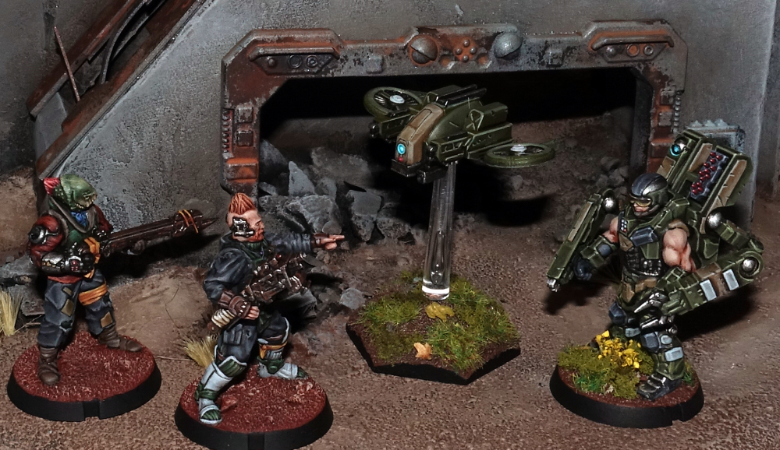 Rules are available immediately as normal on the Maelstrom's Edge website Force Lists section. As you can see there, a lot of interesting equipment is available.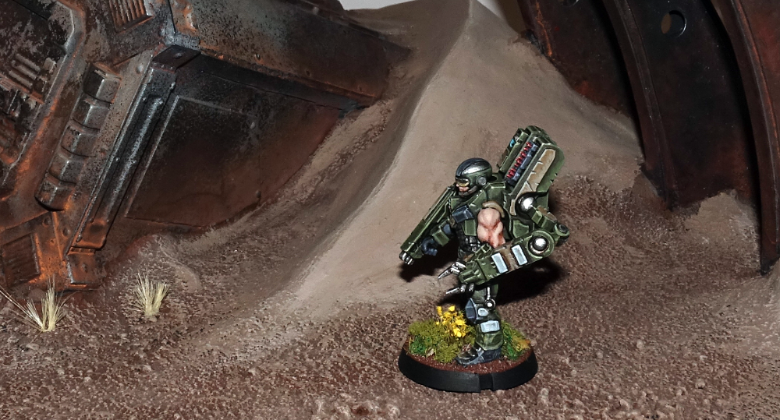 The sprue contains enough parts to build any of the combinations in the rules, and has two variant bodies and legs for different posing. The real interesting bit is the backpack and supporting mech arm structure though, which is fully ball jointed, allowing a huge range of posing and angles. We originally wanted to make this kit in resin, but the complexity and detail of the mech arm parts demanded plastic and we are very glad we went that route!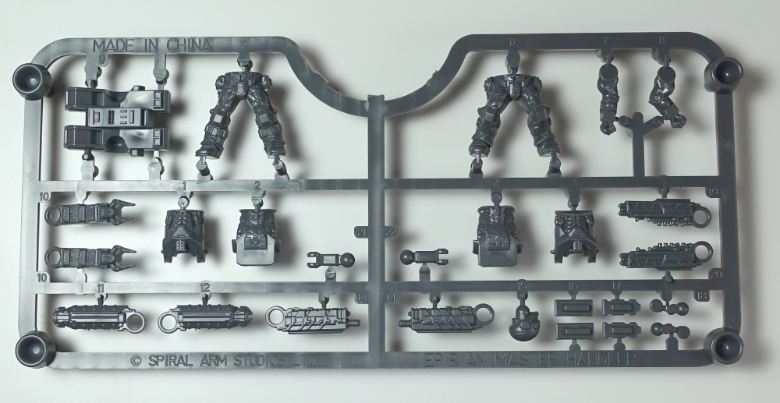 The Epirian Foundation became one of the dominant forces in the Spiral Arm for two reasons: its terraforming technology allowed the Foundation to convert barren worlds into productive and verdant paradises, and its legions of robots and drones allowed it to harvest resources from inhabited planets and desolate asteroids alike. Both would be nothing, however, without Bot Handlers striding amongst their robotic charges, directing their actions and optimising their workflow. The limited AI of Epirian bots means that the true power lies in a Handler's control, and for many, training to become one of the Foundation's machine shepherds is the ultimate career to aspire to. By the time a Bot Handler reaches the hallowed status of Master, they are the Foundation's most valuable resource, guiding entire robotic divisions and piloting whole squadrons of starships on their own. They are so precious, in fact, that their corporate superiors overlook all manner of eccentricities and odd behaviors, both of which become increasingly common the longer a Handler plies their trade. As a Handler spends increased time with their consciousness projected into their robotic subjects, the more they become detached from humanity.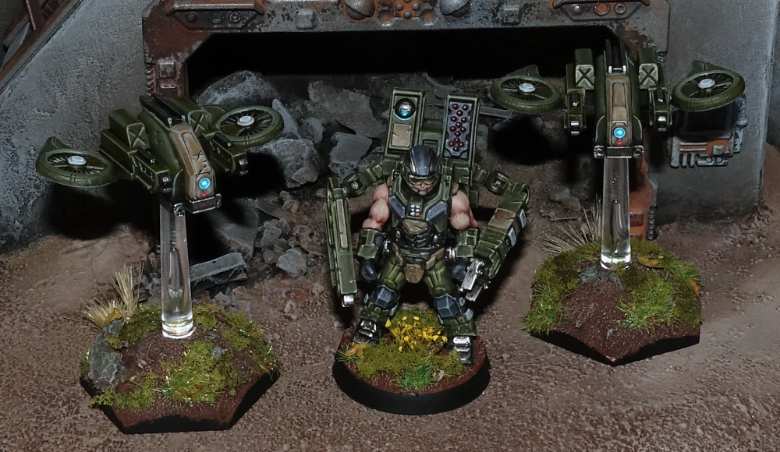 A Master Handler has spent decades diving into the electronic pathways of machines. Having to spend a few minutes conversing with another person is excruciating when one is used to simply thinking a command and have it be perfectly understood and followed. Master Handlers are often awkward and disdainful of other humans, which can unsettle those within their proximity. The elite human soldiers in the Foundation's SecDef division resent a Master Handler's lack of cohesion, despite the formidable abilities they bring to bear on the enemy. Master Handlers therefore refuse to serve embedded with any other Foundation unit, instead relying on custom built 'Defender' Drones to protect them. These modified Firefly drones have their clingfire payload replaced with state-of-the-art armour. Their vastly improved neural processors perform a 'swarm defense', continually scanning for potential threats, positioning themselves as a seemingly easy target, only to dart away once they have drawn enemy fire.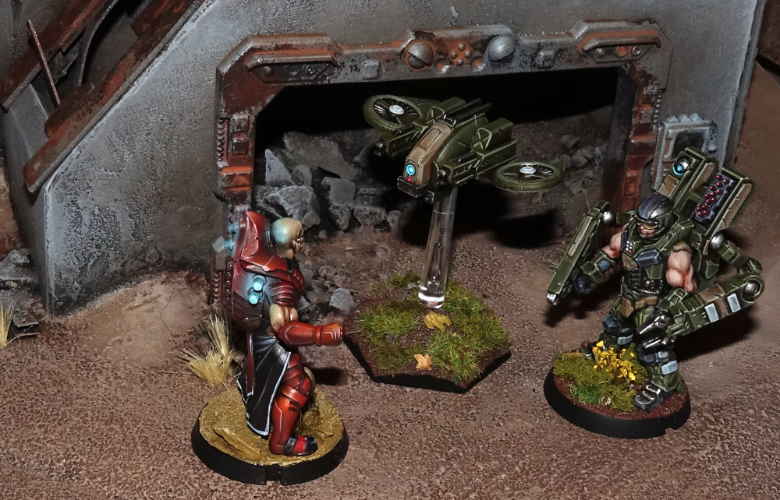 Master Handlers wear powerful machine-assisted armor normally reserved for elite SecDef forces, and wield an arsenal of weaponry that normal soldiers can only dream of. Some Master Handlers eschew additional weapons and instead utilize Neural Nodes: an incredibly expensive and controversial technology that combines a powerful machine neural processor with a tiny portion of the Master Handler's cognitive functions. The Neural Node acts as an independent, duplicated version of the Handler's consciousness for a brief moment, before safeguards purge its core memory. The Neural Node creates a powerful momentary electronic copy of the Master Handler's mind into the target drone, to assess the situation and provide the drones with a specific order. There are many voices both outside and within the Foundation that decry the use of Neural Nodes, claiming they are a form of A.I., which puts all of humanity at risk. The Foundation remains resolute that purging a Neural Nodes at regular intervals prevents any potential issues from arising. Master Handlers themselves ignore the controversy, relishing any opportunity to become closer to the robots under their control, to devastating effect amongst those that stand in their way.
As a brand new command model, you also get a new, different faction objective for the Epirians if you take this unit as the head of your detachment:

MASTER OF MACHINES
This objective may only be utilized if your force contains a Master Bot Handler. If utilized, a Master Bot Handler is automatically your force commander for any objective type that requires one.

This objective type can generate a maximum of 3 VPs per game, after which you may no longer utilize the Bot Mastery ability.

-----

Partial: (each end phase) If at least one of your Master Bot Handlers is on the table and the Bot Mastery ability was not utilized that turn, gain 1 VP.

Full: (end of game) If at least one of your Master Bot Handlers is still on the table, gain all of this objective's remaining VPs.

Bot Mastery: Once per turn, you may automatically enable one of your unit's bot protocols when that unit is activated (regardless of whether its activation discipline check is successfully passed). You must have at least one Master Bot Handler on the table to utilize this ability.

Check out the Maelstrom's Edge store today to pick up your Master Handler for just $8.49/£5.99!
Tags: epirian handler masterhandler plastic sprues
---
Posted on Tuesday Sep 26, 2017 at 09:00am in Models
---
Only 4 days until the first models from our new faction - The Broken - are available for purchase!

We'll be sharing more information each day until release, starting with the most important of all - detailed pictures of the sprues!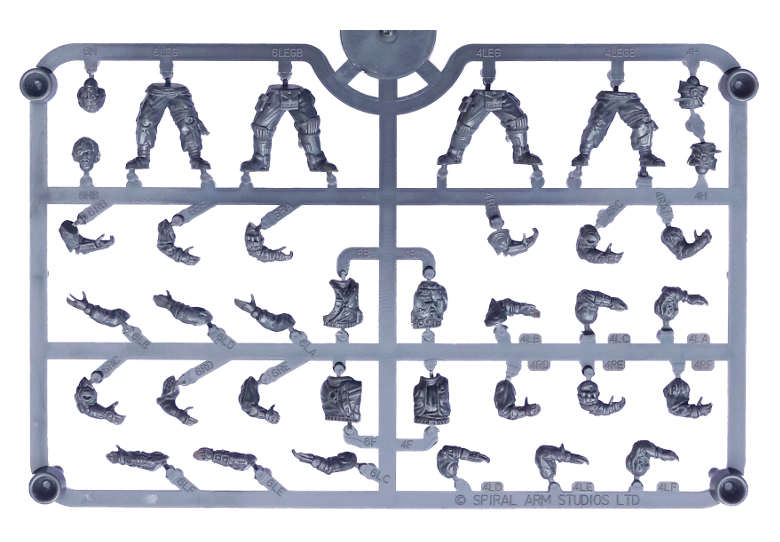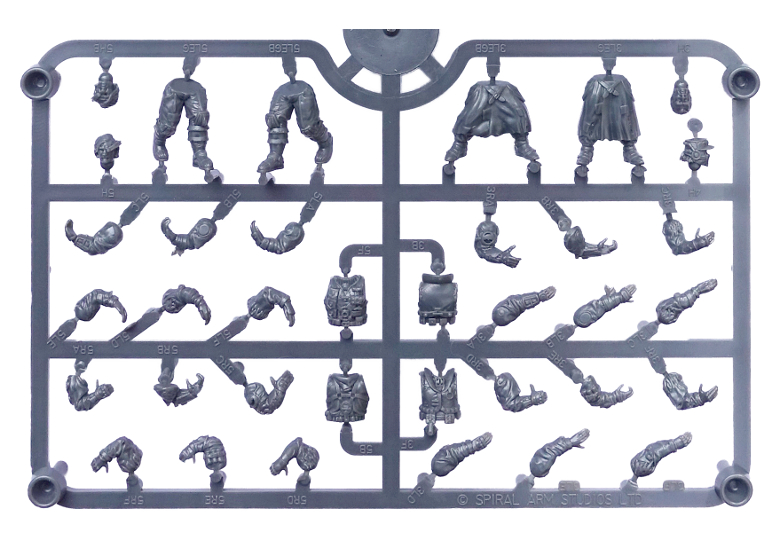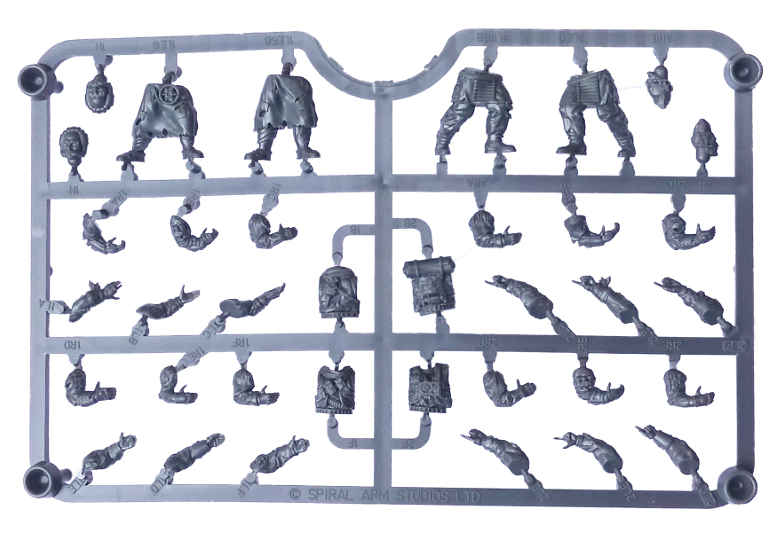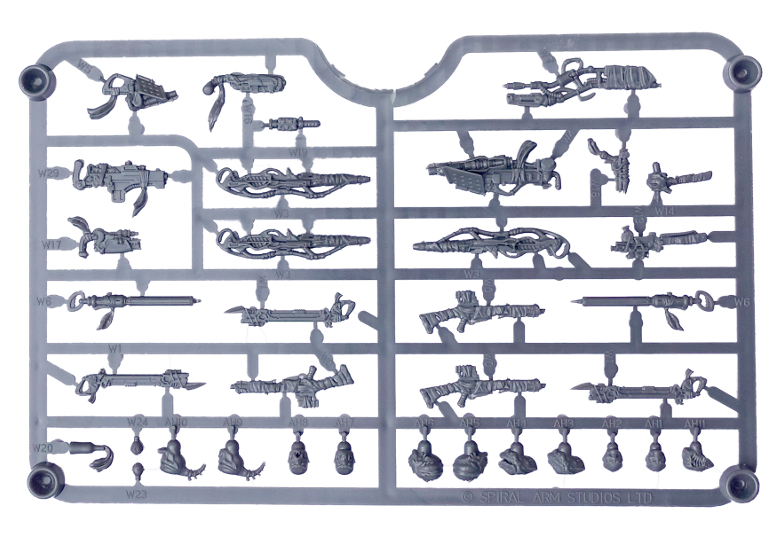 A common question we've had so far is just how many sprues are needed for each unit to be built? Additionally, how many sprues will be needed for a full force of Broken?
As you can see above, six models can be made with a huge array of options from each set of sprues. Units will be made up of 4-6 models each, with 1 HQ model as well, so a single set of sprues can make up a full squad of 6, with most options. Three sets of sprues will be enough to make full squads of all three unit types. Going with two 6 man squads and one 5 man squad will also allow an HQ model to be built, giving a full complement. The Broken are made up of inexperienced and easily available forces so have a very low points cost compared to some of our factions, so while 3 squads will cover all basic options, if you want to build a full force (100-150 points), you'll be doing some careful list building first!