---
Posted on Tuesday Jan 30, 2018 at 07:06AM in Tutorials
---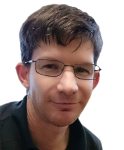 - by Iain Wilson

This week saw the arrival of the biggest model yet for Maelstrom's Edge: The Gnolti!

A gigantic chunk of brawn and armoured hide, the Gnolti is slow to anger, but unstoppable when roused. So as impressive as the model is, I decided I wanted to build one that showed a Gnolti really letting it all out. This was the end result: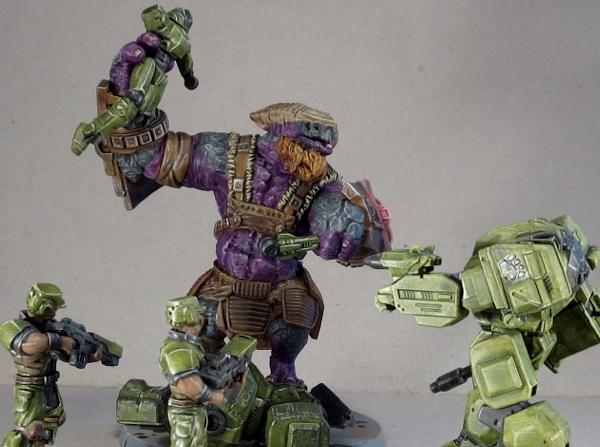 The Gnolti is a multi-part resin kit, with a little posability in the forearms due to the circular connections. One of his hands is open, and this seemed like it was just asking to be holding something breakable. So, I sliced off the forefinger so that I could close in his grip a little, and reattached it with some green stuff, and gave him a little friend to play with, courtesy of the Epirian Scarecrow kit.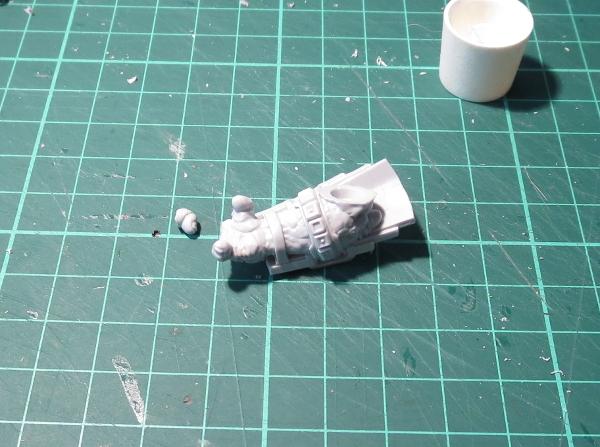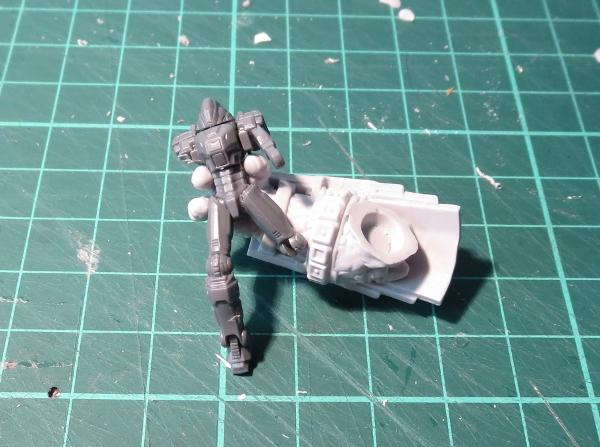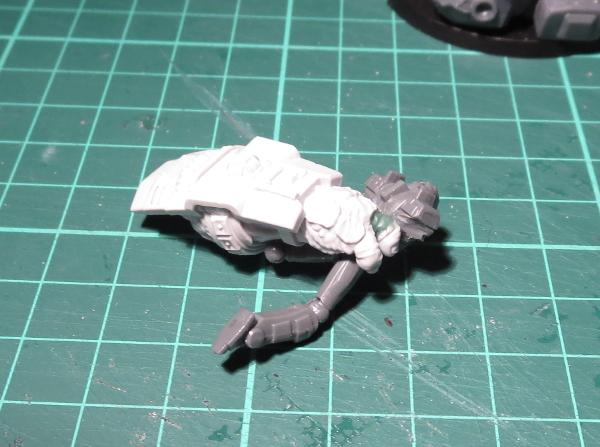 The left hand is in a closed fist, and is designed to sit knuckles-down on the base. I reshaped the flattened bottom surface of the fingers to make them more rounded, and then pinned the scarecrow's left forearm into the Gnolti's grip.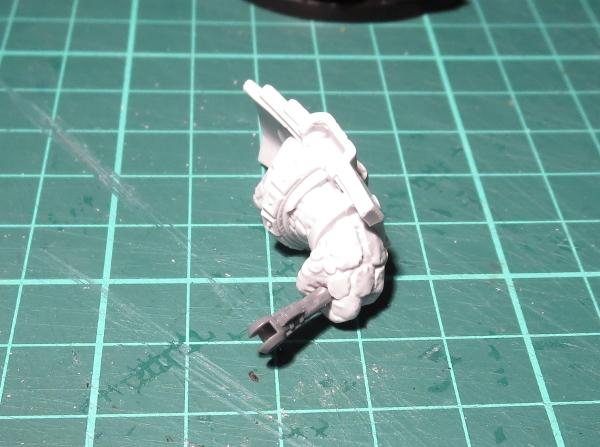 To create a more upright stance, I ran the legs under some hot water and carefully bent the lower right leg out and back. Apparently, I wasn't careful enough, as I managed to snap it off through the shin, but with a little drilling and pinning, I wound up with legs positioned how I wanted them.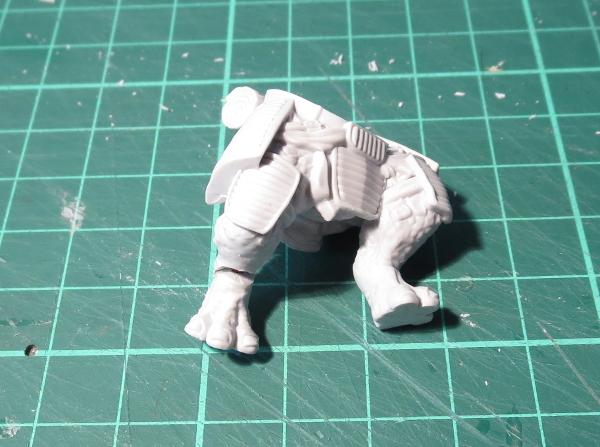 Adding a Hunter mech's leg for the Gnolti to stand on, I glued the legs in place on the base, and added a piece of sprue to fill in the slot for the torso's locator peg.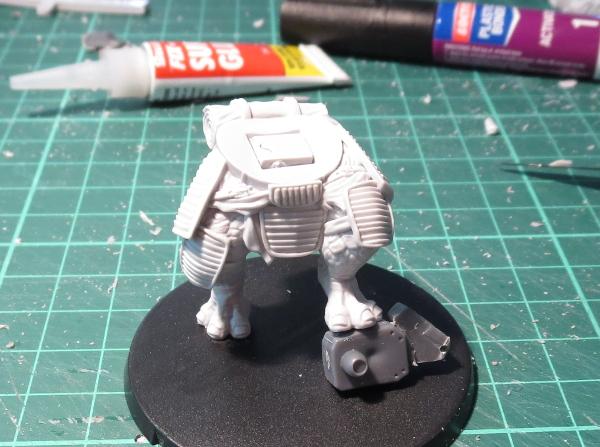 Taking the torso piece, I used a razor saw to slice off the right arm at the shoulder, cutting out a wedge on the top so that it could be reattached in a more raised position. I also cut a thin wedge out from his chin at the top of his beard, and then added a cut between his lips so that I could bend his lower lip down into a mouth-open position.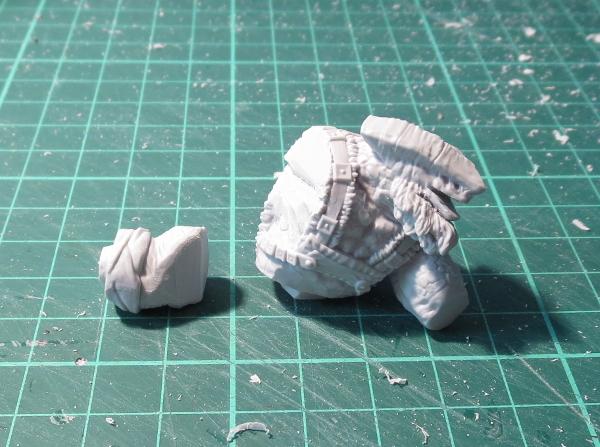 The torso was then glued in place, with the sprue in the waist-hole allowing the torso to sit upright.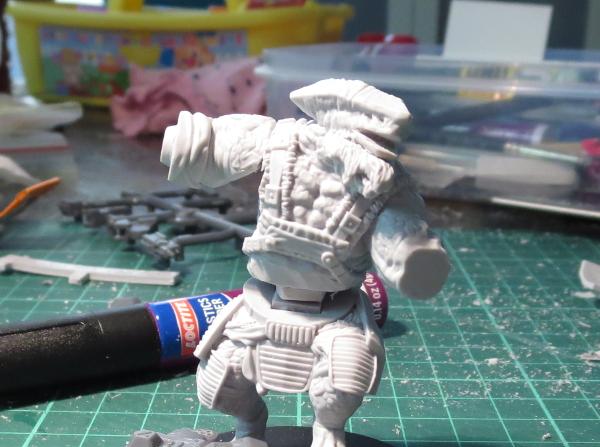 The lower lip was padded out with some green stuff to repair the minor damage from sawing it open. I also filled in the cavity in his waist, and started added detail back in under the right arm.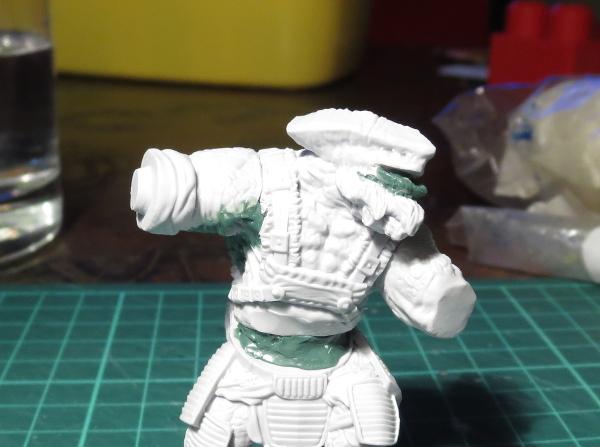 Another layer of green stuff gave him some abdominal muscles, a tongue, and a single flat tusk in his lower jaw.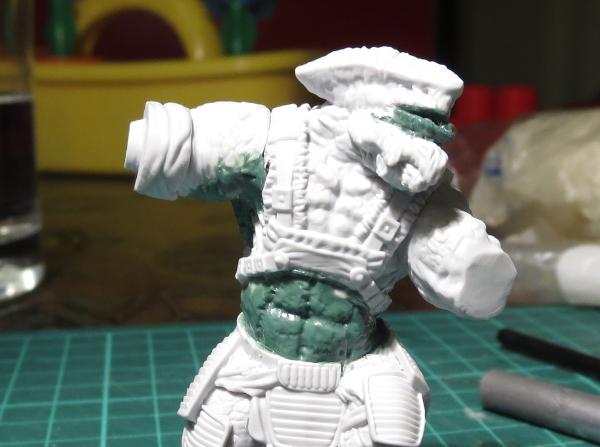 Finally, the forearms were glued on, and a last run of green stuff added to replace the fur trim on his right shoulder strap.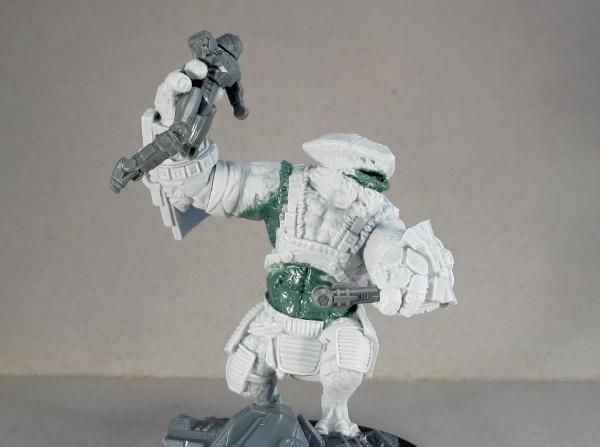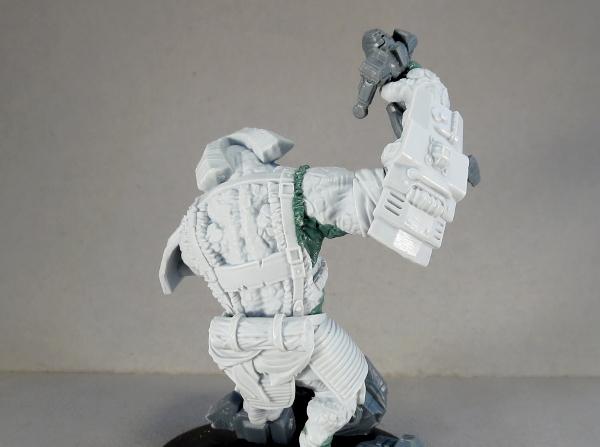 With that, it was time to paint!

I went with a colour scheme that was reminiscent of that used on the studio model shown here, but with slightly more muted colours to fit in with my quick, wash-painted Broken colour scheme.

Ready for action!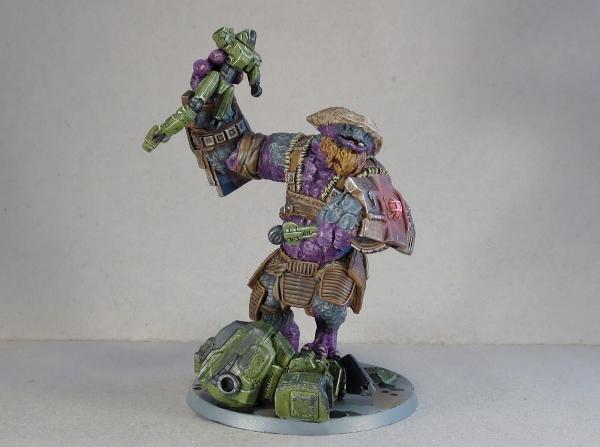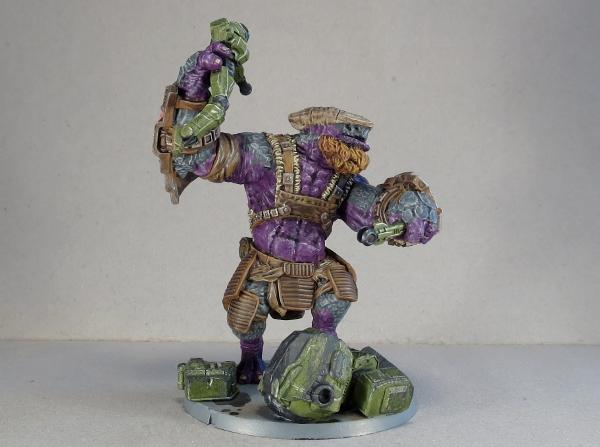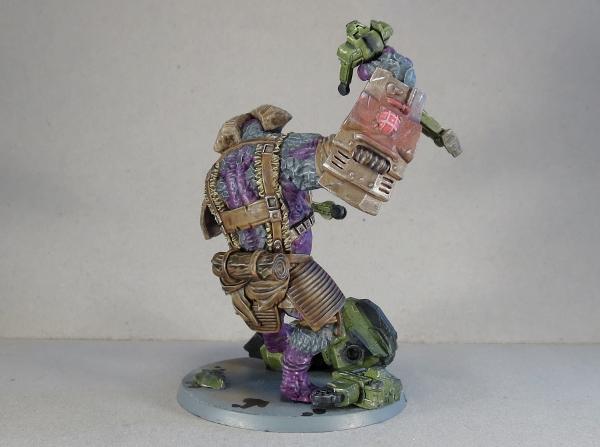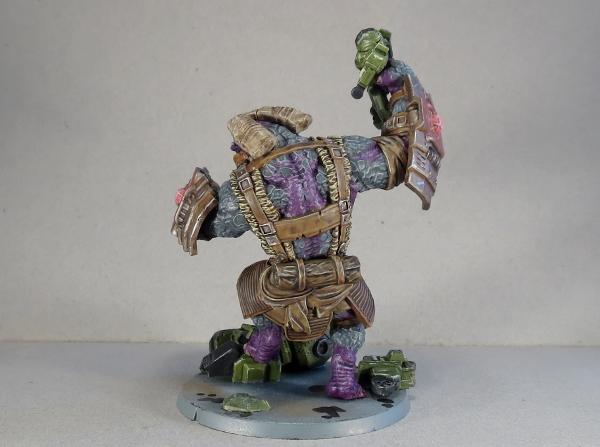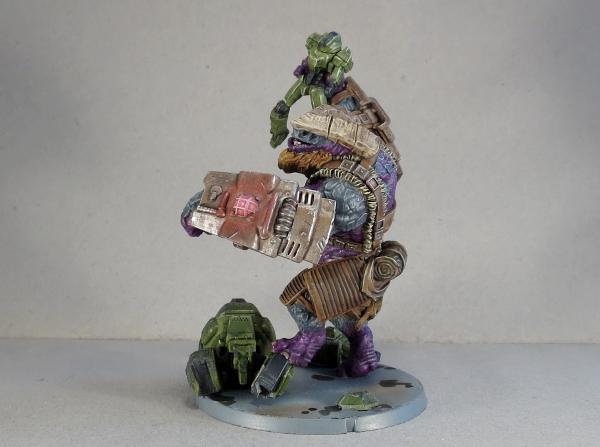 To pick up your own wee beasty of broken doom, or any of the rest of the Maelstrom's Edge model range, visit the webstore here. As always, be sure to show off your work on the Comm Guild Facebook page!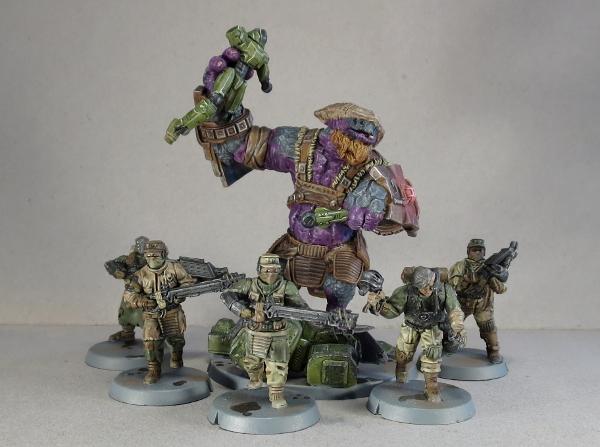 For other Maelstrom's Edge modeling articles, including tutorials and walkthroughs of a wide range of different building and miniature projects, check out the article roundup here.
Tags: broken conversion gnolti model modeling spotlight tutorial walkthrough
---
Posted on Friday Jan 26, 2018 at 10:30AM in Models
---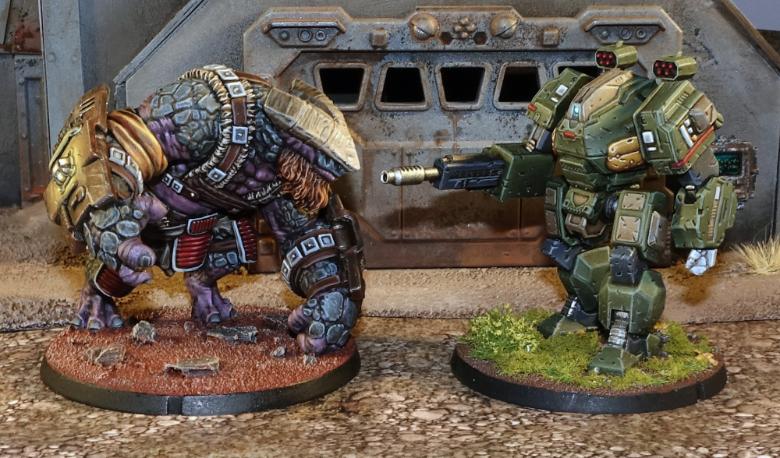 Spiral Arm Studios are proud to present their latest release - the Gnolti - a large, brutish alien which fights alongside the Broken. This four part resin model is the biggest we've ever made and is available now on the Maelstrom's Edge webstore.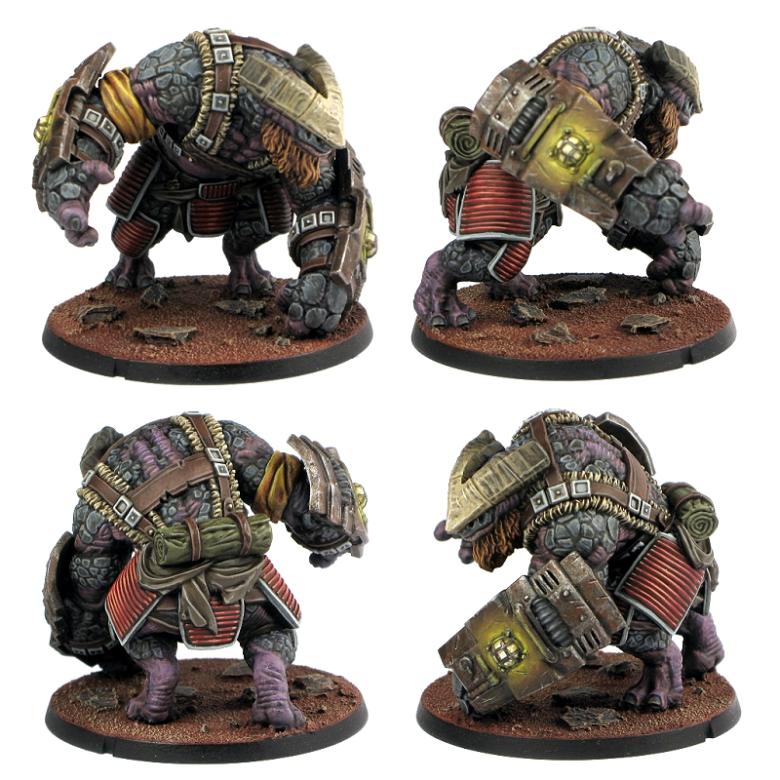 The Gnolti are large, slow moving creatures with strength many times that of a human. Gnolti evolved on the high gravity moon orbiting the gas giant Encelasa, and were amongst the first alien species met by humanity. Many Gnolti remain on their homeworld, but some take up a nomadic life across the Spiral Arm, earning money with their bulky frames to send back home. Originally hired and transported to systems requiring extreme manual labour or exposure to elements lethal to humans, their normally calm, thoughtful temperament made Gnolti easy to integrate into human society. Gnolti are extremely loyal to those who treat them well, gladly risking themselves to protect their friends. Despite being incredibly useful, Gnolti are often denied berths on planetary evacuation ships due to their extreme size. Gnoltis have few opportunities to escape the Maelstrom, and stranded Gnolti are a common recruit into the ragtag warbands of the Broken, where their physical power can be a huge asset.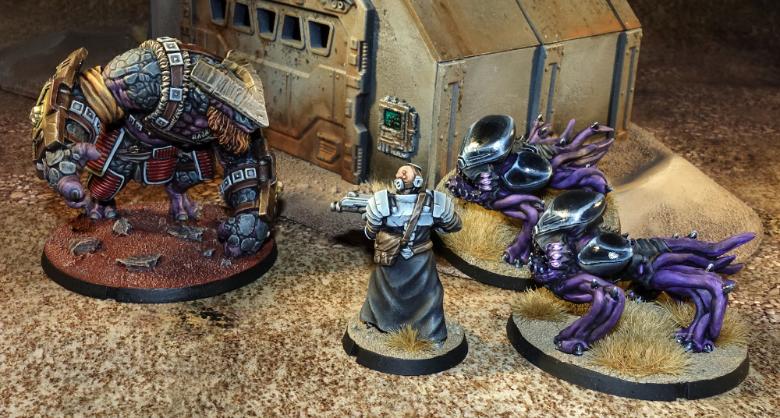 It takes an incredible amount of punishment to bring down a Gnolti in battle. Besides their massive strength and incredible toughness, Gnolti are blessed with an extreme regenerative trait that allows them to heal in just minutes massive wounds that would easily fell other species. Gnolti may be slow to anger, but once roused, their rage is hard to quench. A rampaging Gnolti is an image impossible to forget for those lucky enough to survive their attack. Frequently a Broken ringleader won't even arm their Gnolti comrades, as the spectacle of an enraged charging Gnolti can disrupt all but the most disciplined defensive lines. This near legendary reputation means that on the battlefield, Gnolti become a primary target of the enemy, regardless of whether they should be or not. The Broken gladly leverage this notion and use Gnolti as a screen for their more vulnerable units. The ferocity and size of a Gnolti is even used as a distraction tactic, drawing the fire of enemy troops so that other Broken can manoeuvre unhindered, to devastating effect. The Broken do not take the sacrifice of Gnolti lightly. At the end of each battle, Gnolti are given first pick of any loot that was captured, and every member of the warband stops by to wish thanks to the Gnolti they served with, or to pay homage to those Gnolti that didn't survive.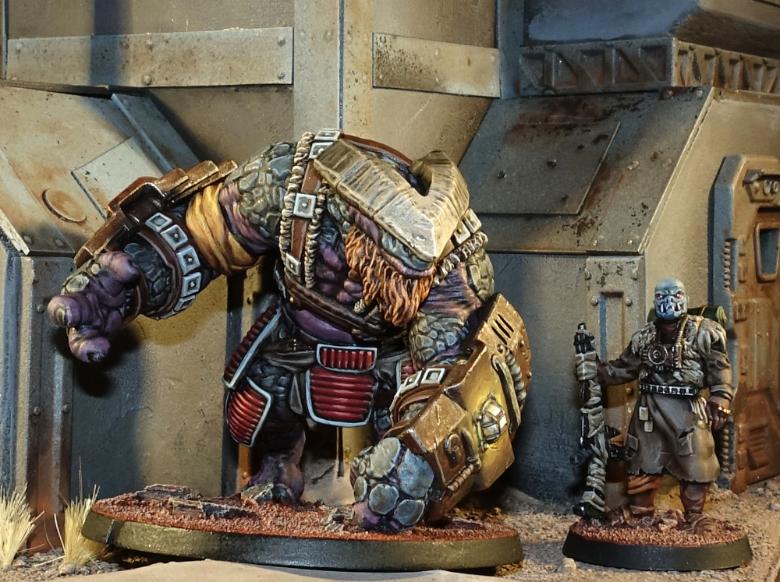 The Gnolti rules are available as always at the Maelstrom's Edge website, in the Force Listings section. Equipped with the ability to regenerate, and with massive fists to plow through enemy lines, this powerful model is a solid centrepiece for Broken detachments.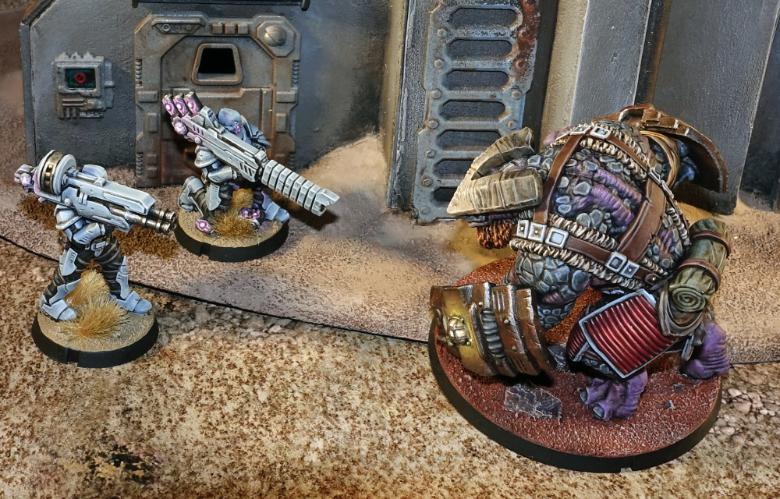 This is a four part resin model which has some posing flexibility at the forearms. Overall, the Gnolti has a mostly fixed pose designed to show the lumbering power of the model.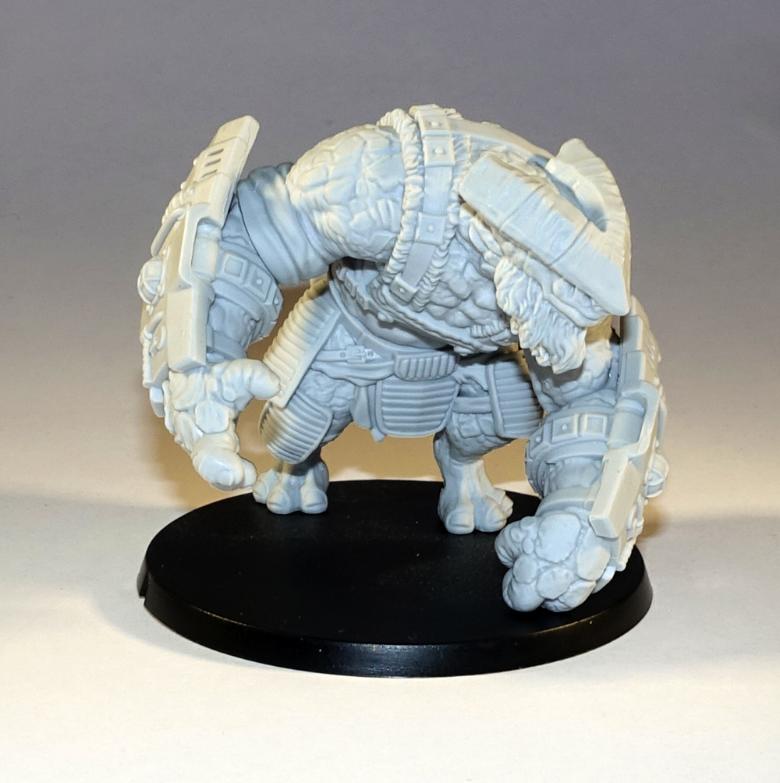 The Gnolti is available for purchase right now in the Maelstrom's Edge webstore.