Painting Tutorial - Konstantin Moor, Veteran Bot Handler
---
Posted on Monday May 21, 2018 at 05:00pm in Tutorials
---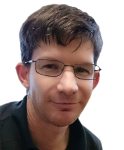 - by Iain Wilson

Last week, I ran through a conversion tutorial for a veteran Master Bot Handler who I'm calling Konstantin Moor, a nasty, multi-weaponed individual built, along with his faithful drone companions, from the new Epirian Master Bot Handler kit (If you missed last week's article, you can find it here).

Well, now it's time to get some paint on him!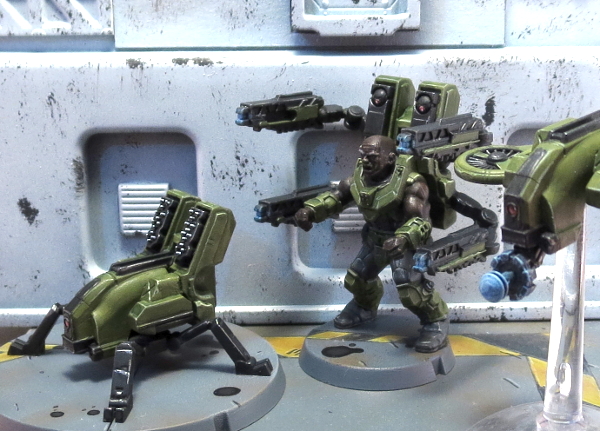 Before I start, a quick note on paints: I tend to use paints from a few different ranges, as I collect whichever paints I like rather than sticking to a single brand. If you're looking to match any of the paints I use, you might find this Paint Compatibility Chart somewhat handy!

I'm painting Konstantin for gaming rather than display, so this is a fairly quick and easy paintjob, with nothing too complicated or fancy going on. I started out by basecoating all three models with Army Painter Army Green spray.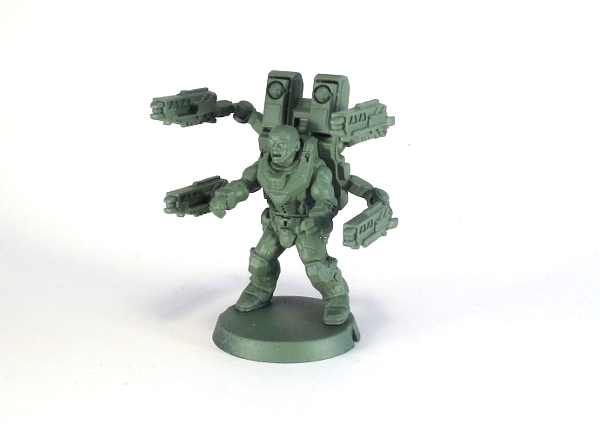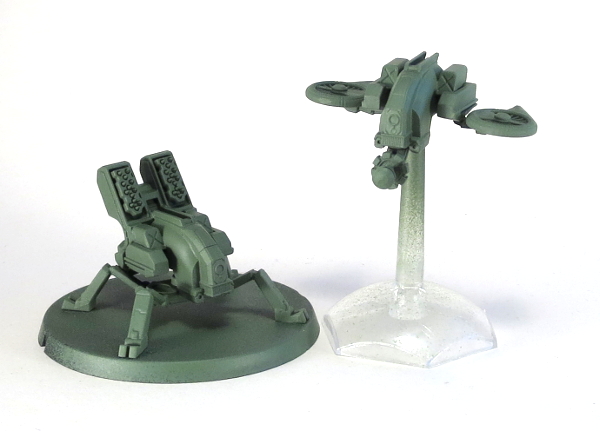 Next, I painted armour sections and the drone chassis with Vallejo Yellow Green, and metal sections with Vallejo Heavy Charcoal. I also gave Konstantin some Vallejo Neutral Grey pants, and a base layer of skin using Citadel Scorched Brown.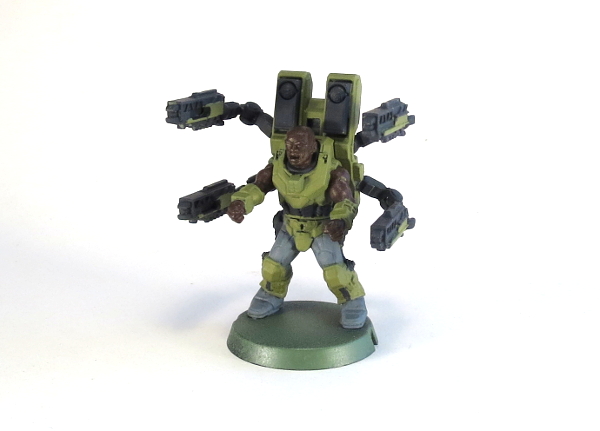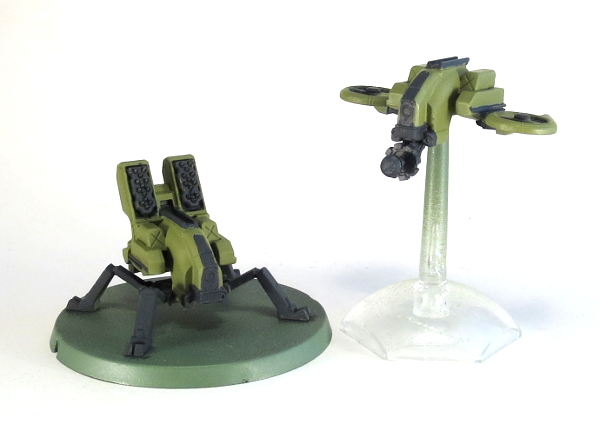 Once that was done, I went over the yellow green with a light wash of Army Painter Green Tone, and the metal, grey and skin with Army Painter Dark Tone.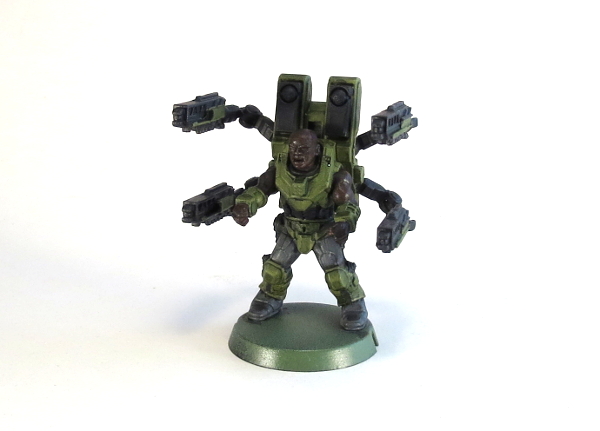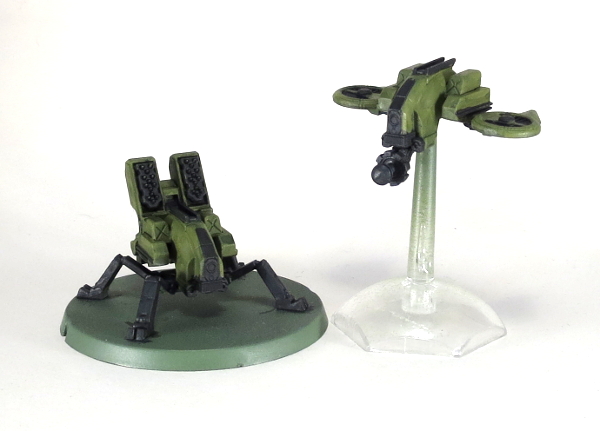 When the washes had dried, I went back over the green sections with a fine brush and a little more green wash, applying very thin layers onto downward-facing surfaces to give them a little more shading. Then I applied a light highlight to raised edges using Coat D'Arms Putrid Green. The metal areas were given a similar highlight with P3 Pig Iron, and I used Vallejo Light Grey on Konstantin's pants. For his skin, I highlighted by lightly drybrushing with Citadel Tallarn Flesh.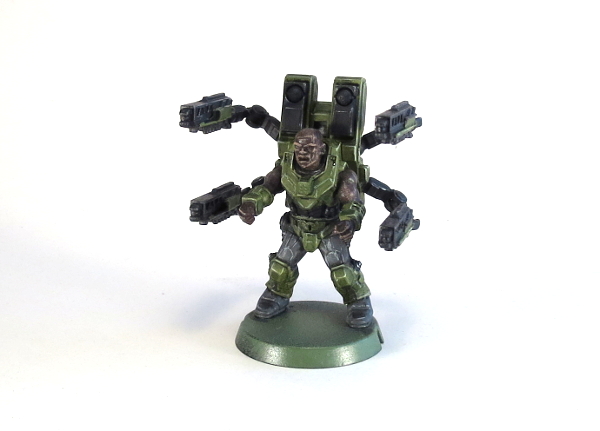 Finally, the models were all transplanted to fresh bases, painted up in my urban scheme. I added some light grey onto Konstantin's eyebrows, and painted the lenses on his Neural Nodes with Army Painter Pure Red before giving them a spot of white in the centre. For the laser tips and the shield generator on the firefly drone (Cassio), I painted on a layer of Citadel Ultramarine Blue before drybrushing with Citadel Ice Blue and finishing with white. A few other details, like the red eye lenses on the drones (Pure Red, shaded with the red mixed with a little black and then a highlight spot of white), the Epirian badge on Konstantin's chest (Pig Iron, with a spot of P3 Cygnus Yellow), and picking out the missile tips on the spider drone (Iago), and the trio were ready for the table!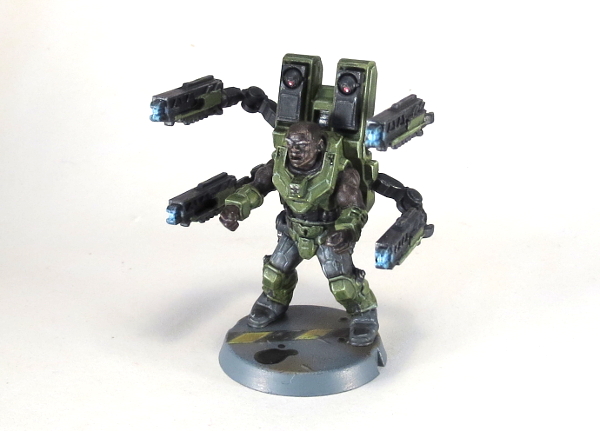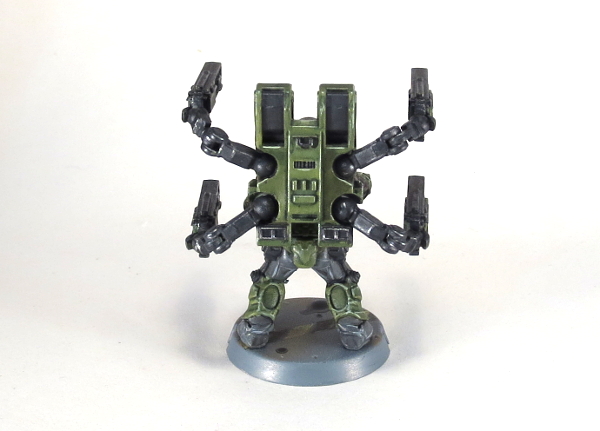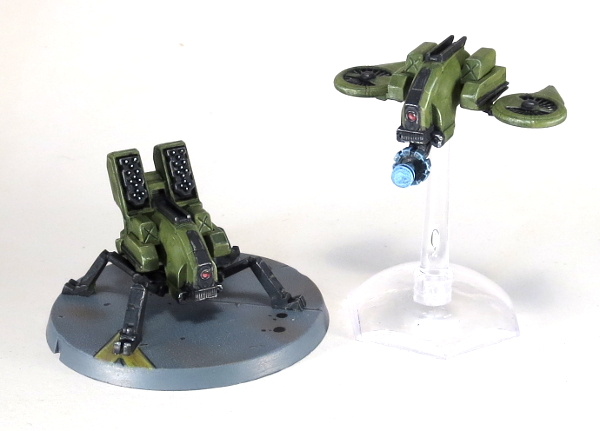 Group shot: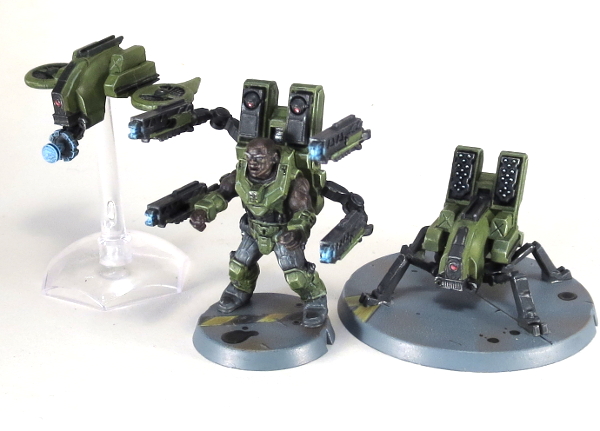 Stay tuned for an unofficial rules card to use Konstantin in your own games, coming later this week to the Force Listing section of the Maelstrom's Edge website!

What have you done with your Master Bot Handlers? We would love to see your creations on the Comm Guild Facebook page!

To pick up this or any of the rest of the Maelstrom's Edge model range, visit the webstore here.

For other Maelstrom's Edge modeling articles, including tutorials and walkthroughs of a wide range of different building and miniature projects, check out the article roundup here.
Like this? Like us on facebook to see more...


Comments are closed for this entry.