Maelstrom's Edge V2: Where's the book?
---
Posted on Saturday Jul 30, 2022 at 02:39am in Gaming
---
We've been working away on the second edition of the Maelstrom's Edge rules for quite some time now, and the plan had been for a release in the first half of this year. Unfortunately, this has become one more casualty of the ongoing disruption to planning, production and distribution that has been affecting so much of the hobby over the past couple of years. We want the V2 book to be as good as it can be, so while the delay is frustrating, we're confident that the end result will be worth the wait.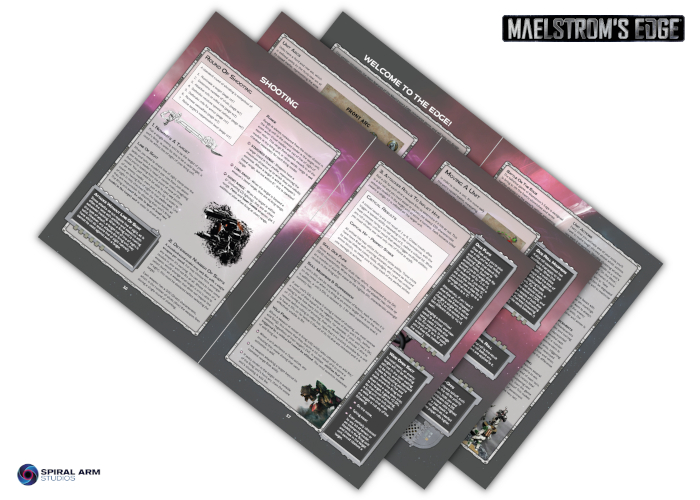 Sample pages from the V2 rulebook
The original rulebook was a small, softcover affair designed to fit into the Battle for Zycanthus boxed set that launched the Maelstrom's Edge game. With the game having grown into four (soon to be five!) factions, rather than putting together another all-in-one starter box locked into two factions, we will be releasing the rulebook separately, as both a 256-page hardcover book and a PDF for those who prefer the digital option. This will be joined by individual faction boxes including a number of plastic kits and tokens to get you started with your force.
The rulebook itself will build on what we started with the first one, including the updated rules for playing the game and a 'Maelstrom's Edge Universe' section describing the state of the galaxy at large and expanded sections for each faction including their backgrounds, various colour scheme ideas amd rules pages (replacing the V1 unit cards) for all of their available units.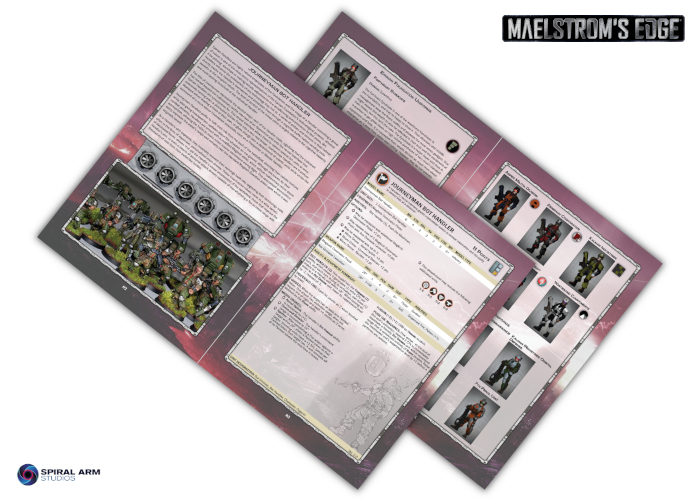 Sample pages from the V2 rulebook
While you're waiting for the finished book (which we're hoping to have out in the next couple of months!) you can try out the Beta version of the V2 rules by downloading the PDF from
here
, and grab your models from the Maelstrom's Edge webstore
here
! Free shipping applies to qualifying orders - check your cart for details.
You can also find a series of articles looking at different aspects of the V2 game
here
.
If you have any questions on the V2 rules, the model range, or any other aspect of the Maelstrom's Edge game, feel free to pop in to the Comm Guild Facebook group
here
.
Tags: v2
Like this? Like us on facebook to see more...


Comments are closed for this entry.