Faction Spotlight: The Epirian SecDef
---
Posted on Friday Oct 28, 2022 at 05:00pm in The Epirian Foundation
---
SecDef, the Epirian Security and Defence force, are the elite amongst the varied Foundation military. The men and women of SecDef are better trained, better armed and better equipped than the Contractors that make up the majority of Epirian defences on frontier worlds. SecDef take only the very best recruits, typically recommended by a trustee after a number of years of dedicated service as a Contractor. Those promoted into SecDef spend over a year training at dedicated off-world bases on Foundation worlds throughout the Spiral Arm, where grizzled veteran instructors inflict a brutal schedule of combat, security and fitness drills. Many recruits wash out during this gruelling period of indoctrination, and only the best of the best become members of the SecDef's feared infantry squads. The Foundation likes to play up this robust selection and training system, because the SecDef are a source of both great pride and great profit. The SecDef are billed by their corporate owners as the ultimate in precision combat. Even one SecDef squad is a honed killing machine, clinical and effective. Rich companies and individuals alike across the galaxy look to hire SecDef infantry as the finest mercenary units, working as bodyguards, military escorts or even leading attacks on rival corporations or hostile alien worlds.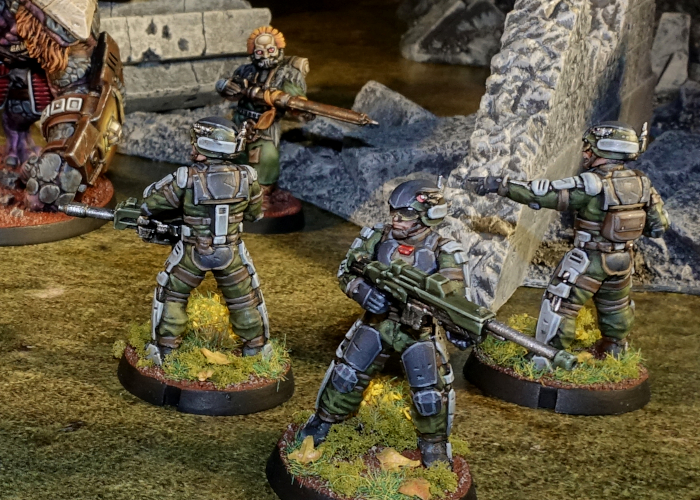 A SecDef unit moves in on a Broken battle line.
SecDef soldiers wear augmented power-assisted exoskeletons, with servo motors boosting the power of their arms and legs. As well as enabling antigrav aerial insertions from high altitude, the exoskeleton also allows them to wear thick ballistic armour without losing full mobility or movement. Their helmets are equipped with state-of-the art targeting and threat-identification heads-up displays, which when coupled with their years of advanced training and experience gives them an unparalleled instinct for tactical action on the battlefield. SecDef infantry sport the most advanced maglock weaponry produced by Araldyne Systems. The superior craftsmanship and state-of-the-art materials in an Araldyne AR60 assault rifle or G20 pistol makes it lighter to hold and more precise, with targeting optics linked into their helmets and a more expensive deadlier armour-piercing round made from rare earth metals. A squad can be supplemented with sniper or machine-gun armed specialists for specific combat roles, whilst the SecDef Annihilator team, armed with two Araldyne CG100 Chainguns, is capable of taking on even the most heavily emplaced fortifications. The combination of intense training, advanced exoskeletons and cutting-edge weaponry makes the SecDef the finest fighting forces in the Epirian Foundation - or for those with the resources to purchase their services.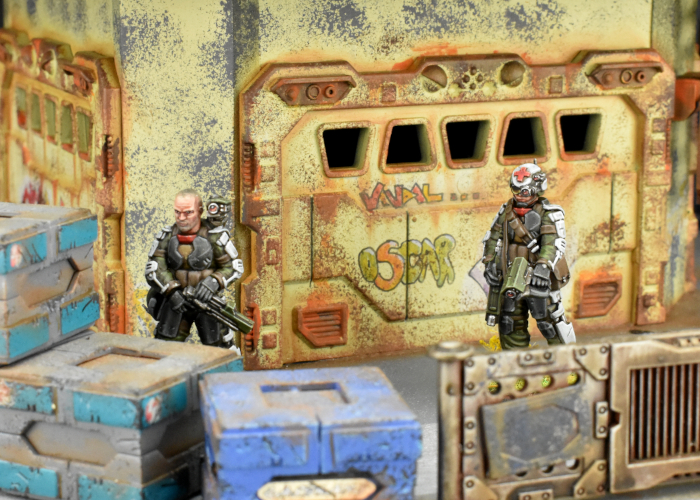 A SecDef Lieutenant (left) and Medic, holding a strategic location
Promoted from amongst the most capable veteran sergeants, SecDef lieutenants are level-headed combat experts on both a tactical and strategic level with extensive financial and material resources to hand. Often taking on the most difficult (and therefore highest paying) missions with their platoons, the aim of most lieutenants is to accrue enough backpay to purchase a field commander commission, and the heavy combat rig that goes with that position.
SecDef Medics are combat veterans who have received additional training and equipment to administer first aid in the field. Known for being level-headed under fire, medics accompany SecDef tactical teams in the field, where they need to be equally competent at using their carbines or treating wounded squadmates. Equipped with an advanced diagnostics and treatment device and requiring weeks of additional training, medics represent a not-insubstantial investment for SecDef Commanders. While most still attribute significant cost savings to a medic's ability to save the lives of expensive SecDef troopers, the return on investment tends to be carefully monitored by SecDef administration. It's not uncommon for units to be refused additional medics where higher-than-normal attrition rates suggest that high recruitment costs would not be sufficiently reduced by the presence of medical personnel.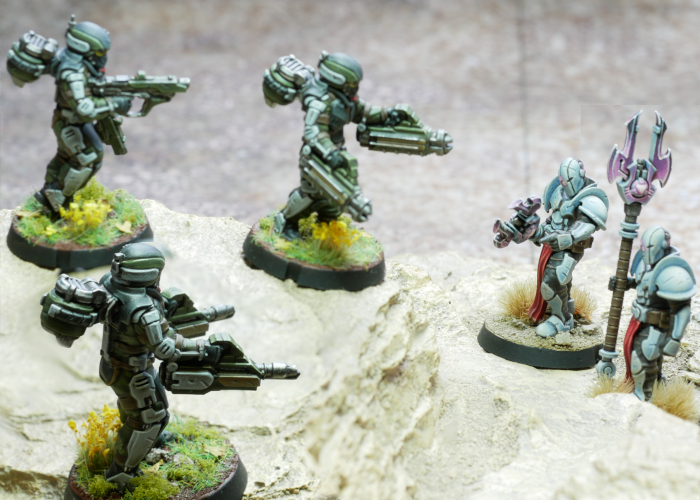 SecDef Rapid Intervention units are experts at speedy assaults.
SecDef forces excel at rapid insertions and mobile strikes against enemy positions. Sometimes though, even these elite troops run up against opposition that is too well entrenched for a normal assault. Against these targets, boostpack-equipped Rapid Intervention Teams are brought to bear. Selected from amongst the most skilled SecDef veterans and armed with twin Araldyne CB22 Assault Carbines, Rapid Intervention Teams use the greater mobility afforded by their boostpacks to outflank and surprise enemy defenses, quickly overwhelming them with a hail of deadly short-ranged firepower. Where an extra punch is required, Rapid Intervention Teams are equipped with Araldyne CF13 Clingfire Sprayers or FG19 Flakk Guns: more effective and streamlined versions of these ubiquitous weapons, typical of the improvements Araldyne is able to create.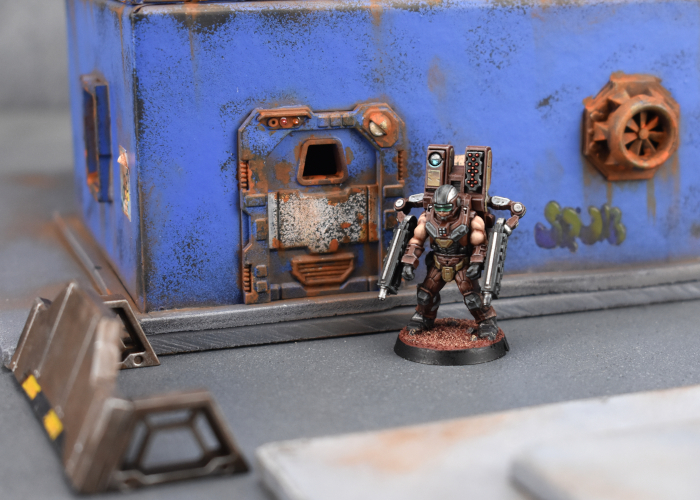 SecDef Field Commanders are a one-man army.
The SecDef value nothing more than completing the job they're assigned to in a timely manner, regardless of what it takes to do so. SecDef Field Commanders are the ultimate representation of that mantra. With prototype machine-assisted armor with the strength of several men, firepower equal to a whole squad and advanced targeting and comm systems allowing them to monitor several different feeds simultaneously in real-time, Force Commanders have all of the tools necessary to decimate the enemy.
As with all SecDef units, Field Commanders tend to carry high-end sophisticated Araldyne weaponry, but in their case, these weapons are mounted onto advanced machine-assisted arms, allowing multiple weapons to be fired simultaneously with ease. Each Field Commander is given complete leeway to choose their own weapons load-out to best support their particular fighting style: Hydraulic Fists to rip the enemy apart at close quarters, Araldyne FG19 Flakk Guns obliterate targets at short range, Araldyne LM14 Machine Guns to mow down foes by the dozen and Araldyne LS99 High-Intensity Lasers to melt through even the toughest armor. Not to mention the option to take either back-mounted cluster missile pods or advanced targeting systems.
Dominate the battlefield with your own SecDef force! You can pick up the SecDef model range from the
Maelstrom's Edge webstore
!
While you're there, you can download the V2 rules from the Trial Rules section of the Maelstrom's Edge website
here
. The Beta rules documents contain all of the rules for playing V2 games, but keep in mind that these are just 'preview' documents - some rules may be revised based on feedback, and the final layout including background material for the factions and the Maelstrom's Edge universe, artwork and other 'flavor' material is missing.
If you have any thoughts on the new rules, pop on over to the
Comm Guild Facebook group
, or start up a thread in the
Maelstrom's Edge section on the Dakka Dakka forums
. We welcome any feedback, and would love to hear how everyone's forces stack up in the new rules!
Like this? Like us on facebook to see more...


Comments are closed for this entry.