---
Posted on Friday Oct 06, 2017 at 11:43AM in Gaming
---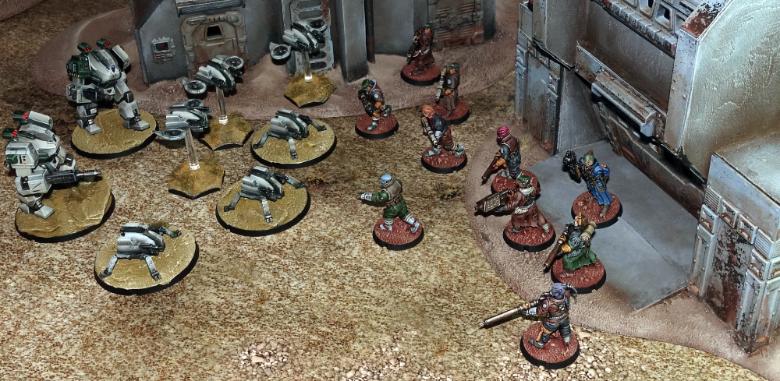 If you haven't checked out the rules for our new Broken units yet, you can find them here. There's both unit cards and also a summary PDF that contains all the necessary info regarding the Broken's weapons, abilities and equipment.

The Broken represent a departure from how our previous two factions, the Epirian Foundation and the Karist Enclave, were developed. In the case of those two, upfront we had a solid road map of all of the units that were going to be included in the starter set, so we knew there was enough unit variety right out of the gate for a player to comfortably field an entire force. However, for the Broken, it become apparent that the basic Rabble infantry kit was going to be finished before any other models in the range, so the question then became: Do we sit on this infantry kit for several months in order to build up enough different types of Broken units to have more of a 'full faction' release, or do we instead release the kit as soon as we can, and just fill in the rest of the range as other models are finished being designed/sculpted? Once we saw how amazing the Broken Rabble kit turned out in its final form, the choice was easy. We knew both Maelstrom Edge players and general miniature game hobbyists everywhere were going to love it, so it just didn't make sense to hold its release back. Because of that, the Broken faction will continually evolve bit by bit, as we're able to add more models to the range. The good thing is that we're finally at a point where you'll be seeing much more regular model releases from us (the current target is once per month), which means that if you're a budding Broken player, you won't be waiting forever to get new reinforcements.

The next question we had to answer was: should we release rules for all the Broken units we plan on making in the future (even if there won't be models finished for those units for a while), or should we instead just put out rules piecemeal as we release new models? There are positive and negative aspects with either path, but ultimately the decision came down to the fact that the rules/options for a unit often need to be tweaked based upon how the sculptor turns out the final model(s), including how many optional bits they are able to fit onto the sprue. For example, if we were to put out rules for every Broken unit we plan to make in the future, invariably talented hobbyists would convert some of their existing models to create these 'future' units. But when the final production versions of those models are eventually finished, it might turn out that we needed to change the unit's rules and/or eliminate some equipment choices, thereby leaving those who took the time to make their own versions suddenly out in the cold. We ultimately decided to just release rules for the units that we currently have available, and we're exploring new ways to make publishing these rules both easy and convenient. We've just gotten an online unit card system up and running on our website, and we're pushing to get to a full force creation system integrated into this as well. Once we have a solid collection of Broken units available, we will be looking at avenues to create/publish a full faction book for the Broken, but for the time being, any rules we publish online are considered 'playtest' rules, and we absolutely welcome any feedback you guys might have. You can leave this feedback either in the Maelstrom's Edge forum on Dakka, or you can email us directly at rules-AT-spiralarmstudios-DOT-com.

One of the great things about the Broken is that the faction centres around a core of 'common man' infantry rabble units, that all pull from the same model kit. It's one of the big reasons that we made sure to include so many different options in the Rabble kit, because we knew that every Broken force will have quite a few Rabble units, and we wanted to make sure they all could be made to look quite different from each other. This one kit alone can be used to make 3 different types of Broken Rabble unit:
The basic Broken Rabble unit - used to fill out the Core unit selections of your force.
Rabble Assault - the close range specialist units, featuring more deadly short-ranged weaponry.
Rabble Fire Support - able to take lots of the longer ranged specialized weaponry.
Between just those 3 unit types, there's plenty of room for you to field a force designed to your particular tastes. What's even better, is that the Broken make use of a lot of aliens within their ranks. Yes, the Broken Rabble kit is filled with all kinds of xeno models, but these are all so close to human physiology that they don't have any special abilities associated with them. But coming soon, the Broken will start to get reinforcements in the form of really crazy 'Exotic Xenos', that, in some cases, can be added right into your existing Rabble units to totally change the way the unit is able to fight! Other Exotic Xenos are giant brutes (you might have spotted some of them in some of our artwork) that form a unit all to themselves, adding different tactical options for the way the entire Broken force fights.
For those of you chomping at the bit to give the Broken a test drive right now might be wondering about Command units for the Broken (because you need at least one Command unit to field a legal force). To fill that void, we've released temporary rules for the
Forsaken Chieftain
, which you can build using any model in the Broken Rabble kit. We have plans to release actual Forsaken Chieftain models in the future that will be equipped with new and different gear/weapon options, but if you take the time to convert a Chieftain out of your Rabble kit right now, you can rest assured that any weapon options you pick will remain part of its final rules.
Thanks for reading, and in the next instalment we'll be looking at how the Broken actually fare on the table!
We'd also like to take a moment to point out the next video in our Video Rulebook series is now up on youtube and we'll be continuing to add these videos until the entire rulebook is covered, making it much easier to
learn to play Maelstrom's Edge
.
---
Posted on Monday Oct 02, 2017 at 05:00PM in Tutorials
---
Assembling Broken Rabble Units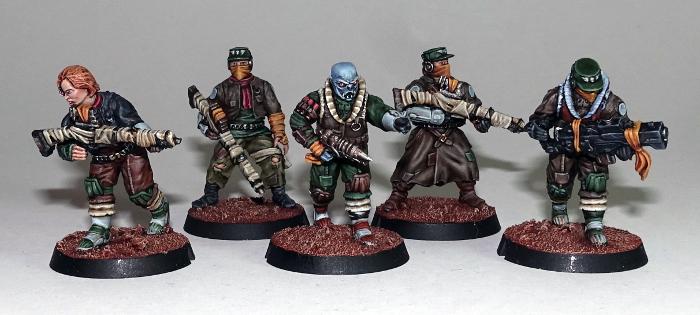 General Notes
Polystyrene cement
- only use superglue if you want to go insane! All of our models are designed to be assembled with polystyrene cement as it gives some time to re-pose while gluing, fuses the models together and prevents brittle joins like other glues do. Make sure you have polystyrene cement in your toolkit before you begin!
We want you to experiment!
We've broken our models up into lots of parts and given a fair few spare parts so that you can push yourself out of your comfort zone, learn new skills and create some really unique models. We've tried to price things so that it won't break the bank if you make a mistake, so please cut stuff up and have some fun. Start simple with a slice here and a re-pose there, and watch your confidence and skills increase until you are a master modeler!
Basing
- Always make sure you glue your model to its base with an eye on the arc markers on the sides of the base. The arc marker indents should be at the halfway point between the front and back of the model to show the front and back halves of the model when gaming. See the Maelstrom's Edge rulebook for more detailed notes on this.
Dry fit before gluing!
- There are lots of pose options possible, but that means there is also the freedom to screw up and make some bad poses! Sticking the parts together and seeing how things look will usually lead to a model that is fairly static and repetitive. You should consider knee, hip, torso, and arm positions when gluing and ensure that you have a pose in mind before you start gluing things together. If in doubt or insecure about your talents in the posing area, we recommend you try to copy the poses from some of our studio models found here in the gallery.
Broken Rabble Assembly Notes
Six Broken models can be made from one set of the Broken Infantry sprues: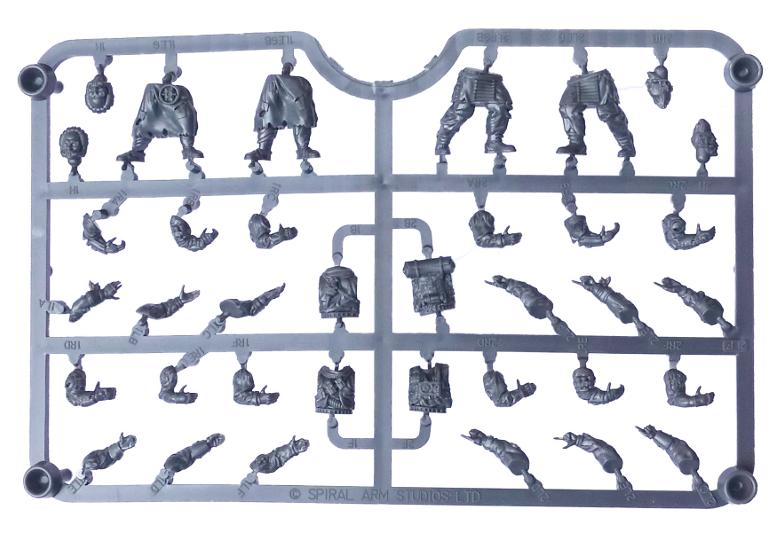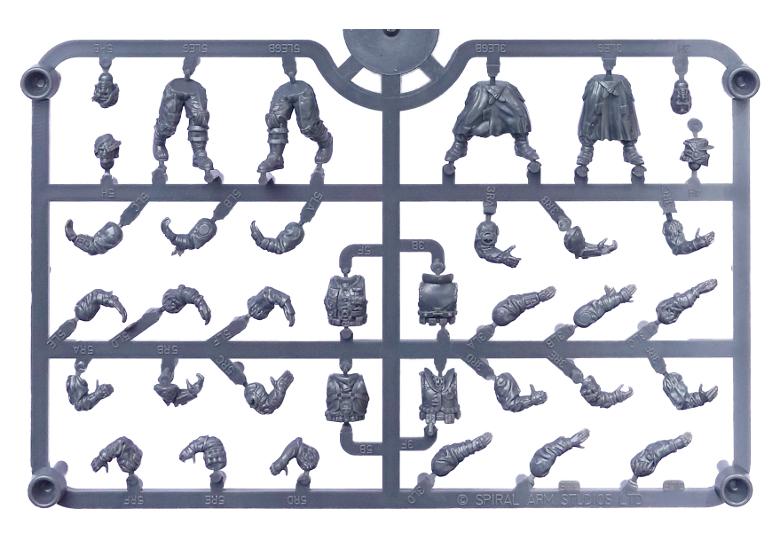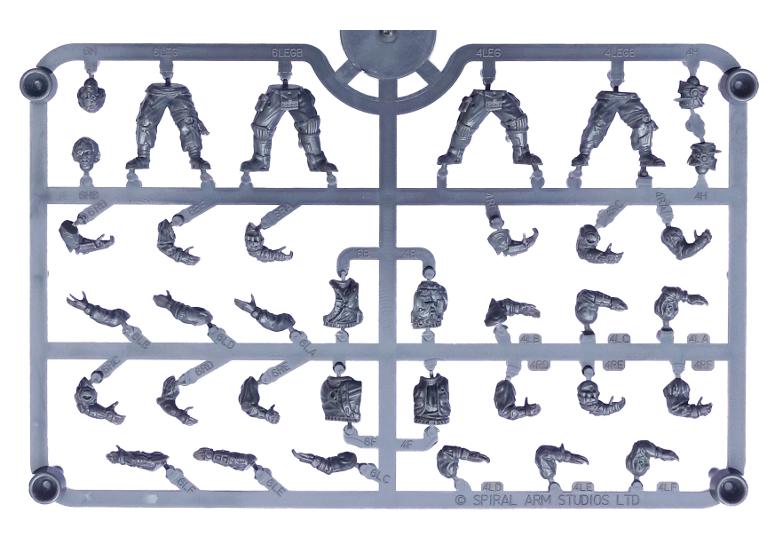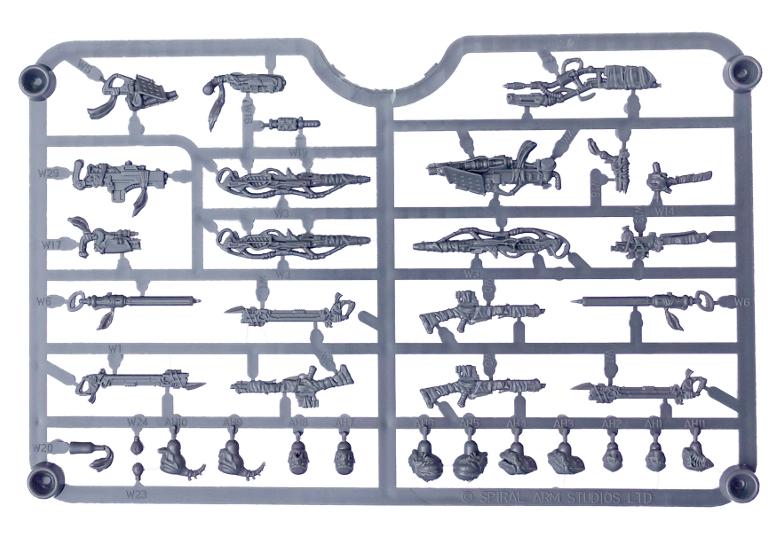 Assembly is fairly straightforward, with everything fitting together where you would expect. There are six different torsos, each with a unique front and back.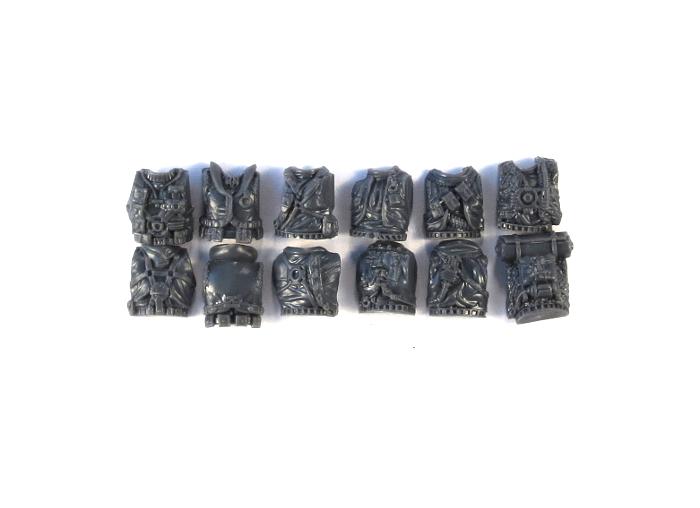 You can save yourself some aggravation if you keep the matching parts together when you cut them off the sprue. If they do get mixed up it will help that the fittings are different on each pair, so each front and back will only go together with its correct partner.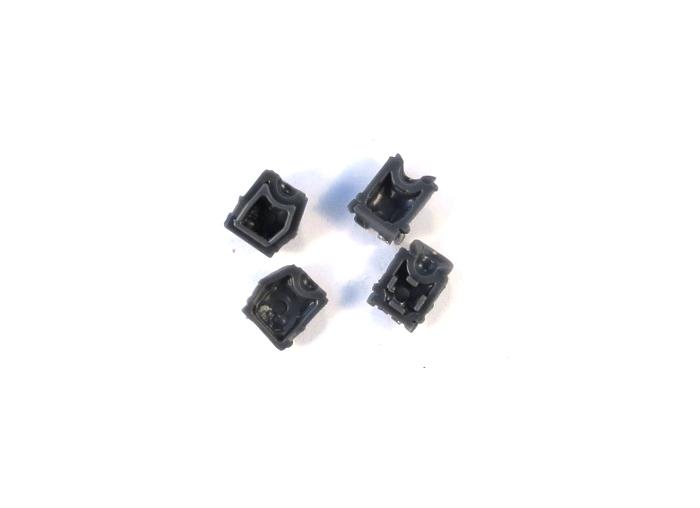 The twelve different sets of legs give you a whole slew of options for posing, as with one exception any of the torsos will work with any of the legs. The exception is torso 3 (parts 3B and 3F) which has pouches hanging from the belt. This torso fits with the legs labelled 3LEG and 6LEG, and slightly less flush with 3LEGB, although the pouches hide any slight gap you wind up with on that last set. You can also make this torso fit with some of the other legs if you trim up the bottom of some of the pouches a little.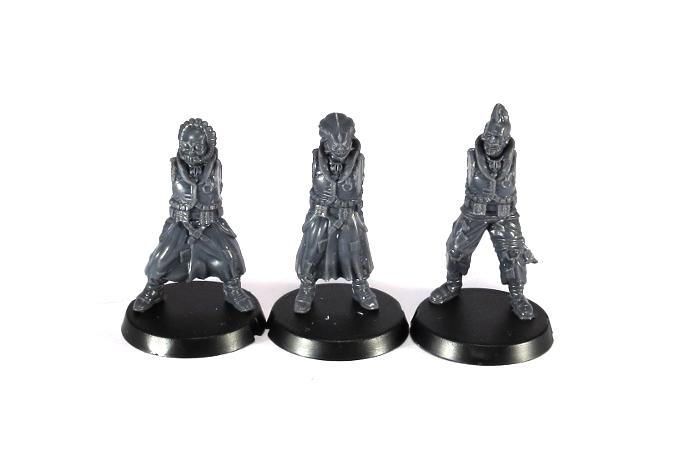 With the torsos glued in place, you might notice that there is a reasonable amount of height variation between the models, which makes for a much more ragtag look to the unit than the usual identically-sized military units.
As with the torso/leg pairing, most of the huge range of heads on the sprues will work with any of the torsos. Torso 2 (2B and 2F) has a rolled cloak across the shoulders and torso 3 (3B and 3F) has a high collar, both of which may get in the way for heads 3H, 4H, 6H, 6HB and AH11.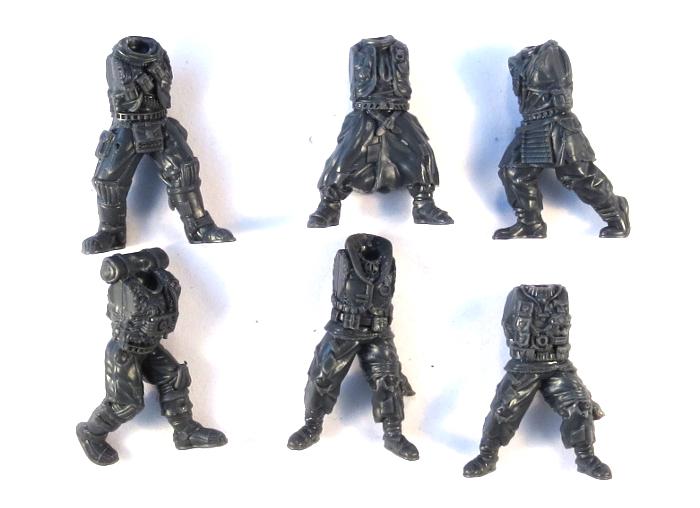 With the massive range of arms available to choose from, a little experimenting may be required to get just the look you want. Because of the different grips and sizes of the various weapons, some weapon hands have a more open grip and others are more closed, so this needs to be kept in mind when fitting them onto your models. In some cases the 'matching' left arm will work, but for some weapon/arm combinations you may want to tack the right arm and weapon together and then find a left arm that fits best.
The Slug Rifle is the basic weapon of Broken Rabble units. It works best with a more open right hand, as does the Chem Launcher.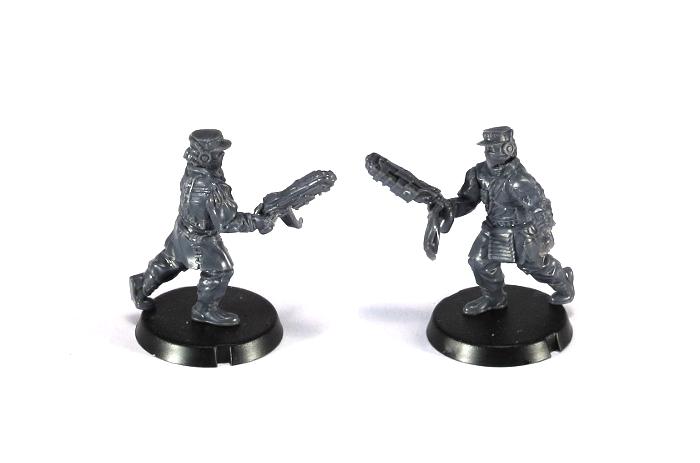 The Auto Slugger and Glue Carbine also work with a more open right hand, but work best with hands 1RC, 3RA, 4RC, 5RB or 6RC.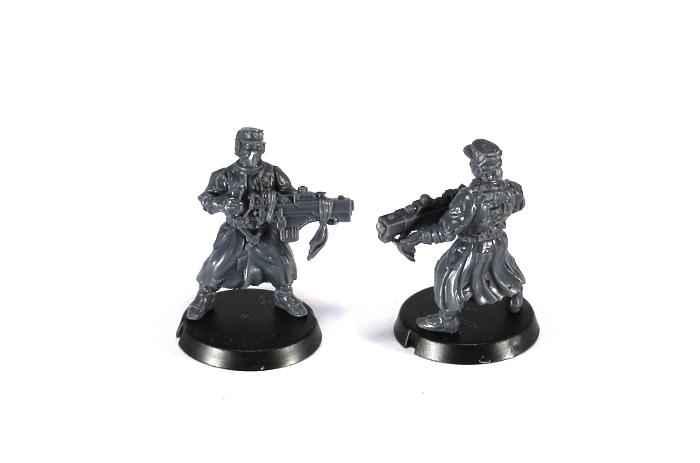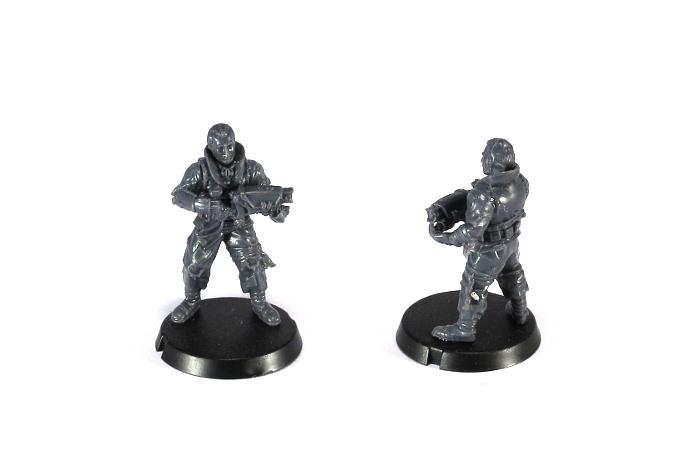 The Longbeam Rifle and EMP Harpoon can use a more closed hand to latch onto their rear grips, or you can use an open hand for a more relaxed grip.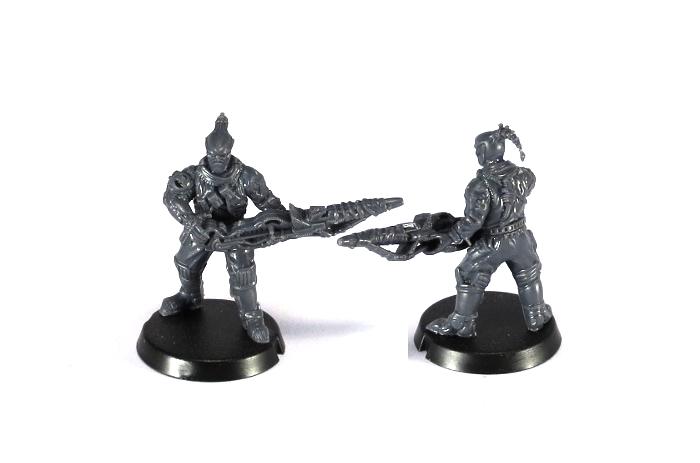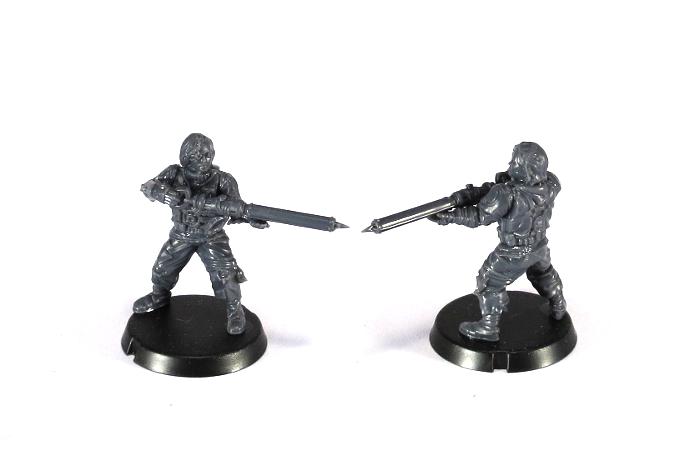 Likewise, the Glue Rifle can potentially work with either grip style. It's such an unusually-shaped weapon, and can work held a few different ways, so have a play with it and see what you like best!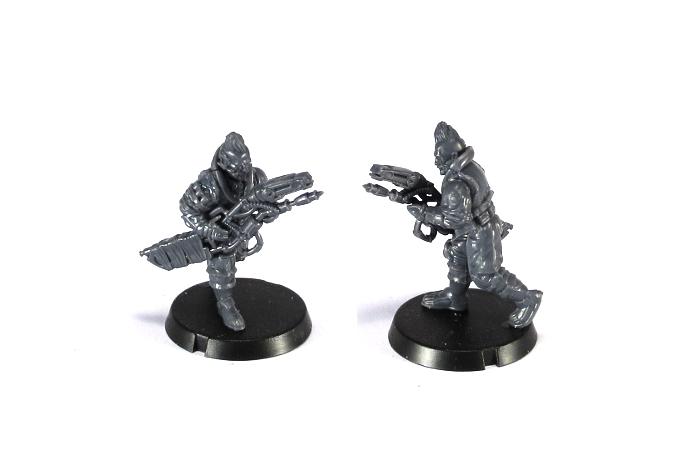 For some more ideas for building your Broken models or to share your own creations, head on over to the
Comm Guild Facebook page
.
You can pick up the Broken Infantry Pack, and the rest of the Maelstrom's Edge miniature range, from the webstore
here
.
For other Maelstrom's Edge modeling articles, including tutorials and walkthroughs of a wide range of different building and miniature projects, check out the article roundup
here
.
---
Posted on Tuesday Sep 26, 2017 at 09:00AM in Models
---
Only 4 days until the first models from our new faction - The Broken - are available for purchase!

We'll be sharing more information each day until release, starting with the most important of all - detailed pictures of the sprues!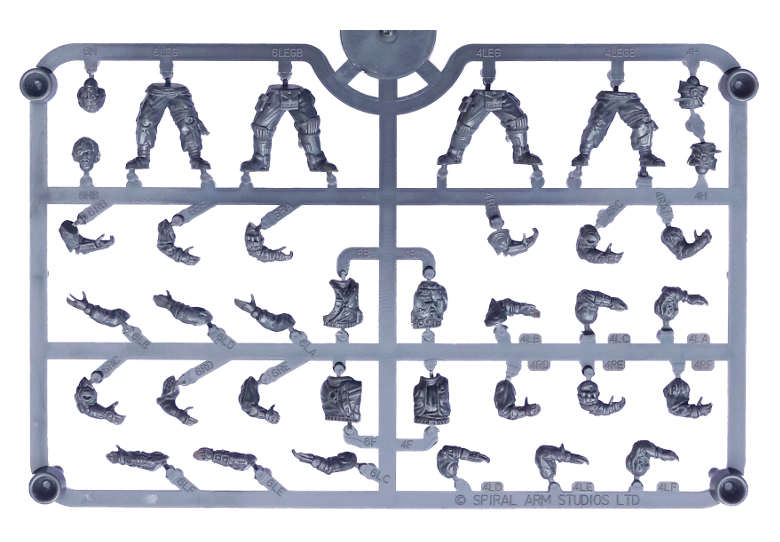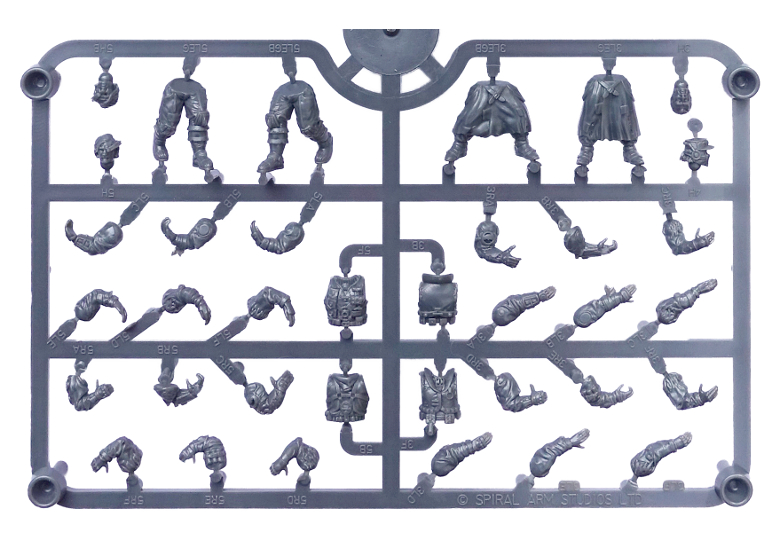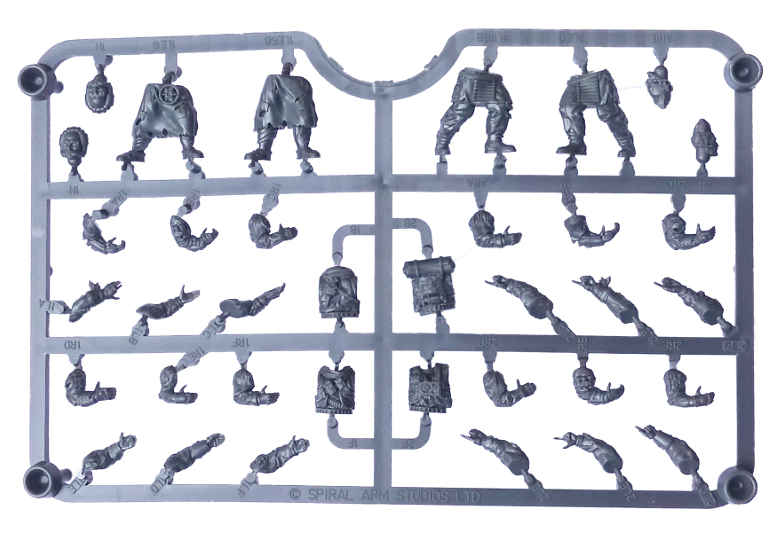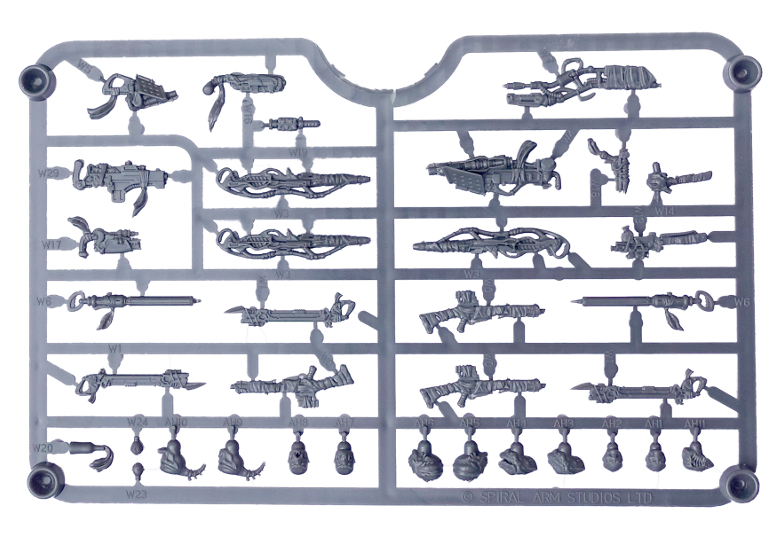 A common question we've had so far is just how many sprues are needed for each unit to be built? Additionally, how many sprues will be needed for a full force of Broken?
As you can see above, six models can be made with a huge array of options from each set of sprues. Units will be made up of 4-6 models each, with 1 HQ model as well, so a single set of sprues can make up a full squad of 6, with most options. Three sets of sprues will be enough to make full squads of all three unit types. Going with two 6 man squads and one 5 man squad will also allow an HQ model to be built, giving a full complement. The Broken are made up of inexperienced and easily available forces so have a very low points cost compared to some of our factions, so while 3 squads will cover all basic options, if you want to build a full force (100-150 points), you'll be doing some careful list building first!
---
Posted on Wednesday Aug 30, 2017 at 06:27PM in The Broken
---
As the release of The Broken gathers speed, it is time to share some more photos of the upcoming models with you. All of these can be built using our plastic kit. The kit will allow three different units or an HQ model to be assembled from it, so the 4 sprues that make up the kit will be a solid foundation of any Broken force.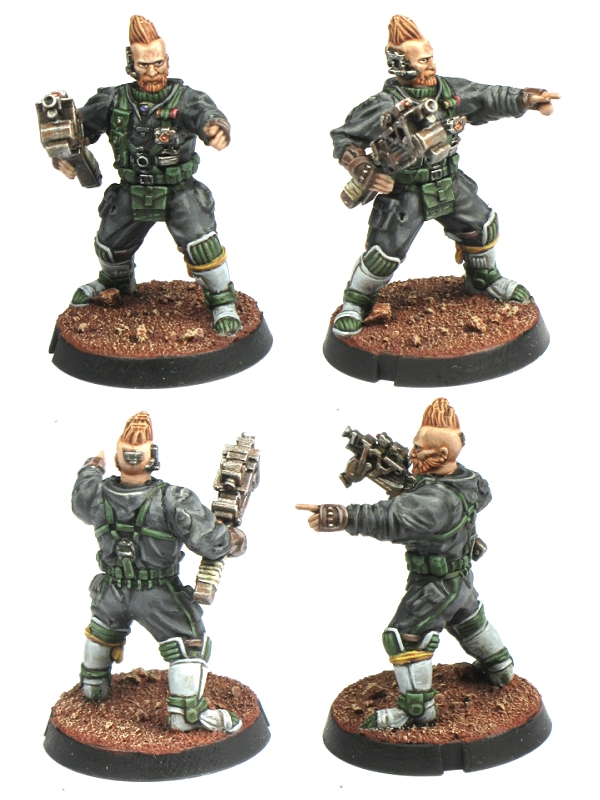 Keep your eyes on the comm guild blog, our facebook page, or make sure your email address is registered at http://www.maelstromsedge.com to be notified when the Broken go on sale in Sep 2017.
---
Posted on Sunday Nov 06, 2016 at 05:00PM in The Broken
---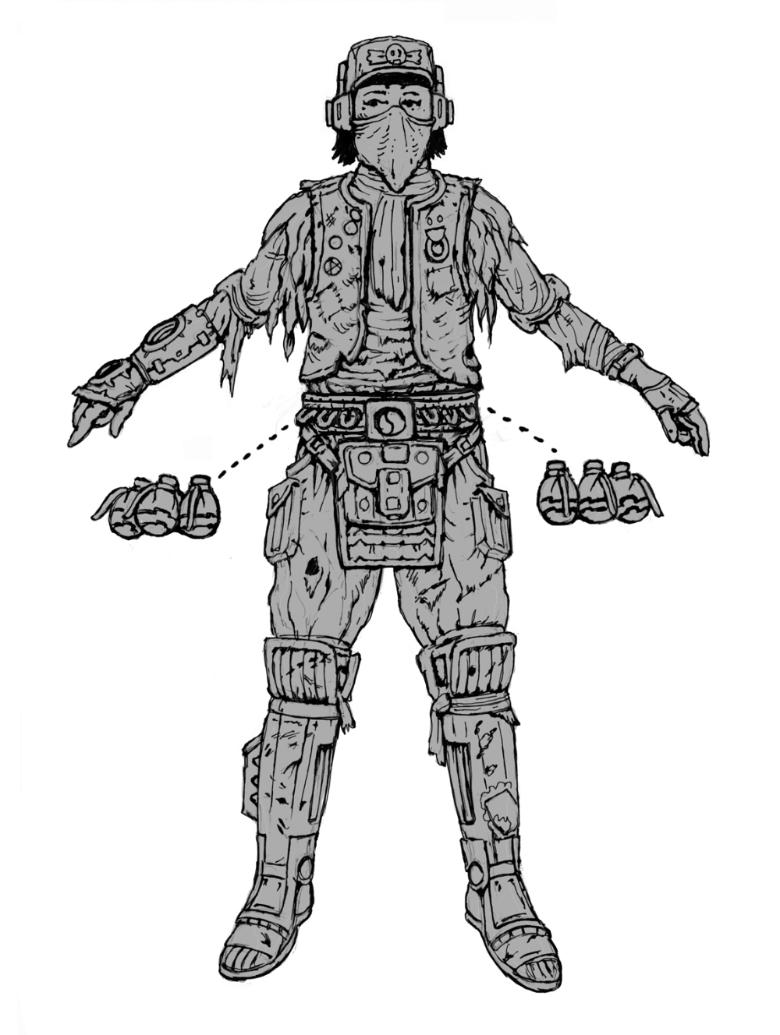 Here we are! Our first ever shared image of one of the concepts that is being sculpted for the Broken.
An infantry heavy army, the Broken are made up of desparate individuals who do everything they can to survive. Our initial range will be focused on those who have survived as members of the broken for a generation, with heavily recycled clothing, ragged yet trusty equipment, and a wide variety of poses, weapons and components.
---
Posted on Sunday Oct 23, 2016 at 05:00PM in The Broken
---

Here we have the main weapon of the basic Broken infantry unit. A hastily assembled, durable shotgun-type weapon. Sculpting of this is already complete, and production of the Broken continues to march towards release at a good pace.
---
Posted on Saturday Oct 15, 2016 at 05:00PM in Fiction
---
The Kasmenai originally came from a barren world long lost to mankind's expansion. Bipedal with elongated limbs, the Kasmenai are radiation resistant and so often find work on human-owned worlds where radiation levels are high. Typically they can be found on mining colonies, and on highly radioactive worlds. Their service is cheaper than robots, especially when the robots need radiation shielding.
When the Maelstrom threatened many of these worlds, the Kasmenai were shown to be the subclass they are amongst humanity, as even those they thought friends fled the catastrophe, leaving the vast majority of the aliens behind. With much greater numbers than human populations on some harsh worlds, the Kasmenai have been driven to rise up and overthrow governments, but besides those in space already, very few find transport to escape. Most are happy to join the Broken given the chance.
Kasmenai bodies are very different from human. Their hardened skin is made of radiation-proof scales, but the absorption of radiation is also how Kasmenai feed, transferring the energy from alpha, beta and gamma decay into the chemical batteries that make up much of their internal organs. Due to this strange electrical sustenance they do not have blood or a digestion system, and their insides are much more radiation resistant, however if they do absorb too much radiation on their outer skin they can shed it like snake-skin, sloughing off the most dangerous contamination. Their bodies are lined with aluminium capillaries that transfer power and thought alike.
Although Kasmenai do not eat like most organisms, getting their energy from radiation, they still need a supply of metals and silicates to build their bodies, and Kasmenai can often be found sucking metallic lozenges to replenish the elements they need to grow and repair. Although their skin is designed to produce energy from radioactive decay, it can also feed off the photons from light and heat, albeit much more slowly due to the vastly lower energies involved. Their dependence on sources of energy can often make them prone to enslavement to work in dangerous locations, and the pallid grey colour of an energy-depleted Kasmenai's scales is a sign of danger, as their normally benign temperament becomes angry and unpredictable when they have not fed properly.
---
Posted on Sunday Oct 09, 2016 at 05:00PM in The Broken
---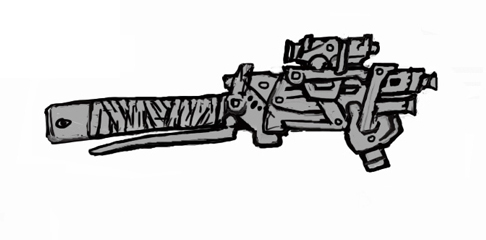 We continue our preview of the Broken with another weapon - a crudely retrofitted pistol. Fabric wrappings are a very common sight on Broken weaponry, and this long triggered weapon does a good job of showing the range of some of their designs. The long trigger allows the weapon to be fired away from the body, minimising risk to the firer when ammunition is unreliable or the weapon is overcharged.
---
Posted on Sunday Sep 25, 2016 at 05:00PM in The Broken
---
Time for us to share our first teaser from The Broken faction.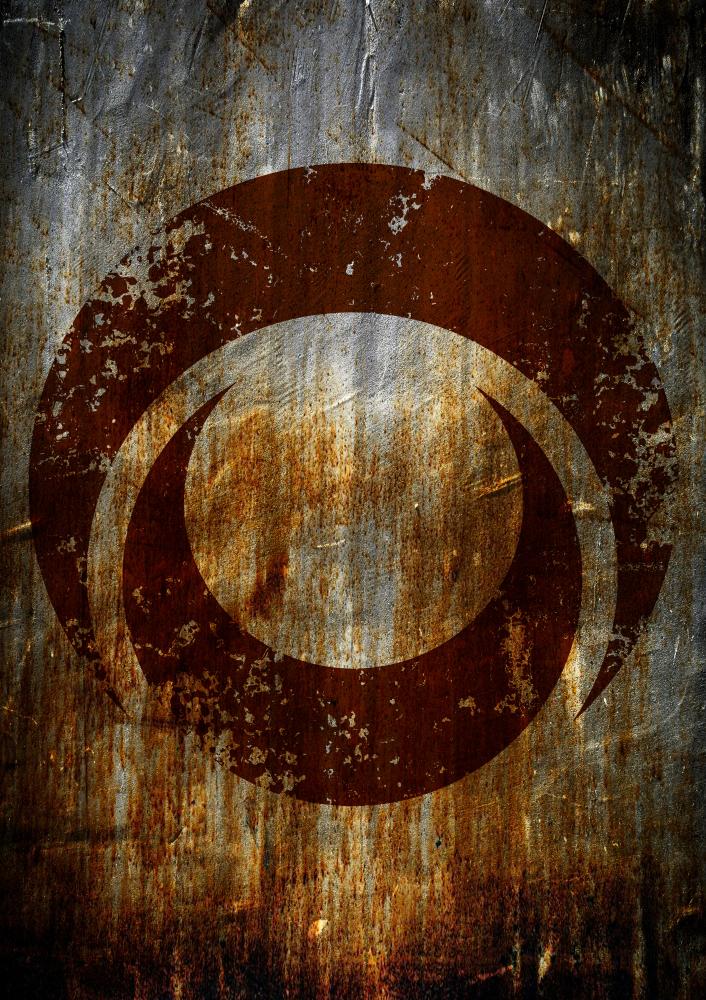 The Broken consist of 'everybody else' in the universe who is desperately trying to flee. Their weapons are often jury rigged and consist of all manner of interesting base parts. This first preview is of the Harpoon that can be used as a special weapon:

The story 'Scraps', coming in next week's book release (Tales from The Edge: Emergence) features the use of an EMP boosted Harpoon in the hands of The Broken. Be sure to check it out when it is released!