---
Posted on Monday Dec 10, 2018 at 06:00pm in Models
---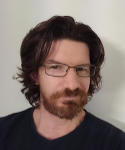 - by Iain Wilson

The addition of the Contractor Drone to Epirian Contractor units gave them some new tactical options, with heavy weapon options for the re-titled Contractor Defender units, and supply drone options for the new Contractor Scout unit. This week I'm looking at some modeling options for the multi-part, resin Contractor Drone model.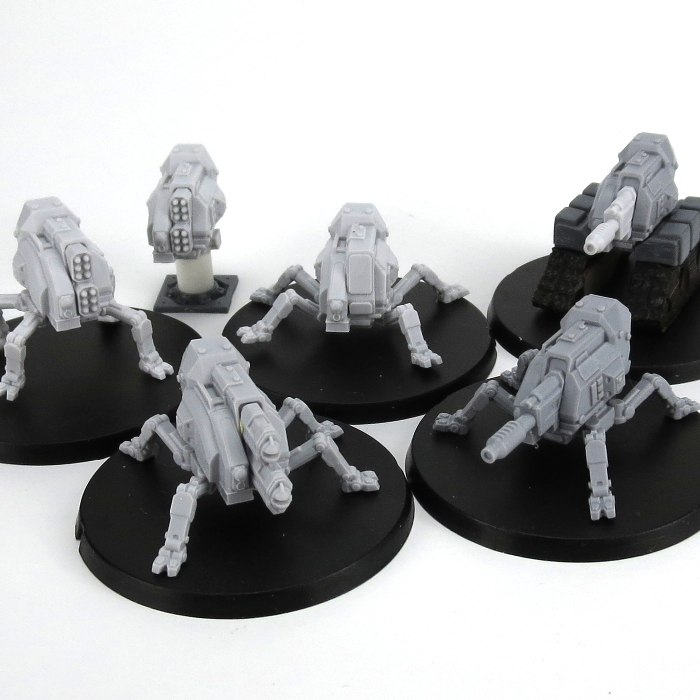 Building one of four different options, the Contractor Drone kit comes with three different weapon options - a maglock chaingun, twin cluster missile pods and twin flakk guns. It also includes the Resupply Package for the Contractor Scout unit.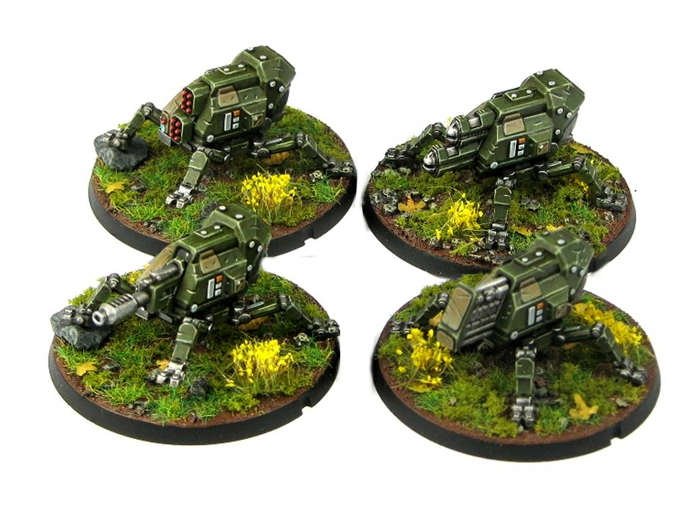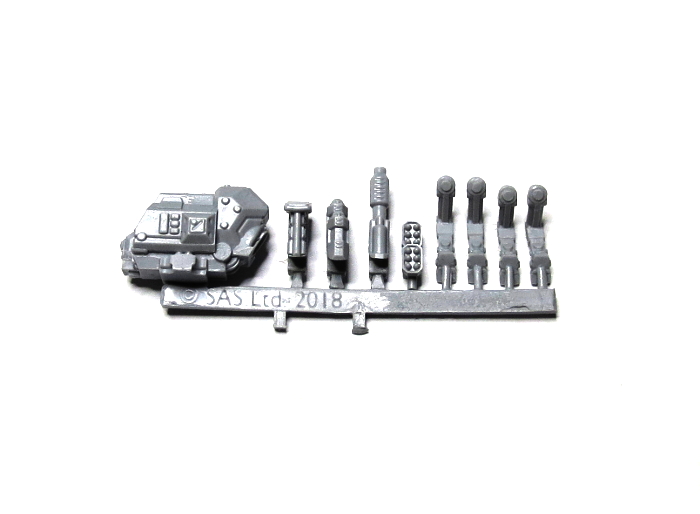 While sharing a superficially similar configuration, the Contractor Drone is a distinctly different model from the Spider Drone, with a chassis that is bulkier and taller. It also has weapon mounts situated beside its off-centre sensor unit as opposed to the Spider's side-mounted set-up.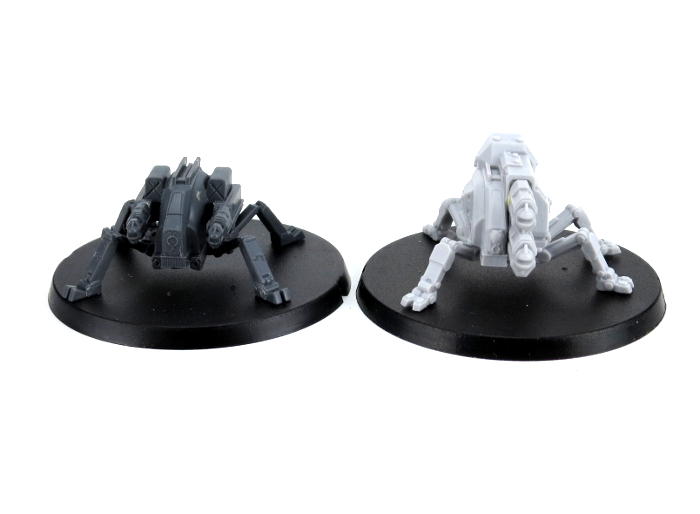 The drone's legs all fit into any of the four shoulder sockets, with a barrel pivot allowing them to be positioned through a wide range of movement.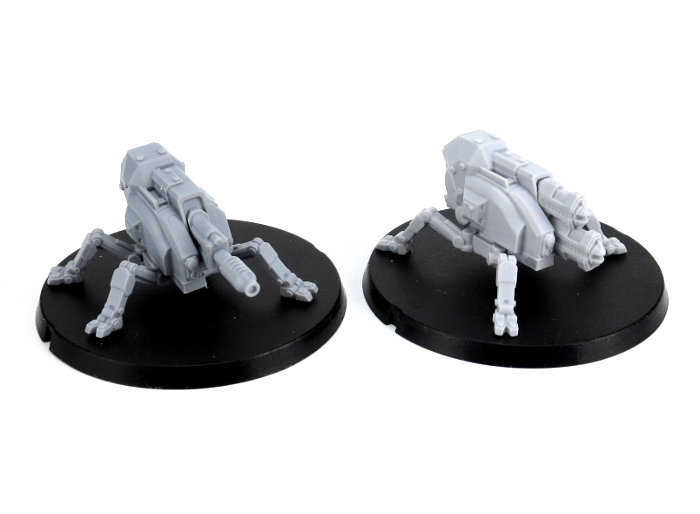 The equipment options slot in with a large locator tab. If you want to keep your options open, you can use a small piece of blu tac or similar re-usable adhesive to temporarily fix them in place and swap them out as you want.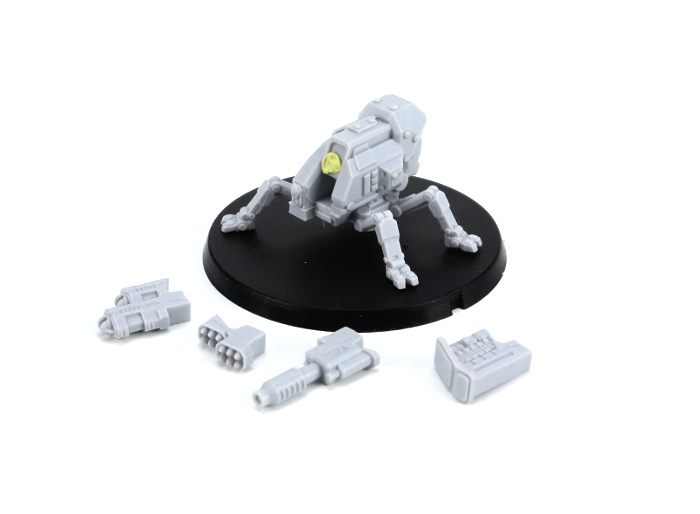 Since I have problems assembling things the way they're supposed to be, I couldn't resist taking a knife to the kit to see what I could do with it. For a taller profile, I repositioned the feet on the below drone by soaking the legs in hot water and then bending them. I also cut through the legs right beside the shoulder assembly and glued them back on at a shallower angle.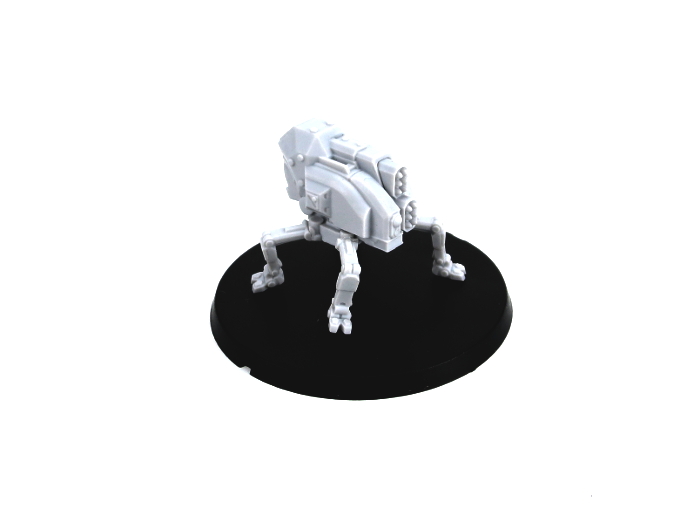 One of the weapon options - Strike Missile Pods - didn't make it into the kit for the initial release. There are a couple of fairly easy ways to get around this problem if you want Strike Missile-equipped drones. For this one, I took a pair of Strike Missile pods from the Hunter Warmech kit, trimmed them up a little to fit onto the Contractor Drone front and glued them together.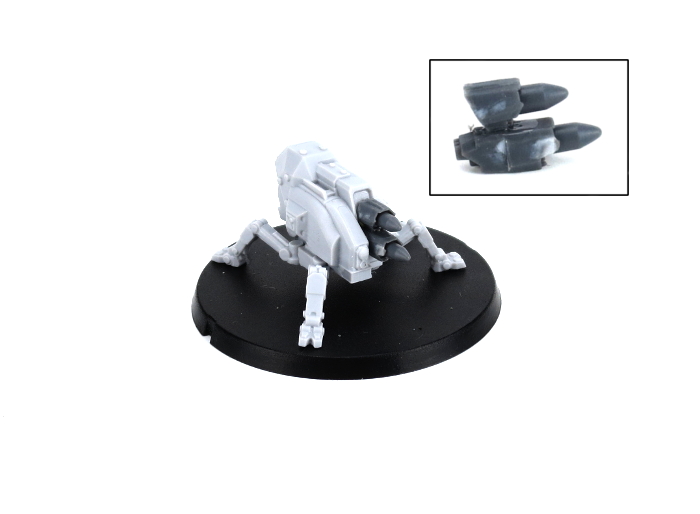 If you don't have a Hunter kit to hand, you can also take the Cluster Missile pods, trim the missiles flush with the front of the pods, glue a 1.5mm hole into the front of each pod and glue in two pieces of 1.5mm plastic rod trimmed to points.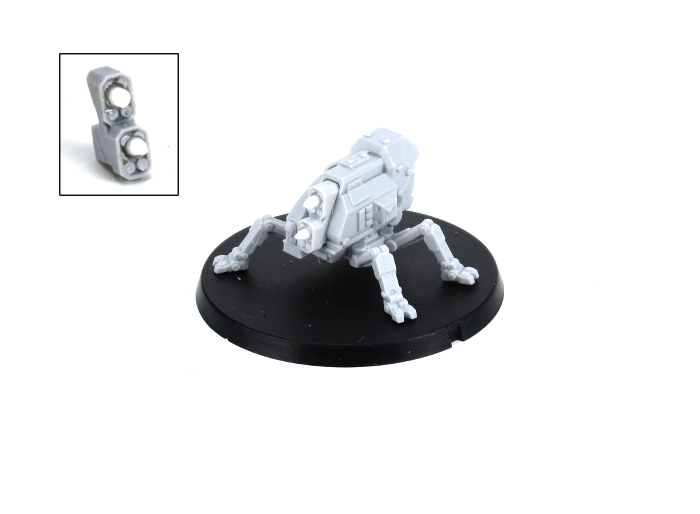 For a closed version of the Resupply drone, I cut through the supply cache directly behind the front panel using a razor saw, and then glued the panel directly to the front of the drone.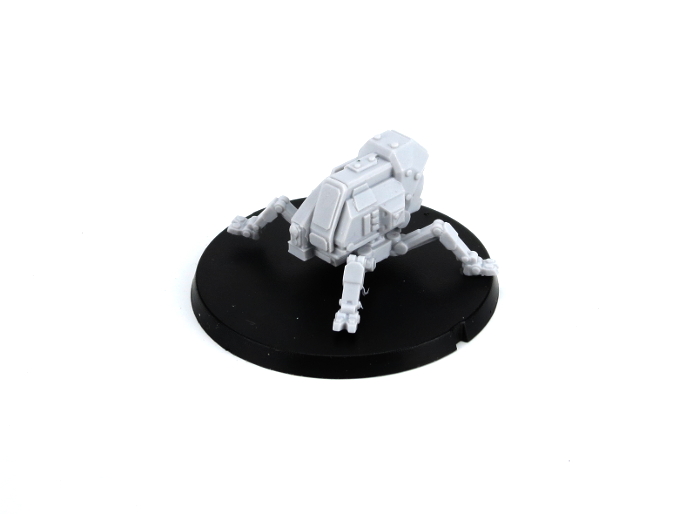 Legs are all well and good, but sometimes a more stable platform is called for. On the below drone, I replaced the legs with a skirt made from sections cut from a lintel piece found on the Maelstrom's Edge terrain sprue. Under that, I added some tracks purloined from an old Mechwarrior tank model.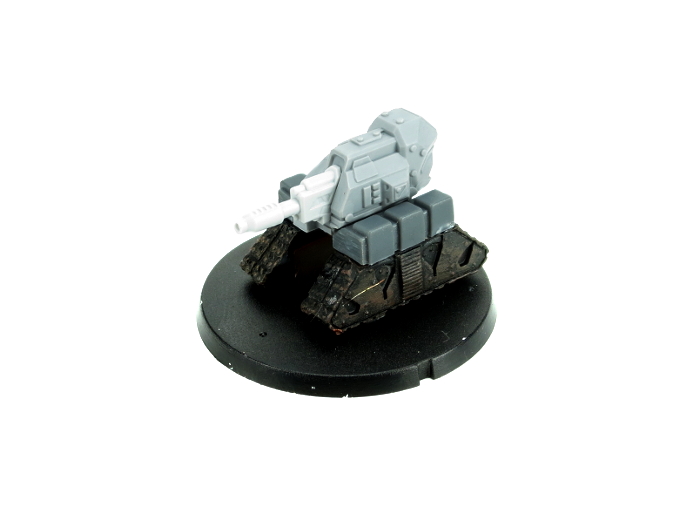 The Contractor Drone chassis also makes a nice, solid foundation for a remote turret assembly, to be installed on fortification walls or vehicle hulls. In place of the legs, I added a mounting column cut from a length of plastic tube, and inserted that into the small pipe fitting from the Maelstrom's Edge terrain sprue.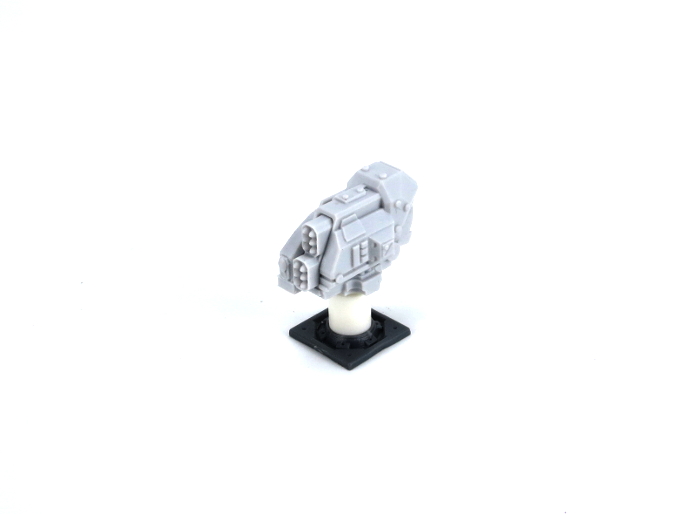 You can pick up the Contractor Drone along with the rest of the Maelstrom's Edge model range from the webstore
here
.
As always, feel free to pop along and share your work, or ask any Maelstrom's Edge- or hobby-related questions on the
Comm Guild Facebook page
!
For other Maelstrom's Edge modeling articles, including tutorials and walkthroughs of a wide range of different building and miniature projects, check out the article roundup
here
.
---
Posted on Monday Feb 19, 2018 at 05:00pm in Models
---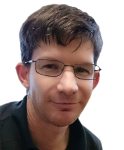 - by Iain Wilson

Drones - the ubiquitous workhorse of the Epirian Foundation. Built around a standardised chassis that can be bolted onto a wide array of different locotion and weapon options, the humble drone can be found all over Foundation-settled worlds performing a wide range of tasks. Particularly valued by Contractor military units, the Drone's various weaponised configurations are found at the forefront of any engagement harrassing enemy units and getting into those hard to reach places. Here, we'll take a closer look at the options available on the plastic Drone sprue.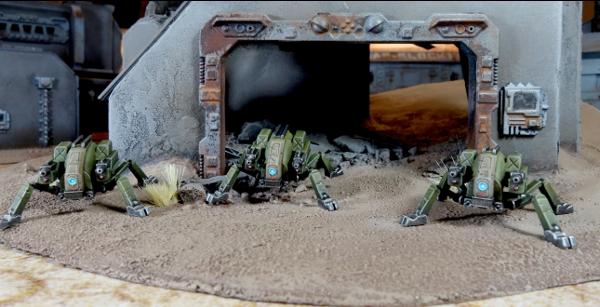 The Drone kit comes with parts to build either of two variants: the flying Firefly drone, or the agile, ground-hugging Spider drone.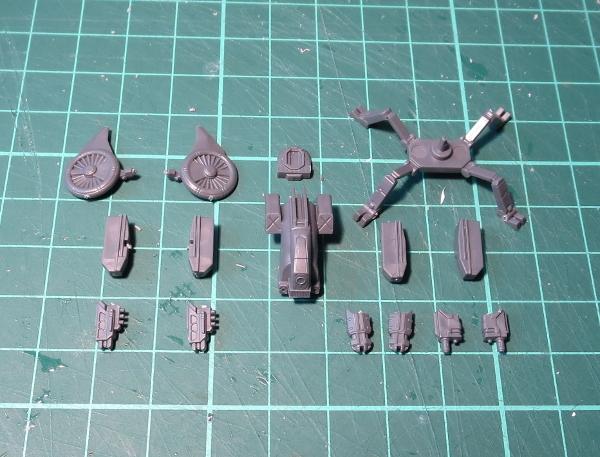 The Firefly is the fastest drone in the Foundation's arsenal, and the lightest armed. Held in the air by two dorsally mounted rotors, the Firefly is capable of vertical takeoff and landing (VTOL) and can travel up to 150 km/hr. Its primary purpose is as a forward scout, using its advanced sensor and communications suite to send information back about enemy positions. Its armour and weaponry is minimal and the Firefly can be easily taken out by even small arms fire - providing the shooter can hit its rapidly-moving frame. The Firefly is equipped with a Drone Class Laser System.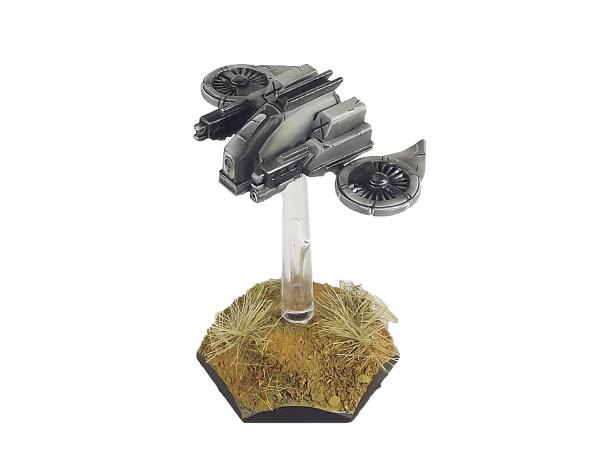 Slower than some of its drone counterparts but fitted with heavier weaponry, the Spider Drone is a popular choice for automated defences inside buildings where a Scarecrow's range is limited. Originally designed to operate within the rough terrain of mining tunnels, the Spider moves on multiple armoured legs, allowing it to keep its balance on the most unsteady of terrain.

The steadiness of its body allows more powerful guns with higher recoil to be added, and most combat Spider variants forgo the sensor suite used in Firefly, Rover and Stalker drones to accommodate more ammunition and heavier armour. Spiders can be equipped with Cutter Light Machine Guns or Flakk Guns.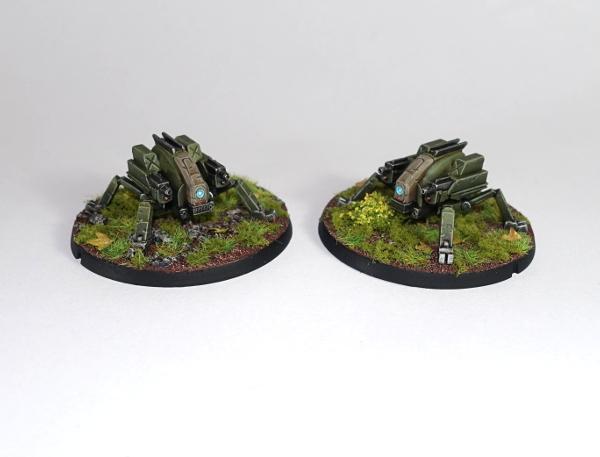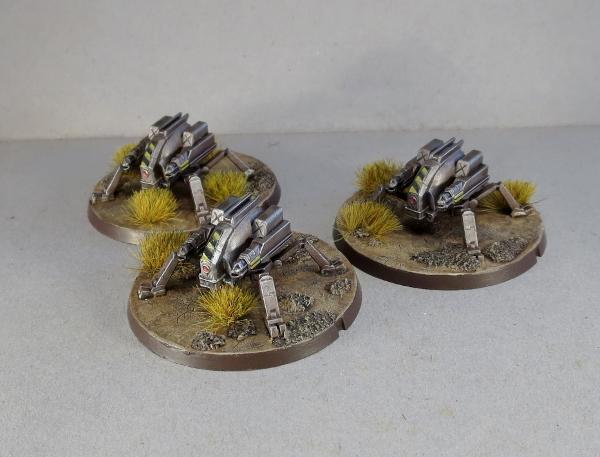 Because the sprue was developed before the rules were finalised, there wound up being a couple of extra parts on the sprue that were originally intended to be another weapon option, but which also serve nicely as antenae for identifying 'leader' models, or for converting your own different drone classes, like this Sensor Drone: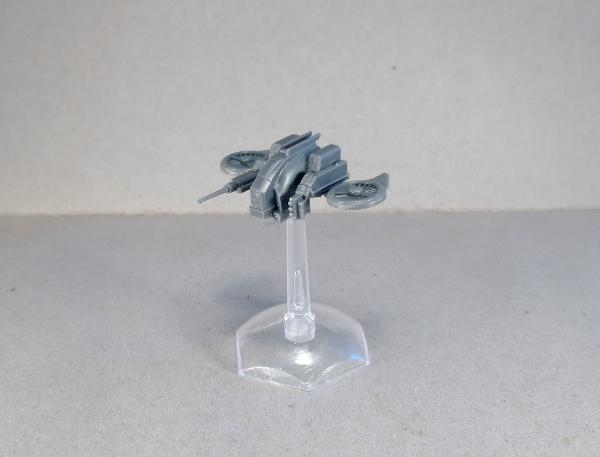 If you would like your drones to look a little more mobile, the thin legs of the Spider lend themselves well to conversions. You can easily repose them by either carefully bending at the joints, or by slicing through the joint and reattaching at a different angle.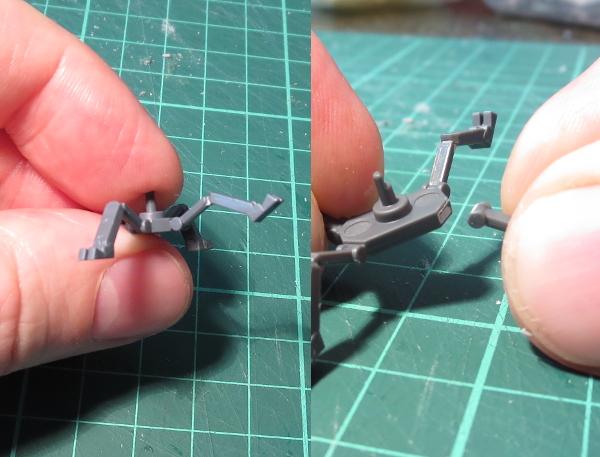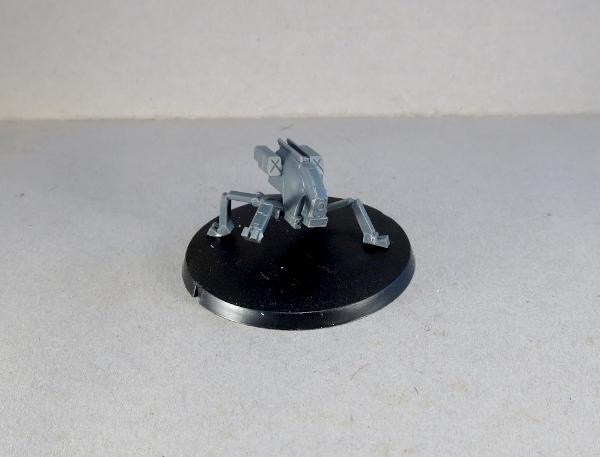 For those wanting the Drones to pack a bit of punch on the battlefield, you could try out the reasonably simple Scorpion Drone conversion detailed here, which takes the Spider Drone and equips it with a Maglock Chaingun from the Hunter Mech kit.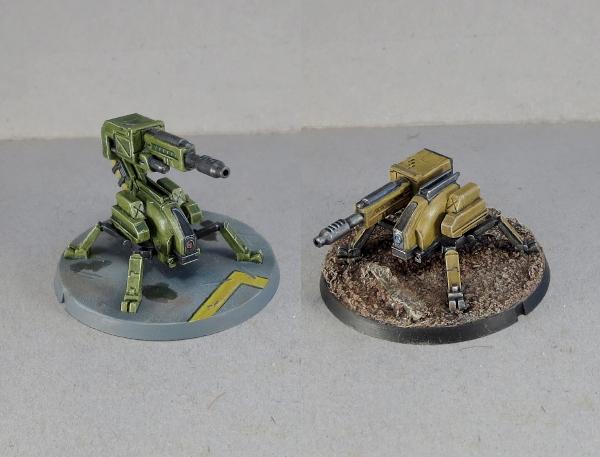 Getting a little more adventurous with the converting, I like to think that the Drone chassis would find its way into all sorts of different applications where having some robotic assist might make a task easier or more efficient. Like this Light Carrier Drone, converted from a Drone chassis and a Battlefront 15mm plastic tank kit, with a little plasticard.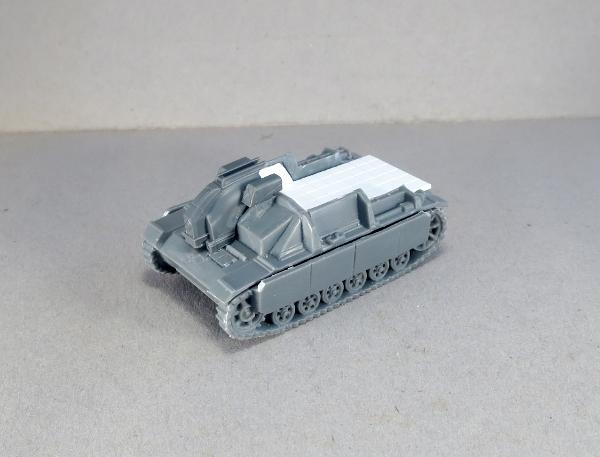 Or this (work-in-progress) Journeyman Patrol Bike, converted from a Games Workshop bike and an Epirian Bot Handler, with the Drone chassis up front for steer assist and targeting.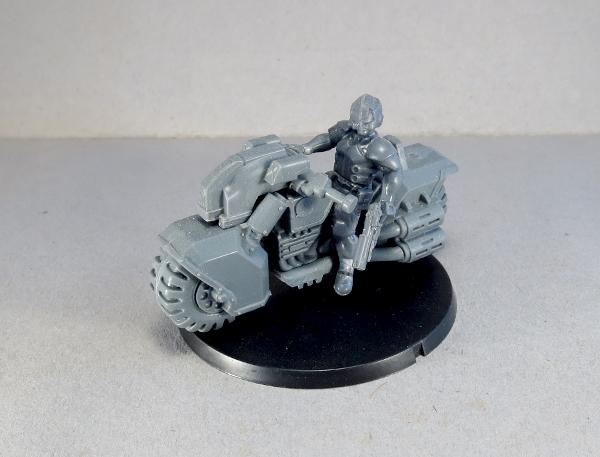 You can also use the Drone chassis as a head for larger bot constructs, like these 'Silverback' and 'Mule' Hunter Mech conversions.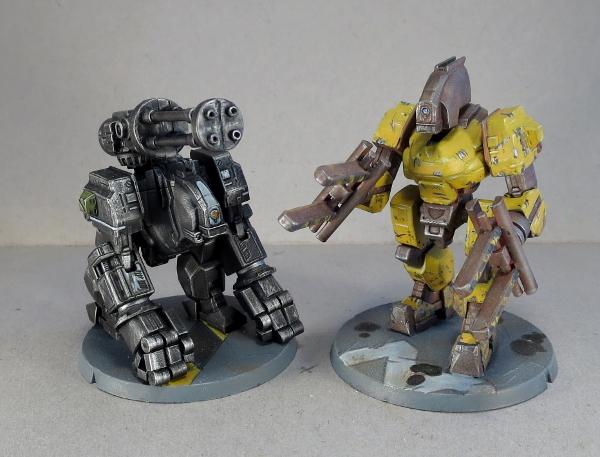 All of that can, of course, leave you with a bunch of leftover flight turbines, which can be used to build a jump pack-equipped Epirian Warden, or some floating 'Sentinel' Drones, using the turbines and the top of a Scarecrow - tutorial coming soon for that one!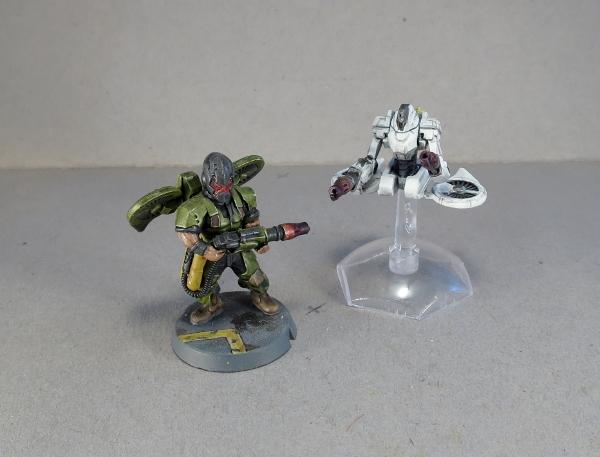 What have you done with your Drones? We would love to see your creations on the Comm Guild Facebook page!

To pick up the Drone kit, or any of the rest of the Maelstrom's Edge model range, visit the webstore here.

For other Maelstrom's Edge modeling articles, including tutorials and walkthroughs of a wide range of different building and miniature projects, check out the article roundup here.
---
Posted on Monday Aug 29, 2016 at 05:00pm in The Epirian Foundation
---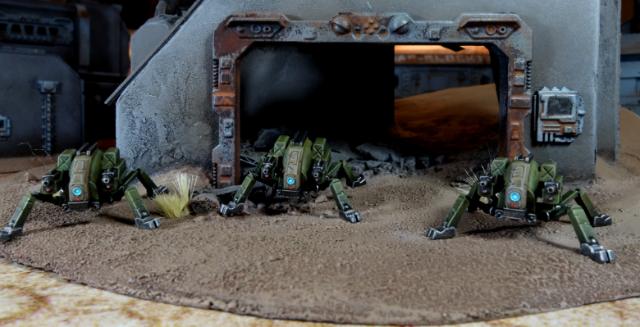 One of our most widely loved models, the Epirian Spider drones are fun little robots that are equipped with either a cutter light machine gun or a flakk gun.
Design
The origin of the design of these drones started with a desire for an 'animal sized' drone. We played around with a bunch of different options, with a crab-type robot being an early front runner. Debate amongst the team deemed it much more appropriate for the Epirians to have an all terrain drone that could fit in small spaces to help from a terraforming perspective. That role and specification evolved in to the spider drone.
Early Concepts
We always wanted to create a common drone core that could be extended into different means of locomotion. Below, we share one of our early drone development concept images: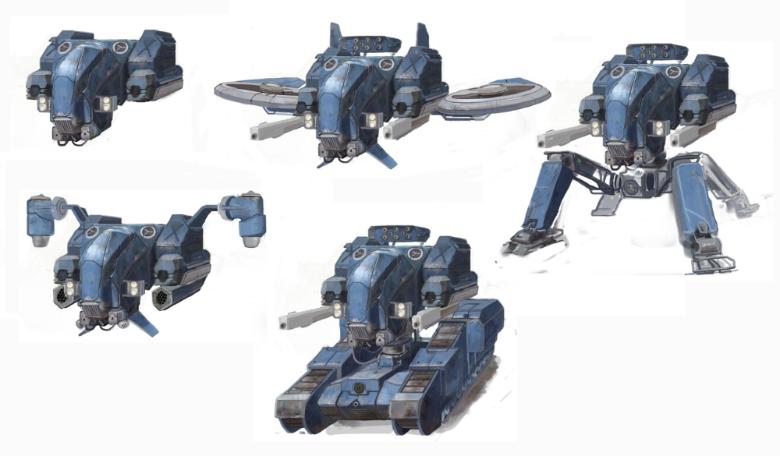 Conversions
The drones also convert very easily due to being a versatile plastic kit. We've seen a few variants - the 'grasshopper' drone which has both legs and turbines, and the 'scorpion' variant, pictured below: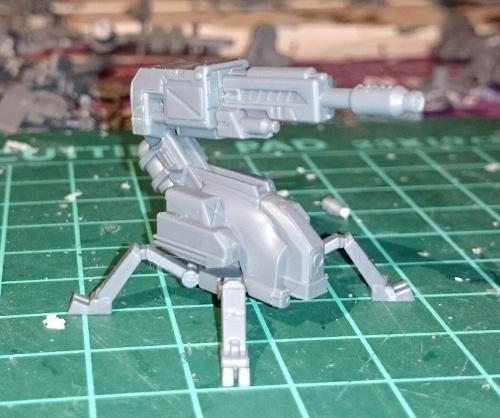 You can check out more on the Spider Drones, as well as being able to order them, at the Maelstrom's Edge web site.
Tags: drones epirian models spiderdrones spotlight