---
Posted on Wednesday Oct 03, 2018 at 06:00pm in Gaming
---
Although the existence of the xenos species called Angels was not completely unknown to the inhabitants of the spiral arm, only a handful of academics and long-standing spacefarers truly knew of them before the Karists began using Angels for their military and propaganda purposes. To everyone else, they were always simply a myth or legend bragged about by starship captains who had spent too many years traversing the void.

Karists tout that these creatures are emissaries of of the Maelstrom, with their priests having helped coined the name 'Angels' to describe them. When Karist priests attempt to sway the populace of a world to their cause, they often mention Angels, or even utilize a live Angel as a demonstration. For how can creatures so powerful and strange, they argue, serve the will of the Karists if their cause were not just and true?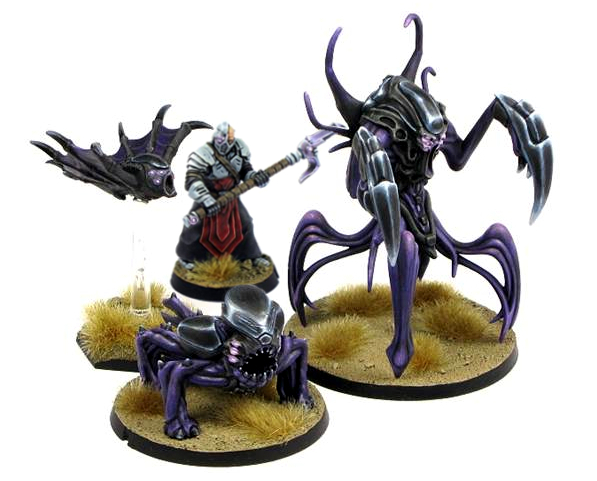 In Karist military actions, Angel units are typically embedded into their existing forces, giving Karist commanders access to the many unique talents the Angels can provide. However, an entire force comprised of Angels is a powerfully intimidating site, doubly so to enemy troops who have never actually seen an Angel before. Therefore on occasion, full Angel detachments, led by an Angel Keeper are deployed. They are usually utilized as a terror-force, early in a planetary engagement before the enemy has any experience fighting against them. Angel detachments are particularly effective against fortifications, where the sheer terror caused by the Angels can cause enemy troops to flee without firing a shot, allowing the Karists to take an enemy strongpoint where it would have cost them hundreds of lives otherwise.
The First Contact faction objective represents a number of new avenues for our game. It is the first of several planned new faction objectives tied to particular models, helping to create different types of themed forces you can choose to utilize within the overarching umbrella of the existing forces. To this end, your force must include an Angel Keeper for you to be able to use the First Contact faction objetive.
First Contact


This objective may only be utilized if your force contains an Angel Keeper. If an objective type requires you to choose a force commander, it must be an Angel Keeper.

This objective can generate a maximum of 3 VPs per game, after which your units no longer benefit from the IrratIonal Fear ability.



---



Partial: (conditional) Each time a non-fearless enemy unit fails any type of discipline check (even an automatic failure) while affected by the Fearsome ability of your Angel units, gain 1 VP.
Full: N/A

Irrational Fear: Friendly models with the angel designator gain the Fearsome (1) ability, or add +1 to their existing Fearsome ability.
You can download a printable version of this card
here
.
The existing basic faction objectives ('Secret Cache' for the Karists, 'Now You See Me' for the Broken and 'Automated Uplink Relay' for the Epirians) all work roughly the same way: they provide your forces an optional bonus, which you can choose to forgo each turn to instead gain +1 victory point. First Contact, on the other hand, provides your force with an automatic bonus: namely improving your Angel's 'Fearsome' ability, and successfully utilizing that bonus is what scores you the objective's victory points. Even better, this is the first faction objective where it is possible to earn the maximum 3 victory points in a single turn, even theoretically in the first turn of the game, which would definitely put your opponent on their back foot right out of the gate!
But that raises the obvious question: how can First Contact possibly be balanced compared to the existing two faction objectives? The answer is that the other two objectives provide you with better situational control. When you need a victory point, you can generate one, but when you need the bonus provided by the objective, you can utilize that instead. With First Contact, once you've generated your 3 victory points from it, the bonus provided by it ends and you're stuck the rest of the game without it, even if you would have preferred to keep the bonus around longer in lieu of gaining all 3 victory points.

In addition, generating victory points for First Contact ultimately relies upon your opponent failing discipline checks while within range of your Angels. Depending on how the game plays out and how crafty your opponent is, it is entirely possible for you to finish the game without earning some or even all of these victory points. Or in other words, this is the first faction objective where you have to rely upon your opponent doing something (failing discipline checks) in order to generate your victory points, which is inherently more risky.
We would love for you to try out some games with both the Angel Keeper and First Contact rules and let us know what you think about them. If you've got any feedback (with or without playing any games with the rules), please feel free to provide it either by replying to this article directly, or on our
Comm-Guild Facebook group
or in the Maelstrom's Edge forum on
Dakka Dakka
.
You can flesh out your shape-shifting alien force by picking up an Angel Keeper and any of the different types of angels from the Maelstrom's Edge webstore
here
!
Tags: faction gaming karist objectives rules