Modeling Spotlight: Assembling Karist Heavy Troopers
---
Posted on Monday Dec 04, 2017 at 05:00pm in Tutorials
---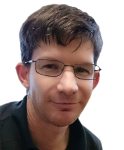 - by Iain Wilson

This week saw the release of the next Maelstrom's Edge resin set into the wild, with the addition of heavy weapon troopers to the Karist Enclave lineup. Here, we're having a quick look at how to assemble these great new models!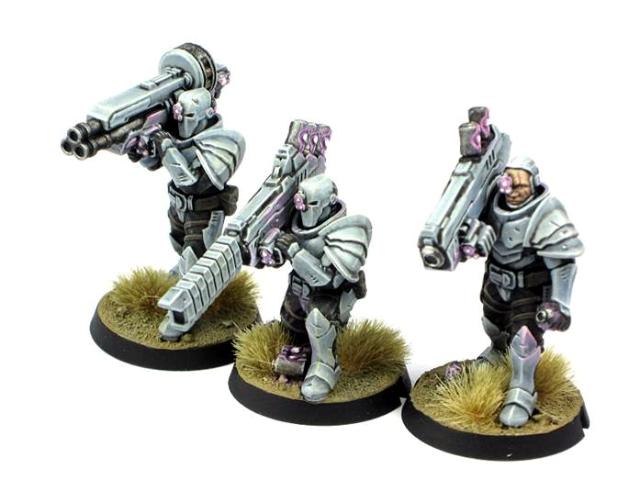 The Karist heavy troopers come in a pack of two troopers, with three heavy weapons between them. They also include 3 optional heads - two with helmets and one open-face, an extra left arm with a spare cybel cannister, and a bunch of extra cybel cannisters to attach to their belts.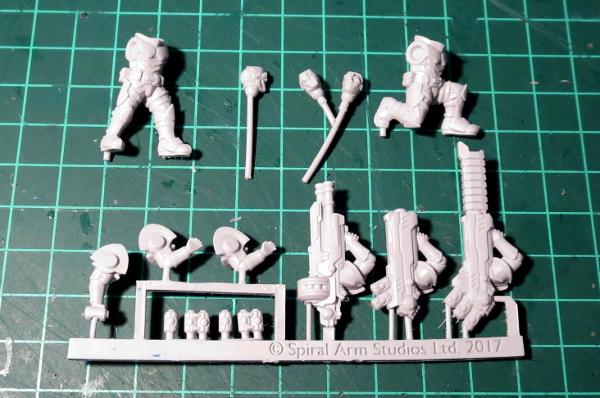 As always with resin models, it's a good idea to give them a quick wash in warm, soapy water to clear off any residual mould release, as this can affect paint adhesion. If any of the parts are a little bent, this is also the time to drop them in some hot water and then reshape them - although the casts I received of these models were all beautiful and straight, with extremely minimal mould lines, so very little clean-up work involved.

The two bodies are all one piece, and so once the frame lugs are trimmed off the bottom of the feet, can be glued straight onto your base. Because these are resin rather than polystyrene like the regular plastic kits, use a good quality superglue or fast-setting epoxy glue, rather than plastic cement.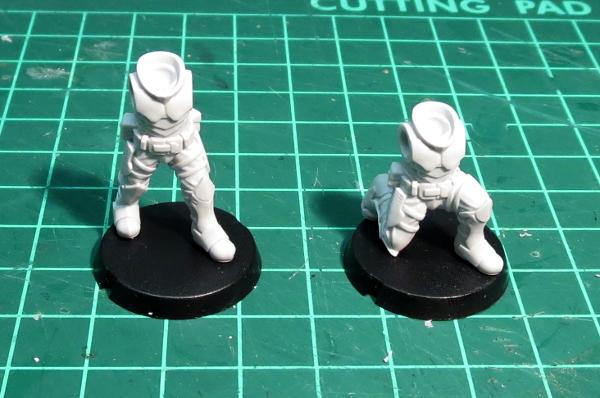 The arms have nice, sturdy locator pins that fit snugly into the sockets in the shoulders.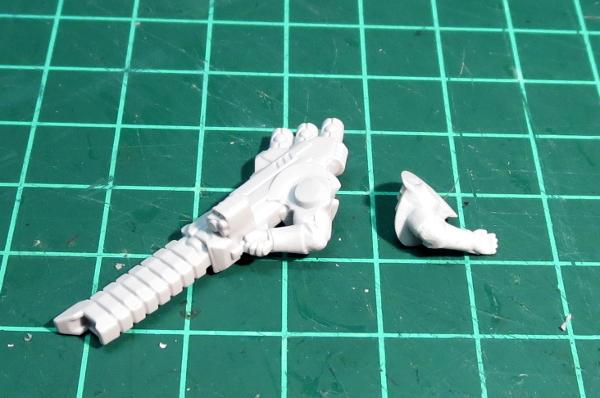 Dry-fit them first to get a feel for how they sit, and then I find the easiest way to ensure the arms fit together nicely is to put a drop of glue into each shoulder socket, a small drop on the left palm, and then sit everything into place and make any minor adjustment quickly before the glue grabs. You can glue one arm at a time if you prefer, but it can be trickier to get a perfect fit that way, depending on the angle of the arms.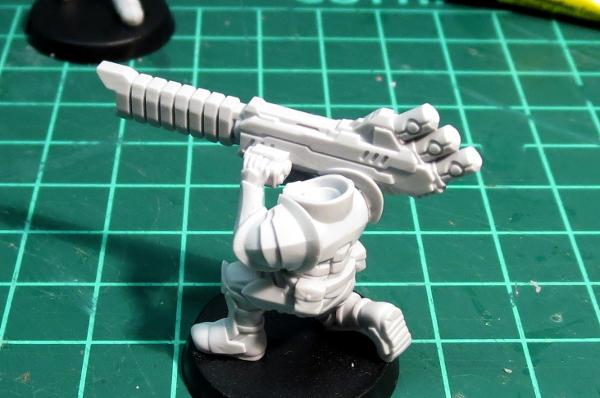 Finally, glue the heads in place, and you're ready for paint!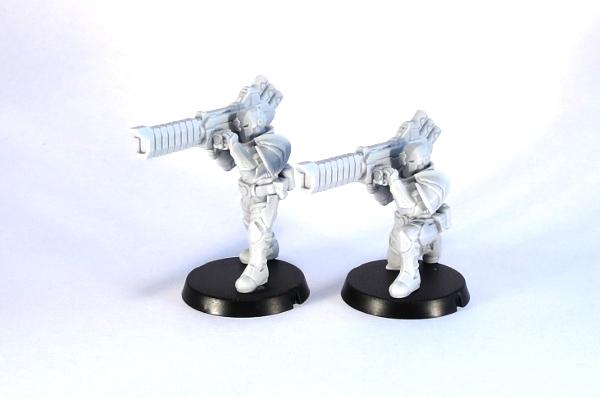 You can add a Quintarch to the unit using a regular Karist trooper, or you can add parts from the Trooper sprue and/or Faction Expansion Sprue to another heavy trooper body to keep with the heavier armour look for the whole unit.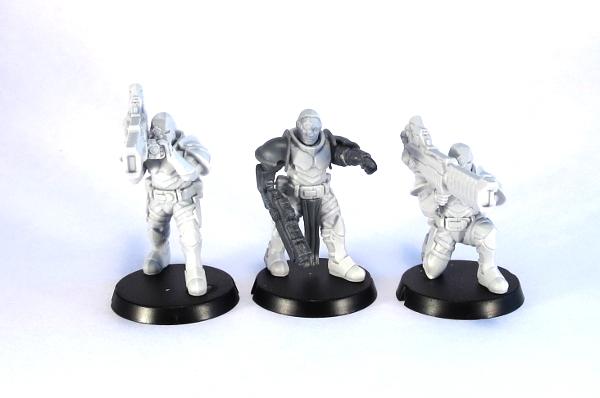 You could also use weapons and arms from the Trooper sprue on the heavy trooper bodies to make special weapon troopers for your regular Karist units.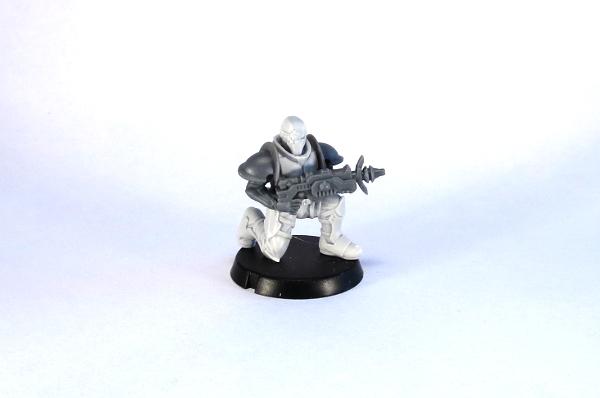 And for a final bit of fun, I made some conversions a while back of some Tempest Elites with shoulder-mounted weapons (from the Spotlight article here). That conversion becomes even easier with the pulse cannon and cannister arm from the heavy trooper set!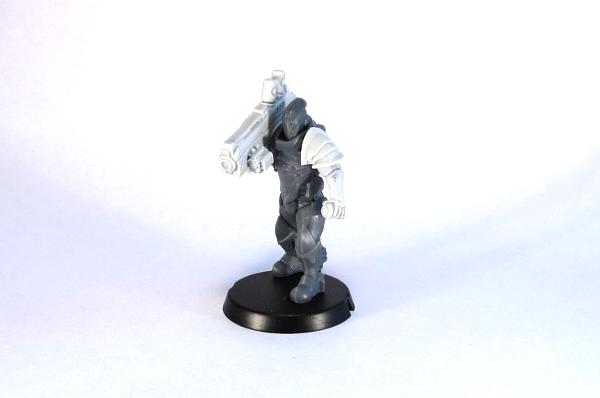 To build your own army of Maelstrom-worshipping, explody Doom, you can pick up the Karist Heavy Trooper set, along with the rest of the Maelstrom's Edge model range, from the webstore here. As always, we would love to see your creations on the Comm Guild Facebook page!

For other Maelstrom's Edge modeling articles, including tutorials and walkthroughs of a wide range of different building and miniature projects, check out the article roundup here.
Tags: conversion converting heavy karist modeling trooper tutorial walkthrough
Like this? Like us on facebook to see more...


Comments are closed for this entry.