Model Spotlight: Epirian Hunter Warmech
---
Posted on Monday Dec 11, 2017 at 05:00pm in Models
---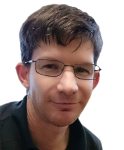 - by Iain Wilson

For this week's article, I thought it might be fun to pause and take a closer look back at one of the models from the initial Maelstrom's Edge release - the Epirian Hunter Warmech!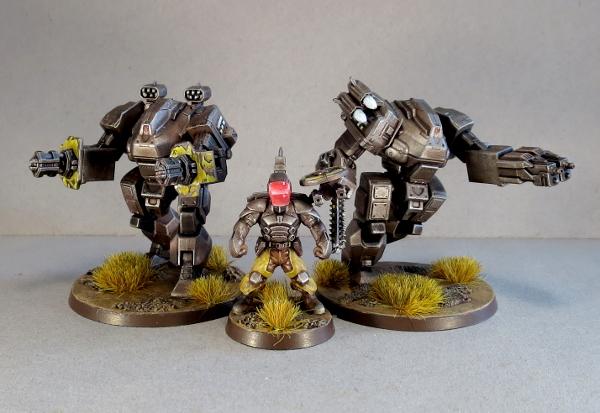 Designed through an arcane mix of clever sculpting, sliding-core moulding and witch-craft, the Hunter kit is beautifully detailed while going together with surprisingly few parts. Arms and legs are solid parts, removing the need for unsightly seams, while boasting articulated shoulders, elbows, ankles and hips to give enough poseability to keep things interesting.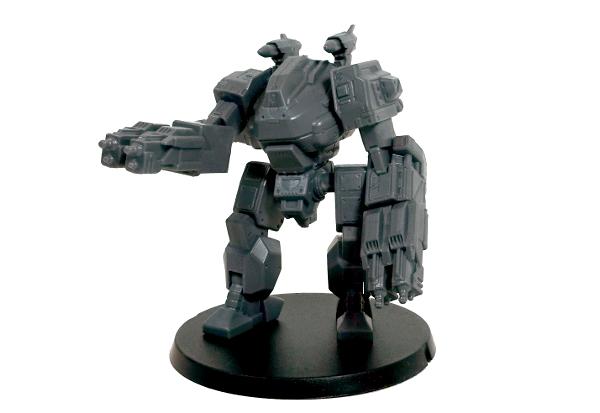 Towering above mere human soldiers, the Hunter is the second-largest model currently on the Maelstrom's Edge battlefield, beaten in size only by the Karist Angel (for now!)




The kit comes with a nice array of weapons - a maglock chain gun, a flakk cannon, two suppressor twin machine guns, two each of the different rocket pods, and a hydraulic fist.

Being plastic, 'borrowing' a second weapon from another kit and modifying it to go on the opposite arm is a breeze. Below, the shield for the flakk cannon has been flipped over to go on the right arm, with the top and bottom beveled parts reshaped slightly to keep the symmetry between the left and right.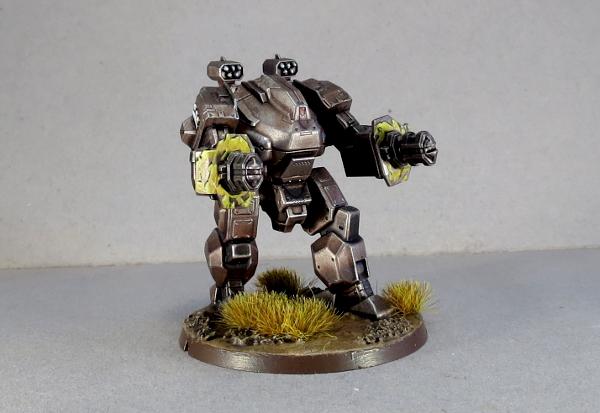 The rocket pods are designed to mount behind the head, but it's too much fun to not play around with them and find other places to fit them!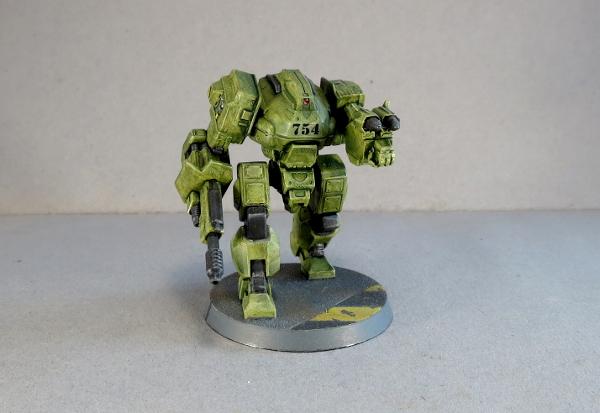 The legs have a slight bend in the knee, which allows for a surprising range of motion combined with the pivoting ankle joints. For a little more speed, the knee joint can be sliced through and reattached into more of a running pose.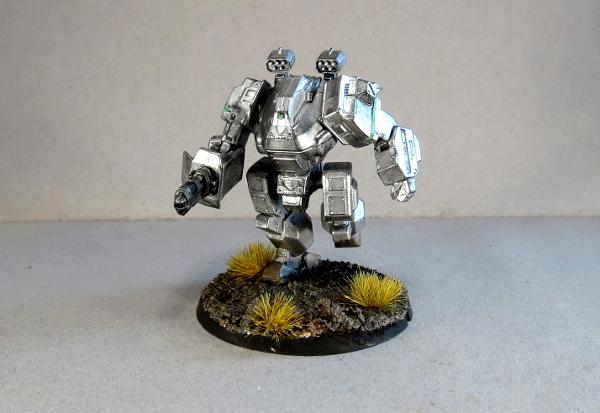 If pounding away with a big, metal fist isn't your thing, the hydraulic fist can be easily replaced with a chainsaw blade or other suitably brutal melee weapon of your choosing. The Hunter below has a chainsaw taken from a Games Workshop plastic kit for some extra rippy fun.




If converting is more your thing, let your imagination run wild! Below is an Epirian Uplink Drone, built from a Hunter torso, some bits from the Spider drone kit, and some tracks from a Counterblast robot model. You can see how it was built in the article here.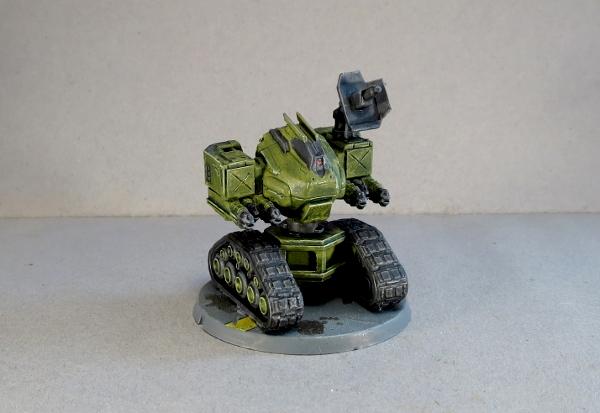 Venturing a little further off the beaten track, this 'Mule' cargo drone was built from a Hunter chassis with a head made from a Spider drone and some lifter hands scratch-built from plasticard. You can check it out in the build article here.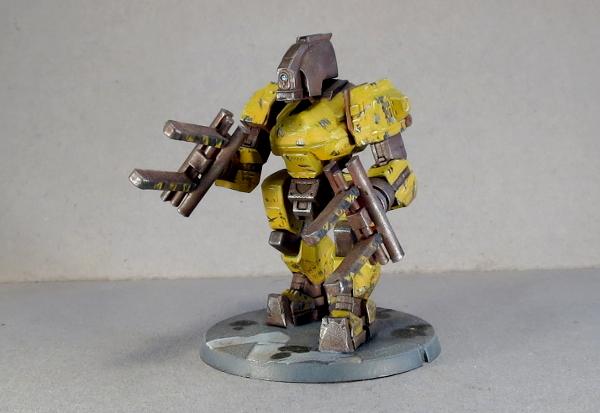 If big guns are more your thing, then the 'Silverback' fire support mech is going to be right up your alley. This was built from a reposed Hunter with hands made from drone parts and sprue, a drone chassis head, and a gun taken from a Games Workshop Tau kit. To find out how to build your own, check out the article here.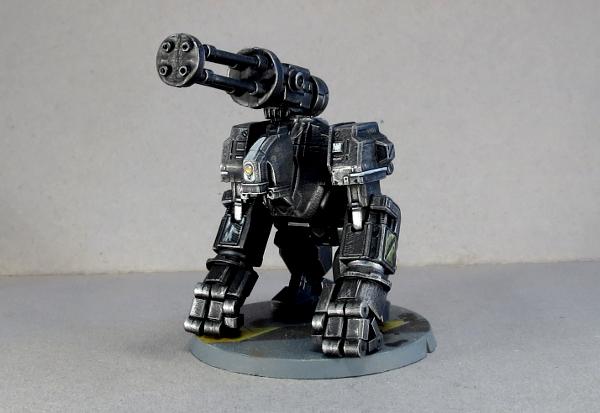 To build your own robot army of mechanical Doom, you can pick up the Hunter kit, along with the rest of the Maelstrom's Edge model range, from the webstore here. As always, we would love to see your creations on the Comm Guild Facebook page!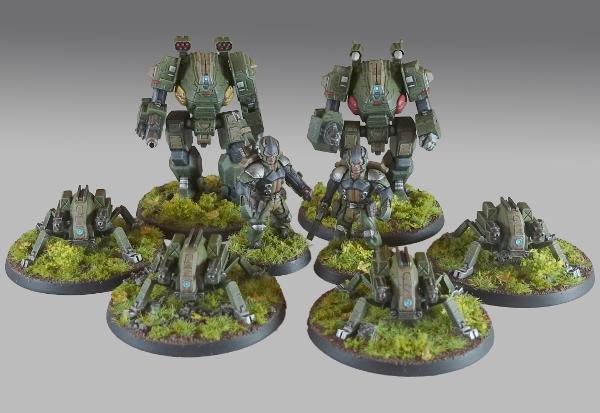 For other Maelstrom's Edge modeling articles, including tutorials and walkthroughs of a wide range of different building and miniature projects, check out the article roundup here.hun
Like this? Like us on facebook to see more...


Comments are closed for this entry.