Modeling Spotlight: Pa'ku Artillery
---
Posted on Monday Nov 26, 2018 at 06:00pm in Tutorials
---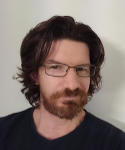 - by Iain Wilson

This past month saw the release of the Pa'ku for the Broken faction, taking to the field with their gigantic Quad EMP Cannon strapped to their rather large backs. This is another brilliant model in a slowly growing collection of characterful alien creatures for the faction, and so in my usual style, I figured it would be fun to take a hobby knife to it and see what happened!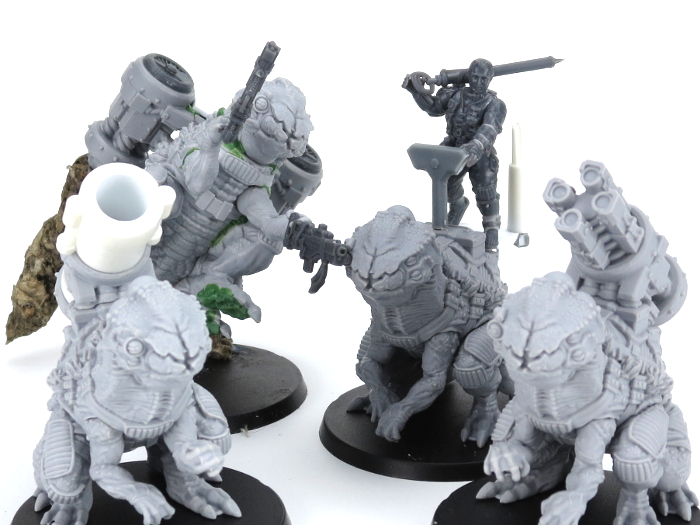 The fantastic studio model below shows the Pa'ku in all his warty glory. He's big, he's ugly, but nobody's going to tell him that so long as he has that gigantic quad cannon pointed in their general direction!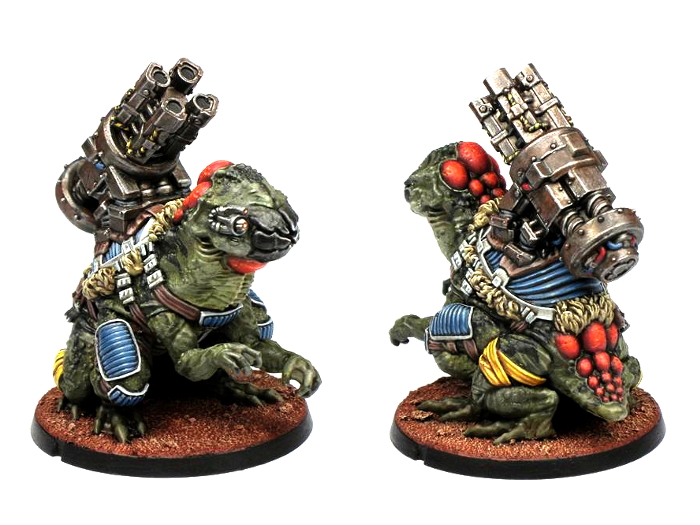 The Pa'ku is a resin model, and comes in 6 pieces, along with a 45mm base. The arms are on ball joints that allow for a bit of posing movement, and the cannon barrels have a round locator piece, so can be swivelled around to whatever orientation you prefer.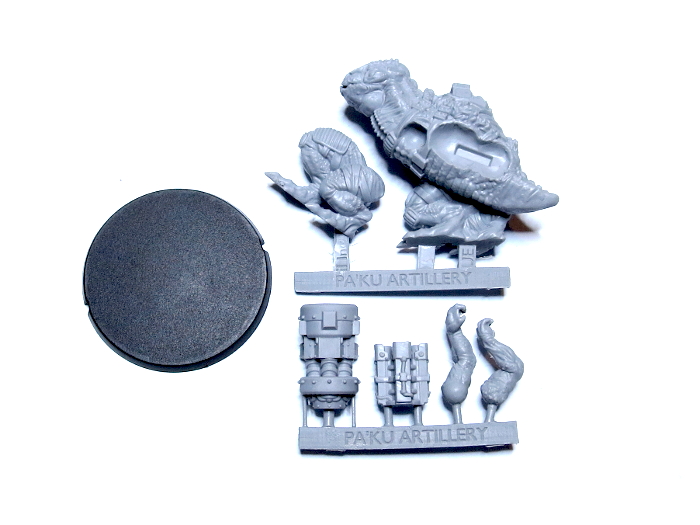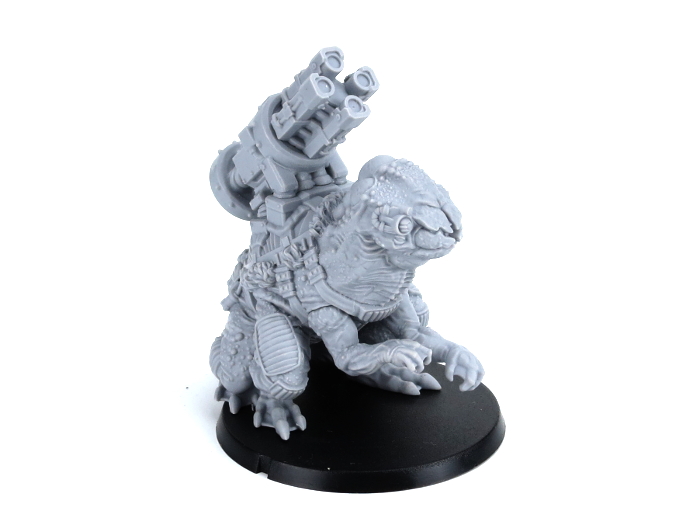 The immediate, obvious conversion opportunity is to replace the quad cannon with a larger-bore, single cannon. On the below model, I added a ring of plastic tube over the rear tube assembly, and replaced the barrel section with a new, larger, single barrel made from layered plastic tubing, with some plastic rod struts on the sides to give it a little extra detail.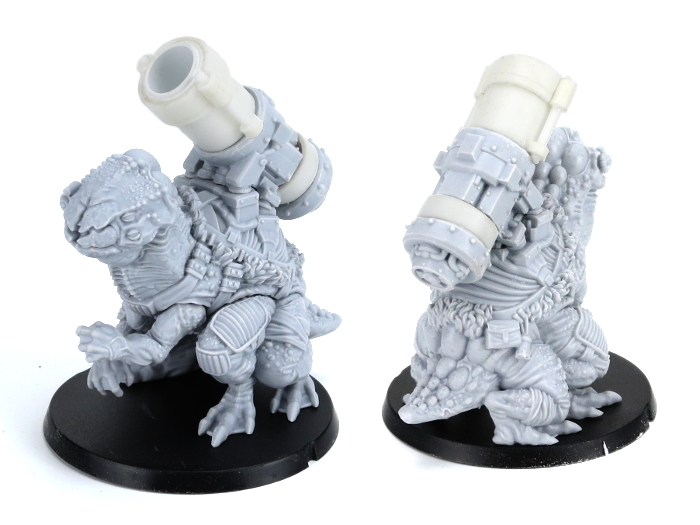 As an extra bonus, you can also put him on the table with the unofficial rules card in the Force List section of the Maelstrom's Edge website
here
. You could easily leave off the side detailing and just use a single piece of 10mm tubing for a less detailed but much easier conversion, or use a different gun entirely for other heavy weapon variants.
Venturing a little further outside the box, the slow moving, steady Pa'ku seemed like an ideal candidate for ferrying around notable Broken characters who prefer not to dirty their own boots any more than necessary. With that in mind, I took a Pa'ku and assembled it without the gun, and then added a platform onto the back with a little plasticard, and added a rider built from the Broken Infantry sprue. The handrail is cut from a ladder from the Maelstrom's Edge terrain sprue, and the sheath of extra harpoons is a piece of plastic tube filled with offcuts of 1mm rod, attached with a rivet piece from the previously-hacked-up ladder.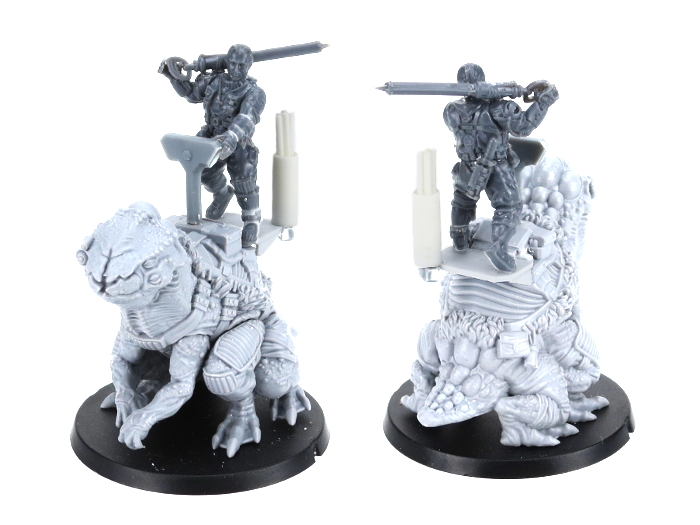 Of course, it's possible that not all Pa'ku are as slow and deliberate in their actions as the species is renowned for. What happens to those more headstrong, battle-hungry Pa'ku? I'd like to think they turn out something like this: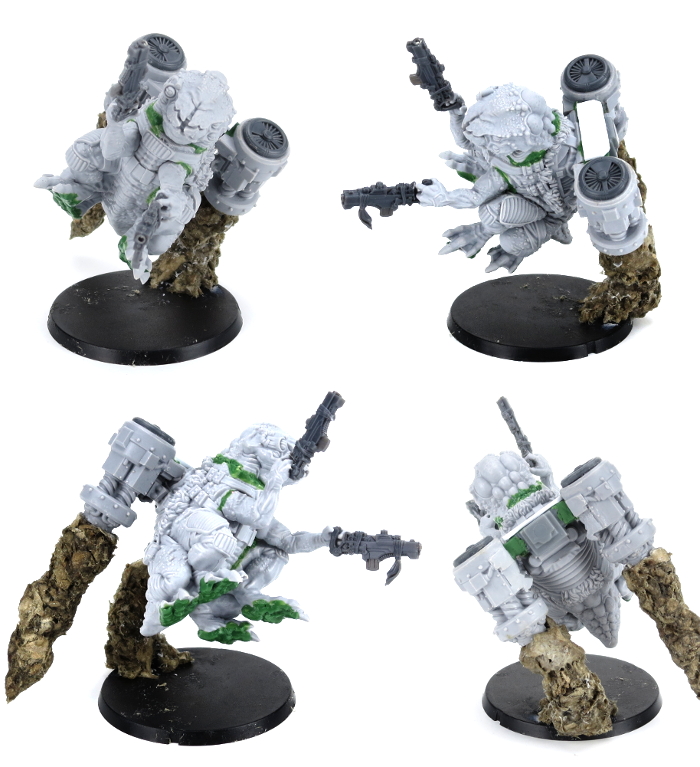 The jetpack was made from the main section of two quad guns, with help from a little putty, Epirian drone parts and plasticard. The head was repositioned by cutting and bending the neck, and the forearms twisted in hot water and guns added from the Broken Infantry sprue. I'll be sharing a more detailed build of this one in an upcoming article, once I get some paint on him!
To add some giant-cannon-goodness to your own Broken force, you can pick up the Pa'ku along with the rest of the Maelstrom's Edge model range from the webstore
here
.
As always, feel free to pop along and share your work, or ask any Maelstrom's Edge- or hobby-related questions on the
Comm Guild Facebook page
!
For other Maelstrom's Edge modeling articles, including tutorials and walkthroughs of a wide range of different building and miniature projects, check out the article roundup
here
.
Like this? Like us on facebook to see more...


Comments are closed for this entry.