Conversion Spotlight and Rules: Broken Skyboarders
---
Posted on Monday Sep 03, 2018 at 06:00pm in The Broken
---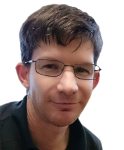 - by Iain Wilson

Back when the plastic Broken Infantry kit was released, I cobbled together a conversion of a broken warrior riding a hovering skateboard-type affair, which featured in my 'Easy Broken Rabble Conversions' article. At the time, it was just something made for a little fun, but I found myself thinking that this would make for a cool unit option for the Broken, and so decided to sit down and write up some rules for them. Below you''ll find some ideas for building your own skyboarders using asorted components and some plasticard, and a link to the (unofficial) rules card to use them in your own Maelstrom's Edge games!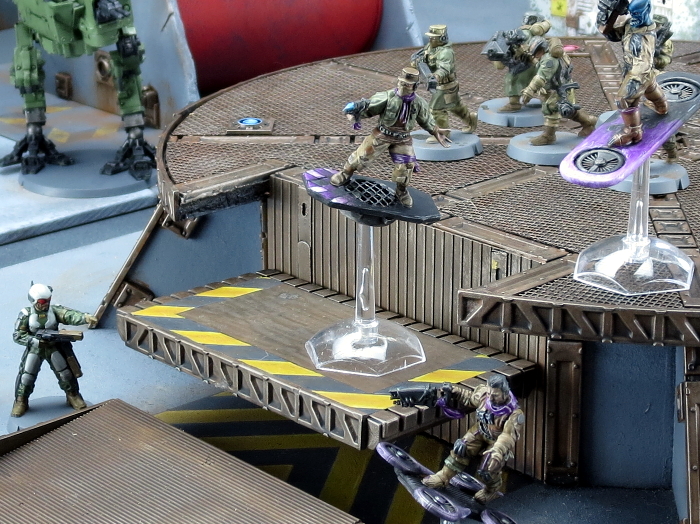 The primary consideration when putting together any sort of vehicles for the Broken is that they rely on scavenging and trading for whatever they can get, for the most part. As a result, there is very little uniformity in clothing and equipment, and I really wanted to carry this across to the skyboard unit. This meant coming up with three different designs for the three models in the unit, although you could just as easily stick with a single design and custimise them with additional bits and pieces stuck on, or simply with individualised paint schemes on the boards.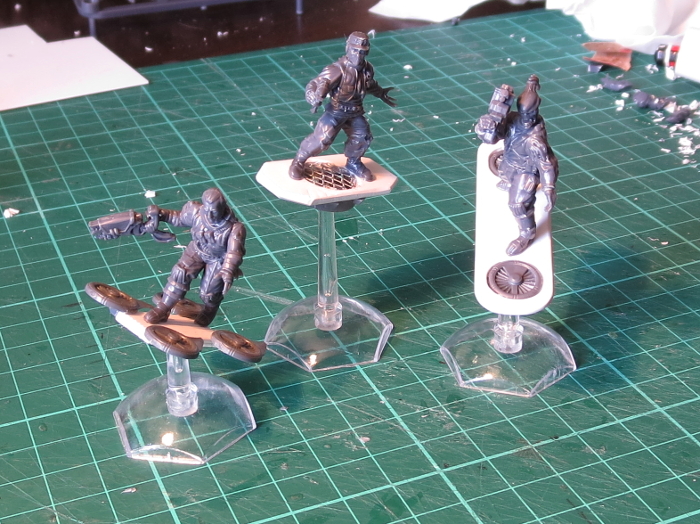 The first board is the one I build for the original article. I didn't take any in-progress pics of this at the time, but it's a fairly basic constructions - I glued two rectangles of textured plasticard together for the board itself, and then took four turbines (two left and two right) from
Epirian Firefly drones
, cut away the mounting pins and glued them onto the sides of the board. The rider was assembled from standard broken parts, posed to look like he is balancing on the board, which didn't actually require any converting.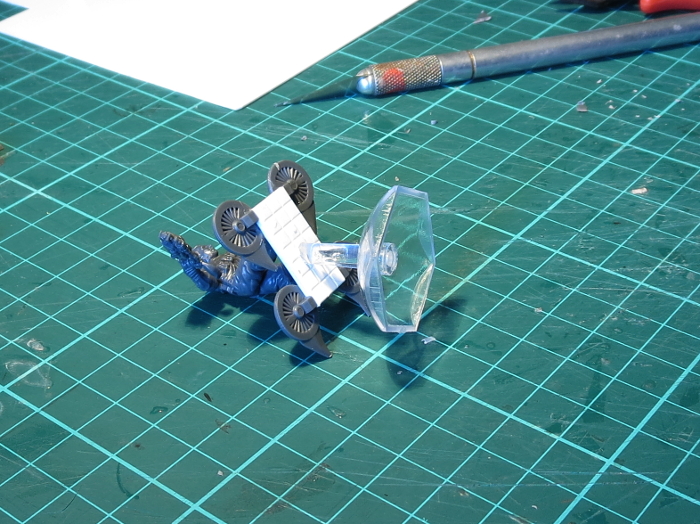 My second board was also based on Firefly turbines, but this time I used two of them with the mounting pegs and trailing wings removed with a sharp hobby knife, as below: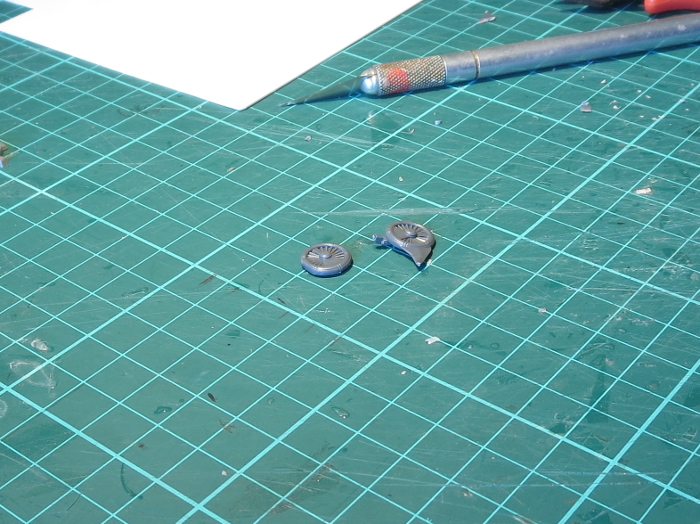 I measured out the board on a piece of 2mm plasticard, allowing space for the turbines at either end with room for the rider to stand in between them. Then I drilled out holes the size of the turbines using a spade bit - a 10mm bit was very slightly too small, but was all I had. A little sanding after drilling the hole pushed it out to the right size.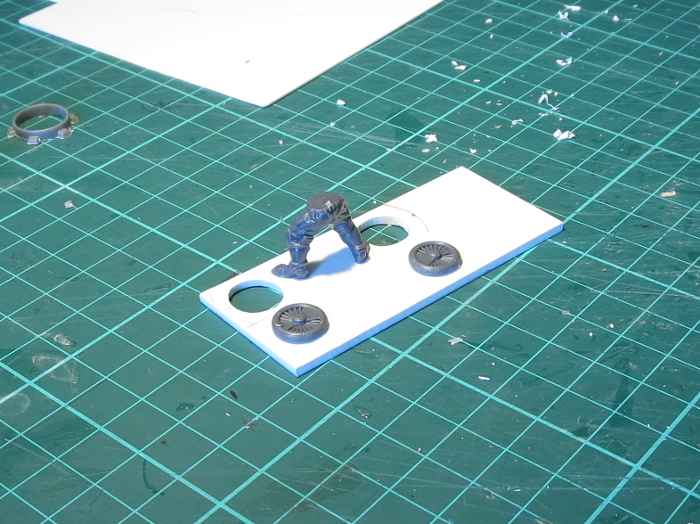 I cut the board shape out, sanded down the edges, and glued the turbines in place in the holes. I also added a 'motor' piece using the heat shield cut from a torch (flamethrower) and a trimmed down overcharged powercell, but found on the Broken Infantry sprue.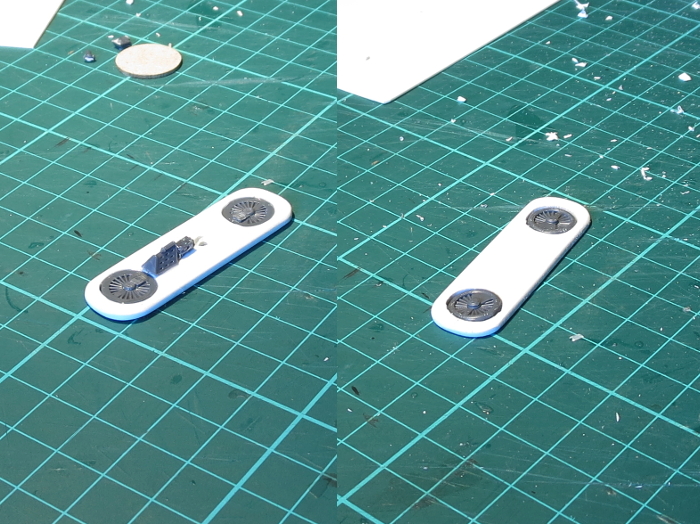 For the final board, I made use of a part of a pipe fitting piece I had left over from the
Maelstrom's Edge terrain sprue
, from a building project a while back. I had cut through the pipe fitting to make it shorter, which left a nice circular piece that looked just perfect for a turbine surround. I cut a matching hole in a piece of 2mm plasticard using a 12mm spade bit, and then cut the plasticard to the shape I wanted.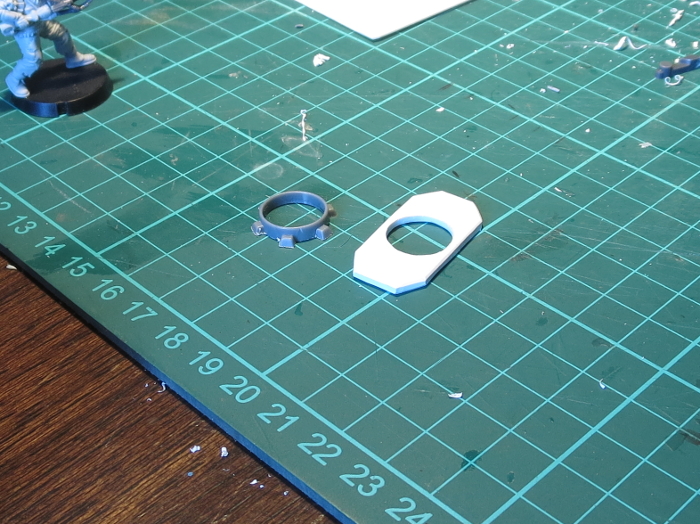 I made the turbine fan itself out of a circle of 1mm plasticard, and added a circle of mesh to go over the top side of the hole, and a strut to hold the fan, using an injection point cut from an old model sprue. With all of this glued in place, I finished up with another overcharged powercell added for some sort of nod towards functionality.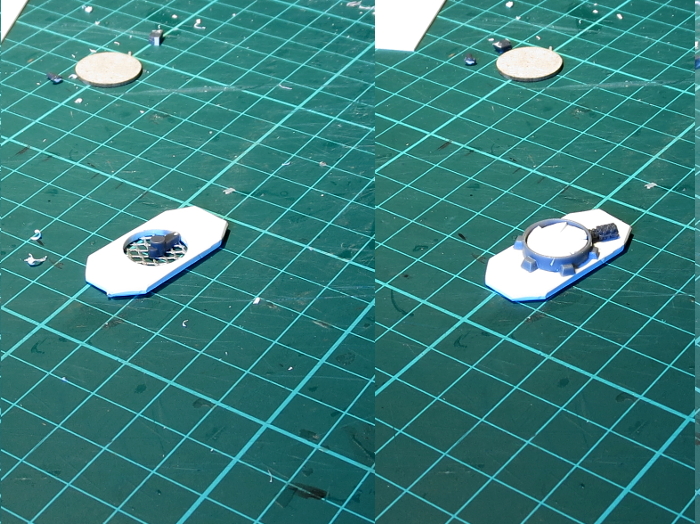 After building riders for the two new boards, again just using components from the Broken Infantry sprue with minimal modification, I drilled holes in the bottoms of the boards to attach flight stems at suitably jaunty angles. With some paint thrown on, the skyboarder unit wound up looking like this: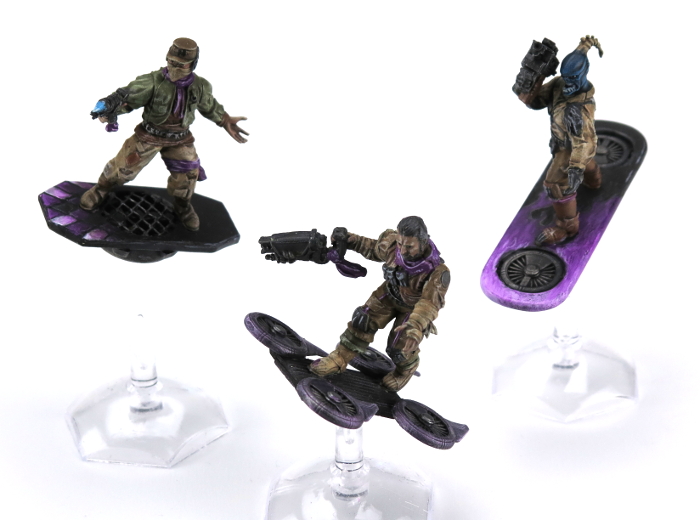 Obviously, this is only a starting point - you can let your imagination out for a run and come up with different skyboard designs using whatever components you have on hand. The sky's the limit! (Sorry...)
As promised back at the start, I write up a rules card to include these guys as a Vanguard option in your Broken force. You can find this in the Force Builder section of the Maelstrom's Edge website
here
.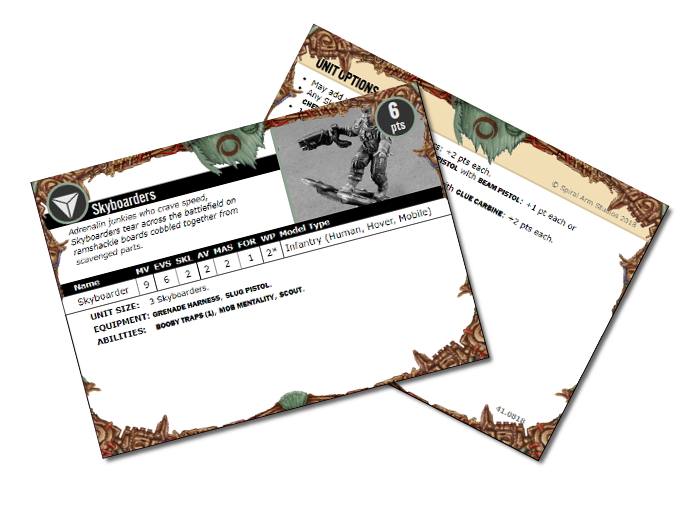 ---
To build your own Skyboarders, you can pick up the Broken Infantry kit along with the rest of the Maelstrom's Edge model range from the webstore
here
.
As always, feel free to pop along and share your work, or ask any Maelstrom's Edge- or hobby-related questions on the
Comm Guild Facebook page
!
For other Maelstrom's Edge modeling articles, including tutorials and walkthroughs of a wide range of different building and miniature projects, check out the article roundup
here
.
Like this? Like us on facebook to see more...


Comments are closed for this entry.