New Kickstarter from Spiral Arm Studios!
---
Posted on Monday Mar 22, 2021 at 05:00pm in StackaRack
---
Time for something new and different - Introducing the StackaRack!
We are currently working on a Kickstarter for a customisable plastic paint rack designed to hold any of the major miniature paint ranges - from the dropper bottles used by Vallejo and Army Painter, to the tall pots from the likes of Privateer and Reaper (and GW's old range), and the current stubby Citadel pots.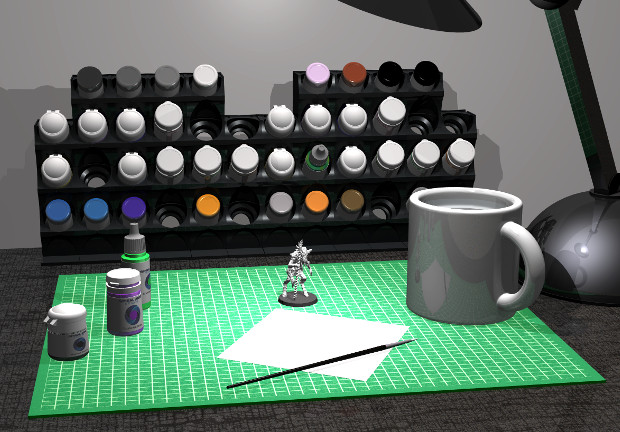 3D rendered serving suggestion
Paint collections have a way of growing organically, and most of the current paint rack solutions out there are fixed to specific configurations, and made for a specific type of paint pot. If you're like me, and collect multiple brands of paint, that can make organising them a little frustrating, and so we thought we would try to fix that.
Rendered for your convenience
The StackaRack was designed to hold any of the above mentioned pots comfortably, and allows for dropper bottles to slot in either way up, to suit your preference. Made from injection moulded plastic, it will fit together with locking clips, allowing you to build it how you like, and disassemble and reconfigure it as needed.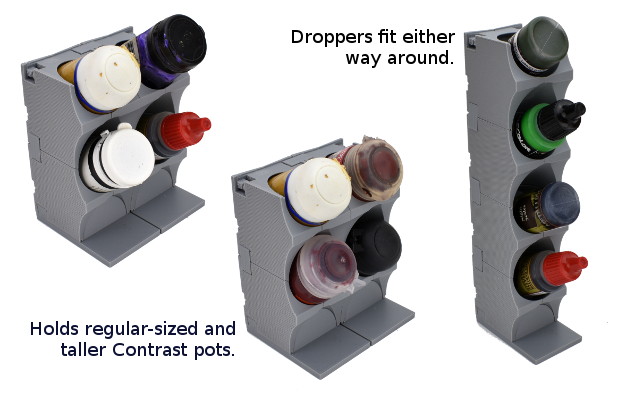 3D printed prototypes
The Kickstarter is scheduled to go live on the 20th of April. You can find the prelaunch page
here
. Click the 'Notify me on launch' button for a reminder when the project goes live.
You can also find the StackaRack on Facebook
here
. Like the page for news and updates as they happen!
Find the Battle For Zycanthus starter set and the full range of Maelstrom's Edge models at www.maelstromsedge.com



Like this? Like us on facebook to see more...


Comments are closed for this entry.