StackaRack has funded - Help us reach the first Stretch Goal!
---
Posted on Saturday May 01, 2021 at 11:30pm in StackaRack
---
With the support of over 300 backers and counting, StackaRack has reached its initial funding goal!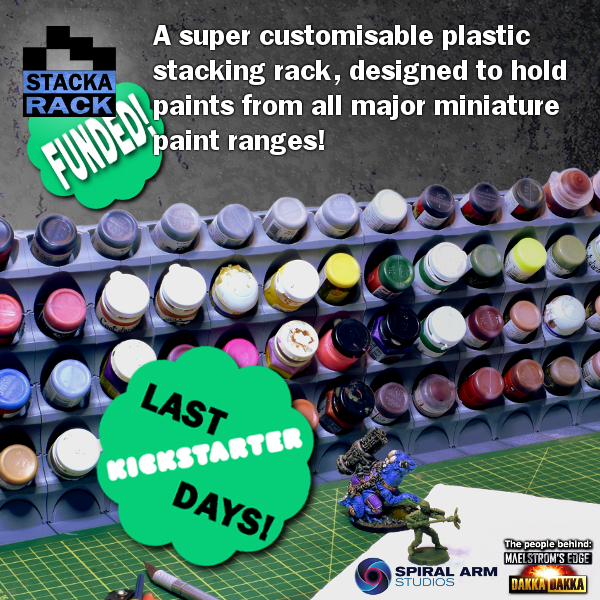 The initial funding goal covers the amount we needed to produce the basic StackaRack components, but they're only the start of the story. The rack gets exponentially better if we can fund two sprues worth of components instead of one, with a better distribution of parts and the addition of the corner piece. The jump up to the first Stretch Goal is higher than the original funding target, though. This is because we used what funds we could to put towards the initial development, which meant that we could keep the initial goal much lower than it would otherwise have been. For the second sprue, though, we need to cover the full cost of producing that new tool.
We would obviously love to see that second sprue happen, and we hope that you do too. Help StackaRack turn the corner by backing the project now!
Find StackaRack on Kickstarter now:
https://www.kickstarter.com/projects/spiralarmstudios/stackarack
You can also find StackaRack on Facebook
here
. Like the page for news and updates as they happen, and share it far and wide to help us bring StackaRack to your painting desk!
Find the Battle For Zycanthus starter set and the full range of Maelstrom's Edge models at www.maelstromsedge.com



Like this? Like us on facebook to see more...


Comments are closed for this entry.