Crafting Tales from the Edge
---
Posted on Thursday Jul 13, 2017 at 02:10pm in Fiction
---
In the summer of 2014 several members of the team had the opportunity to attend WorldCon in London and give a sneak-peek of Maelstrom's Edge to some of the world's best science-fiction authors. The aim? To showcase our universe and convince them to lend their awesome storytelling talents to our project. Presenting the backdrop, artwork, and prototype models, many of the authors we pitched to came away impressed with both our vision and our commitment to building a long-lasting IP. We came away from the London Excel centre having signed up a great mix of highly-acclaimed established voices and up-and-coming superstars to contribute to our project.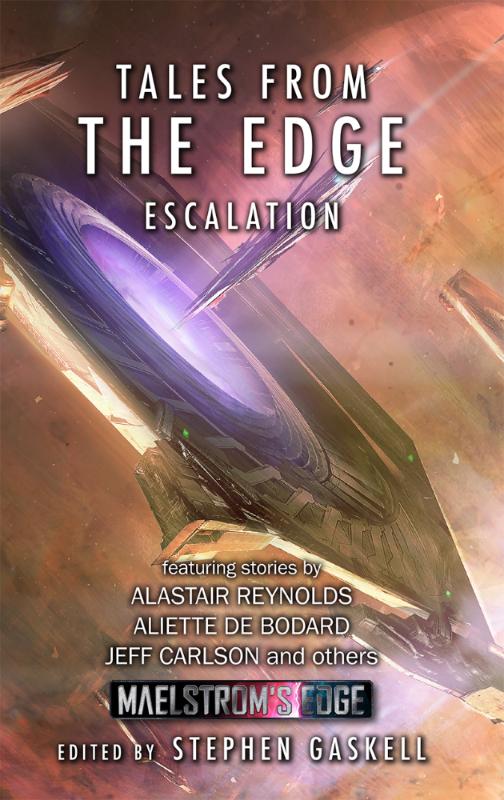 Tales from the Edge: Escalation
is the result of that fruitful few days at science fiction's biggest convention. The anthology brings together a wealth of talent contributing short fiction work to the Maelstrom's Edge universe:
Alastair Reynolds
With over a decade of experience as a professional astrophysicist to back up his writing chops, Alastair Reynolds is deservedly called the "reigning master of the intergalactic space opera", and brings a compelling edge of hard-SF to his unique brand of galaxy-spanning science fiction. Author of the Inhibitor trilogy that kicked off with the seismic Revelation Space and ended with the chilling Absolution Gap, Alastair's star has only risen over the last twenty years, and has been nominated for the prestigious Arthur C. Clarke Award three times.
http://www.alastairreynolds.com/
Here's what Alastair said about getting to play in the Maelstrom's Edge universe:
"Maelstrom's Edge is something different: an SF game universe put together with real originality and incorporating some genuinely clever and inventive thinking. There are enough worlds and stories waiting to be explored to last a lifetime..."
With his gritty blend of dark sci-fi, speculative science, and galaxy-spanning drama he is a perfect match for the Maelstrom's Edge universe and we're delighted to have him on board with our opening story, 'Remainers', in which a ship's captain accepts a client's dangerous request to return to a world doomed by the Maelstrom.
Rob Ziegler
Author of the spectacular Seed, which Paolo Bacigalupi described as "A hungry beast of a book, rippling with slaughter and sex, powerhouse action, surreal post-human horrors and bigger-than-life heroes", Rob's work combines kinetic action, bleak landscapes, and characters drawn from the grimy underbelly of society. As such we think he is perfect to help us flesh out some of the stories happening at the margins of the Maelstrom's Edge universe, particularly those involving the Broken, our very own faction of survivalists who mix the high-tech and the squalid together with the violent and the tender. 'Little Bots', Rob's story in 'Escalation', is a terrific tale of a group of orphans, sneaking and tricking their way to survival.
http://zieglerstories.com/
Jaine Fenn
Described by SFX Magazine as "A major new talent" on the release of her debut novel, Consorts of Heaven, Jaine Fenn has proceeded to flesh out her Hidden Empire series, charting seven-thousand years of future history as humankind adventures among the stars. Known for writing tense and fast-paced stories set in vivid locales, we felt Jaine would create the kind of gripping fiction perfectly suited to the universe of Maelstrom's Edge. For her first story in our universe, Jaine set her sights on two of our future factions – telling the story of a noble Champion of the Artarian Remnant Fleet, amongst the ragtag flotilla of a Broken fleet, in the cracking short story 'Over You'.
http://www.jainefenn.com/
Jeff Carlson
In the Plague Year trilogy Jeff Carlson unleashed a nanoplague on humanity that killed all warm-blooded life below 10,000 feet. In his Frozen Sky novels humankind discovered a deadly species in the icy waters of Jupiter's ice moon, Europa. Who better than this Philip K. Dick Award Finalist to help bring the Maelstrom's Edge universe to gripping life? When we told him about the Maelstrom's Edge universe and invited him to spread his fictional wings he had the following to say:
"These days I write sci fi and tech thrillers that, I hope, are chock full of monsters and chills and cutting edge science. When I heard about Maelstrom's Edge, I begged its designers to let me play in their sandbox. An unstoppable wave of hellish energy. Civilizations destroyed. Terraforming corporations, mech, refugees, cults, strange planets. Man, that's what I do!!!!"
Jeff's story 'The Spaces Between Us' is something both beautiful and brutal, telling a tangled family tragedy on a world with something truly worth saving.
http://www.jverse.com/books/
Aliette de Bodard
Nominated for multiple Hugo, Nebula, and BSFA awards, and winner of the Nebula and Locus awards, Aliette de Bodard is a highly-acclaimed author who will bring brilliant prose allied to poignant characters to the Maelstrom's Edge universe. Subverting the usual tropes for original twists, and substituting by-the-numbers heroes for vivid individuals deeply entwined with familial and cultural shackles, we were really excited to see what Aliette did with the apocalyptic backdrop of Maelstrom's Edge, and her story, 'Losses We Bear' is a superb demonstration of her skills.
http://aliettedebodard.com
Tomas L. Martin
Well, that's me! Together with Stephen Gaskell, I'm one of the lead writers who helped develop the background to the Maelstrom's Edge universe, as well as together writing the short stories that made up our first collection, 'Tales from the Edge: Emergence', and the two Maelstrom's Edge novels, 'Faith' and 'Sacrifice'. When not writing for Maelstrom's Edge, I'm a lecturer in materials physics at the University of Bristol, as well as occasionally dabbling in other fiction endeavours! My story, 'Fleet Champion' is a little introduction to the tangled politics and heated contests of the Remnant Fleet and the power-suited Champions that compete for the honour and reputation of their noble houses.
http://www.tomaslmartin.com
Jonathan Cooper
Coming via Wolverhampton, Dublin and London, Jonathan Cooper is a novelist and occasional journalist now living in Amsterdam. He has written on film, TV and pop culture for the Mirror and the Independent and has short fiction published in the New London Review and Scrivener Creative Review. He is also the author of Lethbridge Stewart: The Showstoppers, a new novel featuring Doctor Who's very own Brigadier. In this anthology Jonathan gives us 'The Daughter of Arin', where a Comm Guild courier delivers a strange package that leads to an increasingly chaotic conspiracy.
Karin Lowachee
Winner of a boatload of awards including Warner Aspect First Novel, Prix Aurora Award 2006, and Spectrum Award 2006, not to mention twice being shortlisted for the Philip K. Dick Award, Karin Lowachee's Warchild Universe explores the experience of fictionalised child soldiers learning to survive in a war-torn galaxy. When we asked her to expand on what drew her to Maelstrom's Edge universe she had the following to say:
"In a genre that can literally explore anything the imagination envisions, the opportunity to sink my teeth into a doomsday event of galactic proportions was too good to pass. Everything about Maelstrom's Edge speaks to my creative inclinations: high stakes, complex characters, an expansive setting, and a sense of wonder. The possibilities for exploration both external and internal are endless, and my fascination with the human condition—our frailties as well as our strengths—is something I will explore. A psychological close-up of what a random band of survivors on a frontier planet are willing and able to do to reach their destination—and presumably their saving grace to get off-world ahead of the Maelstrom—will take an unflinching look at the nature of selfishness, exploitation, compassion and love."
Karin's tale 'The Flesh of the World' explores a lawless, frontier-type world that has been abandoned by the corporations, leaving the population alone to face the coming Maelstrom.
http://www.karinlowachee.com
Stephen Gaskell
The other half of the Maelstrom's Edge lead writing team, Stephen is a prolific and talented writer both of fiction and for games. When not writing for Maelstrom's Edge, Stephen works as a Senior Writer for Amplitude Studios, where he recently completed work on the popular 4X strategy title, Endless Space 2. His fiction has appeared in Clarkesworld, Interzone, Years Best Military SF, and elsewhere, and he is currently seeking representation for his debut novel, The Unborn World, a dystopian eco-thriller set in Lagos, Nigeria. An alumnus of University College, Oxford, he holds degrees in physics and artificial intelligence. Stephen's contribution to the anthology is the fantastic 'A Keeper's Duty', which explores the moral dilemma of a convert to the Karist Faith, growing up to become one of the Keepers who looks after the otherworldly alien creatures known as Angels.
http://www.stephengaskell.com
Liz Williams
With degrees in philosophy and artificial intelligence, a mother who was a gothic novelist, and a father who was a part-time conjurer, it is no exaggeration to say that Liz William's is one of the most original voices working in science fiction today. Short-listed for the Philip K. Dick Award for her novels no less than four times, Liz is also a master of the short form with her work appearing in many Year's Best anthologies. Writing dark and strange yet utterly compelling fiction, Liz's piece for our Maelstrom's Edge anthology is titled "'Moon Desert' and is a fantastic read.
http://www.amazon.co.uk/Liz-Williams/e/B001HCXOL2
Maelstrom's Edge has a comprehensive long term fiction plan which we give as much attention as the game itself. From day one we've been trying to develop a universe which will grab the interest of anybody who has even a passing interest in Science Fiction, and with some of the best sci-fi authors in the world committing stories into the anthology
'Tales From The Edge: Escalation'
, Maelstrom's Edge is going from strength to strength, with plenty more to come from us in future.
Find the Battle For Zycanthus starter set and the full range of Maelstrom's Edge models at www.maelstromsedge.com



Like this? Like us on facebook to see more...


Comments are closed for this entry.