---
Posted on Thursday Sep 22, 2016 at 05:00PM in General
---
Today we share some nice buildings made by Alex and his son over at Lead Balloony
These nice, simple buildings make great use of the computer terminals and small doors, along with some additional decorative elements on the other faces of the buildings. All affixed to some olive pots of all things!
---
Posted on Friday Sep 16, 2016 at 05:00PM in General
---
These dark blue-grey Karists are one of our studio army colourschemes, so we'll have a fair few units to show in this scheme over time. The muted colour palette along with the great spot colours on the weapons and contrasting red on the faceplate immediately made this one of our favourites. The only points against it are that the dark scheme requires a lot of light to photograph well, so in full scale battle shots it can be quite challenging to capture! We usually have these guys with us at Salute if you ever want to see them in the flesh though!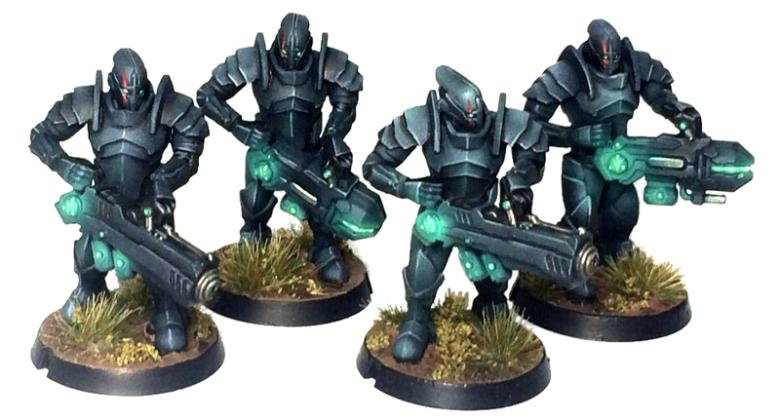 ---
Posted on Thursday Sep 15, 2016 at 05:00PM in General
---
After last week's in depth walkthrough of the terrain sprue, we thought we'd take things back a notch and just share a nice simple image of a storage container built using components from the sprue along with a tiny bit of filler card.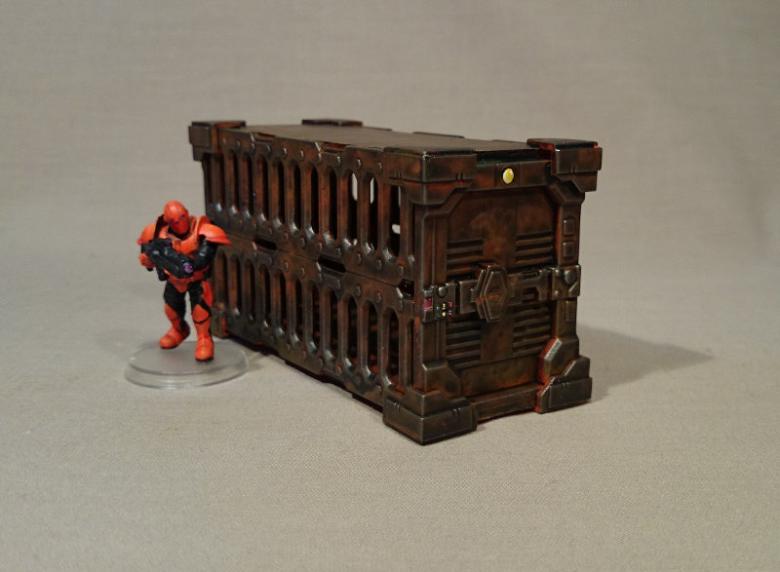 Simple, and effective battlefield terrain with minimal effort.
---
Posted on Friday Sep 09, 2016 at 05:00PM in Models
---
We really love how this Karist Trooper turned out in yellow, with a complementary blue cybel glow. Using the indents on the face plate as a stripe marker was something we'd considered doing to mark out sergeants in the squad, but it never looked half as good as it does here as a natural part of the colour scheme.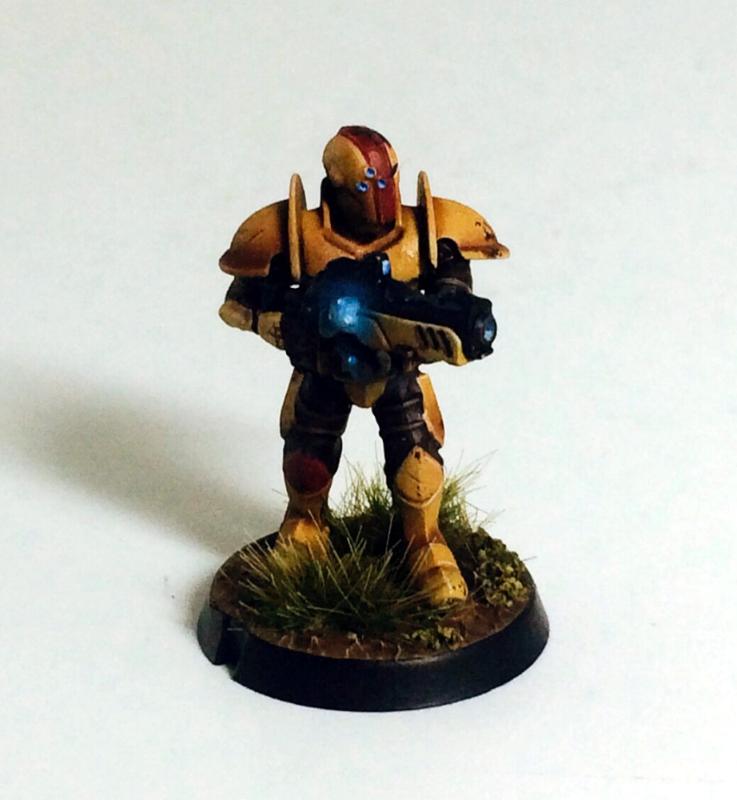 ---
Posted on Thursday Sep 08, 2016 at 05:00PM in General
---
One of our favourite pieces of terrain in the studio collection is this refinery by 3T studios, made using foamcore and the Maelstrom's Edge Terrain Sprue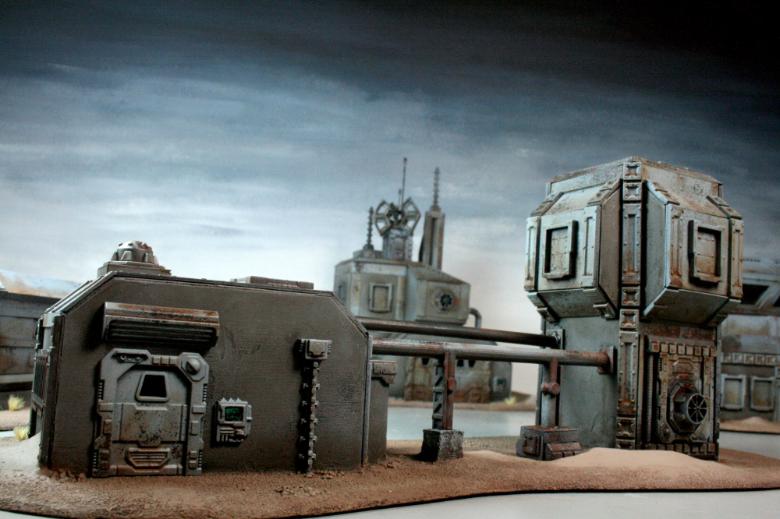 When assembling it, they were kind enough to take a whole bunch of WIP photos, so we can show you just how simple it is to create impressive buildings like this.
Everything begins with the basic shapes. Sketch them out on paper or however you like, cut out of foamcore, and then glue them together on a hard base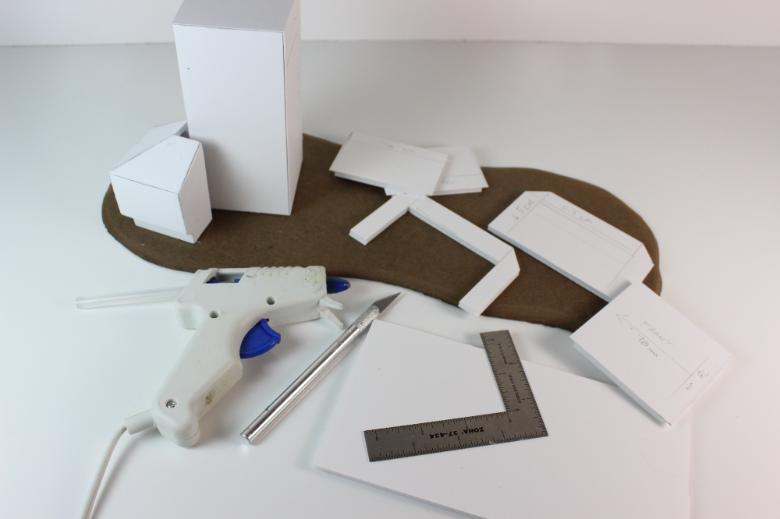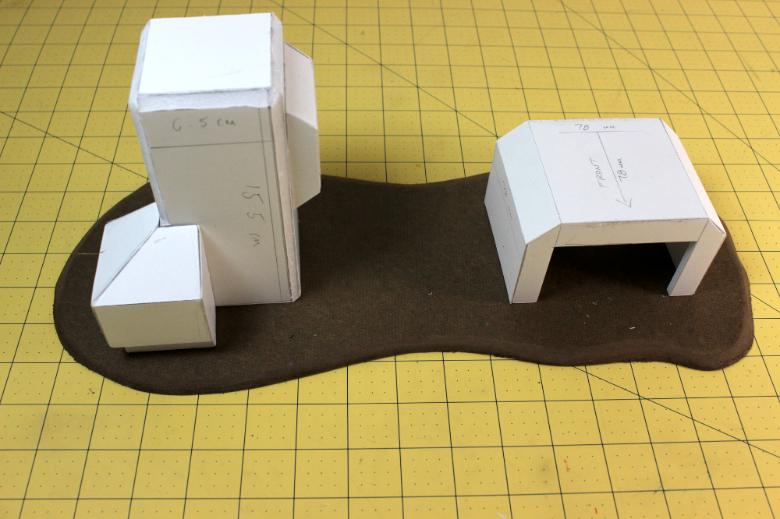 Next, the whole structure gets a light coat of texturing. Spackle/plaster works well for this, and it is also used to break up the texture on the base as well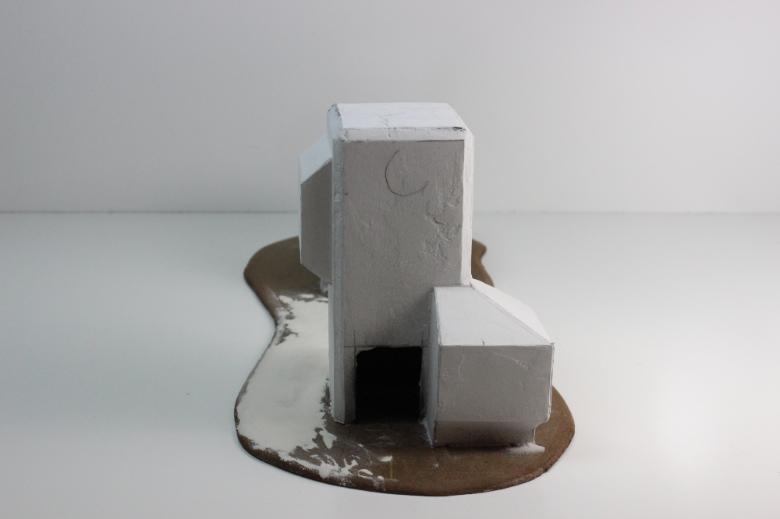 Now, the core structure of the building is fully painted, so that if anything breaks off or peels away later, there wont be bright white material showing underneath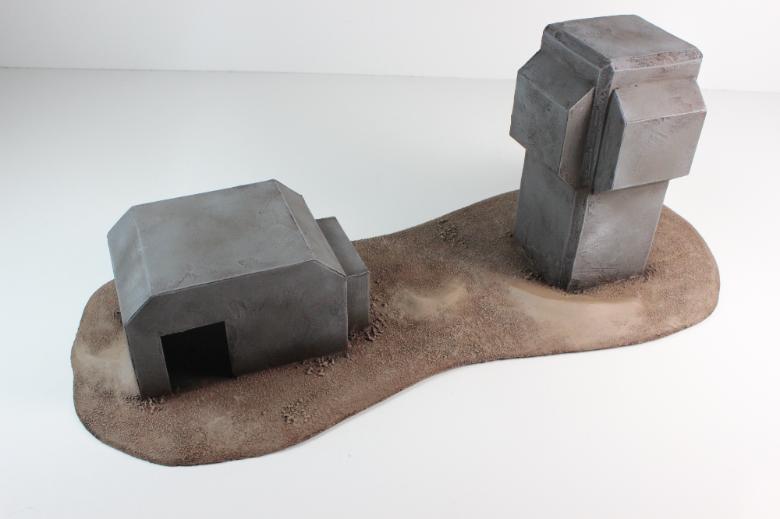 Now the fun part, components from the Maelstrom's Edge Terrain Sprue are affixed to the building, often using a plasticard backing so that they cleanly fit on the various faces of the structure.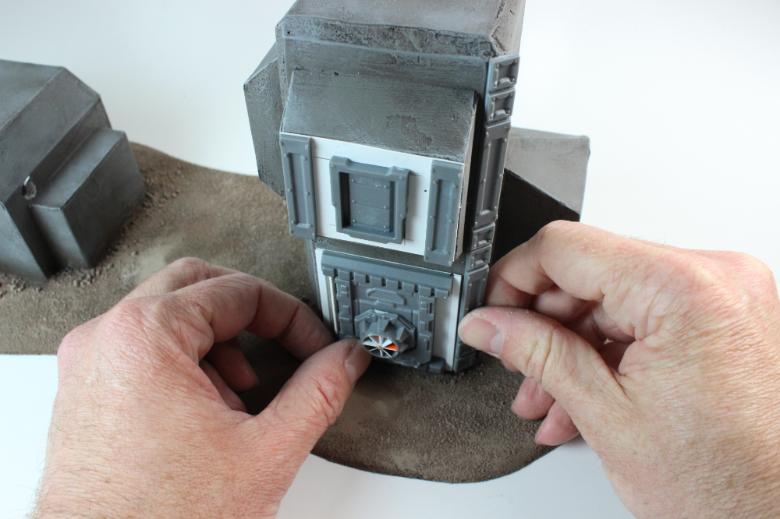 Here's just how much detail can be created from the terrain sprue (and a bit more from a second sprue) and some strips of thin plasticard, along with a straw and a chunk of the frame of the terrain sprue as well for piping.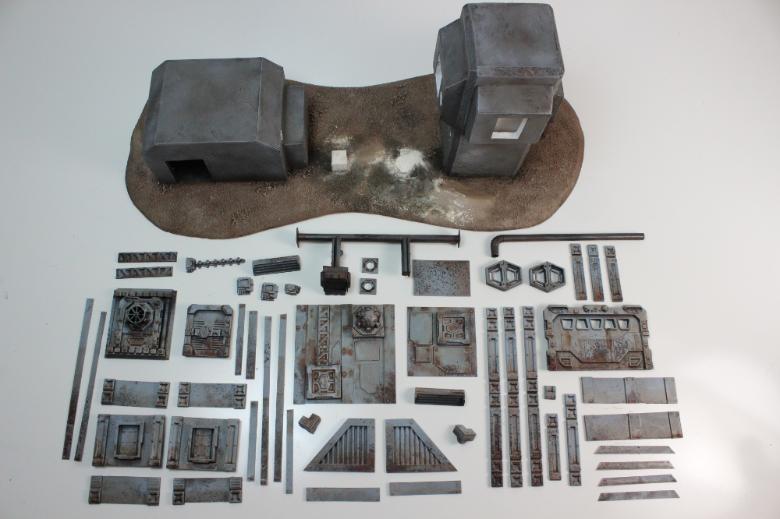 Once all those loose components are superglued on to the base building, we end up with the final structure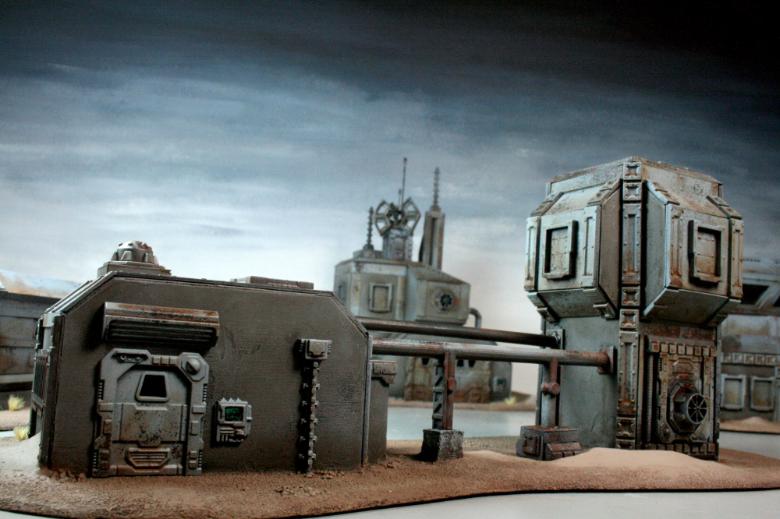 Grab a copy of the terrain sprue today and try it yourself!
---
Posted on Friday Sep 02, 2016 at 05:00PM in The Epirian Foundation
---
Part of our early testing for getting our final colourscheme together was sending our models out to a bunch of talented painters and getting them to completely make up their own colourschemes.
Today's photo is one of those - an Epirian Contractor in a white and blue colourscheme.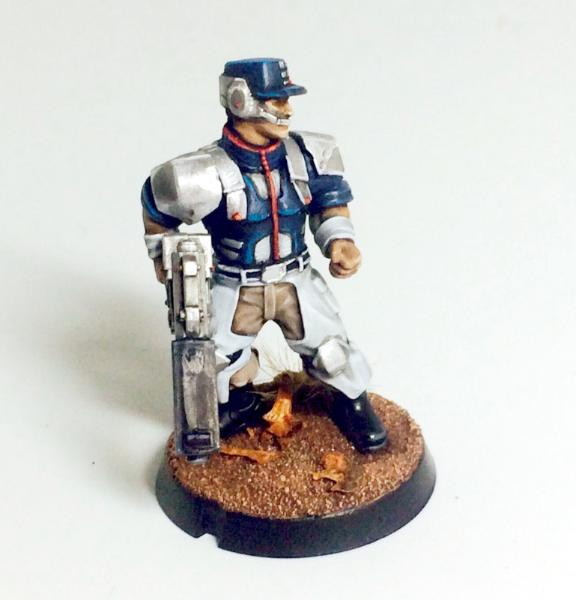 There is a lot going on in such a small space for this model, with the windswept leaves on the base working really nicely with the at-ease but on guard pose, as if the contractor has just spotted something of concern.
Tags: contractor epirian painted
---
Posted on Friday Aug 26, 2016 at 05:00PM in The Karist Enclave
---
Our friday posts here at the comm guild are photos of a model in a colour scheme that we might not have shared before (or much at least), an interesting conversion or whatever takes our fancy!
Today's inaugural post are these Karist troopers in a striking red and white colourscheme.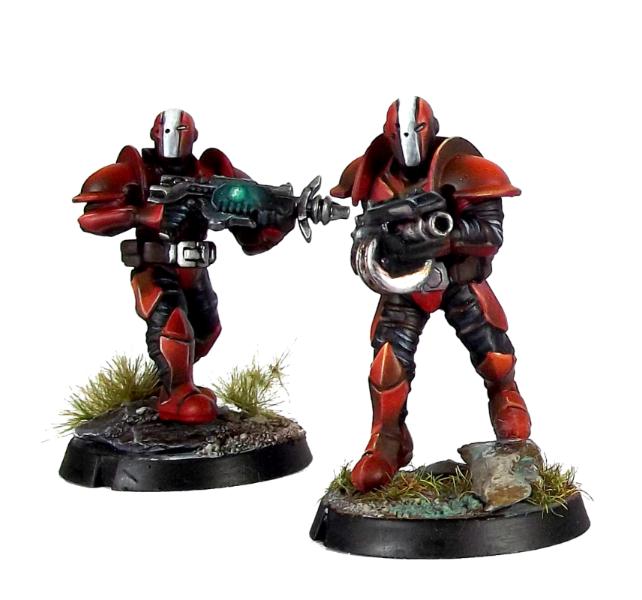 These troopers were painted by lil'legend studios, and are a colour scheme of their own invention. Red works so well on Karists, but changing the cybel glow on the weapon to that greenish-blue colour really makes them pop nicely. We actually have a full force of Karists painted up in these colours and will be sharing more photos of them over the coming months.
---
Posted on Wednesday Aug 24, 2016 at 05:00PM in General
---
In our inaugural community spotlight, we wanted to share pezzapoo's great overview video showing the fully painted contents of his Maelstrom's Edge: Battle for Zycanthus box set, along with his general thoughts on the set, assembly process and everything Maelstrom's Edge.
The Comm Guild's community spotlight focuses on sharing something from the Maelstrom's Edge community each week, if you have anything you'd like to get in to the queue, please get in touch with us via the Maelstrom's Edge website
Tags: battleforzycanthus painted review